No matter how advanced the PlayStation 5 or the Xbox Series X may get today, there's no doubting the iconic presence of classic home video game consoles back in the day. If you've grown a little jaded throwing yourself at one modern game after another, let an icon step into the ring and potentially fill the void. As we have it, the best GameCube multiplayer games will help you relive the joy of your younger self and manifest that sweet nostalgia.
Key Highlights
GameCube is a well-known video game console that was launched by Nintendo. It basically was a competitor to the Sony PlayStation 2 and Microsoft's Xbox.
GameCube, a successor to the Nintendo 64 and the predecessor of the Wii, was able to reel in tons of fans from around the world.

Sometimes you are just tired of switching between modern games one after the other. This is where GameCube can help you relive the days of youth and help you feel that sense of nostalgia.

Some of the Best GameCube Games include titles like Pokemon Colloseum, Super Smash Bros, and The Simpsons: Road Rage.
Best Gamecube Multiplayer Games Of All Time
| | | | |
| --- | --- | --- | --- |
| Game | Developer | Genre | Release Date |
| Kirby Air Ride | HAL Laboratory | Racing | 2003 |
| Mario Kart: Double Dash | Nintendo Entertainment Analysis and Development | Kart Racing | 2003 |
| F-Zero GX | Amusement Vision | Racing | 2003 |
| 007: Nightfire | Electronic Arts | First-Person Shooter | 2002 |
| Super Monkey Ball 2 | Amusement Vision | Party Platformer | 2002 |
| TimeSplitters 2 | Free Radical Design | First-Person Shooter | 2002 |
| Super Smash Bros. Melee | HAL Laboratory | Fighting | 2001 |
| Billy Hatcher And The Giant Egg | Sonic Team | Platformer | 2003 |
| X-Men Legends | Raven Software | Action RPG | 2004 |
| TimeSplitters: Future Perfect | Free Radical Design | First-Person Shooter | 2005 |
| Metroid Prime 2: Echoes | Retro Studios | First-Person Shooter, Action-Adventure | 2005 |
| Soulcalibur II | Project Soul | Fighting | 2003 |
| Bomberman Generation | Game Arts | Action-Adventure | 2022 |
| Gauntlet Dark Legacy | Midway Games West | Hack and Slash, Dungeon Crawler | 2002 |
| Baldur's Gate: Dark Alliance | Snowblind Studios | Action RPG, Hack and Slash | 2002 (North America), 2003 (Europe) |
| Aggressive Inline | Acclaim Entertainment | Sports, Skating | 2002 |
| Final Fantasy: Crystal Chronicles | Square Enix | Action-Adventure, RPG | 2003 |
| Lord Of The Rings: Return Of The King | EA Redwood Shores | Hack and Slash | 2003 |
| Dragon Ball Z: Budokai 2 | Dimps | Fighting | 2004 |
| Tony Hawk's Pro Skater 3 | Neversoft | Sports, Skateboarding | 2001 |
| Custom Robo | Noise | Action RPG | 2004 |
| The Simpsons: Road Rage | Radical Entertainment | Vehicular Combat, Racing | 2001 |
| Godzilla: Destroy All Monsters Melee | Pipeworks Software | Fighting | 2002 |
| Mario Party 4 | Hudson Soft | Party, Board-Based | 2002 |
| The Legend of Zelda: Four Swords Adventures | Nintendo EAD | Action-Adventure | 2004-2005 |
| Pikmin 2 | Nintendo EAD | Real-Time Strategy (RTS), Puzzle | 2004 |
| Mario Superstar Baseball | Namco | Baseball, Sports | 2005 |
| Naruto: Clash of Ninja 2 | Eighting | 2D Fighting | 2003 |
| Pokemon Colosseum | Genius Sonority | Third-Person RPG, Turn-Based | 2003-2004 |
| Pac-Man Fever | Mass Media | Party, Board Game | 2002 |
The following is our round-up of the best co-op games to ever come out for Nintendo GameCube. Make sure to read until the end for the best results.
1. Kirby Air Ride
Genre: Racing
Developer: HAL Laboratory
Release Date: 2003
Some of the best GameCube multiplayer games are crafted with simplicity in mind. It doesn't take long for a beginner to pick up the controller and start having fun with these anointed titles, given their level of quality.
The reason why Kirby Air Ride sits proudly at the first spot on this list isn't just because of its user-friendliness, but how it manages to push out one of the best racing game experiences on the Nintendo GameCube to date. Your objective is simple—just get to the finish line of the bout to win the race.
However, the venture in-between that period is all that Kirby Air Ride is about. Glide in the air or bolt past your enemies as you use everything at your disposal to outclass opponents mid-match. Apart from Kirby, there are other unlockable characters in the game as well.
For one, there's Meta Knight who wields a sword and attacks enemies in the nearby vicinity. He's pretty robust and is a must-try for when you start unlocking the harder levels in the title. There's one more character too that you can get your hands on called King Dedede, boasting a similar characteristic with his ingrained hammer.
As for the multiplayer potential of the title, it's possible to experience Kirby Air Ride in split-screen mode or with the help of LAN. Using the latter, you would be able to set up a local session with your party of friends and duke it together in one of the various game modes featured in Kirby Air Ride.
2. Mario Kart: Double Dash
Genre: Kart Racing
Developer: Nintendo Entertainment Analysis and Development
Release Date: 2003
People have a lot of history with Mario Kart: Double Dash. Despite being so dated, the famous kart racer brings forth an exceptionally unique concept to the forefront of the GameCube console. Each session starts you off with 2 players per kart. One player drives the vehicle while the other one manages in-game power-ups.
The result is a fantastic winning formula that lets you relish hours of fun for days on end. Apart from this manner of cooperative play, Mario Kart: Double Dash allows one to set up a LAN session as well. The latter pits 16 players together in a game concurrently, thereby making the whole affair nothing but enthralling.
As far as the gameplay is concerned, a number of new tweaks were incorporated in Double Dash in order to reinvigorate the general user experience of the game. For starters, players lose their weapons when someone lands a hit on them. In addition, the drift mechanic has seen a massive improvement.
Originally known as "powersliding," players are liable to receive a small-scale boost of one sort when they keep holding the drift button for a certain period of time. Lastly, the title features a versatile array of game modes, thereby making short work of any monotonous or bland play-throughs whatsoever.
The majority of these modes in Double Dash are multiplayer-only when it boils down to it, but a couple of them can also be enjoyed solo. Whether you'd like to duke it out with a bevy of other racers in the Grand Prix mode or play your heart out with friends in the Versus mode, the choice is yours.
Many would argue that Mario Kart: Double Dash is the best multiplayer GameCube game and for good reason. There are seldom other titles out there in the mix that combines two distinct gameplay elements together similar to how the popular kart racer has done. Give it a spin and experience the novel entertainment yourself.
3. F-Zero GX
Genre: Racing
Developer: Amusement Vision
Release Date: 2003
Furthering the list is yet another racing title with a whole different take on the genre. They honestly don't make titles like these anymore if you start pouring in the novel difficulty. F-Zero GX is the follow-up title to F-Zero X. The direct sequel improves on many aspects of the first title and strives to increase the overall quality.
With that said, the game still manages to retain its originality thanks to its fast-paced action gameplay. The IP will actually have you training your muscle memory and reflexes while keeping you obsessed with memorizing the track and all its inclusive directions.
When things go full velocity, you will need to rely on your intuitiveness to get the better of your opponents in F-Zero GX. In the case that you do not make that happen, playing with friends is going to be difficult. Unless, of course, you kick things up a notch and start training yourself to become better.
The title truly puts even the most seasoned of players to the test, and this is what makes it one of the best GameCube multiplayer games to date. It's not just the latter, but F-Zero GX is taken into account as one of the greatest games this console ever had the privilege of running.
4. 007: Nightfire
007: Nightfire is a movie-based game where you take control of James Bond—a secret US agent who's tasked with the mission to infiltrate an industry mogul with dark and hidden ulterior motives. The game is best enjoyed from its iconic first-person shooter perspective on the Nintendo GameCube console.
If you have a thing for single-player games as well, 007: Nightfire is going to turn out as quite the treat for you. In the case that other people aren't available to indulge in the game's famous multiplayer mode, you can embark on the campaign mode and play through the exciting adventures of Bond solo.
However, in the case that the latter isn't exactly your cup of tea, you'd be delighted to discover the vast multiplayer potential. The title pits you in a session with other human players and compels you to be the last man standing.
Furthermore, there is a ton of flexibility introduced in the co-op segment of 007: Nightfire. You can switch up pretty much everything regarding your online session, including the specification of rules that allow one to win, the number of actual players, the number of bots, a character picker, and, of course, the map.
Speaking of which, the well-reputed first-person shooter allows you to play in a bevy of different maps, and some of them are borrowed from the best Bond movies that people recognize and love. For example, Karl Stromberg's Atlantis is a popular map in the game, first featured in the film The Spy Who Loved Me.
5. Super Monkey Ball 2
Genre: Party Platformer
Developer: Amusement Vision
Release Date: 2002
If there's any singular title out there that you'll have the most fun playing with your friends, it's undoubtedly Super Monkey Ball 2. Behold a generous selection of game modes that involve you and other players in a series of different mini-games. The pinch of added difficulty makes the affair even more enticing.
There's a ton of genuinely fun stuff that you can indulge in when you finally get your band of friends together. Talk about racing, boxing, playing billiards, landing on platforms from afar, and whatnot. The collection of party games in Super Monkey Ball 2 comprises about 12 entries.
A distinct menu allots you access to this specific game mode, making 1-4 players play with each other in an immersive multiplayer manner. In the case that you've already tried Super Monkey Ball, you're going to like the fact that a sextuple of titles has made their return from the latter for the sequel.
These include Monkey Fight, Monkey Bowling, Monkey Race, and even Monkey Target. However, it isn't just nostalgia that hits you and your friends like a truck in Super Monkey Ball 2. Six new types of games have also made landfall in the title, but you will need to unlock them with some hard-earned Play Points.
Each new game, such as Monkey Tennis, Monkey Soccer, and Monkey Dogfight requires 2500 Play Points to pop up on the screen. You'll definitely get there in due time, so rest assured. Just don't miss out on all the diverse offerings of the best multiplayer GameCube game and you'll be all set.
6. TimeSplitters 2
Genre: First-Person Shooter
Developer: Free Radical Design
Release Date: 2002
TimeSplitters 2 is a timeless classic, boasting tip-top first-person shooter gameplay with mesmerizing sci-fi elements. The game came out in 2002, shortly after the release of the GameCube console. In the title, your main objective is to complete the subsequently manifesting tasks and shoot down enemies to get to the next level.
It's overly fun, and pits players against enticing combat gameplay with a variety of different options. For instance, you can choose your arsenal of weapons from a comprehensive variety of categories, such as shotguns, explosives, rocket launchers, grenade launchers, and even bricks.
If you're someone who prefers an automatic fire weapon, feel free to pick up one of the several different rifles or submachine guns to your heart's content. There's just no shortage of the weaponry introduced in TimeSplitters 2 on top of its interesting multiplayer mechanics.
Speaking of which, what makes this venture one of the best GameCube shooter multiplayer games is its far-flung level of depth. Not only do you get a variety of different modes to battle it out with your friends in, but the customizability features in TimeSplitters 2 definitely take the cake when it boils down to it.
There's even a distinct MapMaker in there that gives you the steering wheel of the title and allows you to create your own levels. Just think about that for a minute. While you won't be able to experience your personally curated levels with friends or online, riding solo in this instance is a real time killer that you shouldn't miss out on.
7. Super Smash Bros. Melee
Genre: Fighting
Developer: HAL Laboratory
Release Date: 2001
It might comfort you to discover that Super Mario Bros. Melee is the best-selling Nintendo GameCube title of all time. The reason for that vastly pertains to the title's spectacular multiplayer mode. Prepare to embrace a world full of fun with all that the game has to offer to its players on a consistent basis.
The adrenaline-packed multiplayer action of Super Smash Bros. Melee gets your blood pumping like never before. It features 13 more characters than its forerunner and sports a certain style of gameplay that you won't find being repeated in other games.
That is to say, you actually need to knock your enemies off the platform of the stage in order to win. To determine the winner, however, there are follow-up conditions that need to be met and this heavily varies on the game mode you'll be playing.
For instance, one of the most well-reputed ways of playing in the game is Time Mode. To be the winner of the Time Mode in the game, you need to have the most amount of lives remaining or the least number of drops. On the flip side, we have "Stock Mode" and it's quite more thrilling than the latter in our opinion.
To win any Stock Mode game, you need to be the last man standing. Each mode is terrific in its own specific way, so we highly recommend shooting your shot in every available way of experiencing the title for the best results. In case you ever find yourself lacking human players to try the game with, make good use of the AI-powered bots.
Super Smash Bros. Melee is exceptional in the fact that it features characters from other legendary Nintendo franchises, such as The Legend of Zelda, Metroid, Fire Emblem, Pokemon, and, of course, Mario. Therefore, it comes across as a sensational crossover fighting game for the Nintendo GameCube.
8. Billy Hatcher And The Giant Egg
Genre: Platformer
Developer: Sonic Team
Release Date: 2003
Billy Hatcher and the Giant Egg holds a special place in our hearts. Not only does this title boast an alluring storyline for solo-play enthusiasts, but there's also the magical presence of a terrific multiplayer mode within. Collectively, all the multi-faceted elements of the game come together to deliver highly enjoyable gameplay.
For one, the protagonist—Billy—is an interesting lad. He's a regular, mischievous bloke who doesn't possess any special characteristics. All he can do is run, jump, and dodge when not under the influence of any power-up. However, as soon as the charmer starts holding an egg on his end, the situation transforms drastically.
The title has surprisingly nice multiplayer where you roll eggs in the vicinity in an attempt to get them to hatch. You interact with fruits and try to smash other players in the meantime. Each egg you roll houses a unique power-up, one that makes it easier for you to deal with your enemies.
There is one gripe that may seem off-putting for multiplayer-only enthusiasts. You will need to play a fair bit of the single-player campaign of Billy Hatcher and the Giant Egg in order to fully unlock the various online modes of the title. If this doesn't upset you, go do yourself a favor and try the famous platformer right away.
9. X-Men Legends
Genre: Action RPG
Developer: Raven Software
Release Date: 2004
X-Men Legends is flat-out epic. It features a specialized RPG system where you're able to play with multiple characters of the X-Men team. The quick character switcher feature even lets you change the heroes you play with on the fly in-game.
Other typical RPG elements are found ubiquitously throughout X-Men Legends. It's very much possible to interact with non-player characters (NPC) in the game and unlock more playable characters after making certain progress.
As for the gameplay, your X-Men character will be able to dish out some serious damage by chaining combos together. On top of the latter comes the diverse upgrade system that powers up the abilities of your heroes. It's just highly enjoyable and keeps aspiring players hooked to the platform incessantly.
All of these nifty little traits make X-Men Legends one of the best multiplayer games on GameCube. Your friends will be able to tag along with you on missions as you explore the plot of Alison Crestmere. A total of 14 bosses are bound to stand in your way, including the likes of Juggernaut, Magneto, William Kincaid, and Shadow King.
10. TimeSplitters: Future Perfect
Genre: First-Person Shooter
Developer: Free Radical Design
Release Date: 2005
The TimeSplitters series is so good that we couldn't help but include two of them on the list. Future Perfect is a relatively advanced iteration in the franchise, tracing its release 3 years after TimeSplitters 2 made landfall. The improved title then came with better visuals, more weaponry, and an even better storyline than before.
The cherry on top is the included multiplayer mode and the legendary MapMaker feature, both of which attribute to a crisp and fun playing experience with friends and family. There's just something thrilling about blasting an enemy at point blank range in TimeSplitters: Future Perfect, thereby earning a spot in this write-up.
11. Metroid Prime 2: Echoes
Genre: First-Person Shooter, Action-Adventure
Developer: Retro Studios
Release Date: 2005
Next up, we've got another iconic first-person shooter earning a spot on the write-up. Metroid Prime 2: Echoes is utterly atmospheric, adding a sliver of an extra challenge as compared to its predecessor. The game just sucks you into the environment profoundly and makes you genuinely feel as if you're on a deserted alien planet alone.
Expanding upon the original formula of the first Metroid game, there is a dozen different aspects of Metroid Prime 2 that feel so much better to hardcore fans of the series. For instance, the developers decided to add a triple jump to the title, making sections where you have to traverse water puzzles more ingrained.
To talk about the design of the arena, the second mainline entry in the franchise is much more open-world. The developers have certainly incorporated a swath of immersion in Prime 2, letting you explore your surroundings effortlessly, given their sizable spaces.
Moreover, the art design of the famed FPS is just breathtaking, even for a game that was released almost two decades ago. Apart from the most prominent features of the first Metroid Prime, there is an abundance of more power-ups that can turn the tables on your enemies without breaking a sweat.
The latter comes especially in handy when you find yourself amdist the multiplayer chaos of Metroid Prime 2. Speaking of which, up to 4 players can experience all the action-packed sci-fi shooting together. In addition, you've got two different game modes to wreak havoc in.
One of them is Deathmatch where it's basically free-for-all turmoil. The player with the most amount of kills wins the bout within a limited amount of time. As for the other mode, Bounty is where you pick up a collectible item from damaged enemies. Both of these are arrestingly fun, especially when you get six different maps to play in.
12. Soulcalibur II
Genre: Fighting
Developer: Project Soul
Release Date: 2003
If you happen to be a fan of fighting games, Soulcalibur II is going to be your one-stop-shop for your definitive fix of this glorious genre. What we have here is just one of the best fighting multiplayer GameCube games that consists of a rich roster of playable fighters.
The game has crossed over with other franchises as well, similar to how Super Smash Bros. Melee has done it. However, the developers decided to head a different route and release platform-exclusive characters on different systems. The Nintendo GameCube has received the playable character of Link from The Legend of Zelda.
On the other hand, Microsoft's Xbox got Spawn while PlayStation 2 had the privilege of hosting Heihachi Mishima from the Tekken series. Duke it out with your friends in this 2D side-scrolling fighter as a side-by-side competition. Only 2 players can fight with each other in-game.
Otherwise, we would be defeating the whole point here, wouldn't we? Soulcalibur II takes pride in the fact that it's heavily optimized for the GameCube, features commendable visuals, and even has an interesting plot that kickstarts an adventurous journey in single-player mode.
Related: Best Single Player Xbox One Games
13. Bomberman Generation
Genre: Action-Adventure
Developer: Game Arts
Release Date: 2022
Bomberman Generation keeps it real with a formidable level of depth in its gameplay. A total of six different realms are playable in the game. Each realm or world consists of 5 different levels where you have to topple small-scale games and a bevy of other like-minded challenges to come out on top.
The GameCube exclusive was actually the pioneer of introducing cel-shading level design to the console. All similarly crafted games followed suit after Bomberman Generation got the ball rolling for the developers. The single-player campaign of the title implements the play-through from a third-person perspective.
However, things aren't like that in the multiplayer mode of the title. You get to experience the game from the classic side-scrolling perspective where a total of 5 different game modes are brought forth to the player. The first of the bunch is called Standard Battle where the last surviving player wins the session.
Next up is Reversi Battle, and this one is a bit different from the usual multiplayer game modes. The winner of the Reversi Battle is one who has the most number of platform panels to the color of their character. Get it done by dropping bombs and preventing your enemies from doing the same.
14. Gauntlet Dark Legacy
Genre: Hack and Slash, Dungeon Crawler
Developer: Midway Games West
Release Date: 2002
Gauntlet Dark Legacy is the first hack and slash title that we've prepped for you on the list. It's a sequel to Gauntlet Legends that was released way back in 1998. On a fundamental plane, Dark Legacy handles the same way as its predecessor, but there are many noteworthy changes introduced in the game.
One of them is the inclusion of a heavy attack as opposed to Gauntlet Legends' singular, weak attack. You can now perform a diverse variety of combos to take out enemies quicker rather than using light attacks and heavy attacks individually.
It's not just that but the gameplay mechanics of the newer title have been seemingly revamped with not only blocking and strafing but an extra charging technique as well. As for the multiplayer potential, up to 4 people can enjoy the dungeon-crawling action together.
In the case that this isn't one of the best hack and slash GameCube multiplayer game, we don't know what is. If you still have one of those consoles lying around, don't go amiss with sleeping on the game at hand.
15. Baldur's Gate: Dark Alliance
Genre: Action RPG, Hack and Slash
Developer: Snowblind Studios
Release Date: 2002 (North America), 2003 (Europe)
Baldur's Gate: Dark Alliance is lauded with praise for all the binge-worthy action it brings to the table. The camera perspective is an isometric topdown view where you can control your character three-dimensionally. You start out using one out of three distinct character races that the title offers you right from the get-go.
These three include the Dwarven Fighter, Elven Sorceress, and Human Archer. None of these classes are undesirable in any way. Instead,, they suit certain playstyles. People who like to get up close and personal with their foes will incline toward the Dwarven Fighter.
On the other hand, the Human Archer is for those who like to keep their distance from the enemy. Lastly, the Elven Sorceress is another ranged class that's adept at raining death from afar.
16. Aggressive Inline
Genre: Sports, Skating
Developer: Acclaim Entertainment
Release Date: 2002
Aggressive Inline is a class apart when it comes to playing some of the best GameCube multiplayer games. It's the first title that features real-life inline skaters to teach players the basics and walk them through the whole experience. Your objective in the popular third-person skater is nothing but simple.
You will need to perform various different tricks within each level to earn a specific set of points. It's either that or the in-game NPCs have to be talked to so they can allot you a quest to go on. The title is even fun in its multiplayer mode where different players compete against each other in a full trickster environment.
The game's reception was exceptionally well back when it first came out. All the best publishing magazines of that time held Aggressive Inline in great words, making the whole review process vastly favorable for the sports-centric game. If you can get your hands on the game in 2022, you have to give it a shot.
17. Final Fantasy: Crystal Chronicles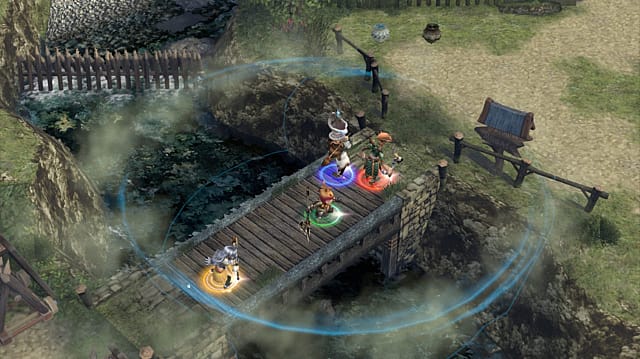 Genre: Action-Adventure, RPG
Developer: Square Enix
Release Date: 2003
Who doesn't like the Final Fantasy series, especially at the time of its release when the gameplay was novel and the visuals were impressive? Crystal Chronicles is a title that blends different genres together and doesn't fixate on providing the player with a single category of gameplay to play with. It's definitely a treat to enjoy on the GCN.
As for the multiplayer mechanics of the game, we've got a pretty unique concept to experiment with. The IP places you in a squad of other warriors who all strive toward a common goal. Now, the latter can be with regard to defeating enemies, or scoring points until the time runs out.
However, you have to complete the objective as a group and no solo play will win the bout at the end of the day. This focus on the game's multiplayer is nothing but satisfying. You coordinate with the players around you and work together to accomplish the quest.
18. Lord Of The Rings: Return Of The King
Genre: Hack and Slash
Developer: EA Redwood Shores
Release Date: 2003
Fans of the legendary movie series are going to jump into The Lord of the Rings: The Return of the King quicker than ever. This hack and slash venture by EA Redwood Shores is outright fantastic when it cuts down to the sheer gameplay, not to mention the overly enticing plot that grips you in hard and fast.
You experience the game from a topdown view perspective with typical action combat mechanics. In addition, The Return of the King supports online multiplayer on other consoles but not the Nintendo GameCube. For the latter, you will have to settle for the game's co-op mode where two players can play together.
We weren't going to include the title in the list, but since it's so enjoyable in couch multiplayer situations, we wouldn't want our beloved readers to miss out on such a masterpiece. Everything from the THX-authenticated audio, cutscenes, and plot to the voice acting and other sound effects are built with shuttle-launch precision.
19. Dragon Ball Z: Budokai 2
Genre: Fighting
Developer: Dimps
Release Date: 2004
The Dragon Ball Z fighting games are no less than a truckload of enjoyment, best relished when you have friends to play with. This two-dimensional side-scrolling fighting IP features the best characters from the Dragon Ball anime, pitting the likes of Goku, Vegeta, Piccolo, Gohan, Trunks, and Krillin against vicious villains.
That is to say, the title has a generous selection of character roster, so you'll definitely find a lot of versatility to play around with in this regard. As you play through the story mode, the in-game currency will be earned, making it easy to purchase items from the Skill Shop and load it onto your character.
You can then put together different skills and duke it out with your friends in an epic tournament-style battle as well. The combo system of Dragon Ball Z: Budokai 2 is adept at making you feel the joy of seamless fighting. It's definitely a worthy game to purchase for the GameCube console, we can assure you of that.
20. Tony Hawk's Pro Skater 3
Genre: Sports, Skateboarding
Developer: Neversoft
Release Date: 2001
You can never go wrong with a Tony Hawk game on the Nintendo GameCube. People have had a total blast skateboarding in the cleverly designed levels of Pro Skater 3, offering the very best in terms of replayability for days on end.
Combining different combos together and freestyling with your skateboard is insanely fun when you start getting the hang of the various gameplay mechanics that the title has to offer. As compared to Tony Hawk's Pro Skater 2, you can perform combos for a longer amount of time with more flexibility in that regard.
The game is widely available as well, so it'll come across as fairly easy to pick up. When you factor in classics such as these, game availability is also a concern you have to look out for. Thankfully, this isn't the case with what happens to be one of the best GameCube sports multiplayer games.
21. Custom Robo
Genre: Action RPG
Developer: Noise
Release Date: 2004
Take a break from all the rampage and the sports and try something unique for a change. The game is also known as Custom Robo: Battle Revolution in Japan and is actually the first of the Custom Robo franchise to launch outside the Land of the Rising Sun.
You've fought aliens, demons, human enemies, and creatures of all manner in the other GameCube multiplayer games, but we highly doubt that you've encountered robots in your ventures before. That is to say, Custom Robo lets you man a fully decked robot that the game likes to refer to as a "Commander."
It's just overly amusing to collect different "robo" upgrades, build your own custom robot, and battle it out with friends in fantastic couch multiplayer. Employ whatever you have at your disposal, ranging from guns, charged whiffs, bombs, and whatnot. The mechanized melee system of the title is nothing to sleep on.
22. The Simpsons: Road Rage
Genre: Vehicular Combat, Racing
Developer: Radical Entertainment
Release Date: 2001
The Simpsons: Road Rage is no slouch when it comes to manifesting the angry spirit of an average car driver. Take control of Homer Simpson—father of three and a Duff Beer lover—and run wild in the streets of Springfield without letting a second thought cross your mind.
While the popular car driving-centric game boasts a highly enjoyable single-player mode with tons of collectibles to unlock, for the most part, there does exist a multiplayer compartment in Road Rage as well. That way, a second player will pick up another controller and take control of a new character with a different vehicle.
Right after that, the two of the lot will compete to see who picks up the most passengers and delivers them to their destination in a set amount of time. Do give solo runs a shot as well just to see how well this otherwise understood best Gamecube racing multiplayer game holds its stance for you.
23. Godzilla: Destroy All Monsters Melee
Genre: Fighting
Developer: Pipeworks Software
Release Date: 2002
You must have heard of the Godzilla series. Well, the developers have been making Godzilla games as early as the GameCube days. It's a shame we haven't had a port for any of the latest IPs to land on the next-gen consoles or PC.
Anyhow, Godzilla: Destroy All Monsters Melee is a multi-faceted title that's easy to learn but hard to master. There is an array of different game modes incorporated within the title that make short work of monotonous fighting set pieces. You have to try the action-packed melee thrill of the game to believe it.
Step into the giant shoes of your favorite monsters from the Godzilla franchise or just go barefoot—whatever floats your boat. Some of the most impressive figures prevalent in the game include Mechagodzilla, King Ghidorah, Godzilla 90s, and even Godzilla 2000.
24. Mario Party 4
Genre: Party, Board-Based
Developer: Hudson Soft
Release Date: 2002
Mario Party 4 is one of the most impressive games that the Nintendo GameCube ever had the privilege of hosting to date. Its rip-roaring board-centric action possesses enough capacity to bring together a band of friends and let them run wild like the west.
It's one of the most definitive GameCube multiplayer games with a variety of modes to experience, given its party royale nature. 4 characters from the Mario series are placed on a board where 4 different humans will have to control the figures. It's either that or AI, so totally your call.
The rest of the game's principles are basically clockwork. You roll the dice, see what number you get, and move the corresponding number of blocks. If board games are your thing, let Mario Party 4 run your entertainment fix for you. Just make sure you have friends that love these types of games and you're all set.
25. The Legend of Zelda: Four Swords Adventures
Genre: Action-Adventure
Developer: Nintendo EAD
Release Date: 2004-2005
What we have here next is just one of the best GameCube action multiplayer games ever to come out for the Dolphin console. If you've got your retro-loving friends who are willing to embark on this adventure with you, The Legend of Zelda: Four Swords Adventures is going to turn out amazing for your squad.
However, there's one sliver of useful tidbit that you might want to read up on before making the purchase and hoping to play the multiplayer mode Four Swords Adventures. You will need a GameCube – Game Boy Advance link cable to be actually able to connect the game across different consoles.
When you do make it work right and iron out the kinks, the game in question becomes a tremendous mountain of fun, focusing deeply on the multiplayer puzzle aspect. The developers were even thoughtful enough to instill a competitive notion within each level as to which player grabs the most amount of money.
26. Pikmin 2
Genre: Real-Time Strategy (RTS), Puzzle,
Developer: Nintendo EAD
Release Date: 2004
Pikmin 2 is a direct follow-up to the original Pikim title. Being the second game in the series, the IP succeeds in bringing a hefty ton of improvements over the first game and making way for more innovative concepts to manifest. It's no wonder how it managed to win over the hearts of so many critics in its lifetime.
Nintendo crafted the sequel with diligence and it truly shows when playing the game for a couple of hours even. In Pikmin 2, you play from the perspective of a small-scale microscopic agent with firm control over plant-like creatures. It's actually the latter in the title that are known as Pikmin.
One of the competitive multiplayer modes of the game revolves around capturing an in-game resource of the other player. The two protagonists featured in Pikmin 2 are called Olimar and Louie and both of these are under the influence of you and your friend in co-op mode. A ton of fun and nothing else, this affair.
27. Mario Superstar Baseball
Genre: Baseball, Sports
Developer: Namco
Release Date: 2005
Ever pictured yourself hitting a homerun on the GameCube? Make your fantasies transition to reality with your favorite Mario characters by your side in this front-running Namco IP on the famous Dolphin console. Let loose upon the various different game modes that the title has to offer for the fun of a lifetime.
The primary Exhibition Mode of Mario Superstar Baseball is a standard baseball game with basic rules. You get to pick the captain of the team and the rest of the team members yourself, not to mention the inclusion of the stadium picker.
Lastly, the multiplayer mode of the sports-oriented title is ever pleasurable, allowing you to get your pack of friends and enjoy classic American baseball with visually striking gameplay. If you're into the diverse category of this ballgame, do yourself a favor and pick up Mario Superstar Baseball without a second thought.
28. Naruto: Clash of Ninja 2
Genre: 2D Fighting
Developer: Eighting
Release Date: 2003
Similar to how things play out with Dragon Ball Z: Budokai 2, Naruto: Clash of Ninja 2 is a high-intensity fighting game with intuitive combat mechanics. The title is part of the Naruto: Clash of Ninja franchise and features a specific section of the protagonist's storyline.
Therefore, the included segments in this second entry in the series shows Naruto taking off from the Ninja Academy and making his way to the annual Chunin Exam that grants a specific honorable status. Clash of Ninja 2 features more characters, a refined gameplay system, and the ability to host up to 4 players at a single time.
4 players can duke it out together in the game, making its multiplayer mode exceedingly fun and a must-try on the GameCube. Some features won't be available right from the get-go though in both single-player and multiplayer mode, so you will have to progress the story to a certain extent to unlock all extra perks.
29. Pokemon Colosseum
Genre: Third-Person RPG, Turn-Based
Developer: Genius Sonority
Release Date: 2003-2004
Pokemon Colosseum is a third-person style venture where you take control of Wes, a Pokemon trainer. Our protagonist is initially shown to be destroying an enemy hideout, but little does he know what awaits him next. While we'll refrain from spoiling the game any further, let's talk about the gameplay instead.
Wes carries a whole bunch of Pokemons that can be employed in battle. Speaking of which, whenever someone comes up to you asking for trouble, the interface of the game changes to turn-based. Right afterward, it's you and the enemy in front that has to talk things out with their Pokemon creatures.
There's not one but several ways out in the title that can be used to play together with friends and family. Such a delightful adventure bar none.
30. Pac-Man Fever
Genre: Party, Board Game
Developer: Mass Media
Release Date: 2002
As for the final entry on the list, we've got Pac-Man Fever to help us top things off in a stylish way. This is a board-based game that lets you hop on three different virtual boards. The selection of these entities include Space, Tropical, and Medieval, and you can choose any of them, depending on your mood and preference.
Each round starts with a mini-game where the winner gets the most amount of spots to skip on the board. The winner of these round-starting diversions are usually essential in the long run, although still not quite necessary to outcome each time.
If you have a thing for party games, you'll definitely grow to admire what is otherwise one of the best GameCube board multiplayer games. Pac-Man is already an iconic character that traces its origins back to the retro days of gaming. It's good to see the cute little figure making rounds across the globe still.
The Wrap-Up
Japanese industry giant Nintendo is a hale and hearty competitor when it boils down to the realm of gaming. The company was founded way back in 1889, back when things were plain and simple.
It turns out that the popular establishment has been in this trade long before PlayStation or Xbox, thereby redeeming itself as one of the OGs of the business. It started its diverse ventures with the NES, which is short for Nintendo Entertainment System.
The product became a colossal hit on the spot and went on to carry the industry for a bevy of years. That was until Sega upped the ante and came out with their own front-running entertainment system called Genesis. The latter did well until Nintendo pulled out an ace and dropped the Super Nintendo Entertainment System.
The second major entry in Nintendo's family of home consoles was also colloquially known as Super NES or SNES, causing a massive stir across the globe and becoming a ubiquitous success just as well. As long as the 16-bit era of gaming continues, the SNES retained its position as the best-selling console of the time.
Fast-forward to 1996, then came Nintendo 64. N64 was released with a trio of top-tier titles and sold over 32 million units in its active lifetime. Translating that into a simpler sentence, the Nintendo 64 also remained a commercial success.
Finally arriving at the topic in question, the Nintendo GameCube in all its glory made landfall in 2001. Carrying the Japanese establishment's missile into the sixth video game console generation, this was the first time Nintendo ever allowed the use of optical disks as opposed to typical game cartridges.
The GameCube had to compete with the likes of the PlayStation 2, Microsoft Xbox, and the Sega Dreamcast in its period of operation. To point out one distinct facet of the console, Nintendo made Dolphin the most compact out of the rest of the sixth-gen consoles, making full use of its enlarged real estate.
As we've jotted it down in the guide above, a girth of games, both online multiplayer and local co-op compatible games headed toward GameCube's way. Some of those titles went on to make history in their respective categories.
Due to the level of quality this certain set of IPs exhibit, they are still highly playable in 2022, provided that you've got a GameCube laying around. However, make sure that you go through the installation of a network modem on your console.
Unfortunately, due to its dated release, the system didn't arrive with network connectivity right out the gate. It's necessary for one to incorporate a supported modem adapter themselves for the most robust experience playing online.
We hope that you've found our list of the best multiplayer GameCube games useful for your cause. Don't forget to comment down below and let us know your favorite out of the whole bunch. As always, eXputer wishes you happy gaming!
Was this article helpful?
Thanks! Do share your feedback with us. ⚡
How could we improve this post? Please Help us. ✍