Get ready for the ultimate scare fest! From the spine-chilling to the downright terrifying, these are the 20 Best Horror Games for Xbox 360. With a range of hair-raising experiences, you're guaranteed to be shaking in your boots. Prepare to face your deepest fears in this list of the most pulse-pounding, truly horrific games. If you're ready to brave the nightmarish worlds that await, let's begin!
Key Takeaways
The Saw game gives the best nightmarish experience out of all games on this list.
The first Silent Hill was massively underrated; it never got the attention it deserved.
Resident Evil 5 is a must-try for newer games to the horror franchise.
Resident Evil 6 is a great game for newbies and pros and a must-try!
Alan Wake is a classical horror game that will make your hackles rise!
Dead Space has it all; great story, great plot, and most importantly, great combat.
Dead Island is both funny and massively intriguing for all sorts of players.
Condemned: Criminal Origins: Features melee combat, puzzle-solving, and a gritty, realistic atmosphere.
The Evil Within: Players control detective Sebastian Castellanos, who is pulled into a twisted world of nightmares.
Dead Space 2: Praised for its intense action, suspenseful set pieces, and expanded universe.
Resident Evil: Revelations: Features a mix of action and exploration, with multiple playable characters and a cooperative mode.
Silent Hill: Downpour: A survival horror game set in Silent Hill, where players control convict Murphy Pendleton.
BioShock: Praised for its immersive world-building, memorable characters, and thought-provoking themes.
Dead Space 3: Features new weapons and enemies and an expanded crafting system.
Game
Award Won
Developer
Release Date
Dead Space
BAFTA Games Award for Audio Achievement
2009
Motive Studio
October 14, 2008
Condemned: Criminal Origins
N/A
Monolith Productions
November 15, 2005
Resident Evil 5
Canadian Screen Award for Achievement in Visual Effects
2013
Capcom
March 5, 2009
Alan Wake
First spot in Time magazine's list of the top 10 video games of 2010
Remedy Entertainment
May 14, 2010
The Evil Within
iHorror Award
Tango Gameworks
October 14, 2014
Dead Space 2
BAFTA Awards (2012)
Visceral Games
January 25, 2011
Resident Evil: Revelations
BTVA Video Game Voice Acting Award nominee
Capcom
January 26, 2012
Silent Hill: Downpour
First Russian Horror Films Award
Vatra Games
March 13, 2012
Dead Island
Gold prize for Internet Film
YAGER
September 6, 2011
Dead Rising
VGX Award for Best Action Game
2006
Capcom
August 8, 2006
BioShock
BAFTA Games Award for Best Game
2007
2K Games
August 21, 2007
Dead Space 3
BAFTA Games Award for Audio Achievement
2009
Visceral Games
February 5, 2013
Dying Light
Golden Joystick Award Nominee
Techland
January 26, 2015
Silent Hill 2
N/A
Bloober Team
September 24, 2001
The Walking Dead
VGX Award for Game of the Year
2012
Telltale Games
October 31, 2010
Metro 2033
N/A
4A Games
March 16, 2010
Resident Evil 6
Best Sound Editing Award
Capcom
October 2, 2012
Left 4 Dead 2
British Academy Games Award for Multiplayer
2010
Valve
November 17, 2009
Dead Rising 2
N/A
Capcom
September 24, 2010
Saw
N/A
Zombie Studios
October 6, 2009
Dead Space
| | |
| --- | --- |
| Genre | Survival horror |
| Game Modes | Single-player |
| Metacritic Rating | 89/100 |
For the Xbox 360, Dead Space is a terrifying and exciting horror action experience. A future space engineer, Isaac Clarke, fights an unknown extraterrestrial race while trapped on a derelict interplanetary mining ship. It places the user in an original third-person viewpoint, pulling them into action. The images are crisp, colorful, and ominous. The sound design is superb, including sound effects, ambient music, and even the voice performances of the key characters. The game won the BAFTA Games Award for Audio Achievement in 2009.
Pros
Innovative and immersive atmosphere

Fantastic visuals and sound design

Intense and thrilling gameplay

It has a fascinating sci-fi story

Offers a variety of weapons and upgrades
Cons
Limited enemy AI

Short campaign

Repetitive level design

The limited scope of weapon customization

Great difficulty level at times can be frustrating
Condemned: Criminal Origins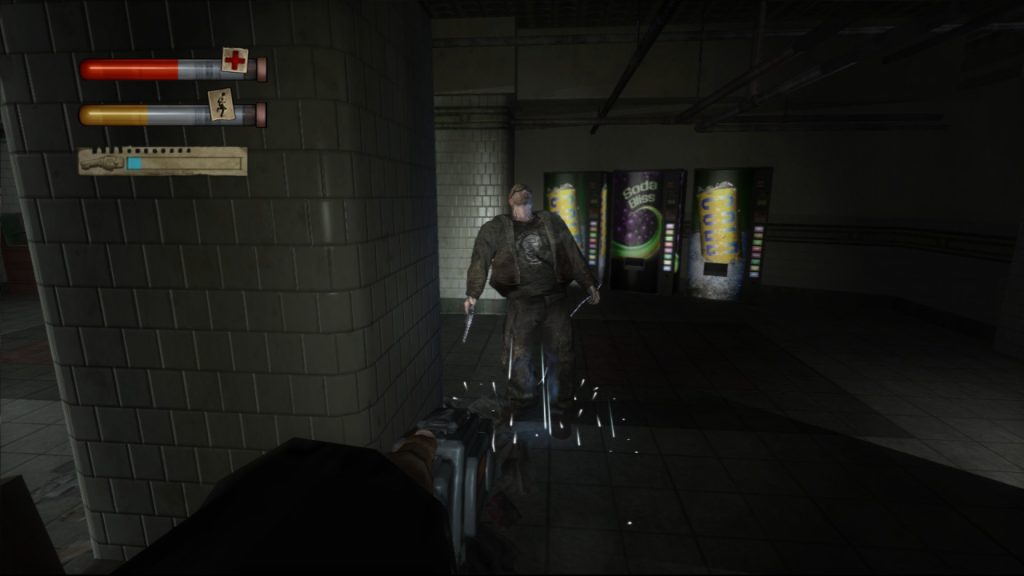 | | |
| --- | --- |
| Genre | Survival horror |
| Game Modes | Single-player, Multiplayer |
| Metacritic Rating | 81/100 |
Monolith Productions and Sega launched Condemned: Criminal Origins, a terrifying Xbox 360 and PC horror horror. This 2005 Xbox 360 horror game is still one of the best.
Ethan Thomas, an FBI agent, must find a serial murderer terrorizing Metro City. The metropolitan setting is wonderfully detailed. You must utilize your detective abilities to find the culprit and defend the city from the mad invasion of vicious criminals and monsters. It has a frightening mood and gorgeous, immersive graphics. The somber music complements its gloom and brutality.
Condemned: Criminal Origins fights are violent. To defeat your attackers, use any weapons you can find, like pipes and slabs of wood. You must outwit the enemy and evade their lethal strikes. It is a highly immersive horror. The game has great aesthetics, music, and fighting. It will excite horror fans.
Pros
Incredible atmosphere and suspenseful story

Intense action-adventure gameplay

Excellent use of sound and visuals

Unique weapons and items

Interesting puzzles
Cons
Repetitive combat and enemy encounters

Poor AI

Lack of replay value

Occasional technical issues

Some of the level designs can be confusing
Resident Evil 5
| | |
| --- | --- |
| Genre | Survival horror, third-person shooter |
| Game Modes | Single-player, Multiplayer |
| Metacritic Rating | 83/100 |
Resident Evil 5 is a fascinating and violent game. Cap com's sixth horror raises the bar with its novel, violent action, and engaging storytelling. Uroboros, a bioorganic weapon, is causing havoc in Kijuju, Africa. BSAA member Chris Redfield investigates and stops the spread. This is best played with friends. Kijuju's horrors and diseased enemies need teamwork. Characters are controlled with analog sticks and shoulder buttons throughout the game. This lets you simultaneously move, aim, and fire, making the it more immersive.
Beautiful graphics bring the game to life. The rich scenery, character models, and lighting effects immerse you. The sound design, with great effects and voice acting, helps set the mood. Resident Evil 5 is an exciting, violent, and immersive horror. Series aficionados must play it for its novel gameplay, amazing graphics, and furious cooperative play. This also won the Canadian Screen Award for Achievement in Visual Effects 2013 and is one of the Best resident evil Horror Games on Xbox 360.
If you, too, like us, love Leon for the mysterious yet loveable character he is, then you would be glad to check out our Resident Evil: 5 Interesting Facts About Leon guide!
Pros
Great graphics and visuals

Interesting storyline and characters

Action-packed gameplay

Coop and online multiplayer

Wide range of weapons and upgrades
Cons
Slow loading times

Repetitive environments

Inconsistent enemy AI

Some sections can be overly difficult

It can be relatively short compared to other games in the series.
Alan Wake
| | |
| --- | --- |
| Genre | Survival horror, third-person shooter |
| Game Modes | Single-player |
| Metacritic Rating | 83/100 |
Remedy Entertainment and Microsoft Studios produced and released Alan Wake. Xbox 360 and Windows versions were launched on May 14, 2010.
This game features Alan Wake, a bestselling novelist with writer's block, in Bright Falls, Washington. He seeks inspiration at Bright Falls, where darkness-spawned monsters besiege him called the Taken. He must employ many weapons to fight the Taken and avoid the darkness. The game's mix of Light and darkness produces an eerie, suspenseful mood. Through in-game radio and TV broadcasts, the game emphasizes story and narrative. Its soundtrack includes original and licensed music.
Pros
Innovative story-driven gameplay

Excellent voice acting

The engaging and suspenseful atmosphere

Beautiful graphics and visuals

Rich soundtrack

Unique weapons and enemies
Cons
The combat systems can be repetitive

Limited level variety

Some frustrating puzzles

Short length

Some glitches in the game
The Evil Within
| | |
| --- | --- |
| Genre | Survival horror |
| Game Modes | Single-player |
| Metacritic Rating | 79/100 |
The Evil Within is a terrifying horror. The game is a nightmare world created by Tango Gameworks and distributed by Bethesda Softworks. Detective Sebastian Castellanos investigates the terrible happenings in Krimson City in a world dominated by the "Mobius."
This creates a tense, dreadful mood. Every part of it has a scary, complex scenery, horrific enemies, fierce combat, and riddles that require creativity. It has several intriguing characters with distinct backstories contributing to the story. Handguns, shotguns, crossbows, knives, and axes are available. You may slow time or build traps to survive foes. Use your weapons and talents to survive the fast-paced conflict. If not the Best Horror Game on Xbox 360, it also won the iHorror Award.
Pros
Engaging and immersive story with multiple endings.

Beautiful visuals with an eerie, haunting atmosphere.

The combat system encourages strategic thinking and the use of survival horror tactics.

A variety of weapons and items to choose from.

Puzzles and exploration elements add to the challenge.
Cons
Difficulty can be too punishing at times.

Controls can feel a bit clunky.

Some of the enemy designs can be a bit unoriginal.

They limited stealth mechanics.

Combat can become repetitive.
Dead Space 2
| | |
| --- | --- |
| Genre | Survival horror, third-person shooter |
| Game Modes | Single-player |
| Metacritic Rating | 90/100 |
Visceral Games and Electronic Arts created and released Dead Space 2, an intense third-person horror survival. The 2011 sequel follows Isaac Clarke as he fights necromorphs on a space station.
The Sprawl, a crowded space station, hosts the game. Dead Space 2 is substantially less claustrophobic than the original. Explore the Sprawl's citylike streets or the Technological District's gloomy, subterranean passages. Dead Space 2 has great visuals with complex locations and characters. The dramatic aesthetics evoke fear and anxiety. Ambient soundscapes and strong sound effects accentuate the scary themes.
Dead Space 2 has improved gameplay. It still involves battling swarms of necromorphs. New weapons and abilities let you fight differently. Some puzzles and platforming parts demand Isaac's talents. Dead Space 2 is a great horror survival. Its aesthetics, mood, and fighting are exceptional. It also features challenging puzzles and platforming. Dead Space 2 is a must-play for horror survival game fans. Lastly, it also won the BAFTA Awards (2012).
Pros
Improved combat mechanics, allowing for more strategic gameplay.

Great visuals and sound design create a truly immersive atmosphere.

The story is engaging and captivating, with an interesting and unpredictable plot.

The weapon upgrading system is more robust, allowing for more customization.

The enemy AI has been improved, making them more challenging and unpredictable.
Cons
The game can be quite challenging and intimidating at times.

The game relies heavily on jump scares, which can sometimes be overused.

The inventory system can be a bit overwhelming for new players.

Some of the puzzles can be quite frustrating and difficult to solve.

The game can sometimes be repetitive, with some sections feeling like filler.
Resident Evil: Revelations
| | |
| --- | --- |
| Genre | Survival horror |
| Game Modes | Single-player, Multiplayer |
| Metacritic Rating | 82/100 |
Capcom produced and released Resident Evil: Revelations. Series heroes Jill Valentine and Chris Redfield explore a new bioterrorist danger in Terragrigia. It also contains Resident Evil characters Barry Burton and Jessica Sherawat.
This blends traditional Resident Evil with action-adventure gameplay. It has better graphics, a new weaponry and goods system, and several riddles. The plot is episodic and tracked through a file system. Revelations are fun and fulfilling. The series' strongest aesthetics include complex scenery and character models. Sound effects and superb music establish the tone throughout. Players may traverse the surroundings with responsive controls.
Pros
The intense and suspenseful storyline

Highly detailed graphics

Variety of weapons and enemies to choose from

Cooperative multiplayer mode

Variety of characters to choose from

Interesting and unique puzzles
Cons
Puzzles can be overly difficult

Limited replayability

Some sections can be overly difficult

Minor glitches can be present at times
Silent Hill: Downpour
| | |
| --- | --- |
| Genre | Survival horror |
| Game Modes | Single-player |
| Metacritic Rating | 68/100 |
Silent Hill fans must play Silent Hill: Downpour. The newest chapter expertly blends survival and psychological horror to create a spooky and unpleasant environment.
After a prison bus catastrophe, prisoner Murphy Pendleton arrives in Silent Hill. Murphy must seek the community for his history. He learns that the town is covered in a weird fog and that terrible animals lurk in the shadows. This has jump scares, frightening graphics, creative puzzles, and an engaging tale. The problems are difficult and demand the player to focus on the surroundings. The narrative is captivating and full of surprises.
Silent Hill: Downpour is a great game. Its combination of survival horror and psychological horror makes it memorable.
Pros
The engaging and immersive atmosphere with some truly creepy and suspenseful moments.

Beautiful graphics that provide a more realistic experience.

An engaging combat system that allows for some interesting strategies.

Interesting side quests provide an opportunity to explore the town of Silent Hill.
Cons
Some of the puzzles can be overly difficult and frustrating.

Voice acting can be inconsistent, with some lines appearing awkward or unnatural.

Unnecessary backtracking can be tedious and time-consuming.

The story can be confusing and difficult to follow at times.
Dead Island
| | |
| --- | --- |
| Genre | The role-playing action game, survival horror |
| Game Modes | Single-player, Multiplayer |
| Metacritic Rating | 71/100 |
Techland and Deep Silver developed and released Dead Island for Windows, PlayStation 3, and Xbox 360. Dead Island, released in 2011, is set on a tropical zombie-infested island where survivors fight to escape. The first-person contains four character classes with distinct powers and play styles. Players may use knives, bats, pistols, and shotguns. The player must scavenge, improve weapons and armor, and fulfill tasks as the game advances.
Critics liked Dead Island's mood, aesthetics, and fighting. RPG and open-world aspects were also lauded. However, other reviews questioned the problems and loading delays. Dead Island is fun. The mood, aesthetics, and fighting are excellent. The open-world framework and RPG components give depth. Technical difficulties are disappointing, but they don't ruin the game. Zombie survival horror fans should play Dead Island, which is believed to be the Best Horror Zombie Game on Xbox 360. Due to this, it has won awards like a Gold prize for Internet Film.
Pros
Open world environment with a large variety of weapons and locations to explore

Engaging storyline with twists and turns

Large selection of enemies to defeat

Coop mode allows up to four players to join forces

The fun crafting system adds a unique element to the game

Graphics are highly detailed and immersive
Cons
Combat can become slightly repetitive

Some glitches and bugs have been reported

Lack of NPC interaction can be disappointing

Story missions can take a while to complete

Loot drops can be inconsistent

The inventory system can be a bit confusing
Dead Rising
| | |
| --- | --- |
| Genre | Action-adventure game, survival horror |
| Game Modes | Single-player, Multiplayer |
| Metacritic Rating | 85/100 |
In Willamette, Colorado, zombies have taken control. Journalist Frank West must traverse the city and rescue people from zombies. Frank must also uncover the cause of the zombie outbreak and survive waves of undead. The player may use anything from chainsaws to samurai swords to survive. The user may combine materials to make stronger weapons, like a baseball bat with nails. The game has zombies and mutants.
Its goal is to discover survivors and battle zombie hordes. Up to four players may cooperate online to finish the major narrative quests. Its graphics are fantastic. Zombies and character models are detailed. It plays nicely without frame rate dips or stuttering.
Dead Rising is fun. It won the VGX Award for Best Action Game 2006. Story and fighting are engaging. Multiple endings and online multiplayer provide replay value. Though tedious, it's a wonderful zombie horror.
Pros
Wide variety of weapons and tools to choose from

Over 100 unique characters to interact with

Gratifying experience when defeating the zombies

Open world environment that encourages exploration

A huge selection of different kinds of zombies

Creative and interesting minigames

Immersive storyline with plenty of twists
Cons
Extremely long loading times

Repetitive missions and objectives

Poor optimization for the PC version

Limited combat mechanics

Finite inventory space

Tedious checkpoint system

Controls can be clunky at times
BioShock
| | |
| --- | --- |
| Genre | First-person shooter, role-playing game |
| Game Modes | Single-player |
| Metacritic Rating | 96/100 |
BioShock's unique plot enthralls gamers. The protagonist explores Rapture, an underwater metropolis. Its dynamic and fascinating gameplay keeps players interested throughout the run. BioShock has stunning, immersive graphics. The varied weaponry, enemies, and locations keep things interesting. Thechallenges need creative thinking to solve.
BioShock's soundtrack is likewise excellent, with haunting melodies and strong musical cues that build suspense. The voice acting enhances the tale and characters.
BioShock is a great one that keeps gamers coming back. Gamers will love this game's original plot, extreme action, and stunning graphics. Advisable!
Pros
The beautiful and immersive art style

Excellent narrative and storytelling

Unique setting and atmosphere

Varied and challenging gameplay

Well-crafted weapons and upgrades

Richly detailed characters and environments
Cons
Linear level design

Repetitive enemy types

The storyline can be overly long

Glitches and bugs are common

Combat may be too easy or too difficult at times
Dead Space 3
| | |
| --- | --- |
| Genre | Survival horror, third-person shooter |
| Game Modes | Single-player, Multiplayer |
| Metacritic Rating | 78/100 |
Dead Space 3 is the third highly renowned survival horror series episode. Tau Volantis' freezing tundra holds the secret to humanity's survival against the Necromorphs, a species of aliens who have invaded the cosmos. In this game, players control Isaac Clarke, an experienced engineer and the lone survivor of Dead Space, as he and his companion John Carver face the Necromorph invasion.
Exploration and fighting dominate the gameplay, like the prior two. Players can fight the Necromorphs using the Plasma Cutter, Ripper, Contact Beam, and Javelin Gun. The crafting system lets players personalize their weapons by salvaging components and combining them to make stronger ones. Two players may fight the Necromorphs in coop mode.
The lighting and visuals are stunning. The mood is eerie because it captures the Necromorphs' fear and sorrow. The sound design is fantastic, with scary music and sound effects. Dead Space 3 is a terrific horror that will gratify even diehard fans. The horrific atmosphere, great sound design, and intense gameplay make it a must-play for horror fans. Dead Space 3 is a great survival horror and won the BAFTA Games Award for Audio. Many people rank it as the Best Horror Game on Xbox 360.
Pros
Coop mode allows for a more collaborative experience

Ability to craft weapons and armor to customize your experience

Improved enemy AI and more varied enemy types

Refined and improved graphical presentation

Improved weapon mechanics and controls
Cons
Lack of focus on horror elements

Linear level design

Lack of innovative new features

Repetitive and boring side missions

Microtransactions provide an unfair advantage
Dying Light
| | |
| --- | --- |
| Genre | The action role-playing game, survival horror |
| Game Modes | Single-player, Multiplayer |
| Metacritic Rating | 74/100 |
Dying Light is an exciting action-adventure that stands out. Harran is the setting for Techland's open-world zombie apocalypse. Players play undercover agent Kyle Crane. Parkour and fighting enable players to navigate the city and kill enemies easily. They jump and climbing work together to make movement smooth. Avoiding zombies, players may climb roofs or leap between buildings.
Fun combat. Players may use firearms, swords, homemade equipment, and explosives. Survival and evasion dominate the fast-paced fight. Survival and zombie defeat need wits. Amazing graphics. Harran is stunningly detailed and eerily lovely. The character models work flawlessly.
Well written and captivating. While investigating the zombie pandemic, players must complete objectives and activities. The sidequests increase replayability.
Dying Light is great. Its unique and exhilarating experience will have you coming back for action-adventure fans. Dying Light is a must-play.
Pros
It is great storytelling with a suspenseful and engaging narrative.

Breathtaking visuals make the post-apocalyptic world vibrant and realistic.

Challenging and rewarding gameplay that encourages exploration and experimentation.

Coop mode allows you to play with friends and enjoy the fun.

A vast, open world full of secrets to uncover and enemies to battle.
Cons
Poor optimization, resulting in lag and frame rate issues.

They limited weapon customization options.

Repetitive sidequests that feel like filler content.

Occasional glitches and bugs can disrupt the experience.

Lack of postgame content, leaving players with nothing to do after the story.
Silent Hill 2
| | |
| --- | --- |
| Genre | Survival horror |
| Game Modes | Single-player |
| Metacritic Rating | 89/100 |
One of the best survival horror games is Silent Hill 2. After receiving a mysterious letter from his deceased wife, James Sunderland arrives in Silent Hill. James must traverse the foggy town and the frightening Otherworld to decipher his wife's message and escape the danger.
The fog and darkness create a sense of dread and uneasiness. James must solve Silent Hill 2's horrific riddles. Footsteps, creaking doors, and a spooky soundtrack make it unsettling.
Silent Hill 2 is a twisty survival horror. James has several weapons to battle fog creatures. The scary foes are exciting to fight, but its gameplay is odd. Gamers will love its story. Characters have reasons and secrets. Players will be captivated by its unique story. It's a top survival horror game. Its story, puzzles, and combat are great. Xbox 360's finest horror game is Silent Hill 2.
Pros
Excellent atmosphere and sound design

Engaging and immersive storyline

Great voice acting

Subtly creepy yet unnerving audio and visuals

An incredibly deep and meaningful narrative

Challenging puzzles with multiple solutions

Interesting characters with unique personalities
Cons
Unforgiving difficulty level

Outdated graphics

Lack of enemy variety

Occasional frame rate problems

Linear level design
The Walking Dead
| | |
| --- | --- |
| Genre | Graphic adventure |
| Game Modes | Single-player |
| Metacritic Rating | 89/100 |
Telltale Games' Walking Dead reinvents the zombie apocalypse. Based on the comic book series, the game combines visual adventure with point-and-click puzzles. Lee Everett, a fugitive, survives a zombie outbreak. Players must choose narratives and results throughout the story. It has beautiful visuals. Comic book art is subtle. It has terrific music and a great voice cast led by Lee Everett.
The Walking Dead is an adventure and puzzle telltale. The riddles are difficult and demand a lot of thought and experimentation. A conversation system lets players customize their character's relationships with other survivors. The player's choices during the story will affect the group's fate. The Walking Dead's narrative is very strong. It has a varied cast with various backstories. From the start, the player is immersed in a universe where their decisions will shape the story.
The Walking Dead is a great adventure telltale with an interesting plot, outstanding visuals, and hard puzzles. The story, music, and voice acting make it immersive. On top of this, the game won the VGX Award for Game of the Year 2012.
Pros
It features a gripping narrative that revolves around a post-apocalyptic world.

The game features great visuals and a detailed environment

The game also offers a great cooperative multiplayer mode
Cons
The game can be quite challenging at times

Some characters have limited dialogue.

The game can be quite repetitive as it often involves completing the same objectives repeatedly to progress.

The game can be quite buggy at times

The game can be quite slow-paced at times
Metro 2033
| | |
| --- | --- |
| Genre | First-person shooter, survival horror |
| Game Modes | Single-player |
| Metacritic Rating | 77/100 |
The first-person shooter Metro 2033 was published in March 2010 by the studio 4A Games. The city of Moscow and its surroundings have been decimated by nuclear war, which is the setting. The player assumes control of Artyom, a young guy who must explore Moscow and its environs while fending against deadly altered humans and mutants and the new viral illnesses that have swept the globe.
It's a first-person shooter in a dystopian Moscow in Metro 2033. The Earth has been ravaged by nuclear war, and its ruins serve as the backdrop. The player assumes control of Artyom, a young guy who must traverse Moscow while fending against hostile altered humans, mutants, and the world's new viral epidemic. As the radiation destroys human memory and cognitive abilities, Artyom must discover a means to halt it.
Pros
The game's atmosphere is incredibly immersive

The storyline is engaging and full of twists

There's a sense of danger around every corner

The game features an array of different weapons and items

The RPG elements of the game make it more enjoyable.
Cons
The graphics are outdated and don't compare to modern games.

The artificial intelligence of the enemies can sometimes be clunky and inconsistent.

The game is quite linear, with limited exploration opportunities.

The game is quite short and lacks replayability.
Resident Evil 6
| | |
| --- | --- |
| Genre | Survival horror, third-person shooter |
| Game Modes | Single-player, Multiplayer |
| Metacritic Rating | 67/100 |
Since its announcement, Resident Evil 6 has been eagerly awaited by fans. Leon S. Kennedy, Chris Redfield, and newcomer Jake Muller fight a worldwide epidemic.
China, Europe, and North America are the settings. Each location's plot provides variety. It has online and offline multiplayer modes. Resident Evil 6 is aggressive and fast-paced. Players may pick one of the three heroes with unique talents and capabilities. Zombies, mutants, and more enemies await players. To live and advance, players must utilize all their skills and cunning.
Resident Evil 6 has lifelike visuals. The characters are real, and the landscapes are huge. As they play, players acquire weapons and equipment improvements. Resident Evil 6 has an immersive sound: excellent sound effects, voice acting, and soundtracks.
Resident Evil 6 is great horror action. It has a dramatic tale, gorgeous visuals, and great sound design. Fans and newbies should play it.
Pros
The game features multiple characters and stories.

The game features improved graphics and visuals.

Players have access to various weapons, from handguns to sniper rifles.
Cons
The game does not introduce any new ideas or gameplay elements

The game has clunky and unresponsive controls

The game relies too heavily on action and gunplay
Left 4 Dead 2
| | |
| --- | --- |
| Genre | First-person shooter |
| Game Modes | Single-player, Multiplayer |
| Metacritic Rating | 89/100 |
To say that Left 4 Dead 2 will have you on the edge of your seat is an understatement. You immediately find yourself in a post-apocalyptic setting populated by zombie-like monsters. You aim to make it through the dangerous areas and into the safe ones alive. There are swarms of zombies that you must fight through, and you'll need to use every tool at your disposal — including your arsenal — if you want any chance of survival.
The action occurs at a breakneck pace, with waves of attackers attacking from all directions. To stay alive, you must do many different things simultaneously, such as managing your supplies and looking for a secure hiding place. An innovative artificial intelligence engine in the game adds an extra layer of difficulty by having the zombie hordes act in unpredictable ways.
Pros
Fast-paced and intense gameplay

Customizable difficulty levels

Variety of characters to choose from

Addictive and intense CoOp mode

High-quality graphics and audio
Cons
Online mode can be laggy at times.

Low replay value as the same maps are used throughout

Limited variety of playable levels

Short story mode

Some weapons lack balance

Limited options for customizing characters

Fewer weapons compared to the original game
Dead Rising 2
| | |
| --- | --- |
| Genre | Action-adventure game, survival horror |
| Game Modes | Single-player, Multiplayer |
| Metacritic Rating | 79/100 |
The survival horror Dead Rising 2 is an exciting and engaging experience that raises the bar for zombie killing. It immediately grabs the player's attention with an exciting and thrilling plot, and they'll be entertained for quite some time. Chuck Greene, the protagonist, must find a way to get his daughter Katey out of Fortune City's zombie-infested metropolis. Chuck must fight through swarms of zombies using whatever means are at his disposal. Adding to the desperation and urgency, Chuck has just 72 hours to figure out how to stay alive.
Dead Rising 2's visuals are top-notch, including rich hues, detailed character models, and intricate settings. In terms of gameplay, the performance is silky and quick. Easy to pick up and play, the controls will have you slaying zombies in no time. Eerie music plays in the background, and there are pleasant sound effects.
Pros
Dead Rising 2 offers plenty of entertaining and creative ways to fight off hordes of zombies.

Open world

Fight off the zombie hordes with a friend in the two-player coop mode.

You can customize your playstyle and make each fight unique.
Cons
The missions can start to feel repetitive, with the same objectives and enemies.

The game can suffer from slowdown and other technical issues due to poor optimization.

Dead Rising 2 can feel like a slog at times.

The campaign is relatively short.

You may experience various glitches and issues.
Saw
| | |
| --- | --- |
| Genre | Survival horror |
| Game Modes | Single-player |
| Metacritic Rating | 59/100 |
In the current day and age, the Saw ranks high on the list of most intriguing and challenging games. Thanks to the riveting mechanics and thrilling plot, you won't be able to take your eyes off the screen. It will make you feel various emotions, from acute fear to ecstasy.
The plot is fascinating, and a touch of mystery keeps you wondering. As Detective David Tapp, it is up to you to solve the case of the killings perpetrated by the notorious Jigsaw murderer. You'll need to investigate mysterious locales, figure out riddles, and learn confidential information to advance.
In conclusion, Saw is an excellent horror that keeps you pumped. Keeps you on the tip of your seat with its riveting plot, gorgeous graphics, and frantic gameplay. This is easily one of the goriest yet Best Horror games on Xbox 360.
Pros
Creative puzzles that require strategic thinking to solve

The engaging storyline that keeps players engaged

Variety of locations to explore and puzzles to solve

The intense atmosphere and suspenseful moments

Many hours of gameplay
Cons
Gruesome and violent content can be disturbing to some players

Difficulty ramping up can be too steep at times

Puzzles can be too abstract, leaving players frustrated

The game can be too long and drawn out for some players

Camera angles and movement can be confusing and disorienting
Summary
There you have it, then! The list of the 20 Best Horror Games on Xbox 360 has ended. These are some of the finest horror games to get your pulse pounding, ranging from horrifyingly suspenseful to downright spine-chilling. So don't seek beyond these horror icons if you want a satisfying shock and a memorable gaming experience!
Next:
Was this article helpful?
Thanks! Do share your feedback with us. ⚡
How could we improve this post? Please Help us. ✍