Plenty of titles happened to make landfall for the legendary retro console, but not all of them can be referred to as best Sega CD games. The added component for the gaming system made extended performance a reality for the world, thereby providing developers with the flexibility they needed to create rip-roaring IPs on the fly.
However, in the case that you've just gotten ahold of Sega's third front-running console in the ripe tech-forward age of 2022, you better steer clear of unworthy ports and flat-out nonsense Sega Genesis games. Therefore, lo and behold the best games on Sega CD that will make your time worth every penny.
Follow along with the instructions listed in the guide to leave here knowledgeably well-equipped. In the meantime, do consider checking out our similarly-styled Best GameCube Multiplayer Games guide. With no further ado, let's get the party started.
Best Sega CD Games
The following is our hand-picked list of all those Sega CD games that succeeded in making the cut, quite identical to the BEST Steam Games for Mac. Do read until the end to explore all of your options in this due regard.
1. Snatcher
Genre: Graphic Adventure, Science Fiction, Cinematic Experience
Release Date: November 26, 1988
Developer: Konami
There's a reason Snatcher is selling for more than $1,500 on Amazon at the moment. As ridiculous as that sounds, it's woefully true. Being one of the best Sega CD games of all time comes at a cost, and this time, that cost just might be too much for you to bear.
Classified as a cyberpunk-style graphical venture, Snatcher is more an experience than a video game on its own. In fact, the category it's classified in is "Graphic Adventure" where the images you see in-game will continue to remain static throughout the gameplay with little to no animation.
As simple and uninteresting as that sounds, players truly had another thing coming their way. Back in the era of Sega Genesis, simplicity prevailed, and Snatcher was the Picasso of the craft. Despite the linear storyline and absence of any true action, the visual novel came out to turn heads all around 360°, though not too literally.
Snatcher features one of the most engaging and gore-filled plotlines ever, making it a real treat to witness as a Sega Genesis console owner. The overall setting and the whole environment that the title creates for the player on the other end is nothing but amazingly put together.
For an IP that was developed back in the late 90s, that's a lot of praise, but we haven't even remotely come close to how the top-ranking publishing magazines held Snatcher in their good graces. Although it received negative criticism in some areas, the game was just a blatant hit, thanks to everything it got right.
Hideo Kojima—the man, the legend—found inspiration for Snatcher in popular sci-fi films of that time. A few of those include The Terminator, Pulp Fiction, Blade Runner, and other like-minded movies of the famous era. If you can get your hands on the title, don't waste another moment not playing it.
2. Sonic CD
Genre: Side-Scroller, Platformer
Release Date: September 23, 1993
Developer: Sega
If perhaps anything it's Sonic that represents the brand that Sega is today. No other best selling Sega CD games come close to the bar that Sonic CD raised for the platform to strive toward. The title was an instant hit upon its release and managed to garner universal acclaim from all around the globe.
The best part is that the IP at hand did not even fully manifest the true capability of the Sega CD add-on for Sega Genesis. Even still, it paved the way for such a fantastic experience to remember; the game simultaneously became the console's best-selling title to date.
Everything from the visual quality, soundtrack, and music down to the most minute details was curated to perfection and back. The spread of flamboyant colors, adrenaline-fueled gameplay, and commendable antagonist(s) made Sonic CD an utterly enjoyable venture with exceptionally minimal pitfalls.
The plotline is centered on Sonic—our beloved hedgehog—making it his duty stopping Doctor Robotnik from conquering the in-game world. It's up to the protagonist to utilize all given powers to seize an opportunity and put his vicious enemy out of order. A rollercoaster of emotions bar none is what best describes Sonic CD's gameplay.
Speaking of which, you'll be able to use an array of different abilities of Sonic to knock down enemies and go past certain levels. The best part is that the game's platforming system never gets repetitive, even if you play for multiple hours straight. There was just something magical about the golden era of gaming.
Last but not least, what made Sonic CD stand out was its proclivity toward time travel. As a player, you can uninterruptedly play in the past, present, and future and keep up Sonic's speed accordingly. You'll consistently have to travel back and forth between all three time periods to come out on top against Doctor Robotnik.
If you've managed to get your hands on a Sega Genesis infused with Sega CD, do yourself a favor and pick up Sonic CD, otherwise known as Sonic the Hedgehog CD. There just isn't any better way of killing time and letting loose other than watching your favorite protagonist bolt across stages blazingly.
3. Shining Force CD
Genre: Strategy, Role-Playing
Release Date: 21 July, 1994
Developer: Sonic! Software Planning
Shining Force CD came out exclusively for Sega CD back in the late 1990s, offering a taste of terrific RPG-style gameplay with a blend of strategy sprinkled in between. Over the years and two and a half decades later, the game has amassed no less than a vibrant following to its name.
Moreover, Shining Force CD is one of the best Sega CD games of all time released for the then-cutting-edge platform. The title actually hails from the popular Shining Force Gaiden franchise and is a collective put-together of those games, fully optimized to harness the sheer capability of the CD-ROM accessory.
The IP itself comprises four Books, or chapters—if you may—that can be played from scratch or even skipped to the parts you desire. However, two unlock the latter two Books, and you will need to finish the first duo. This will set you up for some nice story-based progression, exactly how the developers intend the players to experience it.
The gameplay of the action RPG, as iterated earlier, is a combination of typical role-playing elements and turn-based strategy combat. You go from one point to the next, battling enemies step-by-step, upgrading your character, and saving your progress in the midst of the chaos. It's definitely something fun to consider playing.
4. Popful Mail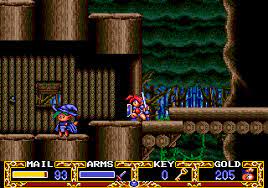 Genre: 2D Platformer
Release Date: December 20, 1991
Developer: Nihon Falcom, Working Designs
Popful Mail defined the word "fun" back in the glory days of the Mega CD. It was a default release for PC Engine but was eventually launched for Genesis, too, though only with the requisite Sega CD compatibility. The gameplay of the IP is fairly bare-bones, but that's not how the potential of titles was measured back then.
You could run, jump, slash your enemies, engage in dialogue with other NPCs (Non-Player Characters), and even kick open treasure chests to embrace the several RPG elements Popful Mail has been developed with. However, you won't be able to enhance the attributes of your characters in the game, so bear that in mind.
Another noteworthy part about the Sega CD port of Popful Mail is improved visual element quality that comes together to deliver a memorable gameplay experience. The title is definitely hailed as one of the best RPG Sega CD games that prominently became a hot-selling game upon the release of the Mega CD port.
5. Lunar: The Silver Star
Genre: RPG
Release Date: June 26, 1992
Developer: Game Arts, Studio Alex
The next entry on the list is a tad bit special, amassing newfound success shortly upon its release due to not one but a plethora of reasons. We mean to say, this one had it all: Visuals, gameplay, storytelling—you name it. The developers focused on the audio part of the title, too, making the sound auditorily stunning.
The popular RPG of its time boasted big figures in terms of sales, right to the point where it became the best-selling Sega CD game after the aforementioned Sonic CD. There was even an English variant of the game that came out one year after the original launch.
Everything from the full-blown sound quality down to the last trivial features of the RPG made this next-level edition of Lunar: The Silver Star one of the best games on Sega CD to date. You'll encounter enemies during your ventures as you embark on a country-spanning adventure in-game.
To battle your foes, you'll indulge in turn-based combat, similar to Shining Force CD, although with considerable differences. For starters, this first iteration in the Lunar franchise gives you the option to flee the battlefield and avoid combat altogether. However, in moments of boss fights, the only way forward will be plain engagement.
6. Night Trap
Genre: Interactive Film, FMV
Release Date: October 15, 1992
Developer: Digital Pictures
If you think you've had enough of the tip-top Sega CD games out there, wait until you try out the diverse offerings of Night Trap. We're pretty sure you're going to be spellbound by the way this one plays out. Night Trap isn't your average Joe when it boils down to the gameplay.
Paving the way for a new technological breakthrough to manifest, the game in question falls in the category of "Interactive Film," which is where live actors and real motion pictures are used to develop an IP. In Night Trap, you'll witness movie-like action sequences with you being in control of everything significant.
Although the reception of the paradigm-shifter was fairly hum-drum, some critics referred to it as one of the most entertaining games ever. There's a high level of replayability value that Night Trap boasts. You actually need to beat the title multiple times in order to get everything out of it.
Smooth gameplay, life-like graphics, and a new concept to tinker with make the title one of the best Sega CD FMV games of all time. In the case that you're lucky enough to get your hands on a copy in 2022, don't hesitate to give it a shot.
7. Dark Wizard
Genre: Tactical RPG
Release Date: November 12, 1993
Developer: Sega
Dark Wizard on the Mega CD was nothing but a class apart. Where the usual roster for Sega Genesis, accompanied by the CD-ROM add-on, faltered and declined, this tactical RPG soared in the skies and stole all the spotlight. It's easily one of the best games Sega CD has to offer.
The developers of the game made sure Dark Wizard would turn out to be a breath of fresh air in a miasma where other B-grade games were ruining the name of the revamped console. What made the RPG great was the standard of depth it created for itself, packing unreal value and innumerable hours of fun-filled content.
Apart from the mainline story, side quests are a big part of Dark Wizard, and there just isn't any filler material added in to make the game appear substantial. No. Instead, it seems that real work was put into curating the title to near perfection, as every mission, character, enemy, and battle felt as if it was pumped full of life.
8. Earthworm Jim: Special Edition
Genre: Platformer, Run and Gun
Release Date: October 1994
Developer: Shiny Entertainment
Furthering the list is Earthworm Jim—a highly unique side-scrolling platformer that managed to amass quite the reputation for itself in its time. To this day, the run and gun title in question is one of the highest-rated Sega CD games of all time. Quite evidently, all the praise, compliments, and awards didn't come without their due reason.
Before we get into the most prominent highlights of the 2D platformer, let us cast a lens on how the title actually plays out. The story starts out with a measly worm who happens to stumble upon a supernaturally-powered suit that lands from the skies above. It's only from there on out that Jim the worm's life switches up drastically.
The unusual attire makes the helminth acquire human-like capabilities, such as running, jumping, and, of course, shooting. Now, Jim, the special worm, must either negate or shoot down everyone seeking his demise and intending to steal the suit back. There's even a neat surprise at the end of the game that players are met with.
Earthworm Jim was released in 1994 on a multitude of consoles, including the likes of Super NES, Game Boy, and Game Gear. However, soon after the original launch, a new variant coined Earthworm Jim: Special Edition made landfall for the widely famous Sega Genesis CD-ROM add-on—Sega CD.
The improved edition, on top of the base functionality, came with a ton of extra goodies, such as an entirely new stage to play, an exclusive soundtrack, and more in-game frames for better visual quality. Definitely, a must-play on the Genesis if you're after action-packed, story-centric games with a touch of craziness.
9. Final Fight CD
Genre: Beat Em Up', Platformer, Side-Scroller, 2D
Release Date: November 25, 1989
Developer: Capcom
The next tip-top game to ever grace the platform of Sega CD is Final Fight CD, a best-selling arcade game that made rounds all across the world at the time of its release. This game had it all: Music, action, combat, visuals—you name it. The funny part is that Final Fight was never intended to be born in the first place.
When the developers first started out with the title, they actually wanted to create the next iteration in the 1987-released Street Fighter series. However, Capcom had another thing coming when they realized how beat-em'-ups were doing commercially at that time.
Harboring a picture-perfect formula with all the necessary elements to make one titan of a game, Capcom transitioned the initial development to suit this combat-oriented genre and thus arrived Final Fight CD to the forefront of the gaming industry.
In addition to the default launch of the title, the world-renowned side-scrolled was ported to multiple other consoles, including Mega CD. The adjustment had its pros and cons, but the game still managed to come out on top as one of the best fighting Sega CD games of all time.
10. Road Avenger (Road Blaster)
Genre: Vehicle Combat, Laserdisc FMV
Release Date: August 1985
Developer: Data East
The tenth spot on the list is a class apart, featuring an emotionally telling storyline with appreciable gameplay and visual mechanics. Road Avenger, also called Road Blaster, is an arcade-oriented game where the player is in control of the steering wheel of their vehicle, assisted by automatic acceleration.
While the original release occurring in Japan was known as Road Blaster, the Sega CD variant of the game happening to release outside the Land of the Rising Sun was coined Road Avenger, which, in our opinion, is a more fitting name for the title.
From what we can gather, the protagonist of the game is on a tale of revenge. Some ill-willed motorcycle club killed off the wife of our hero while also injuring him beyond temporary recovery. As soon as the character gets back on his feet, he sets out to kill everyone who assaulted his family.
The rest is nothing but exhilarating fun as you take control of a heavily modded vehicle and steer clear of dangers on the road, quite literally. Road Avenger is just one of the best Sega CD FMV games of all time that you'll be purchasing—no sweat.
11. Star Wars: Rebel Assault
Genre: Rail Shooter
Release Date: November 1993
Developer: LucasArts
Anyone who's been remotely keeping up with the best television franchises of all time knows the icon that Star Wars is today. Back when the series was still making strides in achieving its status, LucasArts managed to cover a game based on it called Star Wars: Rebel Assault for several consoles, including Mega CD.
The title features a variety of different game modes with varying controls. In some phases, you're made to shoot your enemies in a limited time frame, whereas, in others, you will have to both dodge and shoot at your foes, thereby defeating them.
The visuals of Rebel Assault have already been rendered prior to the playable parts of the title. You'll actually be witnessing digitized cinematography on top of audio tracks from the Star Wars series itself. If you happen to be a fan, you have to try what is otherwise one of the best Sega CD shooting FMV games out there.
12. Double Switch
Genre: Adventure, FMV, Single-Player
Release Date: March 24, 1994
Developer: Digital Pictures
It's an FMV game galore in here with the best Sega CD games in the business. The next entry in line happening just to make a list is Double Switch, taking players on an adventure of a lifetime with its surreal gameplay and enticing plotline. It has been shot in real motion. Thus, the gameplay has been outlined accordingly just as well.
Boasting the likes of Corey Haim, the objective of the game is simple enough. You can refer to yourself as an on-hire detective who has to prevent a series of murders just by arming and placing traps in a large building complex called Edward Arms.
It's up to the hero character to be diligent about the intruders and protect the tenants from getting killed off sooner or later. However, halfway across the title, you begin to realize that the real threat isn't outside the doors, but it's actually what roams within the complex building.
13. The Secret Of Monkey Island
Genre: Point and Click, 2D Adventure
Release Date: October 1990
Developer: Lucasfilm Games
Let's cast a lens on an entirely different genre of the best Sega CD games around. Don't let the name fool you: The Secret of Monkey Island is a no-nonsense adventure game with quite the captivating standard of fictional storytelling. You're Guybrush Threepwood, a young gun who seeks to become a pirate.
As you reach a novel place known called Melee Island, you set out to fulfill your life-long desire of becoming a pirate. However, the inhabitants of this land are not so hospitable. You will have to go through a series of trials in order to come out on top. One of the tests revolves around defeating an already established swordmaster.
Another one will have you finding and digging up treasures while the final trial is all about getting your hands dirty and embracing the act of stealing, that too from a high-profile figure of the island. However, things do not stay that way at all.
As you go about Melee Island, you can't help but discover the tales of a legendary pirate called LeChuck and how the lad is still roaming about the premises. The moment you finish off the prerequisites of becoming a pirate, LeChuck manifests out of thin air, snatching the governor Elaine Marley and retreating to Monkey Island.
The protagonist then assembles his own mates and sets out to rescue the governor. The plotline of the title is quite enthralling and definitely puts the player through their paces. As for the gameplay, this is a point-and-click-style game where your cursor will guide Guybrush through the ventures of Monkey Island.
14. Lunar: Eternal Blue
Genre: RPG
Release Date: December 22, 1994
Developer: Game Arts, Studio Flex
Lunar: Eternal Blue had quite the admiration going for it back in the days of its launch. The title at hand is the successor of the aforementioned Lunar: The Silver Star, and rightfully so. It practically improves upon most aspects of the original title in the series, boosting the quality of the voice acting and several other facets.
More importantly, Lunar: Eternal Blue made the Sega CD feel purposeful, utilizing most of the, if not all, hardware of the CD-ROM accessory and providing more options to the player in terms of playability. By all means, it's easily one of the best Sega CD games out there that you shouldn't genuinely sleep on.
15. Brutal: Paws of Fury
Genre: Fighting
Release Date: October 1, 1994
Developer: GameTek
Brutal: Paws of Fury is a solid take on what would happen if animals became sentient enough to feel the blow of Monday mornings. Behold a tournament-style fighting game for the Sega CD, where you take charge of a variety of different characters ranging from bunnies and cheetahs to coyotes and crocodiles.
The gameplay of the title is fun, and you can actually land a bevy of different combos to up the ante. The tournament in the in-game world takes place every four years or so, bringing in animal fighters from all corners of the globe. The winner of the bout gets to fight an overgrown llama with an itchy punch knuckle.
16. Fatal Fury Special
Genre: 2D Fighting
Release Date: 16 September 1993
Developer: SNK
If you ever grow tired of smashing in heads with Final Fight, perhaps lean in on a fresher breath of air and try out Fatal Fury Special. This 2D brawler made sure it was Christmas time when a squad of friends got together to work out their differences in-game.
The word "Special" added to the title of the game isn't a gimmick. This one actually sports a swath of added features, such as a combo mechanic where you can chain your attacks together and deliver devastating blows one after the other. Definitely a must-try on your Mega CD console in case you've still got it lying around.
17. Vay
Genre: RPG
Release Date: October 22, 1993
Developer: Hertz
Vay isn't your typical RPG. Well, to put it literally, it's a JRPG which stands for Japanese Role-Playing Game but in terms of its dark, twisted storyline and overall arbitrary gameplay, what we have here is a cut above the rest best Sega CD games.
Embark on a mission to save your loved ones from getting mercilessly killed and make a home for yourself on an alien planet called Vay. It's up to the hero character to take down a monstrous squadron of robots and evil machines, ultimately restoring balance to the planet and making sure peace prevails.
18. The Misadventures of Flink
Genre: Single-Player, Platformer
Release Date: 1994
Developer: Psygnosis
The Misadventures of Flink, or simply Flink, is a side-scrolling platformer that has you dealing with a mysterious storyline filled with twists, turns, and a ton of challenges. While the title does have glaring flaws, the pros outclass the cons when it truly boils down to it.
Action-stuffed gameplay, powerful magical spells, sorcery, and through-and-through visual quality all pave the way to a stellar user experience with Flink. The colors and the overall sharpness have appealed to the masses with many referring to it as one of the most adorable Sega CD games in the business.
19. Slipheed
Genre: Third-Person Shooter
Release Date: December 5, 1986
Developer: Game Arts
Slipheed is a highly addictive space shooter with an engaging storyline. You commandeer a small fleet of ships that do not happen to get hacked, luckily in a planet-wide data breach. It's as if the weight of the whole world rests on your shoulders as you make efforts to dig out the real culprit and do away with them for the better.
The third-person shooter is highly regarded as a game that's easy to learn but hard to get the hang of. However, the gameplay of the title will make you keep coming back to it, not to mention the catchy music and retro graphics. It is, indeed, one of the best Sega CD games to have in your backlog on the Genesis console.
20. Sewer Shark
Genre: Interactive Rail Shooter
Release Date: October 15, 1992
Developer: Digital Pictures
The next noteworthy Sega CD game is one that pertains to the category of "rail shooting." This is a genre of video game titles where you only control the steering wheel and let everything else happen by itself. In the context of Sewer Shark, you control an aircraft that has a finite source of energy.
Your sole purpose is to get to the mission objective through tumultuous sewers while cutting down incoming threats. Some of the most common enemies in-game include bats, a dismal combination of alligators and rats, and even substantial scorpions. You have to maneuver your way to the end to win the bout.
21 Sol-Feace
Genre: Horizontal Shoot-Em-Up
Release Date: November 22, 1990
Developer: Wolf Team
Sol-Feace has remained an underrated title throughout its lifetime, but make no mistake in acknowledging its flat-out brilliant quality. Old-school gamers who have a knack for simplistic IPs are definitely going to admire the title for everything it does right. The genre in which it falls is called "Horizontally Scrolling Shooter."
Pretty self-explanatory, but we'll still take a deep dive into it. It's an IP where you control your aircraft as it moves from top to bottom, thereby featuring horizontal movement. Moreover, it automatically shoots out projectiles, so all you'll be doing is steering it in the right plane. Titularly, the name of the ship you're using is Sol-Feace.
It is a fast-paced shooter that has happened to earn the title of one of the best Sega CD games of all time. Critics did what they normally do and that is critique the title to a fair extent, but to a casual user who's just looking to spend some fun time, Sol-Feace is well worth the purchase.
22. Eternal Champions: Challenge From The Dark Side
Genre: Single-Player, Fighting
Release Date: June 6, 1995
Developer: Sega Interactive
We've had some pretty great fighting games on this list of the best Sega CD games, but there's one more that deserves a spot. Eternal Champions: Challenge From The Dark Side belongs to the unique catalog of 2D fighting games the same way we have Final Fight and Fatal Fury.
It features a generous roster of different fighters, new and improved finishing moves as opposed to its predecessor, and better visuals too. The game is exclusive to Sega CD and hasn't been ported to other platforms. If you can find it somewhere to purchase, the game will be well worth the venture.
23. Android Assault: The Revenge of Bari-Arm
Genre: Shooter
Release Date: July 30, 1993
Developer: Human Entertainment
Android Assault: The Revenge of Bari-Arm is a distinct shoot-em'-up-style IP where you roam the in-game world as a giant mecha space ship slash robot that can transform to and fro on the fly. Your aim is to protect your homeland from vile intruders looking to destroy and take over your planet of residence.
It's set in the year 2192 when humankind has advanced to a notable extent. Space colonies exist and the extra-terrestrial are no less than the Karens walking among us. The title measures up to a world of fun, especially when you're into single-player shooting games released exclusively for the Mega CD add-on for the Sega Genesis console.
24. Rise Of The Dragon
Genre: Action-Adventure, Time-Based Strategy
Release Date: 1992
Developer: Dynamix, Game Arts
Rise of the Dragon is definitely one of the most quirky constituents of the overall best Sega CD games. It allows players to live a gameplay experience like no other where you have to watch out for the amount of time remaining during every bout to win the session. The story-based action of the title is definitely an amusing experience.
The Sega CD version of Rise of the Dragon was unique in sporting voiceovers from different actors. On the contrary, other ports of the title, such as DOS, Amiga, and Mac were exempt from this sort of functionality. The game is not recommended for immature audiences though since there's a fair bit of partial nudity and profanity in there.
25. The Amazing Spider-Man Vs The Kingpin
Genre: Single-Player, Action
Release Date: 1993
Developer: Technopop, Gray Matter
Next up, we have our favorite webhead making a list by being featured in one of the best Sega Mega CD games. The Amazing Spider-Man vs the Kingpin is a tale of love where one of Spidey's most vicious villains of all time is hot on the web slinger's tale. However, it's not Spider-Man that Kingpin is after; it's his love.
Anyone remotely connected with the franchise of Spider-Man knows MJ is Spider-Man's girlfriend and villains often get to her first before luring in the wall-crawler. The Sega CD port of the title is much more advanced, featuring its very own original soundtrack, refined gameplay, and even extra stages to enjoy.
26. Heart Of The Alien
Genre: 2D Platformer
Release Date: 1994
Developer: Interplay Entertainment
The Heart of the Alien is a direct sequel to Another World—another popular platformer that saw a release for current-gen consoles too such as Xbox One. The game stays continuous of the storyline of its predecessor and actually picks up right where Another World finishes off the plot.
The title differs specially in the respect that it takes up the capacity of Sega CD's CD-ROM accessory and leaves players with a resounding experience. Every minute detail ranging from the soundtrack and challenges to the overall difficulty and level design feels fresh and rejuvenating to relish in the Hearth of the Alien.
27. Robo Aleste
Genre: Vertical Shooter
Release Date: November 7, 1992
Developer: Compile
Comparing the title directly to the aforementioned Sol-Feace, Robo Aleste is a vertical shooter where your ship scrolls along the X-axis and lets you steer it, avoid obstacles, and defeat incoming enemies.
Although the overall concept is nothing too ethereal, the sheer inclusion of power-ups and other abilities make Robo Aleste's gameplay too fun to pass up.
You pilot a mecha-type ship called Aleste and take on the rebellious lords of Japan who mean nothing but destruction for the glorious country. Being a patriot with a tool of death, you won't be letting that happen anytime soon.
28. BC Racers
Genre: Racing
Release Date: 1994
Developer: Core Design
You weren't expecting a graphical adventure game with BC Racers, were you? The title at hand is (not) surprisingly a racing game mixed with elements dating back to primordial times back when cavemen, dinosaurs, and everything of the like persevered.
However, you're not some ordinary happy-go-lucky guy racing with wits at their end. You're Millstone Rockafella with a bombshell in the sidecar of your bike, inviting other players to race you on a variety of courses and tracks. It's definitely a fun way to switch up conventional racing with a touch of something novel.
29. Keio Flying Squadron
Genre: 2D Platformer, Side-Scroller
Release Date: August 6, 1993
Developer: Victor Entertainment
Keio Flying Squadron is an exceptionally fantastic Sega CD game that came out exclusively for the latter. No other platform has the privilege of having it ported over, so you'll truly need to own a Mega CD-equipped Sega Genesis to experience what is otherwise one of the most enjoyable side-scrolling shooters in the business.
You're Rami Nana-Hikari, the bearer of a special key that unlocks doors to untold secrets. However, not long after the game kicks off, you end up losing the object due to your own carelessness. You must get the key item back using your dragon Spot and other, mini-sized accomplices.
30. Prize Fighter
Genre: Boxing
Release Date: 1993
Developer: Digital Pictures
Float like a butterfly and sting like a bee in this terrific sports-centric IP for the Sega CD, coming across as no less than a challenge for even the most seasoned players out there. The game was met with mediocre reception upon launch with some publication magazines praising it for its high-quality, intensive matches.
As the protagonist of the game, you can punch and dodge to overcome your opponents. A total of four different figures fight you in Prize Fighter, but all of them are deep-dyed trials. You'll need to put in a considerable amount of time and effort to recognize their fighting patterns and deliver the ultimate counter blow.
31. Flashback
Genre: 2D Platformer
Release Date: 1992
Developer: Delphine Software
Flashback isn't the brightest of the most famous Sega CD games, but it still deserves a spot on this list for its cinematic action and rip-roaring gameplay. Not only is the movement of the title enticing enough to keep you hooked to the platform, but the story deserves similar praise too for all that it does correctly.
The hero character—Conrad—is an official government agent who accidentally discovers the presence of aliens living and breathing among society. As he begins to warn the authorities of the incident, he soon finds himself taken away and wiped from his recollections. From there on out, Conrad transitions into beast mode and starts sending every alien he sees straight to hell, making every player enjoy the sequence.
32. Powermonger
Genre: Strategy
Release Date: 1990
Developer: Bullfrog Productions
As for the final entry on the list, we've got Powermonger to top things off for us. This game has had many critics praising it for everything that it got right, including its 3D visual quality although with relatively restricted controls over the map and even elements of realism that seemed to be dispersed throughout the game environment.
We would urge you to give it a shot no matter if it happens to be the final entry on this list. The level of detail introduced in the strategy simulator is too appreciable to pass up just like that. Lastly, the Sega CD version of Powermonger does more justice to the overall slow-time strategy gameplay where you act as the controller of a farmland including all its inhabitants.
The Rundown
Back in the days of gaming's golden era, things were a lot simpler. The issues that we engage in quarrels about today were never even a part of reality in that period. Apart from the norms of life that carried our everyday discourse, the gaming industry was built upon a similar notion.
Classic consoles such as Sega Saturn, Super NES, Nintendo 64, Sega Saturn Nintendo DS, and many others took people's breath away in their respective times, allowing them to bask in their now-ancient marvel, and providing the utmost standard for home console video gaming.
To talk about Sega Genesis in specific, the 16-bit successor to the Master System—Sega's revisited variant of the original Sega Mark III—first came out to the industry in 1988. As the years went by, the console went on to expand its range and had released in other parts of the world, such as North America, Korea, Brazil, and more regions.
Ever since then, the console has left behind a legacy more or less, being ranked as one of the best video game systems of all time. One of the strongest selling points of Genesis was its controller, quite similar to how PlayStation 5's DualSense is making rounds across the spectrum now.
Genesis' controller—the six-button gamepad—made quite the buzz in the industry, truthfully speaking. Many still call it the best game controller ever made in the history of the domain, but I think that's a stretch, considering the sheer number of qualitative options we have today.
To come back to the console, however, what we have here is nothing but a unique hardware system that managed to support add-ons back in its top-dog days. Normally, we would be talking about a component that would moderately amplify the capability of the parent system.
In the case of Genesis, however, we're discussing an add-on that came with its whole library of games, contributing to a major upgrade that the home video game console ever so proudly flaunted. The accessory item shot up as Sega CD or otherwise called Mega-CD on the basis of geographical distinction.
It's a CD-ROM accessory at its core that allows users to put in Compact Discs (CDs) instead of retro-grade cartridges, paving the way for a vast array of improvements to come forth. For starters, a CD-ROM packed more storage space for the games that would release on Sega Genesis.
Moreover, it seemingly revamped other substantial capacities of the console significantly, all thanks to the additional processor latched onto the CD-ROM. Some other noteworthy benefits of the Sega CD include a higher standard of graphical quality, improved sound, more RAM, scaling, and rotation.
The latter two are oriented on the hardware, borrowing capability from the console's more capable secondary processor and providing enhanced game performance. Not only that, but one more praise-deserving advantage of having a Sega CD-hooked Sega Genesis was the potential of games to store larger save data.
All in all, Sega CD made the console a whole lot better not just by improving its base capability, but by allowing developers to make games exclusive to the add-on. These titles went on to utilize the full potential of the CD-ROM, especially the best Sega CD games that did nothing but deliver one blast of an experience.
Do let us know in the comments section if the guide above helped you out. As always, eXputer wishes you happy gaming!
Before You Go: BEST VR Games
Was this article helpful?
Thanks! Do share your feedback with us. ⚡
How could we improve this post? Please Help us. ✍