35 BEST Single Player Xbox Series X Games
Experience the very best that the Series X has to offer
Just got yourself Microsoft's latest horse in the next-gen race? You'd definitely want to get the very best out of it following your purchase. What other way to experience all that the console can offer than trying out the best single-player Xbox Series X games?
You'd be surprised how amazing some of these anointed titles look on the big screen with the Series X powering them up. The Xbox Series X made landfall last year, and it's already looking exceptionally bright in terms of its game catalog. On top of that comes Game Pass, and you have nothing but a win-win situation to shoot for.
We'll be picking some of the most high-rated titles for the list and ranking them accordingly as well. Continue reading to acknowledge some of the most prevalent titles in the business that come optimized for the Xbox Series X specifically. In the meantime, do consider checking out the BEST Steam games for Mac.
What entails ahead is our cherry-picked collection of the top 35 Xbox Series X ventures. These games do not come without their fair share of universal acclaim and are known to guarantee an enthralling solo experience bar none.
Except for a few exceptions that genuinely deserve it, all forthcoming titles will be Series X|S optimized. Let's dive right into the write-up with no further ado.
1. Elden Ring
Genre: Soulslike, Action-Adventure, Open-World, RPG
Developer: FromSoftware
Release Date: February 25, 2022
Starting off this list with a bang is Elden Ring—an action-centric RPG so good that you'll forget what time of the year it is while playing the game incessantly. Ever since its release in February 2022, the title has been making strides in setting itself up for this year's Game of the Year award.
If you've got an Xbox Series X and feel a kinship with open-world ventures with difficult levels throughout the game, FromSoftware's most recent fictional work is going to keep, you sorted.
The hype for this game was through the roof ever since word of it ever came out, and we're happy to report that the results are par expectations. The Soulsborne series' latest front-runner is nothing but flat-out excellent. However, it is worth noting that Elden Ring does not link to any of the previous games of Hidetaka Miyazaki.
What it does sport, however, is an open-world gameplay mechanic where you'll have the privilege of going after map fragments. Doing so will help you unlock more and more perceivable regions on the map, making it possible to spot hidden secrets and everything of the like.
You even get your very own horse in Elden Ring as your go-to mode of communication from point A to B. As for our overall thoughts regarding the difficulty, the best bosses of the RPG title make sure you never lag off but stay on the top of your game. Just a tip: Make sure you're using the best shields to battle all those deities.
Gear up to employ a ton of weaponry, including Katanas and whatnot. Some of our personal favorite armaments to pick up are Swords in Elden Ring. These have incredible variety and are just too good to pass up when you're looking for a balanced experience.
However, whenever you're in the mood to act flashy, Flails will come in and offer you terrific flexibility, being capable of both short-range and long-range attacks. On the flip side, we realize how some of you would want perhaps want something of a bulkier nature.
Fortunately, that is exactly where Greatswords and Colossal weapons come in, offering you the most power out of any other weapon type in Elden Ring. That said, you're perhaps of a more laid-back nature, and using the likes of the best Bows, you may as well satisfy your archery desires.
But this isn't where Elden Ring's gameplay comes to an impasse. Instead, a large catalog of armament variety is just one drop in the sea of different options you'll begin to understand when you play the game enough. Weapons are categorized on the basis of their type and use, where the latter starts factoring in heavily with your build.
There are a couple of armaments out there, such as the Moonveil and Rivers of Blood that make sure no one survives at their receiving end. Putting it simply, some particular tools of destruction in Elden Ring are exceptional in more facets other than just dealing damage.
In the hands of the right player, they can often go on to solidify other statistics as well that embolden the character you're playing with as a whole. This is often known as creating a build based on a single weapon.
We truly recommend you to go after such monsters in the Lands Between. To do that, though, you'll obviously need to be aware of the Moonveil Katana and the Rivers of Blood Location.
Next up, we would like to shed some light on another quality grade of weapons in Elden Ring. This set of armaments isn't so easily obtained, and you'll usually have to plow through a mountain to acquire them. Remember Boss Souls from Dark Souls? In Elden Ring, you get Remembrances instead.
By trading in these special artifacts with a certain someone in-game, you gain access to Remembrance Weapons. The latter is a class apart, featuring special mechanics, properties, and sometimes destructive weapon arts that do nothing but wreak havoc on the opposing end.
Now, trading in Remembrances usually presents you with a choice. The choice hinges on two-three different weapons where you can only pick one out of your options. Thankfully, there is a particular mechanic in Elden Ring that lets you duplicate Remembrances. We've even curated a guide on the best Remembrances to duplicate.
That way, it is possible to get a taste of both worlds and not miss out on any of the legendary weapons in the game. It's either that or choosing to opt for Runes instead. Usually, trading in a Remembrance can grant the player a hefty amount of Runes instead of the Elden Ring best weapons.
Related Read: Best Games Like Elden Ring.
2. Forza Horizon 5
Genre: Racing Simulator, Open-World
Developer: Playground Games
Release Date: November 4, 2021
In the case that you're after a best-in-class car racing title that will put you through your paces, look no further than the gorgeous offerings of Forza Horizon 5. This Microsoft exclusive seemingly packs one hefty punch in terms of everything that a racing game should have.
From the graphics quality and the action down to the very way cars are built to feel in-game, you're definitely going to love what is, otherwise, one of the best car simulators in the world. Most IPs do not pack the same level of quality as what we've been introduced to by Forza Horizon 5.
The developer, evidently, has truly done a number on the way the title plays out. Playground Games has been curiously trying to perfect the long-running franchise of Forza, and it appears their work and effort are coming to fruition here.
Gear up to let loose on the journey of a lifetime as you travel across the various confines of Mexico with your catalog of supercharged cars, American muscles, and everything in between to help you get that thrill of the rush. There's no better feeling than hitting top speed in a Koenigsegg Agera, letting the environment fly past you like it's nothing.
What makes the experience even better is how the developers have specialized in the world design of Forza Horizon 5. One moment it's sunny, and the next, it's raining, and suddenly, you're not getting the same visibility as you had an instance before.
Roaring through deserts and surviving sky-rise mountains are all part of the mainline glory here. The latest entry in the Forza series even does a great job at creating a story mode and letting users experience the events from the perspective of different characters.
Feel right at home, indulging in side quests and other activities that contribute toward character development. You'll face a whole sea of options in Forza Horizon 5, so there's never going to be a boring moment in-game. All of this collectively makes the title worthy of being called one of the best Xbox Series X single player games.
3. Dying Light 2: Stay Human
Genre: Action-Adventure, Open-World, Parkour, First-Person
Developer: Techland
Release Date: February 4, 2022
Dying Light 2: Stay Human is the sequel to the first Dying Light that came out more than six years ago. Over at eXputer, we have a knack for zombie games, and when they turn out to be good, it's Christmas time for us, no matter the time of the year.
Techland does know how to make a zombie game, that's for sure. The developers have garnered a reputation for themselves in the industry just because of the Dying Light franchise.
The sequel packs a whole lot of punch if we set it side-by-side with the first Dying Light. Not only the parkour capabilities of the protagonist have been improved, but you'll find a whole ton of more types of weapons, gadgets, and other armaments to pick up this time and just go haywire with. Techland made sure to implement an ample amount of versatility in Dying Light 2's gameplay.
With that said, if you're looking to get a feel of the entire package to see how far the series has come across, we highly encourage checking out Dying Light as well, which couldn't be a part of this list thanks to its successor's dominance.
If you do happen to try out the first title as well, you'll have a much sweeter time beating Dying Light 2. Moreover, if we shed some light on the multiplayer aspect of the game a little, we've figured that the first Dying Light is a better beast with respect to that regard. It features another game mode called "Be the Zombie" that players can easily get into and start wreaking havoc with a potent entity.
This novel character is called the Night Hunter and has several tiers to its level. You first start out as a mere "Walker" who's at a relatively lower rank as compared to the rest of the levels of the Night Hunter. As you progress through gaining experience points and winning rounds, you ultimately achieve the status of being called the "Apex Predator."
In "Be the Zombie" mode, you become the Night Hunter and prowl Harran in search of Kyle Crane. As soon as you dig him out, you do everything in your skillset and power to pounce on Krane and dispatch him for good. A unique set of powers is allotted to every Night Hunter, ranging from Horde Spit and UV Suppressor Spit.
You'll unlock more ways of killing off Crane as you upgrade and unlock powerful mutations for the special infected. Anyhow, we urge you to try both games for the ultimate experience and live the joy of having the best zombie player game right in your home.
It's no less than a virtual playing field that this fine first-person thriller is putting us into, with the only exception being mass zombie murder.
Dying Light 2: Stay Human also happens to be one of the BEST PS4 Zombie Games, should you choose to check them out. Don't sleep on a title as masterful as this one with your Series X console.
Do check out our high-quality Dying Light 2 guides given below to get the most out of the game:
4. Red Dead Redemption II
Genre: Open-World, Action-Adventure, Third-Person Shooter
Developer: Rockstar Games
Release Date: October 26, 2018
Red Dead Redemption 2 is more than a mere game that you can beat in a couple of days and just forget about it afterward. Step into the shoes of Arthur Morgan and embark on a tale of survival riddled with twists, turns, betrayals, and everything of the like.
Times are nothing but the worst for outlaws, and we are going to have to live through a certain period of roughness for the moment being. To talk about the game itself and how it visually plays out, we have at our disposal nothing short of a sensational masterpiece.
We highly doubt other single-player ventures are competing on the same level as the highly anticipated sequel to the first Red Dead Redemption, which, too, was a breath of fresh air in its time. Rockstar has a knack for making the most stand-out titles there are, and the sequel to the west-style third-person action-adventure is no different.
If you're out and about looking for the most sublime single-player experience on the Series X console, Red Dead Redemption 2 is the game you'll need to pick, and there are just no doubts regarding any of that. The title has gone on to accumulate a bevy of Game Awards, too, making it an exceptionally high-quality title.
One of the best parts about the gameplay of Red Dead II is how versatile it is. Apart from embarking on mainline story missions, you never know what you're going to encounter next when free-roaming with your trusty steed. The element of surprise is harnessed quite magically by this open-world venture.
Arthur Morgan will have to go through so much in order to endure everything thrown at him, and you'll be right beside the man, feeling his pain and tolerating hiccups as Arthur goes about the plot of Red Dead 2. When it comes down to it, at one point, you will need to choose sides, and this decision won't be so easy coming.
We're trying our best to keep things spoiler-free here, so we highly encourage you to experience the title yourself as soon as you can. The whole campaign of Red Dead II is nothing but a world of thrill, putting you in situations where you have to think and act smart to get out of them unscathed.
However, what we love about the title is how it manages to get everything done right. It's not only the story and graphics that will grip you in as soon as you start out with it but the finely tuned combat gameplay as well. It won't be long until you feel the rush of shoot-outs and become the fastest hand in the west.
Don't forget to take a look at our high-quality Red Dead Redemption II guides for more details:
5. Halo Infinite
Genre: Sci-Fi Shooter, First-Person, Action
Developer: 343 Industries
Release Date: November 15, 2021
Halo Infinite is the latest iteration in the critically acclaimed Halo franchise, offering terrific first-person shooter gameplay and a continuation of the front-running story. Halo has been branded by Xbox over the years as being one of the platform's most prized exclusives. Picking up the game and playing it once, one can easily see why.
The game, unlike all of its predecessors, allows you full control over the Spartan customization system, thereby making you curate your character according to your preferences. You can then make several changes as you play through the storyline and come out on top at the very end.
The level of modification that has been introduced to the title has truly been taken to the next standard in Halo Infinite. It's possible to slap on various items of aesthetic appeal to pimp your Spartan out and make a name for yourself on the battlefield.
All the various facets of Infinite, ranging from its story and plot to the way the gameplay feels on the next-gen console, easily make it the best single player Xbox Series X game, among other schools of thought.
6. NieR: Automata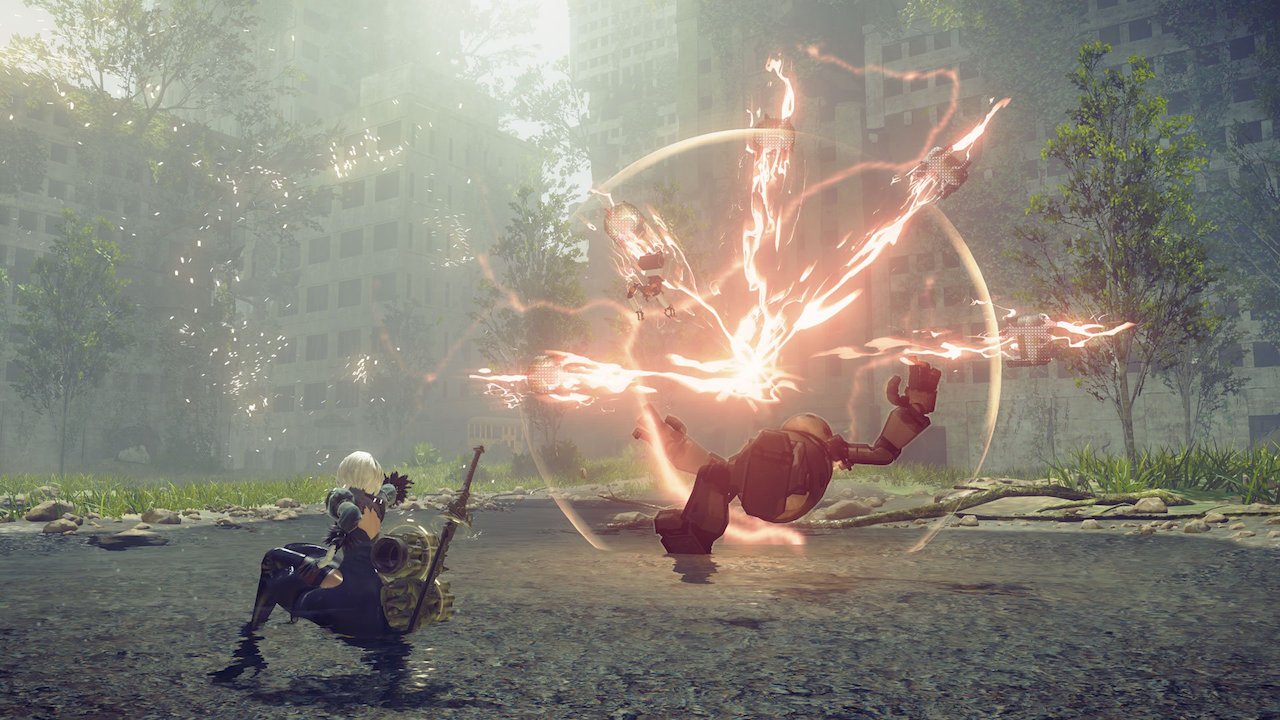 Genre: Action-Adventure, RPG
Developer: PlatinumGames
Release Date: February 23, 2017
NieR: Automata is one blast of a game, offering players a single-player experience, unlike anything they've played before, right alongside an emotionally descriptive plotline. The NieR series of games truly are a work of art, and we mean that in quite the literal sense. Although the franchise has had several developers over the course of its running, PlatinumGames, in particular, has done nothing but one marvelous job with Automata.
Apart from the way the gorgeous open world of the game is designed with varying sections, what truly takes the cake is the way the soundtrack of the RPG is implemented in each compartment. It truly would be an injustice to the game if it had failed to acquire the Best Score and Music award at the annual Game Awards event.
The title was released in 2017, so it's fairly dated compared to some of the freshest releases we see these days. However, do not let that fool you into thinking that Automata is any less relevant today than it was five years ago. Pick up the game and roll with it once, and you'll painlessly see what we're on about.
Catchy visuals, high-paced action combat where each registered strike feels rewarding, and a highly sentimental storyline will make sure you're having one of the most tip-top experiences to date.
As the world nears the end of humanity, a multi-functional space organization called YoRHa ostensibly launches its fleet of Androids to help rescue the world. These figures are named 2B, 9S, and A2. Although these characters are not designed to "feel" anything and step out of line contrary to their order, one of the Androids soon starts rebelling for nothing but a righteous cause.
We won't write what happens from there on out, so it's entirely up to you to grab the game on your Series X console and experience nothing but the best of single-player titles that the world has seen to date.
7. Control
Genre: Third-Person Shooter
Developer: Remedy Entertainment
Release Date: August 27, 2019
Control is the lovechild of exceptional creativity mixed with a sprinkle of madness. It's a TPS-style title where you're in control of a powerful telekinetic protagonist who has yet to manifest her abilities wholly. Remedy Entertainment has put a lot of effort into curating Control to near perfection.
There's a mystical vibe that persevers mid-way through the title, where you're always wondering what is actually going on in the game. However, it won't be long until you find Jesse Faden tapping into her true potential and unlocking breathtaking powers as she goes about the complex.
This is one of those games where you actually feel powerful, and the enemies are nothing more than fodder to chew at. If you love an interesting story-based game with a brilliant single-player experience to offer, Control is the game you need to shoot at.
8. Tiny Tina's Wonderlands
Genre: First-Person Shooter, Action RPG
Developer: Gearbox Software
Release Date: March 22, 2022
Tiny Tina's Wonderlands is a chaotic RPG first-person shooter that has happened to make landfall in 2022. The title sports over-the-top depth, cunning humor and punchlines, and a whole lot of loot items to delve yourself into.
Of course, the typical fashion of the Borderlands games is ubiquitous throughout the adventure, but Tiny Tina's Wonderlands has its own story to tell just as well. That is to say, and the game is a Borderlands spin-off and a follow-up title from the original Borderlands 2: Tiny Tina's Assault on Dragon Keep.
It's fully optimized for the Series X console and offers a deep campaign mode where you become one of the Vault Hunters. However, bigger things are at stake than a mere rush of gold, and the fate of the universe rests in your hands. Definitely, a rich single-player campaign experience that you shouldn't sleep on.
However, despite the game's replayability potential and a seemingly never-ending hoard of content, you might find yourself desperate to play titles similar to Tiny Tina's Wonderlands on your Series X console, given the addictive nature of the game and how the developers have laid its diverse elements out.
In addition, the average 12-hour campaign length of the RPG could leave you wanting more in the sense that you beat it pretty quickly or simply because you're looking for more of the same experience. In such a scenario, we advise you to check out our Games Like Tiny Tina's Wonderlands, for more like-minded options.
Check out our specialized guides on Tiny Tina's Wonderlands below:
9. Yakuza: Like A Dragon
Genre: Third-Person, Action-Adventure, Turn-Based RPG
Developer: Ryu Ga Gotoku Studio
Release Date: January 16, 2020
The Yakuza video game series is nothing short of a legendary prospect, encompassing eight mainline titles in the franchise if we exclude the prequel game from making a list. If you're a fan of action beat-em-ups, there's a good chance you've already tried out some of the anointed titles.
After all, most Yakuza games have received immense critical acclaim due to the protagonist they feature, overall gameplay mechanics, and an overly enticing storyline. With all of that being said and done, though, the veteran developers of the game have taken an entirely different approach with Yakuza: Like a Dragon.
What we have here at our disposal has, in fact, evolved into a turn-based strategy title for next-gen, current-gen consoles and PC. Didn't expect a Yakuza game to turn out this way, did you? Well, developer Ryu Ga Gotoku Studio has other things in mind.
At the time of the title's announcement, backlash after backlash poured in regarding the director's staggering decision to make the next game in the Yakuza series quite different from its predecessors. However, it wasn't long until fans took their words back and played the game for what it was.
In the aftermath, Yakuza: Like A Dragon is another best Xbox Series X turn-based single player game to date. It features comedic glimpses, an exceptionally lovable new protagonist called Ichiban Kasuba, and intense replayability value. You have to try it out on your Series X as part of the Xbox Game Pass.
10. Hades
Genre: Roguelike, Indie, Shooter, Action RPG
Developer: Supergiant Games
Release Date: December 6, 2018
Hades is a fan favorite over at the website. It's a game that has seemingly won a substantial number of awards and a breadth of different distinctions thanks to how unique it has been laid out for fans of the dungeon-crawler genre. You're not going to be bored of this one, and we can assure you that.
There's a special level of difficulty that has been adapted by the enemies of Hades. The developers encourage incorporating different ways of playing the game unless you do not want to be stuck in a loop of demanding challenges. On the flip side, though, it's this very reason that makes Hades a whole lot of fun.
It's good to know that Hades can be played without paying extra due to the courtesy of Xbox Game Pass. More than half the user base of the Series X console already knows the boon that this subscription tier truly is. If you'd like to claw at Hades and are an active member of the Game Pass program, look no further than giving it a shot right away.
11. Assassin's Creed Valhalla
Genre: Third-Person, Action-Adventure, Open-World
Developer: Ubisoft Montreal
Release Date: November 10, 2020
Assassin's Creed Valhalla is a unique take on Norse mythology and how the Vikings persisted in their defined era. The game is known for its fast-paced combat, stealth mechanics, and depth of versatility in other facets of its gameplay. There's truly nothing better than cracking open the skull of mythical beasts with your super-powered arsenal of weaponry.
It's safe to say that Assassin's Creed has come a long way from where it first began its ventures. What was once merely a stealth-oriented game with a frowned-upon approach for open-ended combat, the series has taken a distinct turn to focus on all factors that make an RPG great. Some have agreed with the notion, while others don't see eye to eye with the concept.
While that remains a topic for discourse, we can affirm that Assassin's Creed Valhalla manages to be the best Xbox Series X single player games to date and not just because of its captivating visual quality but because of how it carries the story of the protagonist and leaves him at a point of satisfaction.
Craft your character to perfection, enjoy the offerings of Valhalla, take down monstrosities of all sorts, and embrace the centralized story of the game to your heart's content.
Check out our specialized AC Valhalla guides ahead:
12. DOOM Eternal
Genre: First-Person Shooter
Developer: id Software, Panic Button Games
Release Date: March 20, 2020
DOOM Eternal makes your most violent dreams come true. Step into the shoes of the world-famous Doomslayer and send demons back to hell in glorious fashion. Eternal is the latest iteration in the series and is marked by additional DLCs that expand the storyline of the base game.
Don a variety of different weapons ranging from the classic chainsaw and speedy firearms to the most devastating tool of destruction in the game, the BFG-9000.
DOOM is one of the most long-running franchises, with its first game coming out in 1993. Various development teams have been switched up over the years, and the result of all that is the contemporary DOOM Eternal, where the series is at its level best.
13. Hitman 3
Genre: Third-Person Shooter, Stealth
Developer: IO Interactive
Release Date: January 20, 2021
Hitman 3 is one half of a three-part trilogy title called World of Assassinations. It's a next-gen optimized title for the Xbox Series X that comes for free with Xbox Game Pass—the console's front-running game subscription service that grants players access to hundreds of awesome games for a low monthly fee.
In Hitman 3, you become the man himself. Agent 47 is tasked with the most daring assassinations this time around, where he has to venture across the spectrum to find his targets and execute them with grace and expertise. A number of high-profile people will be the victim of the master assassin in this shooter thriller.
What's amazing is that there is seemingly no limit to the number of ways you can take down your targets in Hitman 3. The sky is the limit, truth be told, when it boils down to this facet of the game. Everything, along with the graphics, the visual quality, and the overall combat gameplay, are a treat to experience on the Series X.
14. Gears 5
Genre: Third-Person Shooter
Developer: The Coalition, Xbox Game Studios, Epic Games
Release Date: September 6, 2019
Next up, we have yet another high-class third-person shooter to talk about. Gears 5 is part of one of the most iconic video games ever developed, famous for its gripping storyline, catchy gameplay mechanics, and highly unique post-apocalyptic world concept.
Every past event that has happened in the Gears of War series has led up to Gears 5, where players will get to experience the series' ending for the time being. With that said, you never know whether another relative title is in the works, but we don't recommend holding your breath either in that sense.
Gears 5 is utterly next-level, featuring gameplay elements unbeknownst to the previous Gears of War iterations. Thanks to the label "Optimized for Xbox Series X|S," you won't be feeling lackluster quality in any facet of the title, apart from the regular hiccups, of course.
You will find the controller of the Xbox Series X to be sitting quite well with Gears 5, offering features such as single stick movement and other adaptive capabilities on the go. It's definitely a resounding experience going through the whole title with that kind of a gamepad in your hands.
As for the storyline of the title, we have at our disposal a game that features a number of twists and turns in the overall plotline, making the affair ever enticing. This time, the protagonist is a female, Kait Diaz, and she's hell-bent on discovering the true nature of her origin and how she came about to have powers.
15. Resident Evil Village
Genre: First-Person Survival Horror
Developer: Capcom
Release Date: May 7, 2021
If you're looking for a nerve-wracking, tip-top survival horror game with a knack for complex storylines, Resident Evil Village is the game you have to shoot for. It's been developed quite similarly to its predecessor, Resident Evil 7, but the storyline, of course, is completely different.
There is a bevy of frightening moments in there, just like the previous title, that do no less than strike fear into the heart of the player, especially when you're repeatedly trying to escape the Vicious Lady Dimitrescu. Although we do have to admit, the latter is in the good graces of every gamer in the player community, but not for reasons one would normally think of.
The protagonist] of Village is Ethan Winters yet again—a person who's just trying to manifest a fresh restart but is unfortunately not allowed to anymore. After franchise icon Chris Redfield barges into his home and supposedly kills off his wife Mia, he sets out to seek questions and potentially revenge.
Our hero character will need to employ a number of strategies to be aware of the whole mystery behind what just happened in his life. There's just a lot of suspense element instilled in Resident Evil Village that makes the affair worth having.
Ethan has to crawl through a lot to come out on top of Lady Dimitrescu, not to mention getting his life sucked out of him a number of different times. The game features some of the toughest boss fights in the game, where you'll definitely be at your wits end most of the time unless helped otherwise.
As you progress through the storyline, you find out why Redfield wanted to kill Ethan's wife and everything else that led up to that moment.
Have a look at some of our best Resident Evil Village guides below:
16. Mass Effect Legendary Edition
Genre: Third-Person Shooter Campaign
Developer: BioWare
Release Date: May 14, 2021
Advancing the list is Mass Effect Legendary Edition, a bundle of epic games that introduce new players to one of the most epic game franchises for the Xbox console. Step into the shoes of Commander Shepherd and experience jaw-dropping adventures from the perspective of an utterly heroic man.
The best part is that the set of games has been optimized for the Xbox Series X|S consoles, so you're going to be experiencing all the thrill in high-class visual fidelity. What's more, is that the Legendary Edition of the title is chock-full of content, letting you play through over 40 different add-ons for the base games, thereby doing justice to the entire saga of Mass Effect.
The playable games include the first trio of the Mass Effect titles—all of which have been held in high regard over the years of their active running. You'd truly be missing out on one of the most sensational single-player adventures on your Series X console by not picking up the game that we have here.
17. Ori And The Will Of The Wisps
Genre: Metroidvania, Indie, Platformer, Action-Adventure
Developer: Moon Studios
Release Date: March 11, 2020
Ori and the Will of the Wisps is just the title for those who are looking for a solitary gaming experience without the interruption of anything else. It's the much-anticipated successor to the original Ori and the Blind Forest that came out as an exclusive for Xbox One.
Ever since that time, though, both Ori and the Blind Forest and Ori and the Will of the Wisps have been released on other gaming systems, too, such as PC and Nintendo Switch. The level design and the overall aura of the title at hand are nothing but awe-inspiring, taking into account everything that a platformer is capable of.
The developer—Moon Studios—has made it sure-fire that Ori and the Blind Forest makes an exceptionally reputable name for itself. Perhaps, this is a reason the indie side-scroller went on to win the BAFTA Games Award for Artistic Achievement and the Game Award for Best Art Direction as well.
18. Hellblade: Senua's Sacrifice
Genre: Third-Person Survival Thriller
Developer: Ninja Theory
Release Date: August 8, 2017
Hellblade: Senua's Sacrifice is a total experience, offering the very best in terms of level design, character development, and overall plot. The title has just been blessed with a special Series X|S patch, thereby boosting its visual fidelity and getting it on par with the standard of the next-gen console.
One of the best features that Senua's Sacrifice will grip you with is going to be its binaural audio. You got that right. It's a game that sits proudly at the zenith of single-player games on the Xbox Series X, blocking out any multiplayer potential to impede the solo play-through.
Now, obviously, you will need headphones to enjoy the thrilling action-adventure that the developers have intended for you to relish. You'll be left astounded as to how Hellblade manages to merge a variety of different gameplay elements together, such as puzzle-solving, horror, and melee action, in a profound way.
19. Grand Theft Auto V
Genre: Open-World
Developer: Rockstar North
Release Date: September 17, 2013
Let's face it. Grand Theft Auto is a video gaming franchise that just needs no introduction. It's something that we start out unprofessional gaming careers with as soon as we learn to pick up that controller and get the ball rolling with it. The first GTA traces its release back to 1997 for the MS-DOS platform.
Ever since then, the franchise has been keeping it real with more iterations in the series, fresher content, and more innovative ways to play. The latest venture in the series by Rockstar North is built from the ground up with a novel prospect.
The thing is, all the best Xbox Series X games have something unique to offer, and Grand Theft Auto V is out there mastering the craft beautifully. It lets you embark on an epic story-driven adventure from the perspective of three different protagonists.
One way or the other, things start coming together on their own as you piece different elements of the story together and make all three centerpiece characters come together in terrific fashion. If you've got the Xbox Series X lying around and you still haven't played GTA V on it, you're certainly missing out, big time.
20. Devil May Cry 5
Genre: Hack and Slash, Action, Third-Person
Developer: Capcom Co. Ltd.
Release Date: March 8, 2019
Expect nothing but the most bizarre action sequences, cutthroat characters, and riveting combat thrill from Devil May Cry 5—the sixth overall entry in the DMC franchise. This is the game you play when you don't want anybody else's company impeding your single-player experience.
Following five years later the events of Devil May Cry 4, Devil May Cry 5 has achieved something that no other previous title in the series could. It goes on to feature three playable characters with an intertwined storyline, each with its own distinctive traits and abilities.
Drawing inspiration from the famous RE Engine, you'll experience true-to-life character faces in DMC. This sets up the title to offer some of the most realistic graphics that the gaming industry has ever witnessed. Your Series X console is definitely going to be put through its paces running what is otherwise a terrific single-player title.
Hack-and-slash combat with a surreal number of power-ups and abilities describes the rip-roaring action of Devil May Cry 5 the best. If you're after Xbox Series X games out there, don't sleep on the genius of what this game has to offer, period.
21. Cyberpunk 2077
Genre: First-Person Shooter, Open-World, RPG
Developer: CD Projekt Red
Release Date: December 10, 2020
Cyberpunk 2077 has been a subject of controversy at the time of its release. It was actually one of those titles that made gamers demand a refund from the developers and nothing else, considering the broken state of the title that it sported. CD Projekt Red promised to fix the action RPG, but nothing seemed to come to fruition at least until a year afterward.
With that said, the open-world cyberpunk adventure game has been given a massive overhaul. This has seemingly made Cyberpunk 2077 playable again, thereby putting it in stature that much resembles the original thoughts that the developer had for the game.
Amplifying the scenario at hand is the next-gen patch for Cyberpunk 2077 that has allowed the likes of next-gen consoles X to do their job diligently. We can gladly affirm that this title is an excellent Xbox Series X game out there at the moment.
The time is nigh to try out all that Night City has to offer in 2022. The developer has definitely put a girth of effort into Cyberpunk 2077, making it come out of a dismal abyss and rise to popularity afterward. Don't miss out on its chaotic gunplay, open-world adventure, and high-paced story.
Have a look at some of our best Cyberpunk 2077 guides below:
22. The Witcher 3: Wild Hunt
Genre: Third-Person, Open-World, Action-Adventure, RPG
Developer: CD Projekt Red
Release Date: May 18, 2015
The Witcher 3: Wild Hunt is single-handedly one of the best-developed games ever to grace the genre of RPGs. It's an open-world third-person action-adventure title that seemingly blends the best elements of the genre together and brings forth an utterly winning formula to the table.
The developers made quite the name for themselves when the title first launched. CD Projekt Red was highly praised for the way they launched the game, including extra goodies within the packaging of the physical edition of the game and a personally-curated letter to the fans as well. All these nifty features paved the way to a highly admirable user experience of purchasing and playing a CD Projekt Red game.
As for the size of The Witcher 3: Wild Hunt, what we have here at our disposal is a vibrant game bustling with a sea of content. You're not going to be able to cover the game map as you would in other open-world games. Dangers lurk around every corner, and you need to be at the top of your game to take on vile beasts without any proper gear.
The title just raises the bar too high for other RPGs to follow. It's going to receive a next-gen patch, too, in the not-so-distant future, so you can definitely watch out for the update on your Series X|S console. Now, as far as the replayability value of the title is concerned, this is an area where the game truly shines.
You're going to get a lot of bang for your buck with Wild Hunt. A seemingly countless array of quests, mainline missions, and further types of errands await you in this fanatical thriller. You'll be experiencing the world of The Witcher from a completely unique perspective; we can assure you of that.
Lastly, the combat of the game deserves special mention. Geralt—the protagonist—is a master of various combat arts, being able to equip himself with the versatility of different weapons.
Have a look at some of our best The Witcher 3: Wild Hunt guides below:
23. Destiny 2
Genre: First-Person Shooter, Action RPG
Developer: Bungie
Release Date: September 6, 2017
Destiny 2 wasn't always free to play: the title was launched with a full-featured price tag that had hundreds of thousands of aroused fans making the purchase. It wasn't until two years afterward that Bungie decided to make the switch and make the unique first-person shooter transition to the free-to-play category of modern games.
Fast forward to 2022, the title in question has an active user base where millions have seemingly jumped in to get a taste of the high-fi title. The gameplay of Destiny 2 comes across as nothing but addictive as you delve into grinding for better gear, higher loot, and more weaponry to curb stomp your enemies with.
You might as well experience the title solo in the unique shared multiplayer world that it features. That way, you'll be having one chaotic gunplay entertainment without having to join the party of other players as well.
New players may have a look at some of our best Destiny 2 guides ahead:
24. Hollow Knight
Genre: Indie, Platformer, Metroidvania
Developer: Team Cherry
Release Date: 24 February 2017
Hollow Knight is yet another formidable indie side-scroller that's nothing less than a must-play on your Xbox Series X console. It's entirely fun-filled and has been curated to perfection with its novel difficulty, catchy storyline, and interesting visual quality.
Step into the shoes of an atypical insect-like figure who uses a singular weapon to cut down his enemies. What we love about Hollow Knight is the depth of character development featured in the game, which is something that makes progression truly heartfelt and interesting to follow through.
25. Ghostrunner
Genre: First-Person, Action
Developer: One More Level, All in! Games, 3D Realms, Slipgate Ironworks
Release Date: Oct 27, 2020
Next up, we've got a first-person perspective (FPP) platformer here that's guaranteeing a never-before-seen experience for days on end. Ghostrunner is loaded to the brim with lightning-fast, gut-spilling action. Take control of a powered-up cyborg ninja and enjoy the gripping storyline of the in-game world.
The protagonist of the base game is Jack—a half-machine, a half-human individual who's been brutally incapacitated by the Keymaster at the start of the game. Jack is soon revived by the Climbers — an underdog community — and the Architect who's supposedly at the center of all things.
Upon his resurrection, Jack is slowly made to realize his role as a Ghostrunner and compelled to take on the Keymaster yet again to exact his due revenge. It doesn't take long for the game to grip in players wholly and let them taste the rush of pure adrenaline.
Expect nothing but the best parkour-style sword-slashing gameplay, eccentric wall-running, powerful instant transmission-like abilities, and terrific speedrunning adventures in Ghostrunner.
This is one of the best platformers the world has ever seen in recent years. Each kill you deliver feels utterly satisfying, and the moment you learn how to start deflecting projectiles is the instance you open up a world of fun and entertainment.
The title is narrative-driven and isn't without its exceptionally intriguing storyline. Internal conflicts between two sides always keep you on the edge of your seat, making you ponder who's in the right and what party has hidden ulterior motives.
Ghostrunner starts you humbly with a few sets of abilities where wall-running, sliding, and slashing your enemies away are some of them. As you progress through the storyline and embrace the Architect's Cybervoid network, the protagonist is set up to unlock more powerful abilities, ones that'll make him cut down the Keymaster.
However, there's more to the latter in Ghostrunner than what players will initially perceive. As iterated earlier, there's a lot going on behind the scenes that Jack will sooner or later uncover on his own. You certainly have to try out the thrill and action-packed adventure of this game if you're after real fun on your Series X console.
26. Psychonauts 2
Genre: Action-Adventure, Platformer
Developer: Double Fine Productions
Release Date: August 25, 2021
Take a break from all the true-to-life immersive gunplay and gore, and try out something uniquely fun for a change. Mind you, and this is all that Psychonauts 2 is about, offering overly amusing gameplay with satisfying combat mechanics.
It's a single-player adventure that allows you to take control of a psychic called Razputin "Raz" Aquato. This young gun is not only an acrobat but highly ambitious about joining the International Psychic Espionage Organization.
The latter is a committee of like-mindedly enabled individuals focused on balancing the world's supernatural forces and embarking on world-saving missions. However, after a recent run-in of the group with their leader's kidnapping, things have switched up drastically.
There's something unusual about the captain of the organization, thereby leading the protagonist to believe a conspiracy has spread among the mix. Razputin has to get to the bottom of things soon if he ever wants to realize his dream and become a part of the squad in question.
Expect nothing but awe-inspiring, over-the-top quests from Psychonauts 2 where platforming action is at its level best. The cinematic style of the action-platformer is pretty impressive to experience for days on end, letting you take total control of the player and become something of a psychic yourself.
The creative head of the title is Tim Schafer—a name that needs no introduction to the gaming industry. In the case that you've been remotely affiliated with this magical world, it might not surprise you to acknowledge Tim's previous works, which have been centered on Grim Fandango, Brutal Legend, and more.
Traversal in Psychonauts 2 is utterly enjoyable. The game definitely pushes the player through their paces, making them leap high in the skies and glide through tightropes and whatnot. Don't sleep on the action-adventure thrill of what happens to be Xbox Series X adventure single-player games to date.
27. The Forgotten City
Genre: Adventure, Puzzle, Indie, Role-Playing
Developer: Modern Storyteller
Release Date: July 28, 2021
Behold a marvel of a title—one that engages you to embark on a narrative like no other.
What we have here at our disposal is a deeply satisfying adventure title with the element of mystery at its very peak. Forget what you know about puzzle platforming—this is the next level of the genre when it truly boils down to it. You're someone who's blessed with the power of manipulating time.
However, failure to learn the proper exploitation of the skill will only result in drastic consequences. The ancient city of Rome, teeming with rich culture and history, is available at your disposal. The gist of it is you—the protagonist—going back at least 2,000 years back in time and arriving at a bewitched Roman city.
You happen to arrive just in time when the landmark is about to suffer its greatest downfall and total devastation. The aim, therefore, is to unravel the intertwined connection between the various people of this cursed land and discover how exactly the city came to self-destruct.
Meddle with the brilliant time loop mechanic of The Forgotten City, uncover chilling secrets, solve mysteries, and determine the fate of its people that only rests in your hands now. As long as you're after an IP that will engage you like no other, the title at hand is the one you should go for.
The most high-ranking publishing magazines from all over the world have held the game in good words, where one after the other is calling The Forgotten City an intellectual masterpiece. Bonus points if you have a thing for creativity-centric level designs and gorgeous game environments.
New players may have a look at some of our best Psychonauts 2 guides ahead:
28. Wasteland 3
Genre: Post-Apocalyptic, Turn-Based Tactical Role-Playing Game
Developer: inXile Entertainment
Release Date: August 27, 2020
Wasteland 3 pits players in the deepest trenches of a wartorn world where a global apocalypse has taken over peace, calm, and tranquility. Now, you walk upon the ashes of everything you knew and loved. The word has been made so desolate that no ray of hope is in sight unless you pick up your weapon and become a rebel yourself.
The title is a turn-based tactical RPG with an intense, profound storyline and a number of nerve-wracking twists that are going to keep you glued to Wasteland 3. It's actually a follow-up to the well-acclaimed 2014-released Wasteland 2. The developers have now brought a substantial graphical upgrade and a swath of other perks.
Seasoned Wasteland players are going to have one whale of a time experiencing what is otherwise one of the best single player Xbox Series X games. The combat is as good as ever, and the level of character development involved is just too good to be skipped on Microsoft's next-gen console.
Although the game can be enjoyed in co-op mode with a friend or a random person online, we recommend running and gunning in solo mode for the best results. The added difficulty will feel natural that way and make you experience the thrill of the rush like never before.
By taking full control of a squad of experienced fighters, rebels, and veteran warriors, you'll have to rebuild everything around you right from the ground up. However, don't think of Wasteland 3 to offer its players a bland, baseless storyline to follow through.
The fact of the matter is that Wasteland 3 exhibits a compelling plot filled with intricacies of all sorts. When you finally gather the courage to make the world whole again, you're contacted by the Patriarch of Colorado, offering you a deadly job in exchange for due help.
The task is to cut down his offspring — pretty twisted, right? — and free the world from their wrath. You then set out to venture all the way across the state through chilly mountains and sunburnt deserts to accomplish your objective. However, the ride in-between is all that Wasteland 3 is just about.
29. The Artful Escape
Genre: Indie, Platformer
Developer: Beethoven and Dinosaur
Release Date: September 9, 2021
The Artful Escape is another masterpiece of a title that you have to try on your Series X. At times, we do not realize how much of a break we need from the rip-roaring struggles of life. This is the game that truly lets you unwind and delve into a fanatical fantasy world where the main objective is to enjoy and let your hair down.
Tracing its release back to September of last year, this indie project started off with a Kickstarter campaign and eventually found a home in the embrace of publisher Annapurna Interactive. Ever since then, the platformer has seemed to blossom into a work of art and allowed the creative development of the game to shine in the industry.
The Artful Escape is one of the most imaginative games on the planet at the moment, blending stunning visuals with enticing gameplay. The level design and overall gameplay mechanics pave the way for the game to leave an everlasting impression on the mind of the player.
Nothing but universal acclaim has flowed toward the path of this indie platformer, let alone tip-top reviews from major publishing magazines all over the world. Steam has given a solid 9/10 rating to The Artful Escape whereas the broad user consensus seems to conform to the idea that the title in question is outright amazing.
30. FIFA 22
Genre: Football Simulator, Sports
Developer: EA Romania, EA Vancouver
Release Date: September 27, 2021
Even if you're not a sports fan, FIFA 22, being the best modern-day football game on the planet, will make your transition to this category seamlessly. Top-class visual quality, life-like player movement, and astonishing gameplay mechanics make the football simulator stand out like no other.
With a variety of different game modes and a realistic interpretation of the best sport on the planet, FIFA 22 will make you feel the joy of those last-minute bangers getting into the net and winning the trophy. It truly doesn't get any better than this, especially due to the level of fundamental gameplay upgrades featured in the title.
Step into the boots of the world's most popular players, including the likes of Lionel Messi, Cristiano Ronaldo, Neymar, Kylian Mbappe, Karim Benzema, Robert Lewandowski, David de Gea, Alisson Becker, and 17,000 others.
FIFA 22 even sports the world's most major football competitions in the world. Duke it out with your favorite teams in UEFA Champions League or go country-to-country with the FIFA World Cup as well. However, the latter is only available at the time of the real thing, which is bound to kick off in November this year.
Moreover, the popular sports simulator even lets you try out street football. The technology used to make that happen is FIFA's very own in-game engine called VOLTA Football, pitting players inside futsal courts and letting them choose their squad from a variety of different teams. When it boils down to authenticity, no other soccer simulator is out there rivaling the caliber of EA Sports' FIFA.
31. The Outer Worlds
Genre: RPG
Developer: Obsidian Entertainment
Release Date: October 25, 2019
The Outer Worlds is nothing short of a unique first-person shooting experience that made landfall on major platforms in 2019. The developer Obsidian Entertainment is an industry veteran known for creating the likes of Fallout: New Vegas and other highly praised action RPGs.
Every major action that you take is going to lead to an event. Now, it completely boils down to you the type of routes you're going to take and the choices that will be dictating your in-game future.
Moreover, the gameplay of the title cannot be compared with some of its counterpart RPGs. It functions almost like a rogue-like whereupon each player's death, and the next session begins with a debuff. However, with the depth of weapon selection featured in the game, you'll find your pickings highly entertaining.
The Outer Worlds is a single-player game that can put off those who might seek some shard of multiplayer action in between.
32. Star Wars Jedi: Fallen Order
Genre: Third-Person, Action-Adventure, RPG
Developer: Respawn Entertainment
Release Date: November 15, 2019
As we get nearer to the end of the list, we can't help but up the ante and start including the likes of Star Wars Jedi: Fallen Order. Embark on an epic tale surrounding power, betrayal, and legacy as you fulfill your destiny and reclaim the lost legend of the Jedi Order.
The world is cruel and verily unforgiving. Enemies of the Jedi Order lurk around every corner, including the tyranny of the vicious Empire. As a young Padawan who's been long lost and unfamiliar with the ways of his predecessors, you must tap into your potential and take on the Empire, both with the Force and strategically.
That is to say, Star Wars Jedi: Fallen Order exhibits clean, crisp combat with life-like visual elements. The portrayal of combat scenes, along with the rest of the storyline, is reminiscent of the legendary Star Wars movies. If you're a fan of the franchise, you'll definitely fall in love with the game.
Become a proponent of the ethereal Force as you master your ingrained abilities and develop an intricate sense of power.
The icing on the cake is the label of "Optimized for Xbox Series X|S" slapped onto the game. This is something that lets you try out the capability of next-gen hardware. In the case that you're into rogue-like action where getting killed off means losing a portion of your stats, Star Wars Jedi: Fallen Order is the IP for you.
33. Watch Dogs: Legion
Genre: Action-Adventure, Free-Roam, Open-World
Developer: Ubisoft
Release Date: 10 November 2020
Watch Dogs: Legion is the third entry in the Watch Dogs series, promising over-the-top gameplay elements with multi-faceted versatility tucked in between. This is a title that lets you shoot, drive, hack, and sneak past enemy-controlled areas like Kevin Mitnick on steroids.
The game has been stamped with "Optimized for Xbox Series X|S," so expect nothing but the smoothest of gameplay qualities with a touch of class. Take on the world as an associate of DedSec and strive to clear your reputation after being falsely framed for crimes you did not commit.
The core gameplay experience resembles the previous Watch Dogs games, but Legion is on a level of its own when it truly comes down to it. Plus, if you happen to be situated in the UK, you'll get to experience London with proper immersion. Areas such as Westminster, Lambeth, and Southwark are all a part of the title.
New players may have a look at some of our best Watch Dogs: Legion guides ahead:
34. Far Cry 6
Genre: First-Person Shooter, Action-Adventure
Developer: Ubisoft
Release Date: October 6, 2021
Far Cry 6 is a first-person shooter that's a cut above the rest of the games belonging to the same genre. The Far Cry franchise is unique in the sense that it blends in wildlife with modern-day guns, thereby bringing forth a high-quality mix of both those elements.
As for the storyline of the game, Anton Castillo is a villainous dictator who holds full control over the entirety of Yara—a fictional Caribbean land that strongly resembles Cuba. It's up to the protagonist — Dani Rojas — to bring things to justice and instill liberty and peace in the heartland of the city.
Admittedly, Far Cry 6 features the biggest playground to experiment with in the series, so you're definitely going to have one whale of a time liberating Yara from the iron hand of Castillo. Although the title supports multiplayer, it's best enjoyed in a solo fashion.
Check out some of our best Far Cry 6 guides ahead:
35. Sea of Thieves
Genre: Action-Adventure
Developer: Rare Limited
Release Date: June 3, 2020
Topping the list off, for now, is another high-class open-world game that's actually a cut above the rest of its competition. Sea of Thieves is a proper pirate experience on the Xbox Series X, making players step into the shoes of the famous Captain Jack Sparrow from the well-renowned movie franchise.
You got that right. Many players have been left referring to this title as the official "Johnny Depp game" where you essentially take on the role of the Pirates of the Caribbean protagonist. What awaits you in Sea of Thieves is a gorgeously designed game world filled with lacunas, oceans, animals, and otherworldly creatures.
When we talk about the latter, we refer to the distinct places in the in-game world where you get to uncover buried treasures and special rewards. Of course, getting your hook on all that gold and money isn't going to be easy by any means—you'll have to work your way to it.
Although Sea of Thieves is a live-service title, riding solo in it is a perfectly enjoyable experience with little to no barred functionality. Do give it a shot on the console and uncover the adventure yourself.
New players may have a look at some of our best Sea of Thieves guides ahead:
The Wrap-Up
Rip-roaring multiplayer adrenaline is fun and all, but nothing compares to single-player masterpieces giving you the best rush you've had in a while. Thankfully, the Xbox Series X is a console that's no stranger to such types of titles, encompassing the likes of Forza Horizon 5, Red Dead Redemption II, and Halo Infinite.
All of the 35 games that we've enlisted guarantee a sensational solo run that's bound to put you through your paces. It's either that or the presence of a chill, laid-back environment where the goal is relaxation and a deep dive into the fantasy world.
Our personal favorite on the list so far is Elden Ring—hands-down the magnum opus of FromSoftware up until now. Do let us know what you think of our best Xbox Series X single player games collection down in the comments section. As always, eXputer wishes you happy gaming!
Was this article helpful?
Good job! Please give your positive feedback ⚡
How could we improve this post? Please Help us. ✍