Out of all the different genres in modern-day video gaming, the concept of zombies comes across as utterly fantastic, if not downright terrifying. The most impressive zombie titles across different platforms certainly put the player through their paces, throwing one horde of the undead after the other in an endless bout of survival.
If you do have the heart to sit through one of these (and some brains), keep on reading to discover the best zombie games on PS4 that are sure to take you for a spin.
Key Takeaways
Zombie game genre

is mainly focused on

zombies or otherworldly creatures

chasing the

protagonist

of the game in order to

infect

them or

kill them.

The

thrill, the increased heart rate, and the adrenaline rush

that players feel while being

chased

by a

truckload of zombies

trying to

kill them

are what make these

games

extremely

intriguing and enjoyable

to players.

A

plethora

of zombie games are available on the

PS4.

We have

listed

down the

16 Best Zombie Games

in this list from which some are as follows:

Dying Light.
The Last Of Us Remastered.
Days Gone.
Resident Evil 7: Biohazard.
The Walking Dead.
Dead Rising 4.
Resident Evil 4.
We've rounded up some of the most classic icons for this guide right alongside some latest releases just as well. Prepare to leave no stone unturned as we dish out the most well-established zombie games for the PlayStation 4. Let's dive right into the article with no further ado.
Here's a summary of the 16 best PS4 zombie games to play:
| Game | Award | Release Date | Developer | Platform |
| --- | --- | --- | --- | --- |
| Dying Light | None | January 27, 2015 | Techland | Linux, PlayStation 4, PC, Xbox One, macOS, Nintendo Switch, PlayStation 5, Xbox Series X and Series S. |
| The Last of Us Remastered | Audio of the Year | July 29, 2014 | Naughty Dog | PlayStation 4 |
| Days Gone | Best Storytelling | April 26, 2019 | Bend Studio | PlayStation 4 and PC |
| Resident Evil 7: Biohazard | Best VR Game | January 24, 2017 | Capcom | PlayStation 4, PC, Xbox One, Nintendo Switch, Amazon Luna, Stadia, PlayStation 5, and Xbox Series X and Series S |
| Dead Rising 4 | None | December 6, 2016 | Capcom Vancouver | PlayStation 4, Xbox One, and PC |
| The Walking Dead | Game of the Year | April 24, 2012 | Telltale Games | Android, iOS, Kindle Fire HDX, OS X, PC, Nintendo Switch, Ouya, PlayStation 3, PlayStation 4, PlayStation Vita, Xbox 360, and Xbox One |
| Resident Evil 2 Remake | None | January 25, 2019 | Capcom | PlayStation 4, PC, Xbox One, Amazon Luna, PlayStation 5, Xbox Series X and series S, and Nintendo Switch |
| Zombie Army 4: Dead War | None | February 4, 2020 | Rebellion Developments | PC, PlayStation 4, Xbox One, Stadia, Nintendo Switch |
| World War Z: Aftermath | None | September 21, 2021 | Saber Interactive | PlayStation 5, PlayStation 4, Xbox One, PC, Google Stadia, and Xbox Series X, and Series S |
| Resident Evil 4 | Game of the Year | January 11, 2005 | Capcom | GameCube, PlayStation 2, PC, Wii, iOS, Zeebo, PlayStation 3, Xbox 360, Android, PlayStation 4, Xbox One, Nintendo Switch, and Oculus Quest 2 |
| DayZ | Best Indie Game | December 16, 2013 | Bohemia Interactive and Dean Hall | PlayStation 4, Xbox One, PC, and Xbox Cloud Gaming |
| 7 Days to Die | None | December 14, 2013 | The Fun Pimps | Linux, PC, Mac OS X, PlayStation 4, and Xbox One |
| Death Road to Canada | None | July 22, 2016 | Rocketcat Games and Madgarden | Nintendo Switch, PlayStation 4, Android, iOS, Xbox One, PC, and macOS |
| The Last of Us Part II | Game Of The Year | June 19, 2020 | Naughty Dog | PlayStation 4 |
| Dying Light 2 | None | February 4, 2021 | Techland | PlayStation 5, PlayStation 4, Xbox One, Nintendo Switch, Xbox Series X and Series S, and PC |
| The Evil Within 2 | None | October 12, 2017 | Tango Gameworks | PlayStation 4, Xbox One, Xbox Cloud Gaming, and PC |
Best Zombie Games For PlayStation 4
The following is our round-up of the best PS4 zombie games to play to your heart's content. Make sure to read until the very end for the best results.
1. Dying Light
Starting this list off strong is Dying Light, a 2015-released survival horror title centered on nothing but zombies and like-minded putrid mutations. What makes Techland's formerly front-running IP so special isn't that it comprises boundless waves of the undead—things aren't that mawkishly old-fashioned when Dying Light is in the question. It's how the title is so well put and each element, down to the most trivial one, is specially curated.
Combine that with the free-roaming parkour gameplay of the title and you've got yourself nothing less than a winning formula. Dying Light manages to blend a versatility of elements together and snowballs them into a truckload of fun. I haven't been able to dropkick a zombie off a hundred feet above a rooftop in any game before, and pulling this off just right is utterly satisfying.
You have to go above and beyond your skills, adapt to the environment, and become the ultimate freerunner slash ultimate zombie slayer to overcome everything Harran will throw at you.
Oh, and as soon you unlock the in-game Grappling Hook, you don't even realize how much fun Dying Light is going to become from this point onward. Image latching yourself onto every building in Harran and getting the better of evil zombies every time.
At the end of the day and what possibly looks like 300+ hours into the game, no other best PS4 zombie game is managing to dish out an experience like Dying Light. The parkour game mechanic combined with the title's unique combat system is just too good to enjoy on a modern-day platform.
Last but not least, a sizable expansion called The Following has been released to continue the story of the original Dying Light. It elevates the open-world environment of the game and shifts its emphasis to driving as well. From that point on, one can only speculate about the numerous opportunities and entertaining strategies for defeating opponents.
Last but not least, the story of the original Dying Light has been followed up with a major expansion called The Following. It takes the open-world setting of the game to newer heights and expands its focus toward vehicular driving as well. One can only imagine from that point onward all the various possibilities and fun ways to get the better of your enemies.
Pros:
Dying Light offers a thrilling and intense gameplay experience.
The combat system in Dying Light is gratifying and extremely brutal.
Dying Light features a captivating and immersive storyline that keeps players engaged and invested in the game's world.
Cons:
It may take some time to adjust to Dying Light's controls, and players are unable to customize button mapping, which can be frustrating for some.
The combat and movement mechanics may feel sluggish and unsatisfying at the beginning but can be improved through unlocking upgrades for a more enjoyable experience.
Dying Light has a few animation issues that can be noticed as lip sync problems and minor glitches.
2. The Last of Us Remastered
If you've been even remotely indulged with the most popular games around on the PS4, you might have at least heard a little birdie tweet by the name of the legend that is The Last of Us.
This title has remained a PlayStation exclusive ever since its first-ever release for the PlayStation 3 back in 2013. However, the iconic zombie-centric IP was ported over to the PlayStation 4 as well just one year later after its initial launch as a remastered version.
This sets PS4 players up quite nicely to try the action-packed zombie-oriented title in its full flight. The Last of Us has been hailed throughout time as one of the best video games ever made, let alone the best zombie game for PS4. Overly enthralling storyline? Check. Tip-top gameplay? Check. Above-par visuals? Check. When the title first came out, it was venerated for "having it all" that a video game can possibly have.
The duo of Joel and Ellie in the game is crowned as one of the best characters in the history of video gaming due to the incorporated emotional value.
As for the plot, the story of the game/cinematic movie shows us a riveting zombie outbreak at the start. The protagonist—Joel—is at home with his daughter Sarah and brother Tommy when things hit the fan and all hell starts breaking loose abruptly.
The three of the lot then run out to seek refuge, but when one thing leads to the other, Sarah is shot dead in Joel's arms and our protagonist goes unconscious.
We don't want to spoil anything further from here on out for you. The level design, the combat mechanics, and the environmental tension that The Last of Us has you going through incessantly as you play it is outmatched by any other zombie-centric title for the PlayStation 4, making it flat-out one of the best story-driven zombie games on PS4.
Pros:
The graphics in The Last of Us' remastered edition are vastly superior to those in the original.
The Last of Us' excellent writing is a result of the writers' extensive work on the story.
The Last Of Us's character development is flawless.
The game has a deeper emotional dimension thanks to the wonderful relationship between Joel and Ellie.
Cons:
The Last of Us has numerous problems and glitches, which significantly affect the gameplay.
The Last of Us is mostly a linear story-based game with a predetermined path that you must follow, thus there isn't much replay value.
3. Days Gone
Furthering this list is a relatively fresher take on the zombie slash post-apocalyptic genre of games. Days Gone is brave, compelling, and does nothing less than give you the thrill of the rush on a day-to-day basis.
A surreal number of enemy types, a variety of different weapons, and your trusty motorcycle all measure up to deliver an awesome gameplay experience for days on end. The game is exclusive to PlayStation 4 and PC, so you won't be finding it on other consoles.
Deacon St. John is the protagonist of what is otherwise one of the best zombie survival games on PS4. In an unfortunate string of events, Deacon is separated from his wife Sarah Whittaker, but does have his friend to tag along with him—William Gray. When the virus first breaks out, the three individuals try to escape to safety on their own but soon split up due to William getting severely injured.
Don't miss out on all that Days Gone has to offer to aspiring users on the fly. Vehicular combat, melee attacks, and the sheer power of improvised weaponry in the free-roam title are sure-fire to keep you hooked to zombie-infested Oregon for a substantial amount of time.
Pros:
Days Gone takes place in an extensive and detailed open-world that allows you for exploration and discovery of new places throughout the tale.

The characters models are highly detail-oriented, and have very realistic facial expressions as well as emotion-driven expressions.

The world of Days Gone is affected by the dynamic weather system as well as the night/day cycles, which affect the game in a variety of ways.

For instance some types of enemies may become more active or less, based on the timing of the day, and the weather may also impact Deacon's vision and the speed of his movement.
Cons:
The loading time within Days Gone can be incredibly long, particularly following the death.

It can be difficult to discern if a assignment is part or the overall storyline or an unrelated mission, which could lead to confusion.

Frame drop issues are a problem on PS4 particularly in specific areas within the maps.
4. Resident Evil 7: Biohazard
If you're after true, bone-chilling horror, Resident Evil 7: Biohazard is the game you have to try on your PlayStation 4. Being the first Capcom title to use the in-house RE Engine, the developers have switched up the camera perspective that was being used for the last bunch of Resident Evil titles. Resident Evil 7, therefore, is a first-person shooter with terrifying gameplay.
It's a personal favorite over at eXputer as well. There are some jumpscares in there that frighten the living heck out of the player, especially when you're repeatedly coming in contact with Jack Baker. A whole rollercoaster of emotions awaits you in this horror thriller of a title as you uncover dark, deep mysteries surrounding the Baker family.
The name of the protagonist is Ethan Winters—an ordinary civilian who sets out to find his wife after he receives an exceptionally unsettling video message from her.
The fact of the matter is that the message is received three years after Mia—Ethan's wife—goes absent for the first time. When the protagonist finally stumbles upon the homestead where Mia is allegedly trapped, a whole swath of mishaps starts manifesting immediately.
Ethan has to crawl through a lot to come out on top of the Baker family, not to mention getting his arm severed and being forced to improvise regardless.
As you progress through the storyline, you find out how the Baker family came about to be infected and the true reason Mia went missing in the first place. There's never a dull moment in Resident Evil 7, we can assure you that.
Pros:
Resident Evil 7: Biohazard has a creepy and immersive atmosphere that draws players into the story.
The graphics and visual effects are top-notch and do a great job of bringing Biohazard's horror elements to life.
The voice acting is phenomenal and adds to the tension.
The DLC expansions add even more content and depth to the story.
Cons:
Resident Evil 7: Biohazard may be too short for some players, as the main campaign takes around 10 or 12 hours to complete.
There are a lot of jump-scares that may not be everyone's cup of tea.
Some of the boss battles can get incredibly frustrating.
5. Dead Rising 4
Dead Rising 4 brings forth an utterly unique concept of zombie slaying. It lets the player grab ahold of the most arbitrary tools and jam them together to create devastating weapons.
That is to say, the Dead Rising franchise is akin to the craziest ways of cutting down evil zombies and the latest game in the series is just no exception to that. Playing the game for 200+ hours, I can personally vouch for that statement without breaking a sweat.
The action-packed free-roam title seems to pack a little special as compared to what Capcom has been doing with the previous iterations in the Dead Rising series. This one provides more freedom to the player in a number of aspects.
Not only is Willamette Mall—one of the cornerstones of the IP's gameplay environment—teeming with details from head to toe, but every other surrounding area allows you to get a true-to-life feel from it.
Last but surely not least, you can even grab a truck or a car and peddle to the metal with it, thereby ramming and making short work of most zombies in your way.
One facet about Dead Rising 4 that stands out is how its gameplay, environment, and other settings dynamically change when you progress past certain points.
For instance, areas you've gone past before are likely going to be different when you revisit them. Zombie jam-packed sections of the town might be ominously dry and empty if you happen to run into them again. It's definitely one of the best zombie PS4 games that you can pick up today.
Pros:
You can reach multiple endings in Dead Rising 4, which depends on the choices you make throughout the story.
Dead Rising 4 offers a wide variety of unique and varied weapons, including everything from standard firearms to more creative and stupid weapons like a giant teddy bear or a musical saw.
Killing a huge wave of Zombies is incredibly fun in Dead Rising 4.
Cons:
Dead Rising 4 has been criticized for lacking significant new features compared to previous installments in the series.
The gameplay in Dead Rising 4 can become incredibly repetitive, with a heavy reliance on grinding and repeating the same tasks.
Dead Rising 4 has been plagued by glitches and many problems with the visuals and the audio.
6. The Walking Dead
Next up, we'll be talking about nothing less than an icon on the list. The Walking Dead traces its release back to 2012 and still feels relevant playing it in 2023. The developer—Telltale Games—has curated what it calls an "episodic adventure title" where the various parts of The Walking Dead are divided into episodes. 5 of these came out in a cumulative manner under the umbrella of this exciting IP.
At the time of writing, The Walking Dead is on sale on the PS Store. You can grab it for as low as $5.99 for all 5 episodes and embark on an epic tale of a convicted man trying to redeem himself.
Lee Everett is a former prisoner who has been released into a world devastated by zombies and like-minded creatures. His only focus now is to protect an orphaned little girl called Clementine. Lee doesn't have much going for him otherwise.
The Walking Dead is a meticulously tailored game. It does not follow a linear storyline where you're not in control of the forthcoming events, actions, and sequences. The fact of the matter is quite the opposite. At each stage of the episodic thriller, you're faced with a choice—a choice that will dictate how future events will play out. Play at will and let your inner personality make your decisions for you.
In fact, what makes The Walking Dead the best PS4 zombie game is its thrilling storyline and action-ridden gameplay, not to mention the rush of different emotions when you're playing through the whole thing.
Pros:
The Walking Dead has choice-based gameplay, allowing you to make meaningful decisions that can impact the story and characters in the game.
The voice actors have done an incredible job of portraying The Walking Dead's characters' emotions perfectly.
The Walking Dead introduces new characters that bring a fresh new feel to the story.
Cons:
The controls can get incredibly wonky and unsatisfying sometimes.
Story of The Walking Dead can get predictable sometimes.
Some players might not like the ending.
7. Resident Evil 2 Remake
Resident Evil 2 Remake is a gorgeous title with aesthetically striking quality-of-life touches. For aspiring franchise fans, Capcom has reportedly completely remade the popular zombie-focused game and released a modernized version of it. As a result, we get to witness Claire Redfield and Leon Kennedy's terrifying adventures all over again.
When it shoots down to the best classic zombie games on PS4, Capcom is a hard competitor to outclass. Given its dominant position in the genre of games with a zombie focus, the Japanese gaming giant could be considered an expert in everything zombie-related. You can understand what we're talking about by taking a look at the Resident Evil series alone. Given how well they've been put together, there are three games from the franchise on this list alone.
The fresh reiteration was released in 2019 with one devil of a positive reception. To this date, major publishing magazines from all over the spectrum hold this tip-top remake in high regard, including TechRadar, GameSpot, and IGN. Specks of RE Engine have been brilliantly displaced across Resident Evil 2 Remake and playing the game from start to finish, it's easy to see how.
Pros:
Positives: Resident Evil 2 Remake does a great job of creating a spooky, immersive environment.
You can unlock different endings in Resident Evil 2 Remake by finishing the campaigns for various characters.
The Resident Evil 2 Remake soundtrack heightens the ambiance and heightens the tension, further immersing you in the gameplay.
Cons:
Resident Evil 2 Remake's movement can seem to move very slowly.
Major pacing issues can be found in some of Resident Evil 2 Remake's sections.
Sometimes it can be tedious to manage your things.
8. Zombie Army 4: Dead War
In the affair that overly eccentric shooter games dripping from top to bottom with chaos are your thing, Zombie Army 4: Dead War is definitely going to kick it to the curb for you. Prepare to welcome this offspring of Rebellion Games onto your console to delve into a never-ending zombie-slaying miasma. Some games out there are just pumped full of adrenaline and what we have here at our disposal fits the description perfectly.
PlayStation announced new subscription tiers to its major PS Plus membership, including Essential, Extra, and Premium. The good news is that Zombie Army 4: Dead War is included in the Extra subscription plan of PS Plus, so you may as well opt for the latter to reap more benefits rather than paying $50 for a single game. Anyhow, we leave this decision in your hands.
Some of the most prominent features of the title include the presence of Hitler and his relentless army of the undead. Pile up corpse after corpse that follows the orders of the unruly dictator using a wide arsenal of exceptional weaponry.
Experience the award-winning gameplay with an upgraded "X-Ray Kill Cam" that shows you the path of the bullet penetrating through your enemy in a terrific fashion.
There's just no limit to the amount of fun you can have playing this game. Delve into deep customization of your guns, slap on elemental effects, and take on hordes of zombies without a sliver of fear. When things go way too haywire, holster your weapons and let your fists do the talking. That is to say, one of the best World War-style zombie games on PS4 features top-notch melee combat as well which you should definitely not miss out on.
Pros:
Zombie Army 4: Dead War offers intense and fast-paced gameplay that keeps you on the edge of your seat.
There is a wide variety of zombie enemies in Zombie Army 4: Dead War, each with its own unique abilities and behaviors.
Zombie Army 4: Dead War introduces new weapons and abilities.
It can be played with up to four players in co-op mode, allowing you to team up with your friends to take on the zombies.
Cons:
There is a lack of customization options in Zombie Army 4: Dead War
It focuses a lot on the multiplayer co-op mode, as such, it can get a bit tough to play solo.
Some of the character animations and movement can feel incredibly awkward in Zombie Army 4: Dead War.
9. World War Z: Aftermath
World War Z: Aftermath could've gone a highly different route with its gameplay, but the developers decided to keep it real among the community. What we have as a result is a fun-filled first-person shooter with a thing for encompassing a monstrous ton of zombies in a concurrent manner. We thought World War Z was a big game considering its level design, but Saber Interactive Inc has gone to the next level with the daring new sequel.
Think of the iconic Left 4 Dead series but even more expansive. There are 8 distinctive classes that you can pick up and start raising hell with. The best out of the bunch are the Slasher, Gunslinger, Medic, Exterminator, and Vanguard. Definitely has a lot more than what the Diablo Immortal Best Class has to offer. Each character class features its own broad range of skills and accommodates a particular play style.
Therefore, you'll never know what class is the best until you give it a shot yourself. Experience an epic adventure right on your PlayStation 4 either solo or with a party of up to 8 online players with PS Plus. Things can get darn intense when thousands of zombies come flying at you at full speed.
There's even a Horde Mode XL in there that lets you take on a whole swarm of baddies in terrific 4K 60 FPS, although the latter will arrive on the PS5, should you choose to upgrade anytime soon.
Pros:
World War Z: Aftermath features cross-platform play across all the platforms it is available on, which means you can play with your friends regardless of the platform.
The co-op mode of World War Z: Aftermath is incredibly well-designed, as it puts a great emphasis on teamwork and strategy.
World War Z: Aftermath has 4K resolution support, which makes it look incredibly stunning.
Cons:
There have been no new multiplayer modes added to World War Z: Aftermath.
It is full of many different glitches or bugs that can disrupt your gameplay sometimes.
World War Z: Aftermath's first-person mode can feel very underwhelming to some players.
Some of the mechanics in World War Z: Aftermath can feel unfinished or unpolished to some players.
10. Resident Evil 4
Moving forward, we have at our disposal one of the best PS4 zombie story games ever made straight up. Resident Evil 4 is an icon of the gaming industry, tracing its release back to the golden age of gaming when the PlayStation 2 thrived among the dominance of Nintendo consoles. The single-player zombie-focused title takes you up on the storyline of a lifetime, pitting a "rookie" cop against the vile stretches of an evil satanic cult.
Leon Scott Kennedy is tasked with the grave mission of rescuing the US president's daughter Ashley Graham. She has been seemingly kidnapped by a group of ill-minded individuals going by the name of Los Illuminados. Therefore, Leon has to travel to Spain and uncover the satirical mystery surrounding the kidnapping of Ashley. As he ventures into the Village, it doesn't take long for him to discover that people are not themselves.
Some games just don a near-perfect formula of simplicity. They do not play out to be complex at all but also do not have anything to do with boring, monotonous gameplay mechanics. This is what sums up Resident Evil 4 perfectly. In essence, its gameplay at a core level is utterly simplistic. You aim and shoot and you cannot even move while doing that.
However, there is a wide variety of weaponry that Leon will manage to pick up or purchase from the ever-famous merchant as he treads along the storyline. Still, there isn't much that the gameplay of Resident Evil 4 has going for itself, and we're not sure how it manages to turn out so well that way. Perhaps, it's always the element of surprise that forces you to be excited, not knowing what you'll find just around the next corner.
Pros:
In terms of visuals, Resident Evil 4 has aged like fine wine over the years.
The Quick Time Events are incredibly unique and a delight to perform in Resident Evil 4.
The game does a fantastic job of mixing action-based and horror elements which sets it apart from other Resident Evil games.
The audio design is exceptional and enhances the horror aspect of Resident Evil 4.
The combat system is extremely robust thanks to a wide variety of weapons.
All characters are well-written and quite immersive which complements the main plot.
Cons:
For a Resident Evil game, it is relatively short which has disappointed some fans.
There is no mouse support available for the PC port which is underwhelming.
Ashley can be really annoying on some occasions which can tarnish the overall experience of the player.
11. DayZ
The next entry in line is just one of the best zombie survival games PS4, particularly due to DayZ's replayability value and a vast, open-world waiting for you to get into and explore. The land has been lost and mankind as we knew it has almost been erased. This is owed to a devastating virus that has seemingly affected the whole of earth's population, thereby transforming them into vile creatures hungry for only blood and human flesh.
The aim of the game is plain and simple—your main objective is to hunt, scavenge, and survive. The way that would be done completely boils down to you, so player freedom and various different ways to play are in excess in DayZ. After all, the map featured by the third-person shooter is over 230 km² in length, and it normally takes a player somewhere around 4-6 hours of jogging to get from one end to the next.
Despite all that, there is one thing we should clear up before you dip your toes in DayZ. The title appears to be plagued by a ton of glitches, issues, bugs, and other errors that bar players from having the most optimal gameplay experience. However, most of those problems have certain workarounds to them, and with time, it gets easier to navigate around the issues and enjoy DayZ at its very core.
Until then, you will have to put in the effort and power through the minor hiccups. Once you finally do though, DayZ can possibly become the best zombie PS4 game you've ever played before. There's just no limit to what you can pull off in the free-roam hardcore survival shooter. From roleplaying to intense Player vs Player (PvP) combat, you may as well battle for hours on certain servers with other players and zombies together.
Moreover, there's a semblance of realism too that DayZ proudly boasts on the go. Some authentic survival mechanics such as health protection, and catching diseases and illnesses are all part of the title's difficulty level. A pro tip in this regard is to keep Multivitamin and Tetracycline medicines with you at all times since you never know when you'll pick up a sickness during your survival journey.
Pros:
DayZ is an incredibly well-optimized game, even on lower settings, the graphics can look very good.
The AI in DayZ is very good, as it is designed to be dynamic and responsive, meaning that it reacts and adapts to player actions in real time.
You have the ability to customize your character's appearance and loadout in DayZ, which gives you the freedom to experience a unique playing experience.
Cons:
DayZ feels more like a death match simulator than a survival game, which might not be for a lot of players.
You might experience lag or other connectivity issues when playing on servers that have a high number of players online at the same time.
The zombies in DayZ do not look very good and feel almost unfinished, this is particularly apparent when a zombie gets close to you.
12. 7 Days to Die
7 Days to Die isn't your regular zombie looter-shooter title with a surreal number of flying guts and unearthly gore. Instead, this open-world venture is a unique take on zombie apocalypse survival since you're not tasked with doing something in a linear way. A blend of different game styles is introduced in the title, such as exploration, building, crafting, mining, and focusing on character growth.
Therefore, you'll be indulging in tower defense mechanics, crafting for survival, and combating your way out of zombie-controlled zones to enjoy 7 Days to Die vehemently. The Fun Pimps' front-running IP is rated quite high on multiple platforms as well, so you know you're diving into a well-reputed title here. The first-person shooter thrill combined with building your very own indestructible fortress that's inclusive of traps is sheer adrenaline.
In addition to that, what makes 7 Days to Die one of the best zombie survival games PS4 is its capacity to enable couch multiplayer. You got that right. Players can enjoy split-screen gameplay and let loose upon the zombie-ridden world together. Teamwork makes the dream work and that's exactly what you'll be incorporating in the title. Do let us know whether you try it down in the comments section.
Pros:
7 Days to Die allows players to explore and survive in a vast, randomly generated world.
You can gather resources, craft items, and build structures to protect yourself from the dangers of the 7 Days to Die world.
7 Days to Die offers both co-op and competitive multiplayer modes, allowing you to team up or fight against other players online.
Cons:
7 Days to Die has a reputation for having poor optimization on PC, which can lead to performance issues, frame rate drops, and freezes.
It can take way too long to progress in 7 Days to Die, which can turn away a lot of new players.
The player base of 7 Days to Die has declined over the years, which can make it difficult to find other players to play with online.
13. Death Road to Canada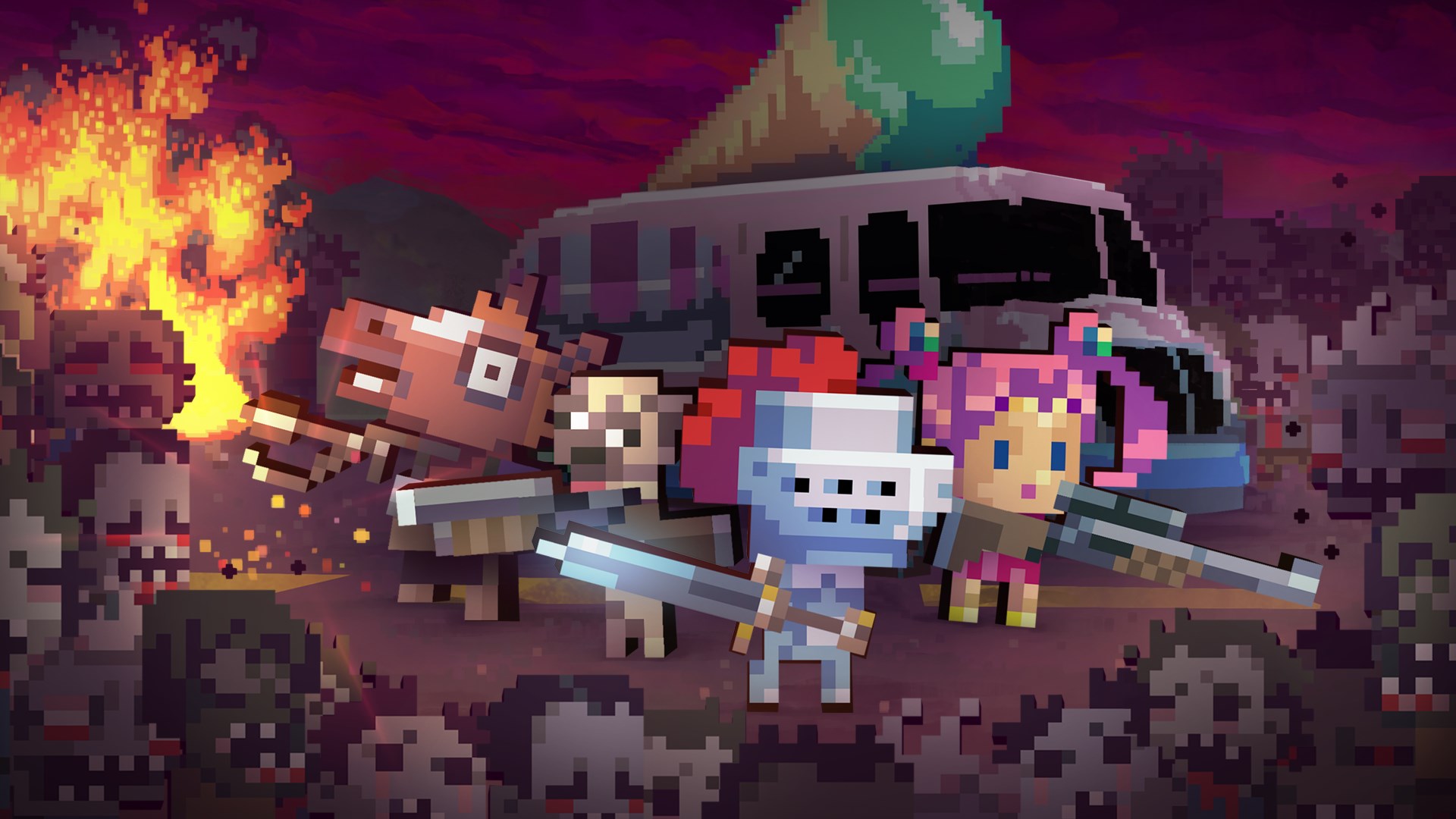 Let's take a break from all the intense action and thrill and roll back on the ferocity of things. Death Road to Canada is a highly-rated game for the PlayStation 4 that owes its success to its roguelike, road trip action gameplay. The title in question is venerated for its insane replay value in the sense that all introduced elements are completely arbitrary. This is to say, the game at hand is exceptionally randomized.
The latter carries over to the characters that steer the car, locations you go to, events popping up in different areas of the in-game world, and even the very way your round starts. There's never a dull moment in Death Road to Canada, we can ascertain that. The title sports more than 500 different types of zombies for you to go toe-to-toe with. Feel free to face them head-on or take the easy way out and flee their stretching attacks.
Other than that, Death Road to Canada boasts a distinct character creator, so you stay in total control of the game at all times. However, not everything stays within your grasp in certain scenarios. For instance, the Interactive Fiction events always put the player through their paces by making them face a dilemma.
Pros:
Each playthrough of Death Road to Canada is different, as the game generates unique events, enemies, and characters every time you play.
Death Road to Canada features pixel art graphics and a retro-style aesthetic, which adds to its charm.
You can create a custom character in Death Road to Canada, with a variety of different perks and traits.
Death Road to Canada features an amazing electronic soundtrack that adds to the atmosphere.
Cons:
The combat in Death Road to Canada is not designed well and gets tedious very quickly.
The co-op features a leader and buddy system, with the leader being able to do certain things that a buddy cannot do, which can get very frustrating for some players.
Death Road to Canada can be very difficult, this may make the game frustrating for some players, especially those who are not used to dealing with frequent character death or unexpected events.
14. The Last of Us Part II
In the case that you go past The Last of Us with a heavy heart, just wait until you try what gameplay The Last of Us Part II has to offer. The much-anticipated sequel to what is otherwise the best PS4 zombie game ever made does bring forth a couple of controversies with itself, especially concerning how major parts of the plot have been switched up.
With that said, the gameplay of this game is exceptionally advanced. Each enemy behaves in a unique way and the hits that you register have their own method of leaving a mark. The storyline goes against what the original game set up for the fans, but The Last of Us Part II tells its own tale just as well as the first one, but that's my own opinion.
The title starts its stride five years after what went down in The Last of Us. Joel and Ellie have finally found peace in a colony of survivors in Jackson, Wyoming. However, their temporary tranquility is heavily disheveled in the wake of a devastating event caused by a certain group of people. Ellie takes it upon herself to hunt down everyone involved piece-by-piece, but little does she know the consequences her actions have caused.
All in all, while others call The Last of Us Part II the best narrative and survival zombie game for PS4, others refer to it as a shallow disappointment. What we can affirm is that you have to try it to believe it. The IP is the successor of one of the best games ever made for a modern-day gaming console, so it is packing something that can keep you hooked for the days to come.
Pros:
The graphics in The Last of Us Part II have been significantly improved, resulting in a more immersive and visually spectacular experience.
The story of The Last of Us Part 2 is as good and heartbreaking as it has always been.
The soundtrack is fantastic and contributes to the immersion.
Cons:
The pacing of some parts of the plot is uneven.
The stealth animations are replayed every time, which can tire you out after hours of play.
15. Dying Light 2
Dying Light 2 is the follow-up title to Techland's original Dying Light that got released back in early 2015. We've already got the latter higher up in the list above, but that doesn't mean the sequel doesn't deserve any attention as one of the best free-roam zombie games on PS4. The Polish developer has made it sure-fire that Dying Light 2 plays out to be the bigger, meaner version of the first game in the franchise, and it's easy to see why.
The newer version is much more advanced in terms of gameplay. The parkour mechanics have been revamped to a great extent and Dying Light 2 packs a bevy of more weapon types. It's just a significant overall improvement as compared to the first game, but the reason we've included both Dying Light and Dying Light 2 is that how the former is so original to its core.
We recommend going through the first one and then moving on to Dying Light 2 for an overly refreshing experience. That way, you'll be able to differentiate between these two geniuses and then try out both marvels in equal measure. Dying Light does have an edge over the sequel in terms of its multiplayer aspect. The latter features a Night Hunter mode where you essentially become the zombie.
However, what the latter does give the player is a map that's almost 4 times more expansive than that of the original. Talk about running around in a boundless playground with tons of obstacles to overcome and a whole lot of bad guys to desolate. Dying Light 2 is one of the best zombie survival games PS4 and as soon as you pick up the game and just go with it, you'll say that yourself as well.
Pros:
Dying Light 2 boasts an exceptionally dynamic and entertaining parkour system.
The soundtrack is perfectly suited to the game's thematic tone.
Enemies present a formidable challenge and offer a satisfying combat experience.
The graphics are absolutely stunning, providing a visually breathtaking experience.
Cons:
The dialogue is also uninspired and lacks any real sense of intrigue.
It's worth noting that those seeking a horror-themed experience may be disappointed with Dying Light 2.
You may get started with Dying Light 1 & 2 Guides here.
16. The Evil Within 2
The Evil Within 2 is another hotshot zombie-specific game that you should give a shot on your PlayStation 4. It's the follow-up title to the original title that came out back in 2013 for old-gen consoles. However, the second entry in the series takes on a whole different take on the whole zombie setting introduced in the first game. While the core principles are more or less the same, a number of other innovative changes have been introduced.
Sebastian Castellanos is back in deep waters three years after the events of The Evil Within. After escaping Beacon Mental Hospital, the man first lost his daughter to a house fire, only to find out that his wife has left him right after as well. This topples Sebastian and shakes him to his core, making him fall into an abyss of depression that there's no coming out of. However, little does he know what fate has in store for him.
Sebastian, while drowning in guilt and wasting away drunk in a bar, gets called upon by a Mobius operative called Juli Kidman. The former partner tells the protagonist that his daughter might still be alive. Upon being left in disbelief, Sebastian visits a secretive Mobius facility where he's briefed about the ongoing STEM project by a mysterious NPC called Administrator. It's only from there on out that the game truly shifts gears.
What makes The Evil Within 2 exceptionally fun is its gripping storyline and enticing combat gameplay. The developer—Tango Gameworks—has made a hefty number of nifty changes that translate to a direct improvement over the original The Evil Within. At the end of the day, going through the adventure of Sebastian Castellanos makes the IP one of the best zombie PS4 games to enjoy on Sony's tip-top console.
Pros:
The enemy design is creative and unsettling in The Evil Within 2, with a range of grotesque and disturbing creatures.
The Evil Within 2 has genuinely scary horror.
The combat is very fluid and fun.
Cons:
The Evil Within 2 has a more linear structure compared to the first game, which may not appeal to players who prefer more open gameplay.
Evil Within 2 does not have anything new or intuitive to offer to the franchise.
Some of the chapters can feel like they have incredibly inconsistent pacing.
Conclusion
The best zombie games around are a boon to experience, especially when one happens to be an enthusiast of the genre just as well. There's just some heightened level of satisfaction in putting the undead to rest permanently, so they stop getting up time and time again. If you're fond of this unique concept, trying out the titles we've enlisted above is going to be awesome for you.
Our personal favorite of the bunch has to be handed over to the original Dying Light. We've yet to play a game that's so beautifully put together as the latter. From all the various shenanigans of the grappling hook to cutting down the Night Hunter in versatility of ways, there's no beating the fun that Dying Light offers to its players on a day-to-day basis.
Just make sure that you're trying some of the other zombie games on PS4 as well to not miss out on anything equally amazing. With that said, we'd love to hear your thoughts on all the different games you'll play from here on out. As always, eXputer wishes you good luck!
Before You Leave: Best Games Like Elden Ring
Was this article helpful?
Thanks! Do share your feedback with us. ⚡
How could we improve this post? Please Help us. ✍