Warzone season 3 patch notes update entails various changes which enhanced the gameplay, and along with adjustments, a few weapons were also introduced. These weapons include Warzone season 3 sniper rifles and other weapons that come with intriguing loadouts. A few weapon loadouts that outrank others include NICKMERCS FFAR Warzone loadout and Krig 6 Warzone loadout. But, in our guide, we will explore H4 Blixen loadout Warzone Season 3.
The H4 Blixen or Carl Gustaf M/45 is a weapon commonly known as SMG. Weapon lovers are familiar with the power and accuracy the weapon can deliver. No doubt, it's a great addition. Its lightweight makes manoeuvring and movement easier. While using this SMG, you can be very quick with your hands and easily hunt multiple targets.
The weapon can be handy in close combat. However, mid-range assaults are equally lethal. H4 Blixen can be a game-changer because it can deliver a three-shot kill at a farther range than an Owen gun. That's impressive, isn't it? Meanwhile, we suggest you should check out our guide on the subject of Best MP40 Loadouts In Warzone Season 3.
If you want to boost the weapon's capabilities, you will have to upgrade it. To create the best H4 Blixen loadout Warzone Season 3, you can use attachments, equipment, and perks. But first, we need to know how we can get the SMG.
Warzone Season 3 H4 Blixen Loadout
Now, We will discuss how to get H4 Blixen in Warzone. This can be challenging if you are new at warzone, but pro players find it a piece of cake. To unlock the new Blixen SMG, you need to do three side kills in a single match. But the challenging part is that you have to do three side kills not only once but 15 times in a single match.
It seems complicated, but in reality, it's not. We suggest that to unlock H4 Blixen loadout in Warzone Season 3, you must choose a smaller map. Because a smaller map will save your time, and you will be able to get SMG fast. Let's jump into a bit of detail and learn about the pros and cons of the loadout. However, before that, have a look at Warzone Rebirth Island Bunker Code guide.
Pros and Cons Of H4 Blixen
H4 Blixen is competitive with other weapons in terms of TKK and consistency. Some guns kill a little bit faster with more recoil, but they are harder to use than this SMG. And some other weapons are easier to use but kill slower than H4 Blixen.
However, currently, it's bugged, and there is an issue with the sprint to fire time. There is a delay in firing while or after sprinting, which can be considered a severe drawback. Also, a few animations are causing delays in firing.
But we hope these bugs will be fixed soon. After the bugs are fixed, the weapon will compete with the weapons like Owen and Type 100. Let's dive into the best loadout we have chosen to explain without further delay.
Best H4 Blixen Loadout In Warzone Season 3
In war games and movies, you must have seen that army personnel are heavily equipped with gears that might be used in the war. This set of equipment carried out to the war for a specific purpose is loadout. But, in games, loadout is a set of items and abilities a player chooses before embarking on a mission. Here, we will expound H4 Blixen loadout.
Loadout 1 For H4 Blixen Warzone
Muzzle: Recoil Booster
Barrel: Bergstrom 17″ F3
Optic: Slate Reflector
Stock: Removed Stock
Underbarrel: M1941 Hand Stop
Magazine: 7.62 Gorenko 54 Round Mags
Ammo Type: Lengthened
Rear Grip: Polymer Grip
H4 Blixen SMG in Warzone season 3 has a limitation of a slower firing rate when compared to other weapons in its class. Thus, the recoil booster increases the fire rate and lowers the TTK significantly. To make this loadout even deadlier and more accurate, especially in mid-range assaults, we have added Bergstrom 17″ F3 Barrel, Polymer Grip, and m1941 Hand Stop. Why don't you stop for a while and go through our Shroud Warzone Settings guide?
Also, we made the loadout equally effective in close-range combat by removing stock, which will significantly boost Movement, ADS, and sprint-to-fire speed. We chose a standard Slate reflector for optics because it is more suitable for this SMG.
Moreover, we increased the size of magazines. 7.62 Gorenko 54 Round Mags come with 54 rounds in one magazine. Due to this your magazine will last longer. You will not be bothered by reloading again and again during an encounter with the enemy.
The lengthened ammo increases the bullet velocity as well. Increased bullet velocity results in better accuracy and provides more damage. Also, you will need less time to kill an enemy with increased bullet velocity as the TTK is reduced even further. Let's find out a few benefits of the loadout. But before that, consider reading our COD Warzone Best Audio Settings and COD Warzone Bunker Codes guides.
Benefits of H4 Blixen Loadout 1
The benefits of H4 Blixen loadout in Warzone season 3 vary, making the load very effective. SMG or Carl Gustaf M/45 is the primary weapon in this loadout. The high mobility makes the weapon lethal in short and mid-range combats.
The Bergstrom barrel, polymer grip, and hand stop increase the accuracy. The loadout can be deadly for your opponents because, with laser-sharp accuracy and precision, you are capable of hunting down mercilessly.
Furthermore, the recoil booster has improved the fire rate and lowered the TTK. And the increased magazine size and bullet velocity provide added benefits like an increase in the bullet velocity, which results in better accuracy and decreased TTK.
Moreover, the increased bullet velocity inflicts more damage to the opponent. An increased magazine size enables you to fire for a long time without worrying about reloading. Meanwhile, check out Best Settings For Warzone PS4 and COD Warzone Season 6 Vault Locations guides.
Secondary Weapon For This Loadout
SMG is great for short and mid-range combat, so he added the HDR sniper rifle to make this loadout a complete package. With this rifle added to H4 Blixen Loadout Warzone season 3, you can hunt the enemies at long ranges.
In the recent patch notes, this weapon received buffs which made this weapon come to the front once again. Nine round mags can be attached to this sniper, and the damage and accuracy of this rifle are extraordinary.
Perks And Equipment
Perk 1: Double Time
Perk 2: Overkill / Tempered
Perk 3: Amped
Lethal: Semtex
Tactical: Stim
The double-time perk increases the duration of the tactical sprint. It means you can sprint for longer distances before stopping to catch your breath. Then we have the overkill perk, which lets you bring along the needed sniper support. It is vital because enemies will have the edge over you in long-range encounters without a sniper.
The perk Tempered helps you regenerate your maximum health quicker after the gunfight. During an enemy interaction, switching the weapon is always a more intelligent move during an encounter instead of reloading. The Amped perk is critical to switch between your primary weapons fast.
In equipment, we have Semtex and Stims. Semtex is a lethal grenade that can provide a good number of kills. But, this grenade can stick to most surfaces. If you use it smartly, it can be lethal. Then we have stims.
The stim shots reduce the cooldown required for using the healing syringe and increase its healing rate. Let's jump into the loadout 2 for H4 Blixen in Warzone season 3. But before that, go through Symfuhnys Warzone Settings guide.
Loadout 2 For H4 Blixen Warzone
Muzzle: Recoil Booster
Barrel: Bergstrom 17″ F3
Optic: Slate Reflector
Stock: Karlsson Padded Coz
Underbarrel: M1941 Hand Stop
Magazine: 9mm 72 Round Mags
Ammo Type: Lengthened
Rear Grip: Fabric Grip
Proficiency: Fleet
Kit: Quick
Here, we have another best H4 Blixen loadout in Warzone season 3. Firstly, we have a recoil booster to increase the SMG's fire rate. The fire rate of this weapon is a bit compromised, so the recoil booster makes up for the limitation.
Additionally, to improve the accuracy and control, Bergstrom 17″ F3 barrel is attached. Optics are totally on your choice, but we recommend Slate Reflector for H4 Blixen. Karlsson Padded Coz stock and m1941 Hand Stop are much-needed attachments to improve accuracy.
Moreover, We added fabric Grip, Fleet Proficiency, and Quick Kit to improve mobility because all the attachments weigh down the SMG.
To resolve the issue of frequent reload requirements, we added 9mm 72 Round Mags and lengthened ammo in this loadout. The magazine contains 72 pretty decent rounds, and bullet velocity increases. More damage results from increased bullet velocity, and the TTK is reduced.
Now, we will move towards the benefits of the H4 Blixen. Before moving towards loadout 2, go through our Best COD Vanguard Settings guide.
Benefits of H4 Blixen Loadout 2
These attachments make the Blixen loadout in Warzone season 3 lethal because most limitations of the SMG are improved. Firstly, the recoil booster has increased the fire rate. With an improved fire rate, H4 Blixen can handle various enemies simultaneously. Also, the barrel gives you more control while firing.
Optics are also beneficial to pinpoint the target and get a better view in mid-range encounters. Apart from this, other attachments like fabric Grip and Quick kit improve the weapon's mobility. You can move around quickly and hit the targets efficiently with more mobility.
Meanwhile, if you still play COD Cold War these days, then consider reading our Best M16 Loadout Cold War and Best AUG Class Cold War guides.
Increased bullet velocity and magazine size are also advantageous. The magazine can hold 72 rounds, and that is awesome. It takes longer before you have to reload, and bullets can inflict much more damage. Hence, it will take much less time to kill the enemies.
Secondary Weapon For This Loadout
Another great sniper rifle we have placed in this loadout is AX-50. We recommend this sniper with SMG for killing enemies at longer ranges. Pinpoint accuracy and lethal damage are prominent features of this killer rifle.
Perks And Equipment
Perk 1: Fortified
Perk 2: Forward Intel
Perk 3: Lightweight
Lethal Equipment: Mk2 Frag Grenade
Tactical Equipment: No69 Stun Grenade
The fortified perk reduces the damage from fire by 30% and explosives by 15%. And, the damage reduction for explosives is doubled while crouched, mounted, or prone. So it will allow you to charge at enemies and tank grenades. Also, go through our guides like Best AK74u Class Cold War and Best MP5 Class Cold War guides.
Apart from this, the perk Forward Intel will allow you to locate the enemies. Knowing the location makes it easier to gain control of the map. The perk Lightweight provides a boost to your speed, and you can move around the map at a faster pace.
Cooking the frag grenade until it explodes will deal damage equal to 50,000 points to the enemy. It's a lethal and powerful tool in combat. Especially when you are surrounded by many enemies and want to gain control, similarly, the stun grenade can also be used. But it only slows the enemy giving you a better chance to kill them all.
Loadout 3
Muzzle:

Recoil Booster

Barrel: Magnus 9″ Burst TG
Magazine: 45 ACP 32 Round Mags
Rear Grip: Fabric Grip
Stock: Jonsson Skeletal CR-10
Ammunition: Lengthened
Underbarrel: Heavy Foregrip
Optic: Nydar Model 47
Perk 1: Sleight of Hand
Perk 2: Fully Loaded

Loadout 3
The loadout was inspired by a prolific Warzone player and YouTuber JGOD. He comes up with the best COD Warzone SMG loadouts every season, and for season 3, his H4 Blixen loadout takes all the limelight. The H4 Blixen was released as a mid season update of the COD Warzone for Season 3 and is already termed as one of the best SMGs out there.
H4 Blixen has a great shooting speed and has great attachments and perks. The SMG produces a good damage output and with the best loadout you can boost its power even more.
Benefits of H4 Blixen Loadout 3
H4 Blixen has a versatile loadout that amplifies it's performance. The Jonsson 9 inch RMK Barrel gives you the necessary control and stability. Additionally you will also get a good range while diminishing the TTK. The Removed Stock is there to give extra mobility, making this H4 Blixen loadout best of all time in COD Warzone.
Furthermore if your main focus is to boost the accuracy of H4 Blixen, then equipping the Mark VI Skeletal and 7.62 Gorenko 54 Round Mags are the best options to go for. Also these round mags will allow you shoot for a long time without having to reload your weapon after each kill you do.
We have kept the Optic selection up to you but we prefer using Slate Reflector. The lightness of the Slate will provide you with a boost in ADS speed. Additionally you will get extra mobility so you can roam Rebirth or Caldera.
Similarly, using the Polymer Grip gives exceptional recoil control and will help keep the aim steady. Furthermore we have used the lengthened ammunition as it is regarded as one of the best attachments for H4 Blixen in COD Warzone Season 3. To increase your damage and hide your shots from the minimap, use the Subsonic Bullets.
Finally for the perks we have used the Fleet perk that will help you increase the mobility. The weapon swapping speed will increase as well. For the second Perk we use Quick so that you can cover the map quickly with your top running speed boosted.
Perk And Equipment
Perk 1: Overkill

Perk 2: Ghost

Perk 3: Amped

Lethal: Claymore

Tactical: Stim Shot
Lethal equipment like Claymore will explode when your enemy gets within its range. Additionally it is hard to spot and you can use it to cover you from the back. Timing is essential and one wrong move will end up damaging you or your teammate.
Tactical equipment like Stim is considered one of the best loadout for an H4 Blixen in COD Warzone Season 3. When equipped, the player will get healed instantly. The Stim Shot will increase the stamina as well.
Secondary Weapon For This Loadout
One of the best secondary weapons for the H4 Blixen is Kar98K in COD Warzone Season 3. The high bolt action rifle is easy to handle and can kill your enemy in a single shot.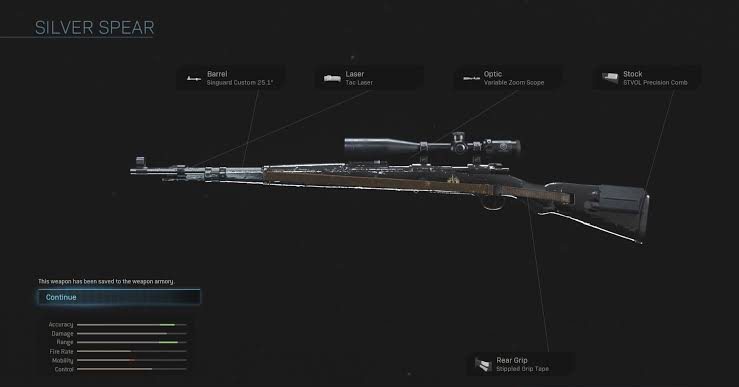 Use a Monolithic Suppressor and Tac Laser for a great aim. The suppressor will increase the sniper's range of damage and suppress the sound as well. Sniper scope will help you spot enemies from a distance.
This wraps up the guide for H4 Blixen loadout in Warzone season 3. We described the H4 Blixen or SMG and explained various pros and cons. Furthermore, we recommended two loadouts for the SMG. Also, we suggested a few attachments that can be vital to improving the weapon's limitations.
Was this article helpful?
Thanks! Do share your feedback with us. ⚡
How could we improve this post? Please Help us. ✍