Evil West's whole story is about 15 continuous hours. If this is what you can't stand, or you want to rile up the vampires at once, Tracker is something that can help you through it. Evil West Cheats can help you finish the story at an extraordinarily faster rate. Using Evil West Cheats will bring the satisfaction of bashing the vampires and this is going to be very exciting.
Key Takeaways
Playing with trainers is much more fun than just playing by the rules
Paid trainers are safer
This Evil West Trainer is for PC only
There are 21 Evil West Cheats in the trainer
Finding different combos of cheats will spice things up for players
Evil West Trainer Explained
A trainer is something that you can use to manipulate the game on your PC. It gives you the backdoors to the desired results in the game. Evil West Trainer will let you change some aspects of the game in certain ways by which you can spice things up.
The Trainer that we've found is really gonna be worth it and it's very easy to use and install. Here's the link to the website from where you can just download the ZIP folder and extract it into your PC and you'd be good to go.
[It is to be noted that this Evil West Trainer works only for PCs]
There are 21 cheats for Evil West in the trainer among which only 6 are free to use and play with. While the other ones are available only with the Premium Subscription. The reason why we suggest this paid trainer is that it is safe and would not harm your beloved device. There are some free trainers also available but they can put your device at high risk and that's something you would not want.
You can go and check their premium subscription rates from here. Honestly, they are not taking very much especially if go for the three month or the yearly subscription. The yearly subscription may be too much but it is not only the Evil West you will be having cracked. There are a whole lot of other PC games that you can avail of the service of. But if you are gonna take it for Evil West only, we recommend the monthly or three month subscription.
All Evil West Trainer Cheats
The trainer has 21 Evil West cheats and all of them are oriented in different ways. Some of them are battles oriented and some are oriented for easy progression in the story by providing you with stuff like tokens and XP. Here's the preview of how using using the trainer looks like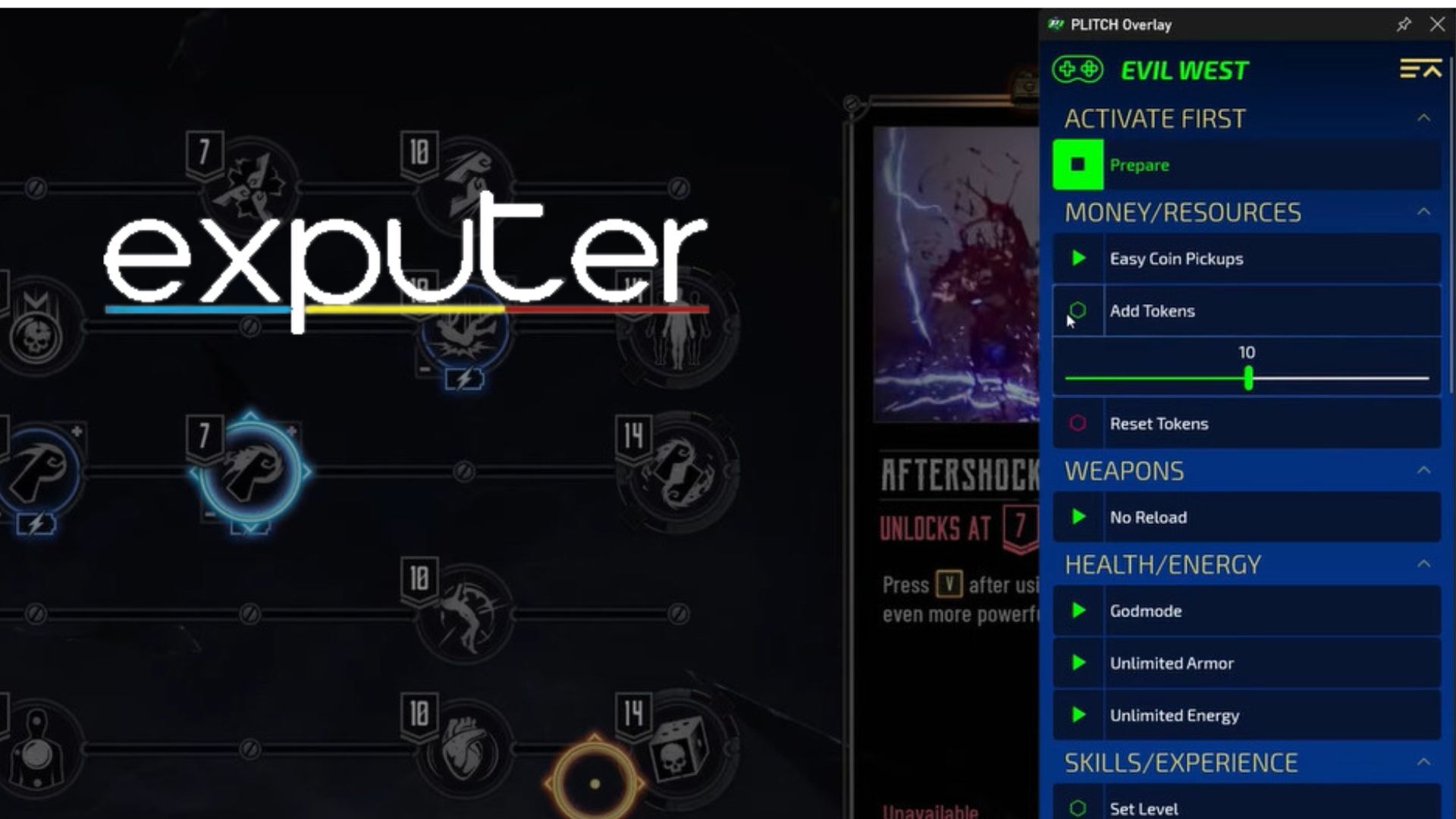 Free Trainer Cheats
Here are all the Evil West Cheats that you can access from the trainer for free. In our opinion, these six cheats are pretty much all you need to have easy progression and easy battle wins to some extent. If you don't want to spend money on the premium subscription, these free cheats can help you almost in every aspect of game if used with correct strategy.
Prepare
This is what makes all the Evil West cheats work in the trainer. To enable all cheats, activate the Prepare cheat and you will be able to use other cheats. To be able to start your Evil West journey, launch the game from the trainer and you will be able to apply the cheats to the game.
Set Movement Speed (default = 1)
This cheat can change the movement speed of the character. You can just the speed according to your need and making it high will make enemies chase you like hell and you would still outrun them. The default speed is 1 and you can increase it as much as you like.
Refill Health
As obvious from the name, it refills your health bar. It is ideal to use when you're up against really tough enemies and you don't have a premium subscription. A Premium subscription gets you more benefits regarding health but if you don't want to spend the money and still get past the tough situations, this is pretty much wholesome. Refill Health can almost get you past the whole story but maybe not in a very smooth fashion. There may be a situation when you are attacked by multiple enemies at once. There, it would be difficult to find time and apply the cheat. Yet, it is the best bet you have with a free Trainer.
Refill Armor
Refill Armor cheat helps you make up your damaged armor. This makes a kind of tank that can restore its armor again and again.
Low Health
This Evil West cheat is for real hardcore players who like to make situations challenging. This cheat takes the health to a low value and then you can test your limits. If you think that some enemy is too easy to kill, you can make it challenging with this Evil West Trainer cheat.
No Armor
No Armor falls into the same category of hardcore cheats. With this, you can play with no armor and see how far you can go with it. If you really think you have mastered the Evil West and you can just kill any vampire with it, you can go with both No Armor and Low Health. This surely will put you under some serious pressure.
Premium Armor Cheats
Premium cheats have a lot to offer to the players. With these cheats in hand, you feel like you own the game and almost everything works at your command.
Godmode
It would not be wrong to call this cheat to be the main highlight of the Evil West Trainer. This evil west cheat literally turns Jesse into a God. The enemies can come and try their luck to kill you. But can stand in front of them the whole day and you would not lose even a tiny chunk of your health. The health doesn't fall after you have activated the cheat.
Unlimited Armor
As clear from the name that this cheat can make you an armored beast. The players can have unlimited armor and this means you can bear more enemy attacks if you're only using this cheat.
Unlimited Energy
This is like the previous one and takes your energy to infinity. You don't need to worry about energy loss during the gameplay and play with free will.
No Reload
This Evil West Trainer cheat can make you fire infinite rounds of weapons without having the trouble of reloading. If you are encountered by multiple high level enemies or an extremely dangerous boss, you can just activate the cheat and fry the enemies up with your infinite continuous rounds of fire.
Easy Kills
The players can turn the hard difficulty level of the Evil West into easy by activating this Evil West cheat. With the activation of this cheat, you can single-shot the enemies. The bosses may take less than half of the hits to be killed. This way you can just ease the job of killing the enemies and getting through the missions.
Low Energy
This falls under the category of paid hardcore cheats. With Low Energy, you can again test your limits by keeping your energy low.
Refill Energy
This is exactly opposite to the last Evil West cheat discussed here. It restores your energy and takes it to the maximum level. This can also be used to refill the energy bar after using the Low Energy cheat of the Evil West trainer.
Set Level
It is the cheat that really pays the money you spend on the trainer's premium subscription. With this cheat, you can set your player level to whatever level you want. This really is amazing and you can just simply get the perks of a higher level without going through the grind.
Add Player XP
This Evil West trainer cheat can get you unlimited XP. Just activate the cheat and you'll see your XP bar filled.
Reset Player XP To Zero
'This is exactly opposite to the previous Add Player XP cheat. Both of these cheats let you customize your XP and play around with it whenever you like.
Add Level XP
As clear from the name, you will get to add Level XP at your will. To get the level XP, just click on the cheat in the trainer and get as much level XP as you want.
Reset Level XP To Zero
It works in the same way as the "Reset Player XP To Zero". Unlike setting Player XP to 0, it takes back all the level XP and you can start your progress all over again. These types of cheats can be used when you have already beaten the whole game and want to enjoy it again.
Add Tokens
As there's no direct way of unlocking the Perks in Evil West, you can use Add Tokens cheat to buy them. With Set Level and Add Tokens cheat, you can get the requirements of Perks fulfilled and then buy them. To use Add Tokens, simply activate the cheat and you'll see the rise in your in-game tokens.
Reset Tokens To Zero
This Evil West Cheat resets the Tokens count to zero. If you use Add Tokens and feel like you don't need them, you can simply do it by using the Reset Tokens To Zero cheat. These "Reset To Zero" cheats are actually a countermeasure or the reversal of "Add" cheats.
Easy Coin Pickups
This cheat can be activated before collecting money you find during the name. Easy Coin Pickup increases the money by a huge amount so you can buy stuff with it.
Final Thoughts
Using Trainers is always fun for the cheats they offer are really exciting. Having cheats is one thing and executing them according to your requirement is another thing. It is the execution of cheats that makes them fun and more fruitful. You can't just blindly use any cheat in every situation. Rather, timing the execution of cheats is the most important thing. Players can always find combinations of cheats that they can use in specific situations. It is the players who can find the right combo for them.
Up Next:
Was this article helpful?
Thanks! Do share your feedback with us. ⚡
How could we improve this post? Please Help us. ✍