What Is A GameCube Controller?
GameCube Controller is a wired console from Nintendo. Their octagonal gate sticks have made them quite popular along the players of Super Smash Bros. The GameCube controller is very popular these days and works like a charm on Switch as well as your PC. Also, check out our guide on Rick & Morty in Multiversus to see their release date, maps, and more.
Key Highlights
The

GameCube controller

is compatible with the

Nintendo Switch and PC

, but it does not work with the

PlayStation 5 or Xbox Series

consoles.

To use a GameCube controller in Multiversus, players may need to purchase a USB adapter

, such as the

Mayflash adapter

, and install suitable drivers using the

Zadig program

.

The

Dolphin Emulator

can be used to play "Multiversus" online with a GameCube controller.

It is

recommended to use a PC

with a GameCube controller when playing Multiversus.
The operation range of the GameCube controller is fairly good, and the controls are great. Many Multiversus players have started playing the game using the Gamecube Controller. You can use your GameCube controller to play Multiversus for both Switch and PC as long as you have the right drivers installed and the software is compatible with Epic Games or Steam.
The console players would need some additional hardware. Also, the PlayStation 5 and Xbox Series consoles will have some trouble with GameCube controllers as they do not recognize the third-party hardware devices easily.
As a result, you won't be able to enjoy the gameplay much. Thus we recommend using a PC with a GameCube controller when you're playing Multiversus.
How To Use GameCube Controller For Multiversus?
If you wish to bring some Nostalgic feels to your Multiversus gameplay, you can use the GameCube controller after the right settings. Many players are facing the issue of Multiversus online not working. You can fix the issues by reading our detailed guide on it.
The process is not that hard, and you can get your GameCube controller set up in no time. We have listed detailed information below that will help you connect and set up the GameCube controller so you can enjoy Multiversus on your Switch or PC.
Buying GameCube USB Adapter
The first step is to get a USB adapter for GameCube if you want to enjoy Multiversus on your PC. Many people like to use the four-port Mayflash adapter, which is a requirement for Super Smash Bros. While you won't get the motion control feature, there are other features that the USB port offers.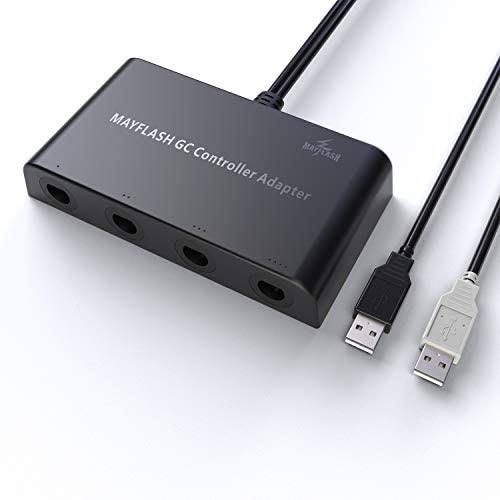 The Mayflash adapter works well for GameCube controllers, and you can connect it with Switch, Wii U, PC, and Mac. Additionally, it has a plug-and-play design, so you don't need a driver to play games like Multiversus when using your GameCube controller.
There are other options as well, like the Pdobq adapter, 88bitdo Gbros adapter, and the official Nintendo adapter. While the official Nintendo adapter is very hard to find for a low and reasonable price, it will work the best for the GameCube controller. Other than that, you can always use a Mayflash adapter as it delivers similar results as the official Nintendo one. Once you have a Mayflash adapter, you can use the Dolphin Emulator to play any game online, including Multiversus.
Make sure you have turned the switch on the backside to the PC option from the already set Wii U/NS option. If the setting is for Wii U/NS, Multiversus won't run on your device.
Installing Suitable Drivers
If you want steam to recognize your GameCube controller and run the Multiversus game, you will need the correct and suitable drivers for it to work.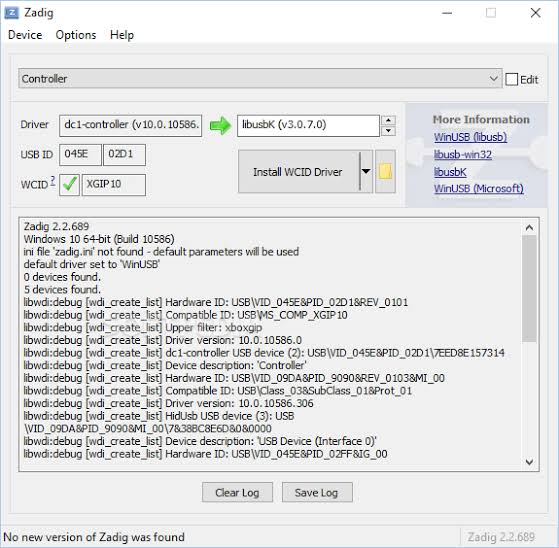 The best way to install suitable drivers is to install and run a program known as Zadig. It is a program that will download and install all the necessary drivers automatically in a very efficient way. Zadig will save you a lot of time, and you just need to perform a few steps in order for it to work. You can get the Zadig program here.
Step-By-Step Process
You need to perform the following steps so that Zadig can help you install all the relevant drivers for your GameCube controller.
The first step is to download and install the Zadig program.

Next, launch the Nadig program on your device. Also, you will see a window in your gallery where you'll see the program options.

Now navigate to the

Options Menu.

You will see an option to select

List All Devices.

Also, make sure that in the Drop Down section located right next to the

Edit

checkbox, it says

WUP-028

. In this way, you will know that the program is identifying the GameCube controller you are using.

After doing so, the

Driver Window

will appear on your screen. Make sure that the Driver Window says

WinUSB

before you install the driver. Now you just need to install or reinstall the driver, and your GameCube controller will start working and can run Multiversus on your device.
The process is still not complete, and you need to do some mapping before you can go on and enjoy Multiversus using your GameCube controller.
Mappable Required For The GameCube Controller
Now all you need to do is some mapping once you open Multiversus so that you can adjust the controller bindings and their settings for the GameCube controller to run swiftly.
You can also consult the recommended settings for your GameCube controller. There is an option of Legacy setting as well. However, we recommend that you should adjust your controls manually from the settings menu shows that day feels somewhat similar to the classic super Smash Bros.
Mapping Process
Set

A

button for the attack on the GameCube controller.

For special attacks, choose

B.

The jump buttons can be

X or Y.

Use

Z

for neutral, and it will show up as RB in Multiversus. It is to be noted that there is no LB in the GameCube controller. So the Neutral Special will automatically become LB even if there is no button for it.

We will use

LT or RT

for Dodge. The setting is similar to the dodge button in Smash Bros. However, we recommend selecting only one since there would be an Item Pick Up Action in the game. The action will need binding, so use either LT or RT.

Pick Up Item action can be either LT or Rt, depending on what you chose for the former.
After you are done mapping the buttons for the GameCube controller, you can enjoy Multiversus in a more efficient way.
Steam Settings
Many people seem to have a problem with the controller not working when they play Multiversus. If you are one of the players whose controller does not work on the startup, it might be an issue with the Steam Application Controller Settings. You can solve the problem easily by following a few steps.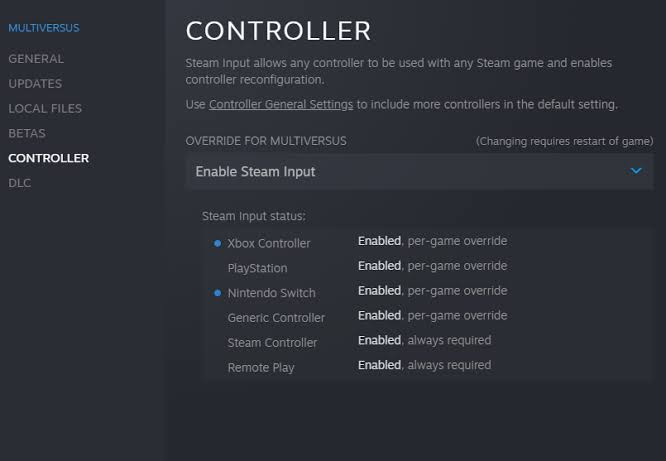 Open up your

Steam Library

and navigate to Multiversus

Select Multiversus and open up the

Settings

cog of the game. It will be located on the right side of the window.

Now select

Properties

and navigate to the section called

Controller

.

Now you just need to

Adjust The Override

for Multiversus.

Lastly,

Enable The Steam Input,

and you're good to go.
After you have done the suitable settings for the GameCube controller, it will start working on Steam. Thus you can enjoy Multiversus and get that classic Smash Bros to feel using the GameCube controller.
Is GameCube Controller Worth Using In Multiversus?
You might be wondering if all the effort of setting up the GameCube controller for Multiversus is worth it or not. Well, when it comes to GameCube controllers, it is more of a hit or miss. The controller is very similar to Marmite. So the veteran players might enjoy it or absolutely hate it.
When we talk about Smash Bros, in particular, the game does not work quite well without the GameCube controller. Since most of the Multiversus mechanics are similar to Smash Bros, the GameCube controller will actually be the best way to enjoy Multiversus as well.
There is no feeling like smashing the large green button to attack your enemy and deal combos in Multiversus. Winning the Trophy in Multiversus after hours of smashing buttons is worth it. It is also worth mentioning that many competitive Esports players use a GameCube controller or pad for Smash Bros. So it is an ideal option for players that are serious about landing critical punches.
Steam Deck works great if you're not much into retro controllers. It also works amazing when you are up against Taz in Multiversus. Ultimately, the decision depends on you if you want that retro and classical experience with the GameCube controller or not.
Tips
Mutiversus is definitely one of the best releases of 2022 by far, and it definitely earned its place. The crossover fighting game was highly anticipated by many as it features some of your favorites from DC, HBO, Cartoon Network, and more. Characters like Lebron James are a treat for NBA fans, while characters like Taz give us nostalgia while playing! Make your gameplay even more fun by playing Multiversus on a GameCube controller.
Moreover, you will also spot characters like Tom & Jerry, Finn The Human and Jake The Dog from Adventure Time, and even our beloved Reindog in Multiversus. There is no doubt that these characters make the game worth trying out, and the Voice Cast has done a pretty great job in portraying our beloved characters.
You can buff the abilities of your favorite characters using perks. Give our Multiversus tier list a quick read and learn what characters are the best in the game! Also, in case you did not know, all references to Gandalf coming in Multiversus have been removed. Read our guide on it to find out why. If you want to unlock variants for your character, see our guide on how to get Gleamium in Multiversus.
Was this article helpful?
Thanks! Do share your feedback with us. ⚡
How could we improve this post? Please Help us. ✍