Dark and Darker isn't even released yet and it has already attracted nearly 70,000 players in its playtest. However, for now, the Alpha Test has ended and is expected to release in the fourth quarter of 2023. Dark and Darker is a dungeon-crawling game, where a team of three players gather loot and safely extract from the match. But it's not easy as the dungeon is filled with dangerous foes and other enemy players.
Seeing how players have loved the RPG elements from Dark and Darker, we have compiled a list of Games like Dark and Darker.
| Game | Award | Release Date | Developer | Platforms |
| --- | --- | --- | --- | --- |
| Escape from Tarkov | None | July 27, 2017 | Battlestate Games | Microsoft Windows |
| Outward | None | March 26, 2019 | Nine Dots | Microsoft Windows, PlayStation 4 & 5, Xbox One, Xbox Series X/S, Google Stadia |
| Mordhau | None | April 29, 2019 | Triternion | Microsoft Windows, PlayStation 4 & 5, Xbox One, Xbox Series X/S |
| Slasher's Keep | None | November 19, 2020 | Damian Schloter | Microsoft Windows |
| Legend of Grimrock II | None | October 15, 2014 | Almost Human | Microsoft Windows, OS X |
| Valheim | Nominated for Best Debut Indie Game and Best Multiplayer Game at The Game Awards 2021 | February 2, 2021 | Iron Gate Studio | Microsoft Windows, Xbox One, Xbox Series X/S, Linux |
| Gauntlet | None | September 23, 2014 | Arrowhead Game Studios | Microsoft Windows, PlayStation 4 |
| Barony | None | June 23, 2015 | Turning Wheel LLC | Microsoft Windows, Linux, macOS |
| Legendary Tales | None | September 9, 2021 | Urban Wolf Games Inc. | Microsoft Windows |
| 7 Days to Die | None | December 13, 2013 | The Fun Pimps | Microsoft Windows, Xbox One, PlayStation 4, Linux, Mac OS X |
Escape From Tarkov
Escape from Tarkov is a hardcore and realistic online FPS video game with MMO elements developed by Battlestate Games. With a focus on realism and immersion, Escape from Tarkov is a mix of FPS and RPG with a large variety of guns and gear to scavenge, intense firefights, and an in-depth loot system.
The game is set in the City of Tarkov, where many areas are under the control of "Scavengers". There is a war going on between Scavs and Military Corporations. You can either choose to be a Scavenger or PMC. PMC consists of two organizations from which you can choose: United Security (USEC) corporation; or BEAR (a Russian organization).
What makes Escape from Tarkov so similar to Dark and Darker is its gameplay where you will have to survive and escape the raid in the game. Upon escaping, you will be able to get the loot with you. However, if you die, all items will be left behind. Only the melee weapons will be on your hands.
Pros
Procedural loot system – It has a loot system that is both rewarding and unpredictable. As you scavenge the game's levels, you can find a variety of loot ranging from weapons, armor, and items that you can use to survive.
Variety of challenging game modes – With the variety of missions and objectives, the game provides a range of different gaming possibilities for players to explore. There are PvP and PvE missions, and cooperative raids, allowing players to create their own unique experiences.
Realistic graphics – It has stunningly realistic graphics, making the world of Tarkov as believable as possible.
Cons
Laggy servers – Reports of servers being plagued with lag and latency issues have been reported.
Complex user interface – The user interface is famously complex and can be an intimidating process for new players to understand.
Outward
Outward is an ambitious new open-world RPG that focuses on exploration and survival. The game takes place in the world of Aurai, a large and dangerous kingdom that players must traverse to reach their destination. Outward plays much like most other RPGs, allowing players to level up by completing quests, purchasing, and upgrading equipment, and using a huge selection of magic. What sets Outward apart from the rest is its unforgiving survival mechanic. Players must constantly monitor their health, hunger, and temperature to keep from dying.
Just like Dark and Darker, Outward offers a relentless and ruthless experience in the game. Whether it be new cities or dungeon crawling, you can explore them with your friend or dare do it alone.
An incredibly fun and challenging experience. Outward offers a vast and varied world of Aurai making for an exciting and rewarding journey, and the need to stay alive really drives home an intense feeling of immersion. While the difficulty can be a bit rough at times, it's also what makes Outward so satisfying. Whether you're exploring caverns, battling fierce raiders, or simply enjoying a tranquil journey, Outward has something for everyone.
Pros:
Outward is an open-world exploration and survival game with a realistic atmosphere.
The game offers a wide range of activities such as combat, crafting, and exploration.
There are multiple gameplay styles available with different difficulties that can be adjusted to suit the players' levels of experience.
Outward offers a unique cooperative multiplayer experience, allowing players to join together to complete challenging objectives and defeat powerful enemies.
Cons:
The game can be quite difficult at times due to some of the intense combat and tricky puzzles.
The game also has a steep learning curve as players have to become accustomed to its various systems and mechanics.
The game is also very unforgiving; death in Outward is severe, as players will lose all of their progress and any items they may have had on them when they fall in battle.
Mordhau
Mordhau is an incredibly ambitious and unique medieval-style multiplayer game. Providing an incredibly complex and rewarding experience. Featuring dynamic melee combat, robust character customization, and class-based team objective modes.
The gameplay in Mordhau is incredibly well-paced, relying heavily on team-based aiming and strategizing. Nearly every class in the game provides a different playstyle and fighting style, allowing players to find the perfect class to fit their needs. Mechanics such as parry and riposte, counters, and stamina greatly enhance the challenging yet rewarding nature of the combat.
Pros
Rich and vibrant world – Set in a gorgeous medieval world, with lush environments and detailed character models that make it a great game to get lost in.
Realistic combat – With its unique melee combat system and an array of weapons to choose from, Mordhau is an incredibly satisfying experience, as every battle feels like a real duel.
Immersive PvP – Whether it be team combat or free for all, Mordhau offers an entertaining and intense PvP experience.
Customization – Players can customize their characters down to the very last weapon and armor piece, giving every user a unique look and feel.
Cons
Connection issues – Mordhau is an online game, and as such connection issues can occur at the oddest moments, leading to highly frustrating experiences.
Combat mechanics are non-intuitive – Mordhau's melee combat system takes some getting used to.
Weapons are unbalanced – Despite the extensive weapon selection, certain weapons are more powerful than others, while some weapons seem to be underpowered in comparison.
Slasher's Keep
Slasher's Keep is a single-player dungeon crawler game that centers around a single dynamic environment. Randomly generated levels and puzzles keep the game fresh and provide hours of playability. Players take the role of a prisoner who is trapped in the Slasher's Keep, where they will have to escape from.
Overall, Slasher's Keep is a great dungeon crawler featuring a different, challenging set of mechanics. With randomly generated levels and a dynamic atmosphere, players are sure to find plenty of new and exciting challenges each time they jump in.
Pros
It has a wide variety of weapons to choose from including melee, ranged, and magical options.
A lot of types of equipment to choose from, allowing players to use new armor and other items.
A highly challenging game that encourages players to think creatively and strategically in order to progress through its dungeons.
Slasher's Keep has some unique monsters and creatures that players can fight as they explore the game world.
Cons
Slasher's Keep is a difficult game and can be overwhelming for new players with its numerous enemies and daunting dungeons.
Some players may find the game's graphics too dated or old-fashioned, as they are cartoonish.
Slasher's Keep can be quite repetitive with its structure of dungeons and levels.
Legend Of Grimrock II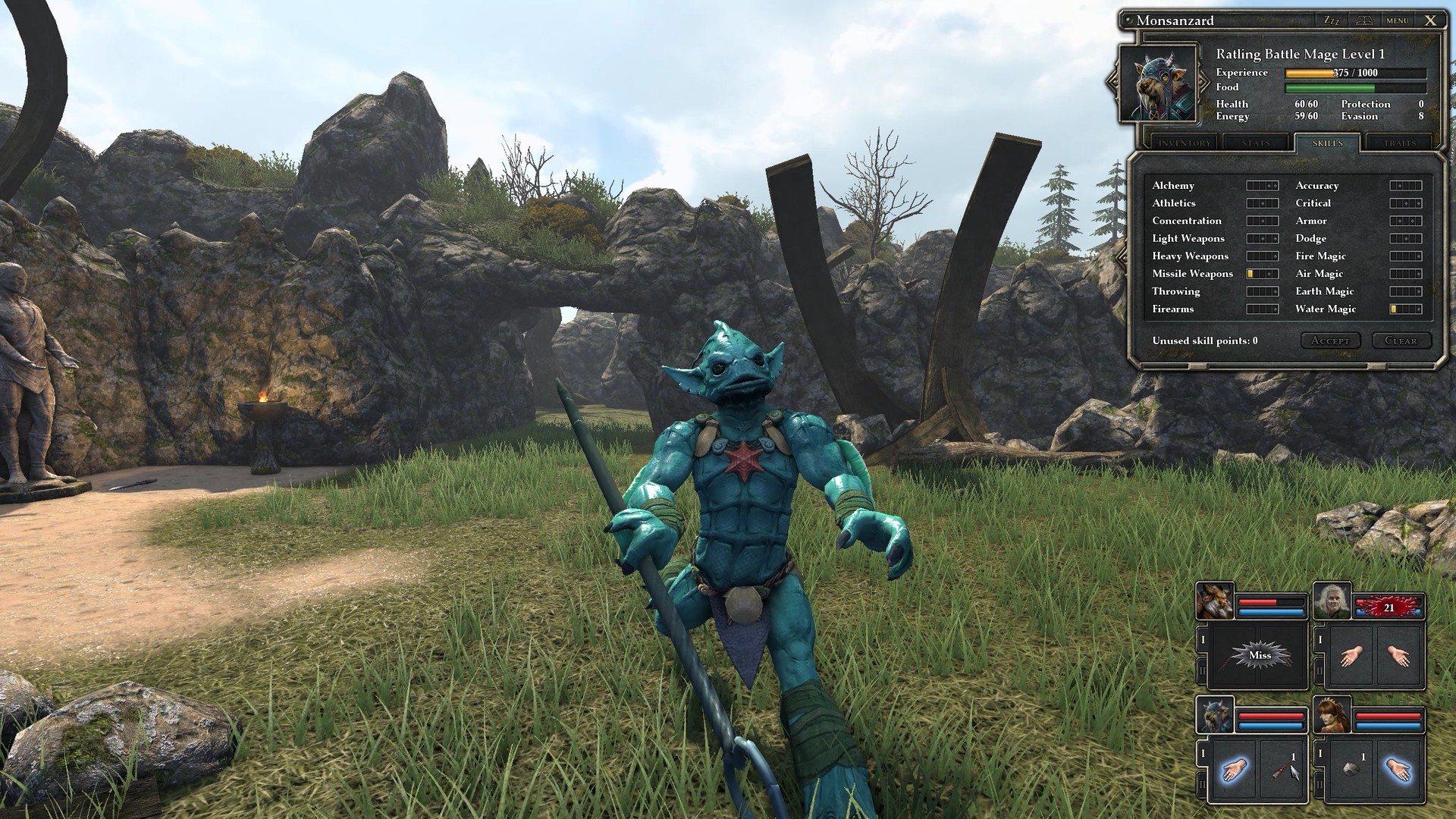 Following its predecessor, The Legend of Grimrock II is a single-player dungeon-crawling role-playing game that takes place on the island of Nex, an ancient and mysterious island filled with secrets. The game follows a group of four prisoners who are trapped in Nex after they are shipwrecked.
The game also includes a wide variety of puzzles, ranging from complex and lengthy to straightforward and simple. However, being a single-player game, it may not feel like Dark and Darker. But it surely does provides elements like Dark and Darker in dungeons
Overall, The Legend of Grimrock II is a fantastic dungeon-crawler that provides a great mix of exploration, combat, and puzzles. The detailed world and level design, the immersive story, and the wide variety of puzzles combine to create a captivating and rewarding experience. If you are a fan of dungeon crawlers, then The Legend of Grimrock II is an experience you don't want to miss.
Pros
Fun and engaging combat system.
Interesting storyline.
Challenging and clever puzzles.
Variety of items and spells to choose from.
Cons
Can be quite difficult for less experienced players.
Short story and gameplay
Valheim
Valheim is an open-world survival game set in a procedurally generated Norse-inspired world. It puts players in a harsh and daunting world filled with creatures of all shapes and sizes and tasks them with surviving against the odds.
Its core mechanic is simple: you must collect resources, build structures, craft items, and explore the world in order to survive and thrive. In Valheim, all the core pieces of a survival game are present: survival mechanics, building, exploration, and combat.
The game also offers more than just the basics: It features unique creature designs, advanced systems for character growth, and a wide variety of building pieces. This allows for a truly varied experience across multiple playthroughs.
It may not have dungeon crawling but it surely gives you Dark and Darker Elements in combat. Offering a world, that you can explore with friends.
Pros
Valheim offers a huge open world where you can customize your adventure and build as you wish.
Co-op game mode allows you to work together with friends and strangers to defeat bosses and journey across the world.
The game blends together aspects of survival, RPG, and crafting, to keep you coming back for more adventure.
The game features detailed graphics and excellent sound design, as well as climactic boss fights.
Cons
Due to the open world and lack of a clear quest path, Valheim can be confusing to newcomers.
The game is currently in Early Access, so some bugs may still exist.
There can be long periods of grinding to collect resources and materials to upgrade your character.
Hostile enemies and a lack of specific quests can make the game difficult and time-consuming to progress alone.
Gauntlet
A remake of the popular and classic fantasy dungeon crawler arcade game from 1985. The game allows up to four players to take on a variety of dungeons, each with their own set of monsters, levels, and treasures. Players can choose to play as one of four characters: Warrior, Valkyrie, Elf, and Wizard. Moreover, they can cast spells, and use powers and special abilities, while finding secrets, solving puzzles, and fighting bosses to complete levels. You will also find loot, weapons, and other items throughout the levels.
Graphically, Gauntlet looks gorgeous and the game has an improved version of the original game's pixel art sprites. Moreover, the environments and textures are great, while the character design has been improved to look more detailed and lifelike. The game has a classic fantasy soundtrack, adding to the atmosphere and tension.
Gameplay-wise, Gauntlet stays true to the original and most of its mechanics are still here. Players navigate levels and dungeons, find keys, loot, and level up their characters like Dark and Darker game. The game's difficulty is set as easy from the start, but as players progress it gradually gets harder. That being said, the game can be quite challenging and unforgiving at times.
Pros
Fast-paced, reactive gameplay
Many levels to challenge players
Multiple game modes for different playing styles
Simple control scheme
Allows for cooperative and competitive play
Cons
Graphics may be outdated for some players
High difficulty for rookie gamers
It lacks depth and story for those looking for an immersive experience
Barony
Barony is a first-person action-adventure RPG with roguelike elements in which you explore a randomly generated labyrinth, face off against hordes of monsters, and work your way through a variety of puzzles.
The game's premise is simple: you are an adventurer in a world of dark fantasy, tasked with navigating the winding hallways of an increasingly difficult dungeon. Along the way, you'll have to battle enemies and solve puzzles while using a variety of items and equipment to help you along your journey. The randomly generated environment means that each playthrough of Barony is different, adding an element of unpredictability and replayability.
You can choose to fight along with your friends and face the dangerous foes in the dungeon. The game sounds pretty much like Dark and Darker. Moreover, you can even choose from 13 different classes, offering much more variety in character customization.
Pros
Wide range of options for character customization
Co-Op with up to 4 players
Deep RPG elements for dungeon-crawling lovers
Cons
Very difficult for new players
Some players might not like the graphics
Legendary Tales
A story-driven RPG set in a fantasy world filled with sorcery, monsters, and adventure available only on VR.
Gameplay revolves around turn-based battles, in which you will be able to customize your characters with unique abilities and equipment. There are undead enemies like in the Dark and Darker game. Players co-op with up to 4 players and take on the dungeon.
Pros
Fun and exciting gameplay
Variety of levels, weapons, and skills to unlock
Online multiplayer mode allows you to team up with friends
Cons
Only available in VR
Early access game, so bugs are expected
7 Days To Die
An open-world survival horror video game set in a post-apocalyptic landscape. In 7 Days to Die, players must use limited resources to build and defend their bases against the zombies that are slowly overrunning the world.
Overall, the game is highly enjoyable, as it offers an unpredictable, intense, and highly interactive experience. It combines aspects of survival horror, RPGs, and resource management, and offers engaging gameplay.
With its survival and RPG elements, the game is sure to give you the vibe of Dark and Darker.
Pros
This is a survival game where you have to scavenge, build and defend yourself within the ever-changing landscape of the game.
You are able to customize your character, your shelter, and the way in which you survive.
Massive Map
Online and Offline Play
Cons
Repetitive Gameplay
No Story
Summary
With that, we have covered the Top 10 Best Games like Dark and Darker. If you have participated in the Alpha Test of Dark and Darker and loved it just like us. Then, the above games are for you!
---
Next:
Was this article helpful?
Thanks! Do share your feedback with us. ⚡
How could we improve this post? Please Help us. ✍