Fire Emblem Engage is a turn-based strategy game series developed by Intelligent Systems and published by Nintendo. While 2022 was one of those years where we saw many turn-based strategy game releases, 2023 starts with the same trend, with Fire Emblem Engage leading the banner.
That is why if you're done with this title, then you should consider reading our guide and find out about the 25 best games like Fire Emblem Engage you should play in 2023.
| | | | |
| --- | --- | --- | --- |
| Game | Release Date | Developer | Publisher |
| Live A Live | July 22, 2022 | Square | Square Enix |
| Faeria | March 8, 2017 | Abrakam | Versus Evil |
| Thirsty Studios | July 28, 2022 | Outerloop Games | Annapurna Interactive |
| VED | TBA | Karaclan | Fulqrum Publishing |
| Phantom Of The Kill | May 2016 | Fuji&gumi Games | Gumi |
| Mutant Year Zero: Road To Eden | December 4, 2018 | The Bearded Ladies | Funcom |
| Wargroove | February 1, 2019 | Chucklefish | Chucklefish |
| Into The Breach | February 27, 2018 | Subset Games | Subset Games |
| Tactics Ogre Reborn | November 11, 2021 | Quest Corporation | Square Enix |
| Triangle Strategy | October 10th, 2020 | Triangle Strategy Studios | Triangle Strategy Entertainment |
| Digimon Survive | July 29, 2022 | Witchcraft | Bandai Namco Entertainment |
| Crisis Core Final Fantasy VII Reunion | December 13, 2022 | Square Enix | Square Enix |
| Bad North | August 2018 | Plausible Concept | Raw Fury |
| The Banner Saga | January 14, 2014 | Stoic | Versus Evil |
| Valkyrie Chronicles 4 | October 11, 2018 | Sega CS1 | Sega |
| Shin Megami Tensei 5 | November 11, 2021 | Atlus | Atlus |
| Shining Force II | November 26, 1994 | Sonic! Software Planning | Sega |
| The Banner Saga 2 | April 19th, 2016 | Stoic | Versus Evil |
| The DioField Chronicle | May 15th 2021 | DioField Games | DioField Games |
| Fire Emblem Three Houses | July 26, 2019 | Intelligent Systems, Koei Tecmo | Nintendo |
| Mario + Rabbids Sparks of Hope | October 20, 2022 | Ubisoft Paris, Ubisoft Milan | Ubisoft |
| Fire Emblem Warriors | October 20, 2017 | Koei Tecmo and Omega Force | Nintendo |
| Marvel's Midnight Suns | December 2, 2022 | Firaxis Games | 2K |
| Final Fantasy Tactics | June 20, 1997 | Squaresoft | Squaresoft |
Live A Live
Developed and released in 1994 for the Super Nintendo Entertainment System, Live A Live is a role-playing video game by Square. The game takes place in several eras, from the Stone Age to the far future. The player must finish a task in each chapter, which represents a different era, before moving on to the next. Given the player's freedom to explore each era in whatever order they see fit, Live A Live boasts remarkable replayability thanks to its innovative architecture.
Epic in scope, the game's plot follows a band of heroes as they band together to defeat an evil organization called the "O-Parts" and rescue the planet. All the characters are distinct and well-developed, and the player is expected to form bonds with them as a means to advance the plot. Numerous optional activities and minigames are sprinkled throughout the game to provide further depth to the setting and increase the player's feeling of immersion.
Live A Live has dynamic and interesting gameplay, as well as a wide range of choices for personalization. Real-time battles sit alongside point-and-click adventure sequences among the several gameplay modes on offer in the game's many chapters.
Pros
Classic SNES RPG
Variety of stories and characters
Unique, non-linear story with multiple endings
Interesting battle system
Cons
Graphics are outdated
The game can be difficult to understand
Some stories can be short and lack depth
No online multiplayer
Faeria
Faeria is a refreshingly original spin on the classic strategy game formula. Not only that, but the colorful, varied, and engaging gaming board is one of its main selling points. The globe the player may explore is a real, breathing one with different environments, including woods, deserts, and seas. Because of the unique characteristics of each landscape, the game world is never the same from one playthrough to the next.
Players may make use of a broad range of mechanisms in the game. The "action point system," for instance, allows players to conduct activities like moving troops, casting spells, and more. A player's deck may be tailored to their play style using the "deck building" feature, which lets them choose individual cards.
It also has a large pool of collecting cards that can be used to build powerful decks in battle. The cards may be purchased from the in-game shop or won via gameplay. Thanks to this feature, players may fine-tune their decks to maximize their effectiveness.
Last but not least, Faeria gives its users a great deal of leeway in terms of personalization. The look of the playing field and the player's avatars may be altered at will. In addition, they have access to a wide selection of card sets and other alternatives. This option gives gamers the freedom to create a really personalized gaming experience.
Pros
Innovative card battle game with a unique board-based mechanic
Fast-paced and exciting gameplay
Challenging and strategic
Free-to-play and available on all major platforms
Variety of game modes, including ranked
Cons
Repetitive game play
Can be difficult to learn for new players
Community can be unwelcoming to newcomers
Limited number of cards and game modes
Thirsty Suitors
As soon as I start playing Thirsty Suitor, I feel like I'm a part of a dynamic universe rife with mystery and difficulty. The player assumes the role of a suitor on the hunt for true love in a fantastical environment. The objective of the game is to help the protagonist find love in the real world by meeting and wooing suitable suitors.
This game's aesthetics are very amazing and engrossing. The amount of realism in the character design and animation is impressive. The setting and atmosphere are likewise rich in detail, contributing to the impression of a vibrant and active universe. The sound design is likewise noteworthy, with an astounding array of original and mood-setting musical compositions and sound effects.
Thirsty Suitor has an easy learning curve and a really fun gaming loop. Discovering one's soul mate requires the player to travel the globe and interact with prospective suitors. The player must master a wide range of interactions if they want to reach the end goal. Among these activities include wooing prospective partners, debating, and puzzle-solving.
The game has a variety of problems that are demanding without being insurmountable. In order to solve them, the player must rely on both their rationality and their instincts.
Pros
Fun and exciting storyline
Challenging and addicting gameplay
Impressive visuals with beautiful graphics
Wide variety of exciting and unique levels
Offers a unique spin on traditional video games
Cons
Difficulty increases as the levels progress
Limited game controls
Lack of replay value
Can be frustrating at times
No multiplayer mode
VED
VED is unlike any other video game because it has its own distinct set of features. The player assumes the role of an explorer, free to roam an open world full of puzzles, enemies, and hidden items from a first-person perspective. An intricate and interesting plot is also one of the game's selling points.
Visually, VED is striking because of its vivid colors and attention to detail. High-resolution graphics and intricate models populate every setting in the game, giving it a sense of life. The lighting and shadows help to create an immersive environment in the game. Sound effects, background music, and voice acting all work together to make the game come to life.
The vastness and variety of VED's environment is another distinguishing trait. The game's many areas, each with their own unique challenges and surprises, make exploration a vital part of the fun. Fight against a wide variety of foes, from commonplace humans to mighty dragons and other fantastical beasts. Discovering the answers to these riddles may be a thrilling experience in itself.
VED also has a fascinating plot. The player will learn more about the world's history and mythology as they go through the game. Numerous sub-stories and optional tasks provide even more richness to the narrative.
Pros
Engaging and entertaining
High quality graphics and sound
Wide range of levels to choose from
Can be played solo or with friends
Can be played on multiple platforms
Cons
May be too difficult for some players
Can be expensive to purchase
Can be time consuming to complete levels
May not be suitable for younger audiences
Phantom Of The Kill
| | |
| --- | --- |
| Engine | NA |
| Platforms | iOS & Android |
Even though both Phantom Of The Kill and Fire Emblem: Awakening provides tactical role-playing video game experiences for mobile devices, they are distinguished from one another in key ways.
Phantom Of The Kill is a novel and exciting scenario in which players adopt the position of a Phantom Warrior, a mysterious and anonymous masked hero who battles against evil to protect the planet. Using a variety of weapons and skills in tandem to produce devastating combos is central to its combat system, which also makes use of a novel Soul Core mechanic. Each playable character in the game has their own unique set of attributes and capabilities.
Alternatively, Fire Emblem: Awakening is based on the original Fire Emblem games and has a more typical fantasy scenario. It uses a turn-based strategy approach for combat, so players will need to think ahead to outmanoeuvre their foes. It also has a rich and complex plot with several possible outcomes and a large cast of playable characters. To add to the immersion, the game's support system facilitates the formation of ties and interactions between players and other characters.
The tactical role-playing games Phantom of the Kill and Fire Emblem: Awakening are both fun to play on mobile devices, but they are different in important ways.
Pros
Challenging and strategic turn-based RPG combat
Variety of characters, weapons and special abilities
Ability to upgrade and customize characters
Exciting story mode with unique challenge levels
Cons
Limited free-to-play options
Combat can be repetitive
Some levels are difficult to complete without paying for in-game upgrades
Low replay value due to lack of content
Mutant Year Zero: Road To Eden
| | |
| --- | --- |
| Engine | Unreal Engine 4 |
| Platforms | Microsoft Windows, PlayStation 4, Xbox One, Nintendo Switch |
The exploration and fighting in Mutant Year Zero: Road to Eden takes place in real-time, although the game itself takes place in a turn-based tactical fashion. It's clearly descended from the successful XCOM video game franchise. A tactical grid, a cover system, and people that bleed out are just some of the aspects of this post-apocalyptic FPS.
The main distinction is that you may have a team of three characters and explore the world in real-time. Our game's scenario, The Zone, is a standard bombed-out post-apocalyptic wasteland, and you explore it like a Diablo dungeon up until you join a confrontation. Full-fledged, turn-based fighting begins here. Given the reduced number of available troops, stealth and ambush strategies should be prioritized.
As any experienced fighter will tell you, charging in with weapons blazing is a great way to be taken down fast. Instead, you should divide your team and have everyone who can see the enemy hide from them. It's best to wait until you have one or two enemies all to yourself before you start picking them out one by one.
Not even physically separating from your opponents can guarantee success. Machine guns and rifles make a lot of noise and will draw attention, so it's best to start with something quiet, like Dux's crossbow, before things get out of hand.
Pros
Combines turn-based and real-time strategy gameplay
Exciting story and characters
Variety of weapons and abilities to choose from
Detailed environment
Unique art style
Cons
Can be difficult for some players to understand the game mechanics
Limited number of characters
Long load times
AI can be unpredictable at times
Wargroove
| | |
| --- | --- |
| Engine | NA |
| Platforms | Microsoft Windows, Nintendo Switch, Xbox One, PlayStation 4 |
Popular video games like Fire Emblem Engage and Wargroove both include strategic, turn-based battles. There are some parallels between the two games, but there are also some important distinctions. The plot and culture of Wargroove make it apart from Fire Emblem. The fictional land of Wargroove has factions at war for the throne. Taking place in a medieval world, Fire Emblem follows the conflict between two noble families: the Halidom and the Emblian Empire.
The gameplay of Wargroove and Fire Emblem are also quite different from one another. Players of Wargroove construct and design their own armies, leading them into war in strategic turn-based combat. Fire Emblem is a strategy game in which players take control of pre-made units in tactical turn-based combat.
Players in Wargroove may choose from a wide range of customization choices while building an army. Players may customize their army with a wide array of infantry and weaponry, including knights, archers, and magicians. In place of a character creation system, Fire Emblem provides a roster of pre-made heroes, each with its own set of skills and attributes.
Wargroove is a strategy game with objectives and challenges, whereas Fire Emblem is a story-driven game with branching paths.
Pros
Strategic turn-based combat
Deep customization options
Intuitive tutorials
Cross-platform play
Engaging storyline
Cons
Limited campaign length
Some balancing issues
Not suitable for casual gamers
Lack of online multiplayer
Into The Breach
| | |
| --- | --- |
| Engine | Unity |
| Platforms | Microsoft Windows, macOS, Nintendo Switch, Linux |
Into The Breach is a tactical puzzle-solving turn-based strategy game. The objective of the game is to defend a city against an extraterrestrial invasion with a squad of enormous robots that the player controls. The game has randomly generated stages, an intelligent opponent, and a wide selection of weaponry and upgrades to personalize your robots. If you make a mistake, you may undo it thanks to the game's innovative timeline mechanism.
As a tactical role-playing game, Fire Emblem Engage is a lot of fun. A variety of classes, skills, and weaponry are available to the player's squad of characters. Every level, character, and foe in the game is unique. Defeating the adversary requires players to carefully plot out their team's moves and assault tactics. There is also a wide range of story-related objectives and side-quests to do throughout the game.
The action in both games is distinct, but Into the Breach places a greater emphasis on tactical puzzle-solving, whereas Fire Emblem: Engage emphasizes strategic planning and character development. Unlike Fire Emblem, Into the Breach lets you reverse time and offers randomly generated levels.
In contrast, Fire Emblem focuses more on the narrative than on combat and has a wide cast of playable characters, side missions, and non-playable characters. Players in Fire Emblem also have greater leeway in adjusting their heroes' statistics and arsenals than in other games.
Pros
Strategic and rewarding gameplay
Unique and vivid art style
Simple and intuitive controls
Short but challenging missions
Cons
Lack of variety in enemies
Limited customization options
Repetitive mission objectives
No story mode
Tactics Ogre Reborn
| | |
| --- | --- |
| Engine | Unreal Engine 4 |
| Platforms | PlayStation 4, Nintendo Switch, PC |
The visually stunning and sonically impressive remake, Tactics Ogre Reborn, is a reimagining of the classic tactical role-playing game. The game's first-person perspective provides a fresh take on strategic combat and potent teamwork.
The turn-based combat system is highly flexible, accommodating a wide variety of play styles and character builds. In combat, players can take charge of up to six separate units, each with its own set of special abilities. The game also includes a robust character creation system that lets you tweak your avatar's attributes and outfit them however you see fit.
The game's branching narrative structure stands out as a key element. Choices made in combat can steer the story in unexpected directions and produce varying results. Because of this, players are encouraged to experience the game multiple times.
Tactics Ogre Reborn isn't just about the battles, though; there's a whole world to discover as well. A large number of optional quests and events are available for players to take part in.
Tactics Ogre Reborn is a fantastic game with a wealth of content. Its extensive options for personalizing your character, thrilling fights, and branching storyline will keep you coming back for more.
Pros
Strategic and challenging gameplay
Vast array of characters and classes
Deep and engaging storyline
Customizable characters
Highly detailed and beautiful 3D graphics
Cons
Difficult to master
Long loading times
Limited movement options
Limited customization options
Slow and tedious grinding
Triangle Strategy
| | |
| --- | --- |
| Engine | Unreal Engine 4 |
| Platforms | PC, Xbox, Playstation, Nintendo Switch |
Fire Emblem Engage's Triangle Strategy is an innovative tactical role-playing game mechanic. A grid-based battlefield serves as the arena for combat between two opposing armies, each of which is made up of different sorts of units. The triangle system considers three factors—weapons, magic, and support—to establish the optimal strategy for combat. Players must master not just the triangle system but also terrain and army deployment to achieve victory.
The game relies heavily on the triangle system. All possible types of units are broken down into three broad categories: those that use weapons, those that use magic, and those that provide assistance. When compared to other character categories, magic is weak versus support characters, while support characters are powerful against weapon characters.
In the event of a battle between two units, the more powerful of the two will inflict greater harm on the weaker. This concept makes battles exciting and dynamic by requiring players to strategically plan which sorts of troops to use.
The importance of positioning cannot be understated. When three or more troops are in close proximity to one another, they might create a triangle for added defense. Another defensive advantage may be gained by stationing troops on higher ground. In order to strengthen their defenses, players need to carefully evaluate the environment and where to put their units.
Pros
Fun and creative gameplay
Offers a unique strategy experience
Simple and easy to learn
Good replay value
Offers a challenge without being overly difficult
Cons
Limited content
Short playing time
Graphics could be improved
Limited customization options
Limited number of levels
Digimon Survive
| | |
| --- | --- |
| Engine | Unreal Engine 4 |
| Platforms | PlayStation 4, Xbox One, Nintendo Switch, Windows PC |
In the long line of Digimon video games, Digimon Survive stands out as an original entry. In this tactical role-playing game, players engage in turn-based battles while making story-related decisions and discovering new areas. The player takes on the role of Digimon tamer Takuma Momozuka, who has been recruited for a top-secret operation. The goal of this assignment is to learn more about a mysterious Digital World distortion.
The game's turn-based combat system is well-designed, and it rewards strategic thinking. If the player wants to win, they'll have to choose their fighting moves carefully and maintain tabs on the enemy's whereabouts. As the game progresses, the player is able to grow their Digimon into more powerful versions, each with its own set of skills. A player's stats and health may be improved, and their friends healed with the use of various goods.
Digimon Survive's narrative is the game's strongest selling point. Players will explore different locations and make choices with potentially far-reaching effects. Story branching and several possible conclusions provide replay value. The game's aesthetics and audio are equally noteworthy. The scenery and character models are both very realistic. The music and sound effects are spot-on for the game's atmosphere.
Pros
Unique blend of turn-based strategy, visual novel, and RPG elements
Deep battle system with numerous character customization options
Varied selection of characters, monsters, and abilities
Engaging story that evolves as you progress
Unique art style and memorable characters
Cons
Limited exploration options
Repetitive combat scenarios
Difficulty spikes can be frustrating
Long load times
Crisis Core Final Fantasy VII Reunion
| | |
| --- | --- |
| Engine | Unreal Engine 4 |
| Platforms | PlayStation 5, PC, Xbox Series X/S |
It's no exaggeration to say that Final Fantasy VII Reunion is a memorable RPG experience. Zack Fair, a young SOLDIER who must learn the truth about an unknown foe, is the game's protagonist. Beautiful graphics and atmospheric music complement the game's exciting and fluid action system. With a wide range of objectives to accomplish and entertaining minigames, players will feel fully immersed in the universe of Final Fantasy VII.
The game's many alterations let users personalize their experience to their desire. With the right combination of upgrades, players may turn Zack into an unbeatable force. In addition to its impressive gameplay, the game has a compelling tale that will hold players' attention right up until the final credits roll.
Crisis Core Final Fantasy VII Reunion is a fun role-playing game because of the satisfying combination of narrative, action, and exploration it provides. The game's wide variety of features means it'll appeal to both series veterans and novices. The game provides a fantastic experience for fans of the Final Fantasy series.
Pros
Intense and engrossing storyline
Cinematic cutscenes and music
Customizable Materia system
Variety of minigames and sidequests
Exciting and strategic real-time battle system
Cons
Unintuitive menu and inventory system
Repetitive and tedious missions
Lack of enemy variety
Camera can be difficult to manipulate
Aiming system can be frustrating
Bad North
| | |
| --- | --- |
| Engine | Unity |
| Platforms | PlayStation 4, Xbox One, Nintendo Switch, and PC |
The islands of Bad North, the real-time strategy game, are produced randomly. Players lead a tiny band of Viking-style soldiers as they defend their islands from an assault of invaders. The action in Bad North unfolds quickly from a top-down viewpoint. Players must use careful planning and leadership of their soldiers to successfully repel the attack.
The game's innovative crowd management feature lets you command your soldiers to greater effect in combat. Boosting the combat efficiency of one's heroes and soldiers is another option available to players. Players must use their wits and resources to keep their islands secure from increasing waves of invaders as the game advances.
Visually, Bad North stands out because of its colorful, cartoonish graphic style. The game's mood is created with the help of bright sprites and intricate backdrops. The game's immersion is enhanced by its use of realistic mechanics and lighting.
The randomly generated island variation in Bad North is a major factor in the game's replay value. The game's unique features, such as its adjustable difficulty and extensive upgrading and personalization choices, set it apart from similar offerings.
Pros
Unique and entertaining strategic gameplay
Beautiful and immersive visuals
Challenging and rewarding objectives
A variety of levels and difficulty settings
Good replay value
Cons
Limited enemy types
AI may be too easy for experienced players
Lack of narrative and character development
Some levels may be too short
The Banner Saga
| | |
| --- | --- |
| Engine | Unity |
| Platforms | PC, Mac, iOS, Android, Nintendo Switch, PlayStation 4, Xbox One |
In The Banner Saga, players assume the roles of many playable characters in a fantasy setting heavily influenced by the Viking era. In addition to its beautiful hand-painted aesthetics, the game also features strategic turn-based combat and an in-depth and compelling plot. Players' decisions in combat and on difficult tasks will have far-reaching consequences, both for themselves and for the world at large.
The Banner Saga's turn-based battle system encourages players to consider their options and tailor their characters to the situation to achieve victory. Players enlist the aid of members of other clans, whose skills can be used to turn the tables in combat. The game's unique morale system also plays a role in determining the results of fights and increases the game's degree of randomness.
With over 60 distinct personalities and stories to explore, The Banner Saga offers a truly immersive narrative experience. The tale and the environment surrounding the player will be affected by the actions they make while they play the game.
Austin Wintory, who has been nominated for a Grammy, has written an original score for The Banner Saga. There is a certain vibe in the game that the music contributes to, making it that much more immersive.
Pros
Beautiful, hand-drawn animation
Tactical, turn-based combat
Emotional story with difficult choices
High replay value with branching narrative paths
Cons
Slow pacing at times
Lack of depth to combat system
No multiplayer
Difficult to come back to after taking a break
Valkyrie Chronicles 4
| | |
| --- | --- |
| Engine | Unity |
| Platforms | PlayStation 4, Xbox One, Microsoft Windows, Nintendo Switch |
As a long-time fan of this series, I was curious to see how the fourth book, "Valkyrie Rising," would do. Happy to report that everything is much above my expectations. The franchise is elevated to new heights with Valkyrie Chronicles 4, a tactical role-playing game that offers unparalleled immersion.
The plot follows the elite Karlsland Army Squad E as they seek to liberate their nation from the Gallian Empire. The plot is interesting and has a lot of emotional resonance, and the characters are realistic. The game also has several paths through the tale, with the player's decisions having a significant bearing on the final result.
Games like Fire Emblem Engage and Final Fantasy Tactics are good examples of the tactical role-playing structure used in this game. The player may field many types of soldiers, each with their own advantages and disadvantages, and provide them with different sets of equipment.
As an added bonus, the 'BLiTZ' system, which stands for Battle Lines in Tactical Zones, is used in the game and enables the player to plot out their strategy before joining a fight. This adds a new level of depth and complexity to the game by encouraging the player to approach battle with strategy and consideration.
Pros
Intuitive and intuitively designed control system
Engaging and immersive story
Variety of missions and objectives
Impressive visuals and sound design
Large selection of characters and equipment
Weapon customization and development
Cons
Limited amount of side content
Difficulty level can be punishing at times
Minor technical issues with frame rate and loading times
Some characters lack unique abilities
Tokyo Mirage Sessions
I think everyone should have the opportunity to enjoy the extraordinary novelty that is Tokyo Mirage Sessions #FE, a Japanese role-playing game. The protagonists of this game are a group of young pals in present-day Tokyo who want to make it big in the entertainment industry. While doing odd jobs and honing their abilities, these pals are swept up in a strange struggle between the Mirages and the Fortuna Entertainment agency.
Tokyo Mirage Sessions #FE has a dynamic gameplay mix that includes tactical turn-based battles, dungeon delving, and personalized avatars. Combat is tactical and quick, emphasizing leveling up your characters and gaining access to potent powers known as "Sessions." Numerous options for weapons, armor, and other accouterments let you give your group a fighting chance.
The visual aesthetic and music are two of my favorite aspects of Tokyo Mirage Sessions #FE. The cheerful soundtrack perfectly reflects the essence of the game, while the bright and colorful visual design depicts the energy and culture of Tokyo. All the protagonists are interesting and likable, and the plot is full of surprising turns. I was curious as to what might occur next.
In conclusion, Tokyo Mirage Sessions #FE is a fantastic role-playing game. It's a lively and colorful RPG with a gripping plot and sophisticated turn-based gameplay that captures the essence of Tokyo. Anyone seeking a fantastic role-playing game should check it out.
Pros
Fun and unique art style
Strategic and entertaining combat system
Colorful and vibrant characters
Great soundtrack
Interesting story line
Cons
Limited character customization
Repetitive side-quests
Limited variety in enemy types
Occasional long loading times
Shin Megami Tensei 5
| | |
| --- | --- |
| Engine | Unreal Engine 4 |
| Platforms | Nintendo Switch |
Popular turn-based RPGs Shin Megami Tensei 5 and Fire Emblem Engage have a lot in common. In both games, players engage in tactical battles that require careful planning and management of both movement and supply. Also common to both games is indeed a large cast of characters, each with their own backstory, history, and set of skills.
Both games have a turn-based approach to battle, and here is where they most closely compare. Both games require strategic thinking on the part of players. In battle, players have a variety of options at their disposal, including direct physical attacks, magical spells, the usage of objects, and the activation of special powers. A wide range of enemies, each with their own distinct abilities and weaknesses, may be found in both games.
Changing your character's appearance is a huge deal in both games, but there's a fundamental difference between the two kinds of personalization. Shin Megami Tensei 5 places greater emphasis on character alignment than Fire Emblem Engage does; however, both games let players personalize their characters with a wide range of talents and abilities. Assigning a character's alignment to either Law or Chaos will provide players access to a new set of features and options.
Pros
Innovative game mechanics
Rich storyline
Variety of characters and creatures to form alliances with
Variety of weapons and armor
Comprehensive crafting system
Unique and challenging battles
Cons
Some battles can be repetitive
Limited exploration of the game world
Difficulty level can be too high for some players
Shining Force II
| | |
| --- | --- |
| Engine | SEGA System C2 |
| Platforms | Sega Mega Drive/Genesis, Windows, iOS, Android, Xbox 360 |
Like Fire Emblem: Engage, Shining Force II is a turn-based tactics game in which the player directs both their own and the opposing forces toward victory. There is a story-driven campaign in both games, and the player must win a certain number of fights to advance in the narrative.
The combat systems are quite similar across both games. Playing either game requires careful planning as players maneuver their forces to outflank and strike at their opponents. Both games use a "rock-paper-scissors" structure in which different sorts of units are more or less effective against one another.
There are a lot of similarities between Shining Force II and Fire Emblem Engage in terms of gameplay. Both games include a class system in which characters may level up and switch classes to get new abilities. Each game also has a weapon triangle system that allows players to customize their troops' effectiveness based on the weapons they equip them with.
Both games also have a support system in which adjacent units get additional benefits from their proximity to one another. Players are encouraged to work together and use strategy through this approach.
Overall, the fighting system, class system, weapon triangle system, and support system of Shining Force II and Fire Emblem Engage are quite similar. Because of this, gamers who like one game may also like the other.
Pros
Fast-paced tactical combat
Robust character customization
Engaging storyline
Varied and interesting locations
Cons
Limited AI capabilities
Limited camera angles
Lack of difficulty settings
Repetitive music
Graphically dated
The Banner Saga 2
| | |
| --- | --- |
| Engine | Unity |
| Platforms | Microsoft Windows, OS X, Linux, PlayStation 4, Xbox One, Nintendo Switch, iOS, and Android |
The Banner Saga 2 is a role-playing video game that utilizes a strategic turn-based system. Saga 2, the sequel to the highly popular The Banner Saga, picks up where the first game left off, offering more of the same exhilarating gameplay and compelling narrative aspects that won fans over.
Like its predecessor, The Banner Saga 2 has an engrossing plot with memorable characters and beautiful graphics. With the assistance of the player's recruitment of new heroes, development of relationships with characters, and management of resources, the caravan may be protected from a range of threats. Also improved in this sequel is the game's fighting system, which now provides a wider array of weapons and skills with which to engage in battle.
The Banner Saga 2 has outstanding aesthetics thanks to its hand-painted images that wonderfully convey the game's mood. The audio of the game further enhances the ambiance with its grand orchestral pieces and eerie tunes.
The Banner Saga 2 has a wide range of puzzles and tests, with a difficulty curve that rises in intensity as the tale develops. Both the fighting and the riddles are equally as fun as they were in the original. The Banner Saga 2 is a stunning sequel to the critically acclaimed 2013 RPG The Banner Saga, with an exciting plot and stunning graphics.
Pros
Rich storylines and characters
Vivid, hand-painted 2D art style
Varied classes and abilities
High replay value
Strategic turn-based combat
Cons
Difficulty level can be overwhelming
Limited customization options
Repetitive music and sound effects
The DioField Chronicle
| | |
| --- | --- |
| Engine | Unity |
| Platforms | PC, Playstation 4, Xbox One |
The first thing you'll notice is the DioField Chronicle's massive open area. Cities, dungeons, and vast wilderness all coexist in the game's environment. As they travel the globe and strive to figure out its secrets, players may choose from a broad range of classes and occupations. They say there will be a ton of side quests, and the main plot will be quite involved.
The sophisticated AI is one of the fascinating aspects of the DioField Chronicle. Each playthrough will be different because enemies will respond to the player's choices. Changes in the game's environment will occur at various times of day thanks to the game's dynamic weather system and day-and-night cycles.
It has been confirmed that the game will have a robust crafting system that will enable players to customize their characters with their own unique arsenal. There will be many different things to find and use. Since crafting will play a significant role, players will need to strategize and make efficient use of their available materials in order to produce effective weapons and armor.
Finally, a multiplayer component will be included so gamers can team up with their pals to take on difficult co-op tasks.
Pros
Fun, interactive storyline
Immersive graphics
Unique combat system
Offers a variety of characters and customization options
Interesting puzzles and quests
Cons
Difficult character development system
Repetitive game mechanics
Limited replayability
Fire Emblem Three Houses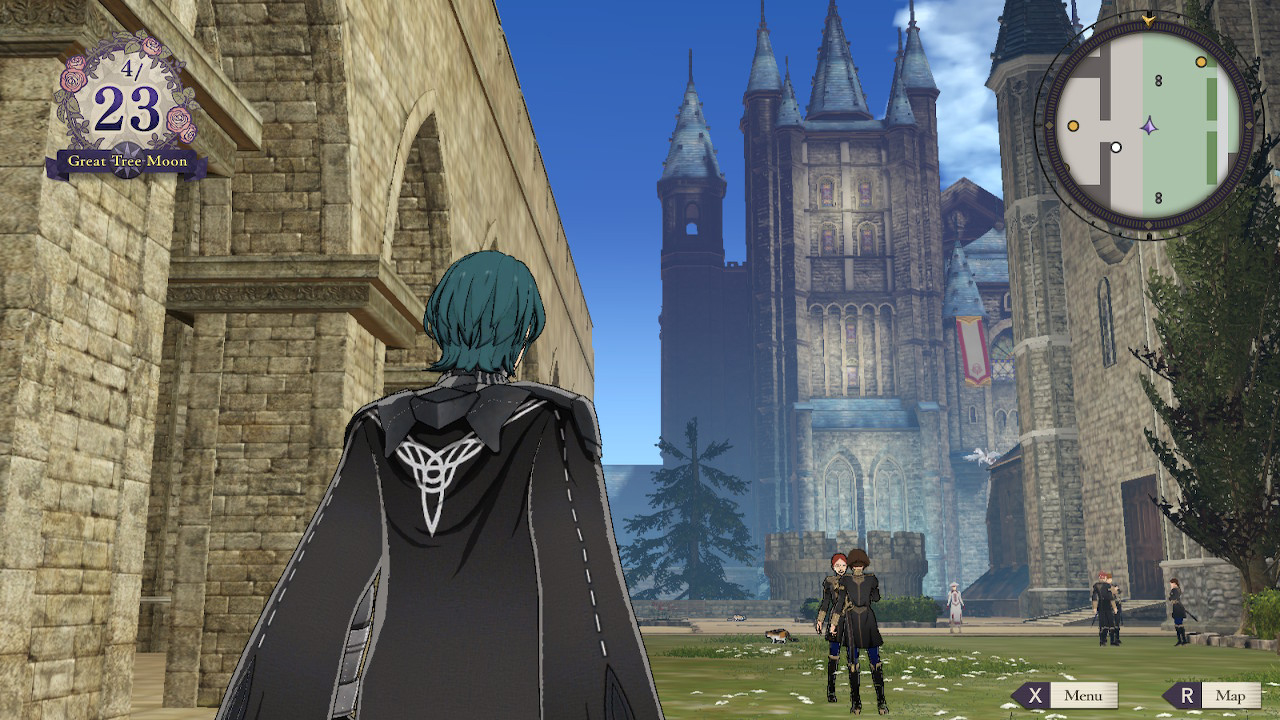 | | |
| --- | --- |
| Engine | Unreal Engine 4 |
| Platforms | Nintendo Switch |
Fire Emblem Three Houses, along with its sequel, Fire Emblem Engage, are emblematic of the expansive Fire Emblem series of tactical role-playing games. Both games have players assume the role of a strategist as they raise an army to combat in a fantastical setting. While both games have similar gameplay principles, they have distinct differences in story and visual style.
There's a lot to do in Fire Emblem Three Houses, from creating your own hero to progressing through the game's enormous tale to using the game's innovative school system mechanism. Players may modify their pupils' skills and equipment, as well as assign them to one of many classes with their special talents. There's also a substantial narrative mode where players' actions have real consequences.
Fire Emblem Engage, on the other hand, is a simpler affair. There are fewer possibilities for personalization, and the plot is simplified. Players assume the role of a strategist and organize an army with which to do combat. It's not as customizable or as in-depth as Three Houses, and it doesn't have the same school system mechanism.
Both games have similar basic tactical gameplay mechanisms despite their variations. To succeed, players need to think ahead and plan their moves. Both games include turn-based battles in which players must strategically plan the deployment of their soldiers and the execution of their actions.
Pros
Unique choice of three different and diverse Houses to choose from
Engaging and immersive tactical RPG combat system
Fun and captivating storyline with plenty of choices and branching paths
Variety of characters with unique and interesting backgrounds and personalities
Visuals and art design are stunning
Cons
Can be overwhelming and confusing to keep track of a large number of characters
Combat can be slow and tedious at times
Some characters can be underdeveloped
Mario + Rabbids Sparks Of Hope
| | |
| --- | --- |
| Engine | Snowdrop |
| Platforms | Nintendo Switch |
Both Fire Emblem Engage and Mario + Rabbids: Spark of Hope are turn-based tactical role-playing games with strategic and adventure components. Both games have you assembling a party of playable characters to take on enemies and discover new areas of the game environment.
Both games feature a grid-based world that players must explore while leading a squad of characters into war. Players get all the freedom to control their characters as they traverse the landscape and engage in combat with the use of melee and ranged weapons. The player may enhance their characters' fighting abilities by giving them access to better weapons and gear.
There is a broad range of playable characters in both games, and the player personalizes each by means of character advancement and the assignment of special talents and powers. Both games include a character-based affinity system that facilitates the development of bonds between teammates. When characters are related to one another, they may get boosts in combat.
The environment is the key differentiator between Mario + Rabbids: Sparks of Hope and Fire Emblem Engage. While Fire Emblem Engage takes place in its own original fantasy world, Mario + Rabbids Sparks of Hope is set in an alternate reality populated by characters from the Mario and Rabbids series.
Pros
Innovative gameplay mechanics
Unique and imaginative world
Humorous character interactions
Challenging gameplay
High replay value
Cons
Short story mode
Repetitive puzzles
Some levels are too long
Unskippable cutscenes
Limited character customization options
Fire Emblem Warriors
| | |
| --- | --- |
| Engine | Warriors Engine |
| Platforms | Nintendo Switch, New 3DS and New 3DS XL |
Fire Emblem Warriors is a game that absolutely must be owned by every true lover of the Fire Emblem series. The game, developed by Koei Tecmo, is fantastic because it combines two of the most popular genres in gaming: real-time strategy and hack-and-slash. Play as heroes from throughout the Fire Emblem series as you go on a quest to defeat an evil power and free the land of Aytolis.
Fire Emblem Warriors has stressful and quick-paced gameplay. You'll be continuously giving orders, avoiding assaults, and unleashing devastating combinations as you lead your army to victory. Powerful options for personalization make it possible to create really one-of-a-kind characters with special skill sets. The weapon triangle system is another way to offer your characters a tactical advantage in combat.
Fire Emblem Warriors boasts captivating visuals and an emotional soundtrack to complement its engaging gameplay. Both the settings and the people are beautifully animated. The game's music is excellent and will keep you interested throughout.
Fire Emblem Warriors is a fantastic game that combines the finest of the Fire Emblem series with fascinating real-time strategic mechanics. Playing this game is a no-brainer for any lover of the Fire Emblem series. To see Fire Emblem's world in a fresh light, try this out.
Pros
Great blend of strategy and action combat
Varied gameplay and characters to choose from
Unique and immersive story
Multiplayer mode allows you to play with friends
Lots of replay value with side missions
Cons
May be too easy for experienced players
Limited character customization
Repetitive mission objectives
Limited weapon and item variety
Marvel's Midnight Suns
| | |
| --- | --- |
| Engine | Unreal Engine 4 |
| Platforms | Microsoft Windows, PlayStation 5, Xbox Series X/S, Nintendo Switch, PlayStation 4, Xbox One |
Marvel's Midnight Suns allow layers to select various attacks and combinations in this game's fighting system, making for a fun and challenging experience. Even those who have never played a video game before will have no trouble picking up and getting into the action, thanks to the game's intuitive controls. All skill-level players will find an appropriate test here since the difficulties range widely.
Marvel's Midnight Suns is an incredible experience all around. This game offers something for everyone, from its gripping plot to its thrilling combat. Everything from the visuals to the gameplay to the voice acting is excellent. Marvel's Midnight Suns is a must-play if you're seeking a tense and exciting video game.
Pros
Fun and immersive game play
Excellent graphics
Wide range of characters to choose from
Variety of missions and levels
Interesting storyline
Cons
Final Fantasy Tactics
| | |
| --- | --- |
| Engine | PlayStation |
| Platforms | PlayStation, iOS, Android, PSP, PlayStation Vita, PSP Remaster |
The great Final Fantasy Tactics video game can keep players of any age entertained for a long time. This game's rich narrative, likable characters, and engaging gameplay will keep you engrossed for a long time.
Set in the fictional continent of Ivalice, Final Fantasy Tactics tells the tale of Ramza Beoulve, a nobleman who leads a struggle to save his country from the forces of darkness. The environment of Ivalice is really well-designed and immersive, and the tale has plenty of unexpected turns to keep you wondering right up to the finish.
The game's complicated tactical fighting system puts you in charge of a cast of playable heroes as they battle against a range of foes. There's a lot of room for strategy and personalization in the robust combat system. Each playable character has its own set of skills and special attacks, expanding the possible strategies for battle. There's also a novel job system that lets you tailor your characters to your preferred play style. Monk, knight, white mage, black mage, and many more professions are all available.
Final Fantasy Tactics has excellent visuals and stimulating music that will keep you interested throughout the whole experience. The game's many optional quests, minigames, and other extras ensure you won't become bored anytime soon.
Pros
Deep and varied strategic combat system
Wide selection of custom classes to choose from
Beautiful art and music
Engaging story
Cons
Randomly generated elements of the battlefield can create unfair advantages.
Grindy nature of the game can make it hard to progress.
Difficulty can be overwhelming for newcomers.
Summary
That wraps up our Games Like Fire Emblem Engage guide. If you're into shooter or RPG titles, then consider reading our best battle royale games, best Tom Clancy's games, and best Soulsborne games.
Next:
Was this article helpful?
Thanks! Do share your feedback with us. ⚡
How could we improve this post? Please Help us. ✍