Top 19 Games Like Tiny Tina's Wonderlands
Just finished this freshly released action RPG, and now you're looking for more of a similar experience? Fret not. We're about to go through some of the best games like Tiny Tina's Wonderlands out there in this guide and make you enjoy your fair share of this looter-shooter concept.
Quite fortunately, plenty of top-tier titles are based on the same formula as this chaotic FPS. While they may not replicate most of Tiny Tina's Wonderlands, they will come pretty close in one way or the other. Let's dive right in without any further delay and scribble down your best options.
Games to Play If You Like Tiny Tina's Wonderlands
The following is a cherry-picked list of the most high-quality games out there resembling the gameplay of Tiny Tina's Wonderlands. Some of the included entries will be free-to-play, while others will have to be purchased.
Destiny 2 (Free)
More From eXputer: Tiny Tina's Wonderlands Best Builds
Starting off this list is quite possibly one of the most popular FPS RPGs of its genre—Destiny 2. You'll find plenty of elements matching between the latter and Tiny Tina's Wonderlands, particularly the loot-based system that encourages exploration and completing more missions.
When the title launched in 2017, it had a price tag on it, making it mandatory for users to make a purchase. Two years later, however, Destiny 2 became free to play across all the platforms it was initially available on. Today, the action RPG boasts a player base of more than 38 million, which is absolutely colossal and truly indicative of the game's immense success.
Prepare yourself to dive into a highly addictive experience, one that comprises the same loot-hunting system as Tina Tiny's Wonderlands. Similar to how you'll find legendary weapons in the latter, Destiny 2 also offers a wealth of weaponry to collect, upgrade, and purchase.
There's no denying how rewarding the gameplay of the title can genuinely get, especially when you start understanding the ins and outs of it. One major difference that sets the two pertinent titles apart is that you always need to be online when wanting to play Destiny 2.
It's more of a Massively Multiplayer Online Role-Playing (MMORPG) game that demands an internet connection all the time. If this isn't an issue on your end, then you'll certainly grow to like the game and how it's still kept well-alive with a constant flow of DLC releases, extra content, gameplay tweaks, and other enhancements. We highly recommend Destiny 2 as one of the best free games like Tiny Tina's Wonderlands. Don't miss it.
Borderlands 2 (Paid)
Similar Read: Tiny Tina's Wonderlands Class Tier List
Of course. What better Tiny Tina's Wonderlands lookalike other than the series the title has spun off from. Borderlands 2 is quite arguably the best game in the franchise, offering new mechanics, better-than-ever visuals, and a combat system like never before.
It allows players to embark on the most interesting of storylines the whole series has ever put out. Talk about never-ending chaos, destruction, and subsequent fun. Although you'll find some parts of Borderlands 2 quite dated, to say the least, as each game has its fair share of let-downs too, the rest of the adventure is blatantly terrific.
You have an expansive, rich world teeming with details and rewards to serve as your playground with the fantasy element at its all-time peak. If you've liked what Tiny Tina's Wonderlands has had to offer to you without playing Borderlands before, you're in for a sizable treat.
You get to choose from four tip-top classes to start your journey with as a Vault Hunter. The quadruple of these characters include Salvador the Gunzerker, Zer0 the Assassin, Maya the Siren, and Axton the Commando. In addition, you also get to play as two extra DLC classes: Gaige the Necromancer, and Krieg the Psycho.
Each class boasts its own range of special abilities, perks, and upgrades. You can experiment with your playthroughs using different characters and zero in on the one that best suits your playstyle. Perhaps, Borderlands 2's greatest success lies in the freedom it provides to players every step of the way.
In every bout where you're forced to pump lead into the opposition, you'll find plenty of different ways to dispatch your foes. This also aligns coherently with the character you're using and what special abilities they have that you can use to come out on top of the battle.
This second entry in the mainline series of Borderlands packs one fun of a punch. It's definitely one of the best games like Tiny Tina's Wonderlands to try when you're done messing around in the tabletop RPG. The added perk is that you can even play Borderlands 2 as couch multiplayer in split-screen mode, making the game world change dynamically, get harder, and allow you and your partner to brave and rip apart Pandora together.
Bioshock (Paid)
Don't Forget to Read: Tiny Tina Wonderlands Raiders of Lost Shark Rewards.
This next entry on the list is a personal favorite at eXputer. Game developers simply don't make titles like the original Bioshock anymore. While the whole Bioshock series is an incredible joyride filled with all kinds of sentiments and thrills, we fare the first title in the franchise as the best of the bunch.
What it offers to the gamer sitting on the other end of the screen is far superior to most in-game philosophies of today. In addition, if you've liked how Tiny Tina's Wonderlands handles combat in tight spaces minus the extra perks and abilities, you'll certainly grow to like how Bioshock plays out.
This is a first-person shooter that blends RPG and stealth elements together and snowballs them into a video gaming masterpiece. The story begins when the main protagonist—Jack—wakes up from a plane crash and finds himself landing in the unknowns of the Atlantic Ocean.
You then proceed to swim to a nearby lighthouse and access a secret entrance leading to an untold underwater city called Rapture. From there on out, you get to uncover chilling secrets, fight genetically mutated beings, and make your way through the confines of this underwater dystopia and get back to the surface.
The overall horror and the theme of Bioshock seem to hit the mark for enthusiasts of this genre. If you're after top-end games like Tiny Tina's Wonderlands, you cannot afford to sleep on a title of this stature. Besides, the title is coming for cheap on Steam and is more than worth its $12 asking price.
An Interesting Read: Tiny Tina's Wonderlands XP Farm
Risk of Rain 2 (Paid)
Also Read: Tiny Tina's Wonderlands Brr-zerker Build
To talk about bringing a fresh concept to the table, Risk of Rain 2 offers players to delve into an alien planet overrun with chaos and monstrous creatures. Genre-wise, this title is entirely rogue-like which is basically a subcategory of RPG where features like permanent death and dungeon crawling are prominent.
Levels are generated in a step-by-step manner, heavily depending on the progress you make as you go along. Roguelikes are usually entertaining and offer a challenging experience for the player. Although the title differs significantly from Tiny Tina's Wonderlands, there are many mutual aspects that the title frankly boasts.
Hopoo Games' biggest hit has a dynamically evolving world with tons of loot to gather and buff up your character with. The aim of the game is to power your way through hordes and hordes of enemies until you finally reach Mithrix—the final boss in Risk of Rain 2.
However, there are other exploits as well that allow you to get different endings, unlike Tiny Tina's Wonderlands. What does match with the latter is the inclusion of a number of various unlockable characters with upgradable abilities and unique combat styles. Entertaining, addictive, enthralling—you name it. This one does it all.
If the game gets too hard for you on your own, group up with up to three friends and brave the eerie alien planet together. What's even more fun is the fact that you won't find repetitive runs in Risk of Rain 2. Each level is randomized from top to bottom, including the pertinent items, enemies, loot, and bosses if any.
It's definitely one of the best games to play if you like Tiny Tina's Wonderlands. The increasing rush of the challenge, uniquely designed enemies and levels, and tons of weaponry and abilities to use is sure to keep you hooked to Risk of Rain 2 for the days to come.
Dauntless (Free)
Furthering this list is a free-to-play game now for a change. Dauntless, at its core, is an incredibly exhilarating cross-platform MMORPG based around monster hunting. It features surreal character customization potential and promises high-action combat with a wide variety of weaponry.
Fans of Tiny Tina's Wonderlands will certainly admire grinding for better loot as they explore the vast domains of the Shattered Isles in Dauntless. The objective of the game is to hunt down naturally occurring yet ominously powerful creatures called Behemoths and build your legacy as a Ramsgate Slayer.
Whether you choose to team up with other Slayers or become a legend on your own ultimately boils down to your preferences. There are 7 major weapon types in Dauntless that span from close combat attacks to long-range threats. The level of variety introduced in the game world is nothing short of a treat to involve yourself in.
Moreover, there's one aspect of Dauntless that's much better than Tiny Tina's Wonderlands and that is character customization. You can practically switch up every part of your Slayer in terms of physical appearance. Not only that but the way you can jump right into the character's style modification is an utterly simple approach.
The character creator menu is always ready for you to interact with no matter where you are in the game. Another thing in common in both Tiny Tina's Wonderlands and Dauntless is cross-gen multiplayer. If you're on PC and your buddies are on a different platform, such as the Xbox Series X|S or the PlayStation 5, no need to fret.
You'll be able to play together in online PvE painlessly, thanks to the dedicated servers thriving in Dauntless and enabling cooperating play without breaking a sweat. You'll definitely grow to admire this title as one of the best games like Tiny Tina's Wonderlands.
Dishonored 2 (Paid)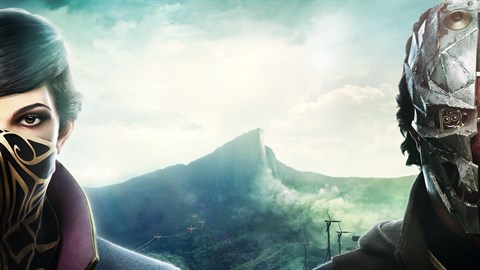 This is one of the most exciting games to play if you like Tiny Tina's Wonderlands. This is a stealth-based title for the most part, but going all guns blazing on your enemies is a possibility that this action game dearly welcomes as well. It came out way back in 2016, but don't let that release date fool you.
The FPS still feels as relevant as the time period in which it was first launched. Impressive graphics, a dark and unsettling storyline, and terrific gameplay deemed the title way ahead of its time. Similar to how there are skills to cater to in Tiny Tina's Wonderlands, there are tons of upgradable move sets in this stealth-encouraging title.
To put it simply, you'll find this title in a class by itself, mixing supernatural abilities with a brutal combat system together and giving players the freedom to play how they want. That is to say, it's your choice whether you want to prowl on the rooftops and rain death from above or slit throats straight out the gate.
Everything from the game's original soundtrack and the main storyline down to the very manner the blood pools when you claw an enemy down seems as if a great deal of thought was put into developing it. The title's even got amazing replay value and a plethora of easter eggs that you'll only uncover after repeated playthroughs.
While the title doesn't share an awful lot of similarities with Tiny Tina's Wonderlands, the combat system, and the way abilities are utilized for getting around enemy strongholds are certainly reminiscent of the latter in Dishonored 2. Do give it a shot if you're into stealth-oriented games like Tiny Tina's Wonderlands.
Monster Hunter Rise (Paid)
We have here the latest entry in the main Monster Hunter series of video games. Monster Hunter Rise an open-world MMORPG, just like Tiny Tina's Wonderlands that lets players delve into an enormous realm teeming with the titular monsters to hunt down. Talk about never running out of things to do and worlds to explore here.
Monster Hunter: World could've earned a spot on this list instead of the Monster Hunter in question. It's actually more flourishing at the moment having its release dating back to 2018 and getting pumped full of content. However, what makes Rise push World off this list is the introduction of newer dynamics in the series.
The title has seemingly revamped the mobility of your in-game characters better than ever. By introducing completely novel movement mechanics like "dog-drifting" and "wirebug" usage, you can get around the mystical Kamura Village swimmingly.
The latter in particular is advertised as an "integral part of your hunter's toolkit." Not only do the wirebugs allow you to traverse the environment of the game by projecting a silk-like substance but they also deal damage and can be used to attack the enemy. Pretty versatile, if you ask us.
Moreover, the developers have decided to introduce a brand-spanking-new mission type in the game called "The Rampage." This is a large-scale monster invasion sort of quest where you have to hold your stance and shield Kamura Village from incoming threats. Rampage missions, in essence, have been made full of enlivening fun.
Players looking for the best games like Tiny Tina's Wonderlands have to try out everything that Monster Hunter Rise has to offer. The loot system of both titles is somewhat similar, not to mention the nearly identical genre of the duo that pushes out waves of never-ending content.
Tiny Tina's Assault on Dragon Keep: A Wonderlands One-Shot Adventure (Paid)
It's only natural to look toward the predecessor of Tiny Tina's Wonderlands when one is done playing it. After all, there's no better way to experience the latter all over again in a unique fashion other than trying out its origins title. It turns out that the first game had quite the thrill going for itself when it first went live.
Tiny Tina's Assault on Dragon Keep: A Wonderlands One-Shot Adventure wasn't always a standalone game. It launched as DLC merely for Borderlands 2 way back in 2013. It wasn't until last year that the developers saw an opportunity for the well-received add-on and re-released it as a standalone game for modern-day platforms.
Tiny Tina's Assault on Dragon Keep is considered one of the best DLCs to ever come out for the Borderlands franchise. It's loaded to the brim with content—as one would expect from a Borderlands game chiefly—and there's not a single dull moment in-between to grimace at.
Sure, there is a bevy of cosmetics in Tiny Tina's Wonderlands and various enhancements in the game but the basic formula is still there in the prelude title. Gearbox Software has just improved upon what made the initial game great, so you should definitely try Tiny Tina's Assault on Dragon Keep for another touch of this iconic awesomeness.
Into the Pit (Paid)
Moving forward, we have another roguelike title making headlines across Steam. This one is actually a rogue-lite though, which means that some of your achieved progress will be stored after your character dies. We fare Into the Pit as somewhat similar to Tiny Tina's Wonderlands due to its exceptionally rapid-paced combat.
You grow your abilities as a sorcerer while trying to free a particular village from its demonic curse. The in-game plot describes that the protagonist belongs to a family of lore-hunters who prevent evil from propagating. When your cult discovers a dark force residing in a far-off hamlet, you're sent to investigate the area with an ally.
As you and your ally tread along the land, the two of you split up shortly to speed up the investigation. Little do both parties know, a demonic pit has spawned inside the village somewhere, forming a gateway for demons and evil deities of all sorts to enter the realm of the living and wreak destruction.
It's up to you to discover the source of the great power and subsequently put an end to it as well. It bears noticing that Into the Pit features a dynamically evolving level design with zero knowledge of what type of monster will you confront next.
The game has been made exceptionally creative while giving quite the freedom to its players in terms of combat. You are free to mix your spells and other acquired powers and deliver devastating blows to demonic behemoths that are out to ravage you.
We highly recommend trying out Into the Pit for all it manages to pull off with its storyline and action-packed gameplay. It's one of the best games to play if you like Tiny Tina Wonderlands on PC. Besides, you can grab it cheap on Steam for somewhere around $9.
Shadow Warrior 2 (Paid)
Another game that effortlessly comes forth with the same thrill and fun as Tiny Tina's Wonderlands is Shadow Warrior 2. People like to refer to this FPS as pure entertainment and nothing but. Being a looter-shooter just like the Borderlands spin-off, Shadow Warrior 2 doesn't miss the mark when it boils down to creativity and depth.
It provides players with a dozen of options to choose from and obliterate their foes with. Whether you take a chainsaw to dismember the opposing party or wield a mini-gun to cut down heaps of your enemies, the freedom to play however you want rests in your hands.
Shadow Warrior 2 is loaded to the brim with terrific replayability. Although the mainline story is relatively short, averaging about 7 hours in length, you can easily squeeze in 20-30 hours of gameplay by approaching side quests and various other activities.
The first-person shooter also incorporates the element of humor quite profoundly, similar to how Tiny Tina's Wonderlands does it. You'll find yourself chuckling at a few too jokes that the characters around you keep consistently cracking as you're wreaking absolute havoc here and there.
Another mutual characteristic that Tiny Tina's Wonderlands and Shadow Warrior 2 share is the inclusion of cooperative play. You can experience the game with up to 3 more players from start to finish. As you do that, the game will get harder and the enemies tougher.
Everything else from the like-minded looter-shooter concept down to the diverse RPG elements make Shadow Warrior 2 one of the best games like Tiny Tina's Wonderlands, and might we say a near-perfect replica. Do give it a shot if you're on any of the Xbox or PlayStation consoles or even on PC.
Deep Rock Galactic (Paid)
Deep Rock Galactic exhibits an exceedingly unique concept of cave exploration with a fully destructible environment. This title is a co-op shooter, meaning that you get to play with friends, just like in Tiny Tina's Wonderlands, and explore the terrors that lie ahead as a Space Dwarf.
If you've got a squad of friends who have an active interest in first-person shooters, this game is it. It's venerated with solid scores from major media publishers all across the spectrum, such as OpenCritic, and has been lauded with praise for its co-op potential.
The game starts you off by choosing one out of four character classes: Gunner, Scout, Driller, and Engineer. Each class comes with its own set of advantages over the various terrains and environments in the in-game world, so you have to be careful with your selection. Pick the character you know you can run well.
That's because each class comprises one main ability that's integral to fighting off hordes of aliens and monsters. The Scout for instance is essential for illuminating the pitch-black caves and tunnels of the in-game world. The Driller, on the other hand, possesses powerful equipment to destroy the environment.
Since the aim of Deep Rock Galactic is to make your way to the objective, it doesn't matter if you do it head-on or by building an intricated network of pathways leading to the mission's conclusion. Each class can be utilized according to the perks it boasts, so you'll soon find yourself having a blast exploring and killing.
As for a comparison between the two titles, there are many mutual aspects between Deep Rock Galactic and Tiny Tina's Wonderlands. You'll even find the health bar of your character in the former matching the latter somewhat. It's definitely one of the best games to play if you've loved the Borderlands spin-off title.
Warframe (Free)
Warframe is one of the most popular free-to-play titles in the world right now, featuring an expansive length of content and widespread availability on a bevy of platforms. What sets this title apart from most other F2P games is its story-centric gameplay.
You have to discover the birth of the Origin System and subsequently involve yourself in a tale that spans over 30 mainline quests. With breathtaking visuals and an enticing combat system, Warframe is near-perfect when it comes to being a free-to-play business model. Suffice to say, Digital Extremes has nailed the development here.
It's not just the story, characters, gameplay, and visuals that make up a game—it's the community of players that keep the title alive as well. Thankfully, Warframe's player base is one of the friendliest you'll ever meet, with most senior players looking out for newcomers to the game.
The game introduces Warframe as a superpowered suit with metaphysical abilities and top-of-the-line potential. As you progress in the title, you get to unlock and wear different Warframes, gradually unleashing their untold might and arming yourself with vigorous weaponry.
The whole title is a playground of procedurally generated levels where you get to make novel discoveries and immerse yourself in bustling worlds. With mesmerizing graphics, charmingly fun parkour gameplay, and an exceptionally dynamic combat experience, you will find it hard to stop playing Warframe once you begin.
There's just no way a free-to-play title can be at this amazing level of quality, but Digital Extremes is out there doing it. If you've liked Tiny Tina's Wonderlands, you'll marvel at Warframe for all the content it sports. Sure, if you want things to unlock at a faster pace, you can always opt for microtransactions and support the developer.
If not, you're free to continue at your own pace and avoid the pay-to-play route at will; there's no pressure anyway. One major difference though between Tiny Tina's Wonderlands and Warframe that's worth mentioning here is the camera perspective.
Warframe is entirely third-person and this is what makes it possible for the game to dish out such fluid and fast-paced gameplay. When you come around to unlocking some of the fastest Warframes in the title, you'll marvel at truly fast the characters can actually get, ultimately changing the whole pace of the IP.
Warframe is available to play on all major consoles, including PC through Steam. Take it from us, and give the title a shot—you won't be regretting it if you like the best free games like Tiny Tina's Wonderlands.
Recommended Read: All Tiny Tina's Wonderlands Encampment Locations.
Gunfire Reborn
If you're after a similar-styled game as Tiny Tina's Wonderlands minus the free-roam element, Gunfire Reborn is the title you should check out. This is a level-based action title that attempts to mix quite a few genres together and ends up pulling it all off quite well.
Unlike Tiny Tina's Wonderlands, the game lets you use a plethora of different heroes and build them as you progress in the title. A wealth of abilities, different items, and, of course, loot is all yours for the taking as you cut down totally randomized enemies and make your way forward.
The game is co-op as well, meaning that 3 more players can join in on the fun alongside you. What takes the cake in Gunfire Reborn is titularly the gunplay. There's a comprehensive variety of weapons and abilities to employ and make sure no run ever gets repetitive. Moreover, the flexibility in character building is simply off the charts.
You'll also observe the game featuring a unique art style and environment design as compared to Tiny Tina's Wonderlands, which, in all honesty, is also quite special. Gunfire Reborn pits players in different terrains, depending on the level, and ensures that no stage is any less thrilling.
We highly recommend trying out this intriguing blend of FPS, rogue-lite, and RPG if you like games like Tiny Tina's Wonderlands. Gunfire Reborn definitely has interesting stuff going for itself, with many players calling it a "buried treasure" with well-tuned challenges and a consistent update mechanism.
Also Read: Tiny Tina's Wonderlands Dungeon Doors Locations.
Apex Legends (Free)
When it comes to being one of the most well-established free-to-play hero shooters in the world currently, one will find it a struggle to overlook the brilliance of Apex Legends. Although this is a live-service FPS with battle-royale mechanics, the game comprises a somewhat striking similarity to Tiny Tina's Wonderlands.
Perhaps it's the way you pick up loot and arm yourself with a plethora of weaponry or the manner you gun down foes in various, eccentric ways, Apex Legends is the game to play if you've been charmed by the Borderlands spin-off.
As iterated earlier, you've got nothing to lose, except for your time, when playing this tip-top FPS. The game costs nothing no matter what platform you're playing on, so don't worry about regretting your purchase since you won't be making any in the first place.
Popular media magazines around the world hail Apex Legends as the blatant "king" of battle royales. Players who like Tiny Tina's Wonderlands and also happen to have a prolific interest in this genre of games aren't in for a treat, but a full-blown feast. The title features 20 heroes to choose from at the moment with more on the way.
That is to iterate, Apex Legends is a consistently updated game. Content is always flowing toward the game's way whether in the form of bug fixes, security patches, more playable characters, or other feature additions. Each hero sports a special ability that you can employ on the battlefield to topple your foes.
With creative level designs, a focus on collaborating with your crew, and evolving storyline, Apex Legends proudly earns a spot as one of the best free games ever made. The title is available on multiple platforms and is highly encouraged to try out if you favor games like Tiny Tina's Wonderlands.
Recommended Read: Tiny Tina's Wonderlands Respec
Cyberpunk 2077 (Paid)
If you've been keeping pace with the gaming industry even on the surface, Cyberpunk 2077 might strike you as a controversial entry on this list. After all, the title launched as an unmitigated disaster with no ray of hope months ahead.
It was practically a dead game as soon as it launched and players had only one thing in their minds from then on—refund. The first-person action RPG terribly failed to live up to the hype and still stands noticeable today for having one of the worst release periods in the history of games.
With all of that being said and done, we're now almost a year and a half into the game's release and a swath of fixes have flowed the title's way. After all this time of struggle and distress, the good news is that Cyberpunk 2077 is more than playable today.
It has finally arrived at a point where it badly wanted to from the very first day. Still, we wouldn't say that the game is absolutely perfect at present, but is drastically better and even attributes to an exceptionally fun experience at the end of the day.
It boasts the same looter-shooter concept as Tiny Tina's Wonderlands but is definitely a more serious take on open-world gameplay. You've got an actual world that doesn't feel lifeless full of content to explore now, interesting side missions to embark on, and a unique assortment of firearms to equip yourself with.
If you haven't given the Night City lifestyle a go before, now's the time to dive right in. CD Projekt Red has managed to pull out their latest IP from the depths of hell thereby making the title click into its untapped potential.
Fans of the Borderlands spin-off will certainly find Cyberpunk 2077 chock-full of entertainment in its current state. If you're fond of games like Tiny Tina's Wonderlands, CDPR's once-controversial frontrunner is definitely worth a shot in 2022. Don't miss it.
Final Fantasy XIV (Paid)
In case you didn't know, the Final Fantasy franchise of fantasy-themed video games has served as inspiration for the overworld mechanics of Tiny Tina's Wonderlands. Therefore, it's certainly worth taking a close, hard look at what galvanized the development of this high-class Borderlands offshoot.
Focusing on the fourteenth mainline entry in this series, Final Fantasy XIV has had quite the history. The game was initially launched in 2010, promising a top-tier MMORPG experience but ending up as a deep-dyed disaster. The game was so bad by all stretches of the imagination that it was declared a commercial failure on the spot.
However, company president Yochi Waida decided to switch things up and got a new brand-new team to rebuild the entire game. Fast-forward three years, Final Fantasy XIV launched for the second time and was referred to as the "2.0" version of the once-failed game.
The reboot turned out to be successful and Waida's scheme was an instant success. Improved dynamics, an ever-changing game world, and a multitude of content are now some of the defining highlights of Final Fantasy XIV. It's a third-person action-adventure with story-driven gameplay and gripping combat.
You start out by picking a starting class, either the Disciple of War or Disciple of Magic, and make your way through the reward system of the game. Interaction with NPCs is encouraged as they not only grant you quests but also offer a chance to level up your experience points and acquire powerful rewards as well.
Cooperative play is exceptionally recommended in Final Fantasy XIV, similar to how it is with Tiny Tina's Wonderlands. You can group up with your friends and slay the diverse monsters of Eorzea together. Buyers have been getting increasingly attached to the title, especially to the point where they cannot get their hands off of it.
Skill trees, character customization, missions, and surreal weaponry are all mutual aspects that you'll find in both Tiny Tina's Wonderlands and Final Fantasy XIV. Since the former has taken motivation from the latter, it's natural to find common occurrences when you're braving the land of Eorzea at full flight.
Everspace 2 (Paid)
Slap on a space theme on Tiny Tina's Wonderlands and give your character some starcraft and you've got yourself Everspace 2. This title is a space-centric shooter that lets you roam around the galaxy and track down a multitude of vibrant planets. At its very core, Everspace 2 is an RPG with story-focused gameplay.
The game is currently in an "Early Access" phase, meaning that you can download a content-restricted demo of the space shooter and try out the basics of what it has to offer. Everspace 2 is the next entry in the Everspace series and the developers say that they used the same strategy when making the prequel of this game.
It helped them iron out tons of pertinent issues and bugs and make the game so much better, all because of fan support. If you've been doing something similar with your gaming experiences, we recommend contributing to the developer in this way and checking out the Early Access variant of Everspace 2.
Since space shooting games aren't all that popular, you'll find this title's starting tutorial highly concise and helpful. The developers have apparently understood the baseline scenario with these types of games and have catered to the matter accordingly.
That is to say, Everspace 2 transparently demonstrates what is it that you need to do and how exactly you'll play the game. Newcomers to this genre will definitely appreciate a helping hand such as this. Apart from that, once you begin your intergalactic adventures, you won't help but notice how fluid the controls are in this game.
Again, the developer—Rockfish Games—certainly earns our nod of approval for creating such a thought-out title. If you favor games like Tiny Tina's Wonderlands, you'll grow to admire the core concept behind Everspace 2, its striking combat gameplay, enticing storyline, and commendable RPG elements.
There's only one major dissimilarity between the Borderlands outgrowth and Everspace 2. The latter is strictly single-player and you won't be able to experience your adventures online, as you would in Tiny Tina's Wonderlands.
A Helpful Read: Tiny Tina's Wonderlands Slam Attack.
Payday 2 (Paid)
Payday 2 truly puts the "looter" in looter-shooter, considering that the game is literally centered around robbing banks and getting that dough on a day-to-day basis. The action-packed FPS is back with a bang in this sequel of the original game, bringing forth a swath of new gameplay features and improved visuals.
Similar to how the developers do it in titles like Risk of Rain 2 and other roguelikes, the world of Payday 2 is ever-evolving. No bank heist will feel the same and you'll always have something different waiting for you around the corner. In addition, it ultimately boils down to you regarding how you want to approach your target.
That is to say, Payday 2 provides players with the freedom to strategize and craft their master plan all by themselves. Whether you'd like to sneak around and ambush the opposition or go gung-ho right from the get-go all hinges on your preferences, so do experiment with the gameplay mechanics and figure out the fun yourself.
If you're a fan of what the series has done up until now, you'll find it endearing to see the previous characters in the game returning for the follow-up title. This time, you'll be descending on Washington DC to unleash a flurry of crimes and pull off mastermind heists like never before.
If the looter-shooter mechanism of Tiny Tina's Wonderlands has gotten to you, then Payday 2 will definitely appeal to like-minded playstyles. Prepare to let yourself loose in the highly interactive world of this modern-day FPS and enjoy all the fresh content that arrives for it.
Related: Tiny Tina's Wonderlands Graveborn Build
Tom Clancy's The Division (Paid)
Tom Clancy's The Division is a fairly experienced game that had its release surging way back in 2013. Now that we're 9 full years into the game, it's safe to say that The Division still holds its ground as an exceptionally addictive looter-shooter with admirable RPG mechanics.
The whole series of Tom Clancy's games are based on the man's literary works. Clancy was a world-renowned author popular for his military and spy-based books. He coincidentally passed away in 2013, which is the same year as the release of The Division.
As for the game itself, this action-stuffed RPG packs one devil of a storyline to follow through. The title starts players off by describing a virus that spreads throughout a distantly-set New York City. It starts out small then overgrows into a full-blown pandemic.
The event that gives birth to all the catastrophe seems to be Black Friday when enthusiastic buyers are going wild on a shopping spree. The virus in question thrives by getting transferred from one banknote to the next thereby getting shortly known as "The Dollar Flu."
Amidst all the chaos and destruction that surfaces in the wake of this large-scale pathogen spread, an "autonomous group of tactical agents" come in, giving humankind a last ray of hope to cling on. Your main mission as a field operative is to restore the balance in society and deal with the transgressors.
Tom Clancy's The Divison offers no less than a dynamic combat experience, one where your strategy has to prevail to determine a favorable outcome for the character. The game is a joyride of thrill and mystery as you brave the unsolicited, virus-ridden streets of a futuristic New York and encounter scalpers of all sorts.
If you're into some of the most enticing role-playing games like Tiny Tina's Wonderlands, missing out on what The Divison has to offer doesn't seem like a smart choice. We highly recommend giving the game a shot, especially for what it's worth.
Still, if you're not quite looking into shelling out some bucks on a brand-new game without experiencing the gameplay first, there's a solution for you. Steam is offering players a free trial period of 6 full hours of gameplay of Tom Clancy's The Divison. This can help you get to grips with the third-person shooter, and perhaps, line you in for a purchase.
Bottomline
Tiny Tina's Wonderlands is one of the hottest releases of 2022, boasting an overly fun-filled looter-shooter concept with a large, vibrant world to explore and wreak chaos in. It's a Borderlands spin-off and a follow-up title from the original Borderlands 2: Tiny Tina's Assault on Dragon Keep.
Despite the game's replayability potential and a seemingly never-ending hoard of content, you'll soon find yourself desperate to play similar titles as Tiny Tina's Wonderlands. This can either be due to the average 12-hour campaign length of the RPG, meaning that you've beat it pretty quickly, or simply because you're looking for more of the same experience, if that makes sense.
Whatever the case, we've laid out the best games like Tiny Tina's Wonderlands in this guide, so you should be all set to try all of these great picks right from today. We've included some freebies in the list as well if you're not wanting to shell out some bucks at the moment. Do let us know down in the comments section whether you've tried the aforementioned titles or not. In addition, it's also worth taking a close, hard look at the Tiny Tina's Wonderlands skill trees for added information. As always, eXputer wishes you good luck!
Read our Games Like Valorant guide if you're heavily invested in competitive online games. If you're not a fan of competitive games but still love the FPS genre, then consider reading Games Like Deathloop. Or, if you have been a fan of indie games, then you must read our Games like Psychonauts 2 guide.
Was this article helpful?
Thanks! Do share your feedback with us. ⚡
How could we improve this post? Please Help us. ✍