The first thing, before attempting to destroy a Piglin Outpost, is to defend a village from Piglins. Upon winning this battle, players then need to work and destroy three separate Piglin Outposts, which is a hefty task. Piglin Outposts are strongholds that appeared at various locations when the Piglins came to the Overworld.
Key Takeaways
Minecraft Legends contains Piglins that basically do nothing best than litter the villages in the game.
The protagonist needs to destroy three Piglin Outposts; Blaze Rod Tower Outpost, Nether Spreader Outpost, and the Gated Outpost.
All 3 Outposts include a Piglin Pit and have been listed below in the order of increasing difficulty.
The hardest Outpost to beat is the Gated Outpost since it is barricaded and surrounded by a river of lava.
You will need a combination of Cobblestone Golems and Plank Goblins.
Cobblestone Golems are preferred for attacking Towers since they attack from afar.
Plank Goblins are more used for attacking Piglins due to them attacking up close and personal.
Once you have destroyed all 3 Piglin Outposts, you will have gotten rid of all Piglins.
eXputer's video on destroying outposts will give you a quick insight. Consider watching the following video before continuing reading.
How To Destroy Piglin Outposts?
Destroying these outposts is not an easy task and requires a lot of effort – especially for new users who are just yet getting familiar with the game. This guide will discuss how to destroy the three Piglin Outposts. Destroying Minecraft Legends Piglin Outposts does not take into account what order they are destroyed in, so you can destroy them in whatever order you fancy.
How To Destroy The Blaze Rod Tower Outpost
The Blaze Rod Tower is located towards the Southeast of the Well of Fate and is considered the easiest to destroy out of the three. Hence, the most common first choice. The Blaze Towers are two tall towers accompanied by a Piglin Pit. Each of these infrastructures has its own Piglin army to defend it. Piglin Pits keep on spawning Piglins, so it may be best to destroy them before approaching the two towers.
Use Cobblestone Golems to destroy structures and Plank Goblins to attack Piglins.
Cobblestone Golems are effective against both towers and Piglins, but it's preferable to use them for towers.
Use Plank Goblins specifically for attacking Piglins.
We do recommend that you bring in a couple of extra Cobblestone Golems since they are extremely effective in bringing down the Towers.
Command Cobblestone Golems to destroy Blaze Rod Piglin Tower Outposts by facing your character towards each tower.
Trigger Golem attack by prompting them when a blue flag appears alongside the tower.
The process may take a few minutes as the Cobblestone Golems systematically bring down the tower.
Observe the tower crumbling as Golems continue their assault.
After the first tower falls, shift focus to the second tower and command Golems to destroy it.
How To Destroy The Nether Spreader Outpost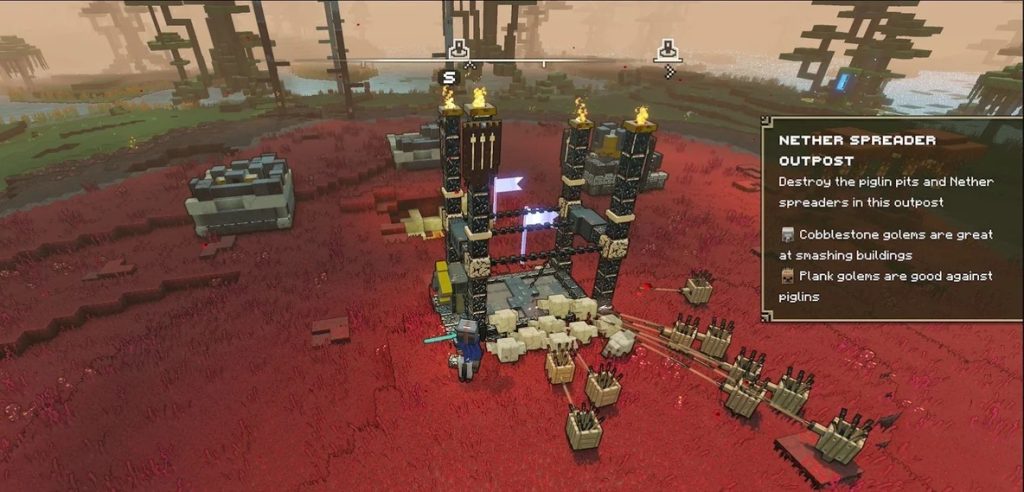 The second easiest in this list of three is the Nether Spreader Outpost, despite looking very deadly. This outpost includes multiple towers which move up and down called the Nether Spreaders. If you happen to be standing too close to any of them, the damage dealt is extremely high, so make sure to keep a few steps away.
Nether Spreader towers emit damaging red smoke when they recede, affecting the protagonist and Golems.
Destroying towers and Piglin Pits is challenging but achievable.
Successful destruction of towers and Piglin Pits equals the destruction of the Nether Spreader Outpost.
It will take a few minutes to collapse both towers completely, but once they have been destroyed, you will have successfully destroyed the second Minecraft Legends Piglin Outpost.
How To Destroy The Gated Outpost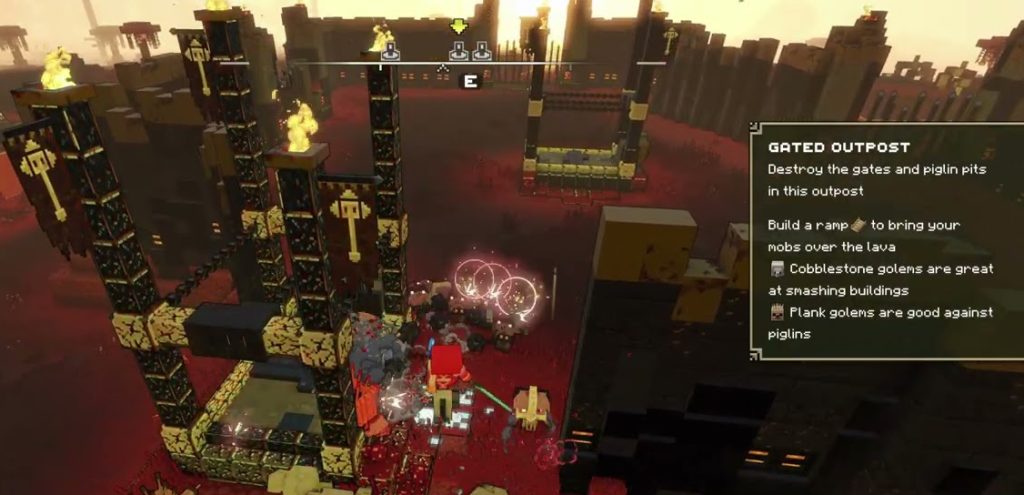 The Gated Minecraft Legends Piglin Outpost is considered the hardest of all the outposts and will require the most effort. First and foremost, it is blocked in by barricades and sealed by a river of lava. Thankfully, with the help of Allays, getting inside is quite easy. You can create a bridge over the lava using the Ramp Player Building Melody and cross the pit of lava.
Be vigilant as Piglins may destroy your bridge; it's crucial for a quick escape.
If the bridge is destroyed, create a new one with sufficient resources.
To breach the barricade around the Outpost, command Cobblestone Golems to attack the gate.
Face the gate to direct Cobblestone Golems; once the gate is down, easily enter the Outpost.
Once you have successfully made it inside, all you now have to do is destroy the two Piglin Pits inside. Command your Golems to divide themselves into 2 halves and attack each Piglin Pit, and get to defeating any Piglins that make their way towards you.
Once you have destroyed the Piglin Pits, you have destroyed the third and final Piglin Pit.
Final Thoughts
This is all there is to know about Minecraft Legends Piglin Outposts and how to destroy them. Make sure to stay away from the Nether Spreader Towers and not let any Piglins get to you, and you should be fine! While you are here, check out our other guides such as Minecraft Legends: All Editions Comparison. Let us know in the comments below if you would like more guides like this one!
Up Next:
Was this article helpful?
Thanks! Do share your feedback with us. ⚡
How could we improve this post? Please Help us. ✍