What is Awegite in Monster Hunter Rise?
Awegite is one of the essential materials in Monster Hunter Rise as it is used to craft many necessary weapons and armors. Suppose you wish to upgrade Master Rank Kamura weapons. That is not all; you can also use Awegite to craft S-tier weapons that will help you in the endgame.
Key Highlights
Awegite is an essential material in Monster Hunter Rise used to craft weapons and armors and it belongs to the Master Rank item category due to its rarity.
Awegite can be mined in Eleven locations in the Shrine Ruins.
You can use Dango Wall Runner by completing the three stars Village Quest called Supply Run or Dango Glutton which unlocks automatically once you reach three stars in Village or two stars in Gathering Hub to boost your stamina while mining Awegite.
You can increase Awegite drop by reaching level 3 in the Geologist Skill.
Awegite can be used to craft weapons like Kamura Warrior Crossbow and Meteor Cannon II and armor sets like Kamura Legacy Set and Knight Squire Set.
You can use Awegite to craft decoration items like Two Blaze Jewel+ 2.
Awegite has the ability to change its patterns according to the mood of the observer. Once collected, you can access Awegite by interacting with your inventory. In case you have any extra Awegite, you can sell it and get a massive amount of zenny in Monster Hunter Rise.
Item Rank
Awegite belongs to the Master Rank item category in Monster Hunter Rise. Master Rank items are exclusive to Sunbreak Expansion as of now, and you won't find them in the central installation of Monster Hunter Rise.
It is rated as a Master Rank item due to its rarity. Master Rank materials are used to build the most powerful gear for the hunters, including Master Rank weapons and armor.
Rarity And Value
Awegite is an ore of 8 rarity. This means you will have a hard time locating the ore as it is scattered throughout the map. If you have any extra Awegites in your inventory, you can also sell them. They have an excellent sell value, and each Awegite can be sold for 1200 zenny.
Quests To Complete Before Mining Awegite
Due to the rarity of the ore, mining it can be challenging. The Outcrops where Awegite is located consist of many cliffsides. In order to mine Awegite, players would need to climb the cliffsides with the help of their Wirebug in Monster Hunter Rise. You will need a lot of stamina for this tedious task. It is recommended that the players use stamina boosters like Dango.
They can use either Dango Wall Runner or the Dango Glutton. You can get the Dango Wall runner by completing the three stars Village Quest called 'Supply Run.' Whereas the Dango Glutton will unlock automatically once you reach three stars in Village or two stars in Gathering Hub. You can also collect Fucium Ore in Monster Hunter Rise.
Another great thing that will help you boost stamina is undoubtedly a Well done Steak. You can also use one or two Rations. Not only will they help you climb the cliffsides, but they will also help you get some energy for mining. Rations can be ordered at the Motley Mix located in the Canteen. They require a Small Monster Hide. The Motley Mix can be used in combination with Raw Meat to yield a Well done Steak. You can also prepare them by cooking while you're out for a hunt.
Awegite Location in Monster Hunter Rise
You can mine Awegite in Blue and White Outcrops in Monster Hunter Rise. These Outcrops are situated in the Shrine Ruins. Eleven locations in this region hold Awegite. However, these nodes don't always have the ore. The Awegite drops can be found only by chance, so it is recommended to check all Mining Outcrops located in the region.
Following are all mining nodes that drop Awegite.
Location 1
The first location in Monster Hunter Rise that will have mining nodes for Awegite is Base Camp. You can climb the summit near the camp using your Wirebug to reach the top. Hopefully, there will be some Awegite drops here for you to collect.
Location 2
Go to Zone 1 and search the bamboo ridge. The ridge is located to the north of the large clearing. The chances of Awegite drop here are very high, so it is recommended that you visit this location as soon as possible.
Location 3
The third mining node can be found in Zone 5. You will see a small plateau in this zone. Climate the plateau and make your way below the Ruined House. There will be a mining node for Awegite nearby.
Location 4
There is another mining node in Zone 5. It would be best if you searched the clearing near the large Torii Gate. The Torii Gate can be found near the top of a mountain. Look for a mining node on the left side of the clearing.
Location 5
You can find an Awegite mine in Zone 6 as well. The mine can be found in the south of the zone. You need to swing through the top of a ridge over the basin to get there. Make you war to the south, and hopefully, there will be a mining mode there.
Location 6
Zone 5 has another Awegite mine located in the west. You just need to head west until you see a ravine trail. There will be a small cave here with Awegite drops.
Location 7
Another location can be found between the unmarked region of Zones 5 and 8. You just need to head straight to the ravine trail with small torii gates and search the area
Location 8
There is another location nearby the previous location. If you're lucky enough, you will get to mine two sites for Awegite.
Location 9
Zone 13 has a mining node for Awegite as well. You will need to look for a waterfall in this zone and make way to its southeastern edge. There will be bamboo growing nearby. The Awegite drops can be found near that bamboo.
Location 10
There is another iron node located in Zone 12. Follow the trail in the northernmost part of the zone and head east. This region of Monster Hunter Rise has an Awegite drop located near the road.
Location 11
The last location is in Zone 13, and to find it, you need to look near the monster's lair. There would be an Awegite mining node near the southern entrance of the lair.
How To Farm Awegite
in MHR Sunbreak
Since Awegite drops are rare, many players tend to increase the amount of Awegite they find through several methods. The first method to increase Awegite drop is by reaching level 3 on the Geologist Skill by getting Decorations in Monster Hunter Rise. Leveling up in this skill will increase the items in outcrop so you can farm them as much as possible.
Another method is to bring a Palico with you when you mine the ore. To equip a Palico, simply head to the Buddy Board. Choose a suitable Palico that will help you farm more Awegite. Additionally, Awegite is dropped by Rock Tail Lizards as well. You can summon them using Call of the Wild. However, they are extremely hard to locate in Monster Hunter Rise. We recommend that you should prioritize other methods of getting the Awegite.
Uses Of Awegite
Awegite is essential if you want to craft Master Rank Kamura Gear. The gear is the best early game equipment you can own. Crafting each Kamura gear piece will take about three Awegite stones. You will need Ultimas Crystal as well that drops nearby.
Let's have a look at all the weapons, armor, and armor sets that use Awegite.
Weapons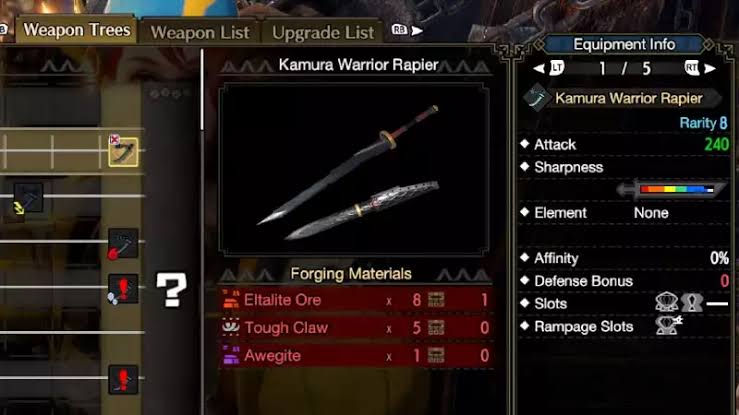 Following are some of the best weapons in Monster Hunter Rise that you can craft using Awegite;
Kamura Warrior Crossbow
Meteor Cannon II
Kamura Warrior Ballista
Kamura Warrior C. Blade
Kamura Warrior Cleaver
Kamura Warrior Sword
Armors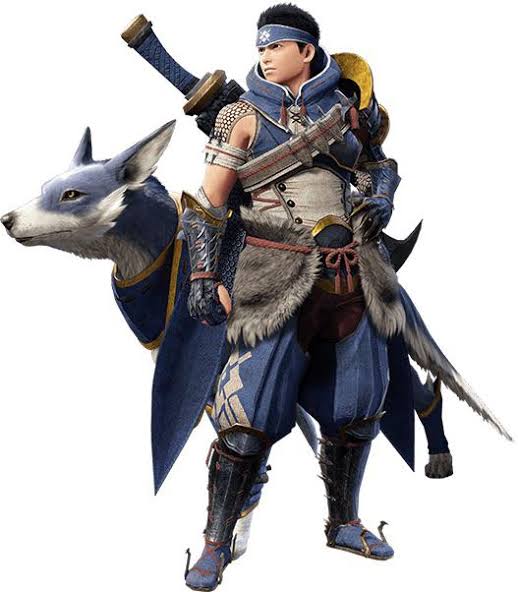 Below are all the armors in Monster Hunter Rise you can craft using Awegite
Five Element Mask
Kamura Legacy Head Scarf
Scholar's Gloves
Squire's Cuirass
Gargwa Mask X
Kamura Legacy Braces
Squire's Earrings
Ingot Vambraces X
Ingot Mail X
Kamura Legacy Garb
Grand Chaoshroom
Kamura Legacy Leggins
Guild Bard Braces
Kamura Warrior Glaive
Armor Sets
Following are the armor sets in Monster Hunter Rise you craft using Awegite.
Kamura Legacy Set
Scholar Set
Gargwa X Set
Knight Squire Set
Ingot X Set
Guild Bard Set
Grand Chaos Set
Five Element Set
Decorations
You can make the following decoration in Monster Hunter rise using Awegite.
This concludes our detailed guide on Awegite along with its uses and locations in Monster Hunter Rise.
Tips
The action RPG developed by Capcom Monster Hunter Rise has been growing massively in popularity thanks to its amazing gameplay and combat mechanics. Monster Hunter Rise has a DLC under its belt called the Sunbreak Expansion that adds a lot of new locations, quests, monsters, gear, and to the main game. One such epic material is Awegite, which you can use to craft many unique weapons in Monster Hunter Rise.
You will need weapons like the dual blades in Monster Hunter Rise to fight high-level enemies in the endgame. In order to protect your character from the attacks, you will also need strong armor sets in Monster Hunter Rise. Hence materials like Awegite and Gold lite ore Monster Hunter Rise can help in crafting the best equipment for your character.
After you have crafted your gear using Awegite, you can level it up by increasing its Latent Power. Moreover, you can use the items you have crafted to make fantastic build like the Heavy Bowgun Build. Also, make sure that you have collected King Rhino and Legendary Beast Gems before you go out hunting for Awegite.
Our guide below entails everything you need to know about Awegite and its location so you can craft and layered weapons in Monster Hunter Rise.
Was this article helpful?
Thanks! Do share your feedback with us. ⚡
How could we improve this post? Please Help us. ✍