The new NBA 2k23 has definitely crept its way into the hearts of basketball fans. With its amazing challenges like the Jordan Challenge, what's there not to like? Now that is out of the way, let's look at NBA 2K23 Oklahoma City Thunder Ratings.
Key Takeaways
Oklahoma City Thunder is a member of the Western Conference Northwest League in the NBA. It has been ranked in Tier 3 in the NBA 2K23.
Oklahoma City Thunder has been given a total of 86 ratings.
The highest-rated Oklahoma City Thunder players in NBA 2K23 include:

Shai Gilgeous-Alexander (87).
Josh Giddey (82).
Chet Holmgren (77).
Luguentz Dort (77).
Here is a summarized look at the ratings of every Oklahoma City Thunder player at the release of NBA 2K23:
| Rank | Player Name | Position | Overall Rating |
| --- | --- | --- | --- |
| 1 | Shai Gilgeous-Alexander | PG | 87.0 |
| 2 | Josh Giddey | SG | 82.0 |
| 3 | Chet Holmgren | C | 77.0 |
| 4 | Luguentz Dort | SF | 77.0 |
| 5 | Darius Bazley | PF | 76.0 |
| 6 | Tre Mann | SG | 75.0 |
| 7 | Aleksej Pokusevski | PF | 75.0 |
| 8 | Derrick Favors | C | 75.0 |
| 9 | Kenrich Williams | SF | 75.0 |
| 10 | Mike Muscala | C | 75.0 |
| 11 | Jeremiah Robinson-Earl | C | 73.0 |
| 12 | Aaron Wiggins | SF | 73.0 |
| 13 | Ty Jerome | PF | 72.0 |
A Little About The Oklahoma City Thunder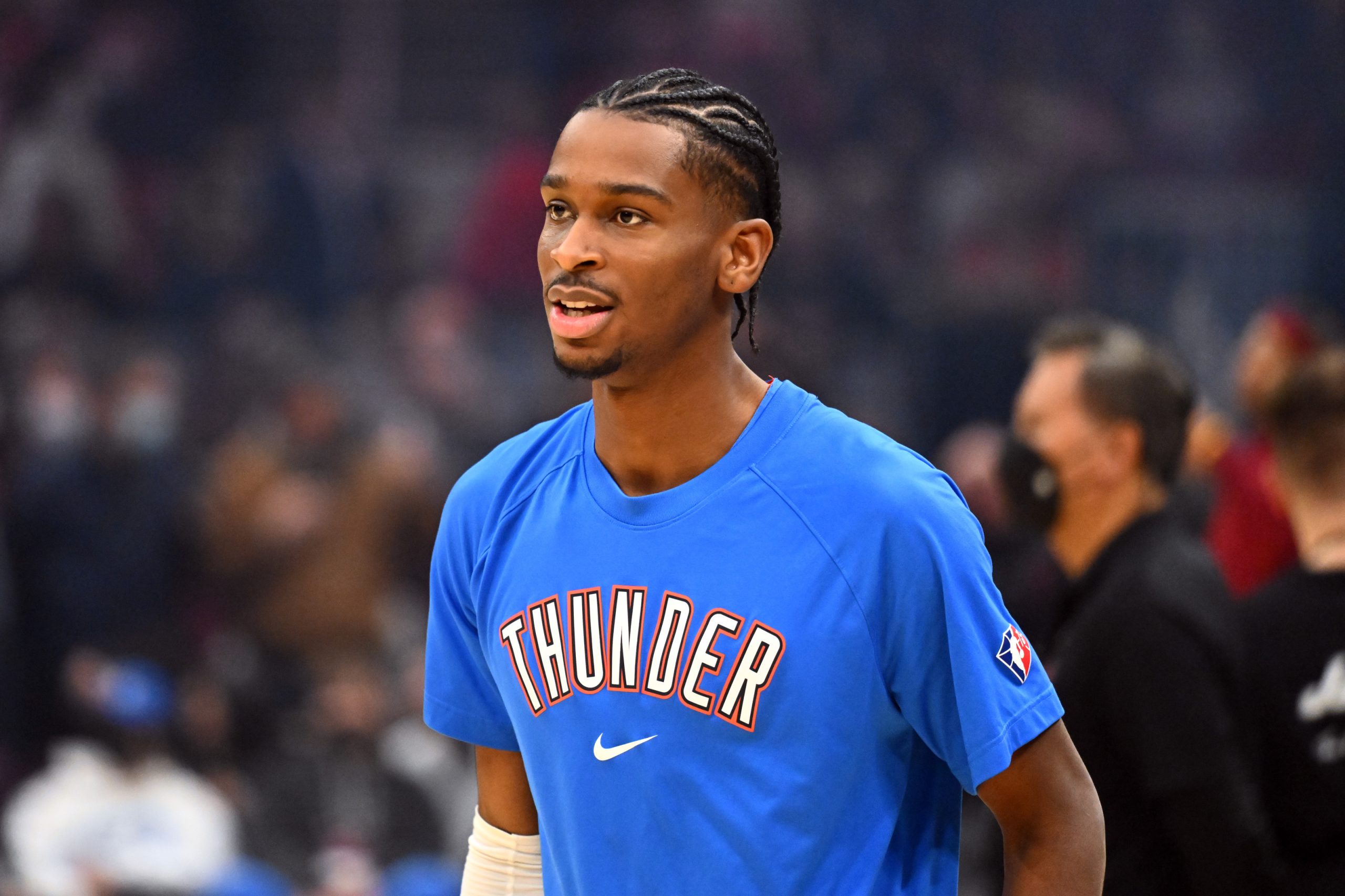 Oklahoma City Thunder is an American basketball club that plays professionally. As the name suggests, it is located in Oklahoma City. Oklahoma Thunder is a member of the Western Conference Northwest League in the NBA. Furthermore, the team is the sole Oklahoma-based group among the top highly experienced North American squads.
Initially known simply then as Seattle SuperSonics, this group entered the NBA as just an extension franchise during the 1967 to 1968 premier.
The team has participated in 22 NBA Championships, winning its divisional on six different occasions. In addition, they have been three-time NBA finalists. But that's not all! The team has been able to capture the 1979 NBA Championship.
As you can see, the team has a very rich history marked by tons of near victories. The NBA 2k23 has also tried to embody that as well.
Oklahoma City Thunder Tier
Team Oklahoma Thunder was rated by NBA 2k with an aggregate rating of 86. Which places them primarily among the lowest tier of Online Play. Which is called Tier 3. Moreover, their score ties them with the Knicks again for the highest score in the class, surpassing many other teams. These include:
San Antonio Spurs,
Detroit Pistons,
Indiana Pacers.
Oklahoma Thunder team was ranked as the eighth weakest squad present in the NBA league. The rating has been done via numerous video game raters. Hence, the authenticity can not be disputed. Have you been having issues with your game crashing on your PC? We know it can be very frustrating. In that case, we have the perfect NBA 2k23 Crashing On PC fix for you.
How Team Member's Rating Works
Before we talk about each team member's ratings, it is important that we give you a refresher. If you are not familiar, the NBA 2k crew employs raters to observe individual matches. After which, they will assign each athlete attribute scores for each area. It will include a playmaking badge, defense, finishing badge, and so forth.
Shai Gilgeous-Alexander
Shaivonte Aician Gilgeous-Alexander, typically referred to by the acronym SGA, is a pro basketball athlete from Canada who plays for the OCK. Additionally, Gilgeous-Alexander has spent one season playing college basketball with the Kentucky Wildcats. Before you continue, why not have a look at the best camera settings in the game?
Interestingly, the Hornets picked Gilgeous-Alexander as the eleventh top choice during the opening phase of the 2018 NBA Selection. However, on that same evening, they swapped him to the Los Angeles Clippers. Prior to just getting moved to the Thunder in July 2019, he spent his debut season with the Clippers. Gilgeous-Alexander has been nominated for the NBA All-Rookie Second Team.
Josh Giddey
Joshua Giddey is an Australian pro athlete for the Oklahoma City Thunder. He was born on October 10, 2002. Oklahoma Thunder chose him with both of the six top choices during the NBA selection of 2021. Joshua Giddey, who accomplished a feat just at the age of 19 years, is NBA history's youngest player to achieve a triple-double.
Additionally, Joshua accomplished three straight triple-doubles during his debut season. So, it meant that he had become the very first athlete who accomplished it other than the previous Hall of Fame athlete Oscar Robertson in 1961. While you are here, why not have a look at our guide on the best players in NBA 2k23?
Chet Holmgren
Pro basketball player Chet Thomas Holmgren has participated in college basketball with the Gonzaga Bulldogs and was selected as the second pick throughout the 2022 NBA Selection. Chet Thomas has been a phenomenal two-way center but also a power forward. He has a unanimous 5-star recruit. What's more, is that he was given the title of the top player in the 2021 category.
Luguentz Dort
Canadian Luguentz Dort competes for the Oklahoma City Thunder. He represented for Arizona State Sun Devils in collegiate basketball. Dort finished their high school tenure at the Athlete Institute in Mono, Ontario. In which he emerged as among arguably the very best high-school athletes in Canada. Luguentz Dort has been ranked a high five-star recruit.
Darius Bazley
Basketball player Darius Denayr Bazleys plays with National Basketball Association's Oklahoma City Thunder. Bazley played their initial two seasons at Finneytown High School before moving on to Princeton High School. Darius Denayr Bazleys earned McDonald's All-American recognition in 2018.
He was widely regarded as a unanimous five-star talent as well as an overall top prospect in the state after originally committing and signing for Syracuse. Bazley made a controversial choice to forego graduation in favor of the NBA G League. Darius Bazleys decided to prepare independently for the 2019 NBA while completing an internship for New Balance.
Tre Mann
Tre'shaun Albert Mann is a pro basketball athlete for the Oklahoma City Thunder. Tre Mann was initially a Florida Gators collegiate basketball player. Tre Mann has been rated a potential 4-star recruit, as per ESPN. However, 247Sports and Rivals gave him two-star. While you are here, why not take a look at our best jumpshots guide?
Aleksej Pokusevski
Serbian expert player Aleksej Pokuevski competes for Oklahoma City Thunder. Aleksej Pokuevski is proficient in both of the forward positions. Pokuevski, a Serbian native, played with Olympiacos as just a junior player.
By the age of 17, he had made a professional squad breakthrough. Making him the youngest athlete to participate in the EuroLeague. He got transferred to the Thunder after being chosen first by the Minnesota Timberwolves only with the seventeenth overall selection within the 2020 NBA selection.
Derrick Favors
Derrick Favors spent 1-year playing collegiate games for the Georgia Tech Yellow Jackets just prior New Jersey Nets acquiring him for the 3rd top choice throughout the 2010-11 Basketball Playoffs.
Kenrich Williams
Kenrich Lo Williams, also known as "Kenny Hustle," was born on December 2, 1994. He featured in collage level basketball for the TCU Horned Frogs.
Jeremiah Robinson-Earl
Jeremiah Christian Robinson-Earl, who plays for the Oklahoma City Thunder, was born November 3, 2000. Moreover, Jeremiah Christian represented the Villanova Wildcats in college.
Aaron Wiggins
Aaron Daniel Wiggins was born on January 2, 1999. He participated in collegiate basketball at the time with the Terrapins of Maryland.
Ty Jerome
Jeremy Jerome, who plays with the Oklahoma City Thunder, was born on July 8, 1997. Moreover, Jeremy Jerome has been the starting point guard for the Virginia Cavaliers' 2019. He has played for multiple other NBA teams.
Mike Muscala
Mike Miscala is a pro-NBA athlete. He has played in multiple teams, including the 76'ers and Lakers.
We hope that our guide was able to answer your question about NBA 2K23 Oklahoma City Thunder ratings.
Was this article helpful?
Thanks! Do share your feedback with us. ⚡
How could we improve this post? Please Help us. ✍