If you are a sensational anime fanatic or a long-time fan of the Ni No Kuni franchise, Studio Ghibli is not a name you would be unaware of. The animation studio was founded on June 15, 1985, by Hayao Miyazaki, Isao Takahata, and Toshio Suzuki and is now known to be one of the animation industry's biggest giants.
They have made many collaborations with different forms of media over the years. Today we'll be discussing how the brilliant minds of Studio Ghibli helped in bringing the exquisite world of Ni No Kuni to life as well as how their collaboration over the years has influenced its latest entry Ni No Kuni: Cross Worlds.
History Shared By Ni No Kuni and Studio Ghibli
Level 5 and Studio Ghibli share an almost decade-old history. From the art direction of the world to the design of characters, let's take a look at how the input from Studio Ghibli and their decades of experience in story-rich animated movies influenced this franchise.
Ni no Kuni: Dominion of the Dark Djinn
Ni No Kuni: Dominion of the Dark Djinn is the first entry in the Ni No Kuni franchise and Studio Level 5's first-ever collaboration with Studio Ghibli.
The collaboration began when musician Naoya Fujimaki, who had previously worked with both companies, introduced Level-5 writer Akihiro Hino to Studio Ghibli president Toshio Suzuki.
Writer Akihiro Hino was very passionate about the project and wanted to incorporate Studio Ghibli's "heartwarming touch" into his game.
Studio Ghibli had no other ongoing projects at that time, so Ghibli's president Toshio Suzuki decided on their first-ever collaboration with Level 5.
Director, Ken Motomura, wanted Ni No Kuni to take heavy inspiration from Ghibli's distinct art style and storytelling. For this purpose, Studio Ghibli's Yoshiyuki Momose served as the game's director of animation, staging the scenes and directing actors during the motion capture sessions. He was also assigned to draw character designs and storyboards, incorporating a "Ghibli-like" style.
Game director Ken Motomura regularly worked with Studio Ghibli, swapping and reviewing assets, while Hino worked with the studio in regard to the game's dialogue and animated sequences.
This collaboration heavily influenced the game's direction and art style. The later entries may not have as much involvement from Studio Ghibli, but this collaboration definitely influenced the rest of the Ni No Kuni's games.
Ni no Kuni: Wrath of the White Witch
Ni No Kuni: Wrath of White Witch started development at the same time as Ni No Kuni: dominion of kings. Both games followed the same story and plot and featured the same characters with an extended ending.
Aside from the story, this game was meant to bring in more audiences, featuring enhanced graphics by utilizing the power of PS3, which was not possible for Ni No Kuni: Dominion of Kings, which was exclusive to Nintendo DS. Most of Ghibli's work remained intact. Joe Hisashi also reprised his role as co-composer.
Ni No Kuni II: Revenant Kingdom
Ni No Kuni II: The Revenant Kingdom is the second entry in the Ni No Kuni franchise, featuring brand-new characters and settings. Unlike the first game, Ni No Kuni II Revenant Kingdom didn't have direct involvement from the studio Ghibli.
Despite that, former Ghibli character designer Yoshiyuki Momose and Ghibli's renowned composer Joe Hisashi was still brought in for development. Both of them also worked on Ni No Kuni Wrath of the White Witch.
Ni No Kuni: Cross Worlds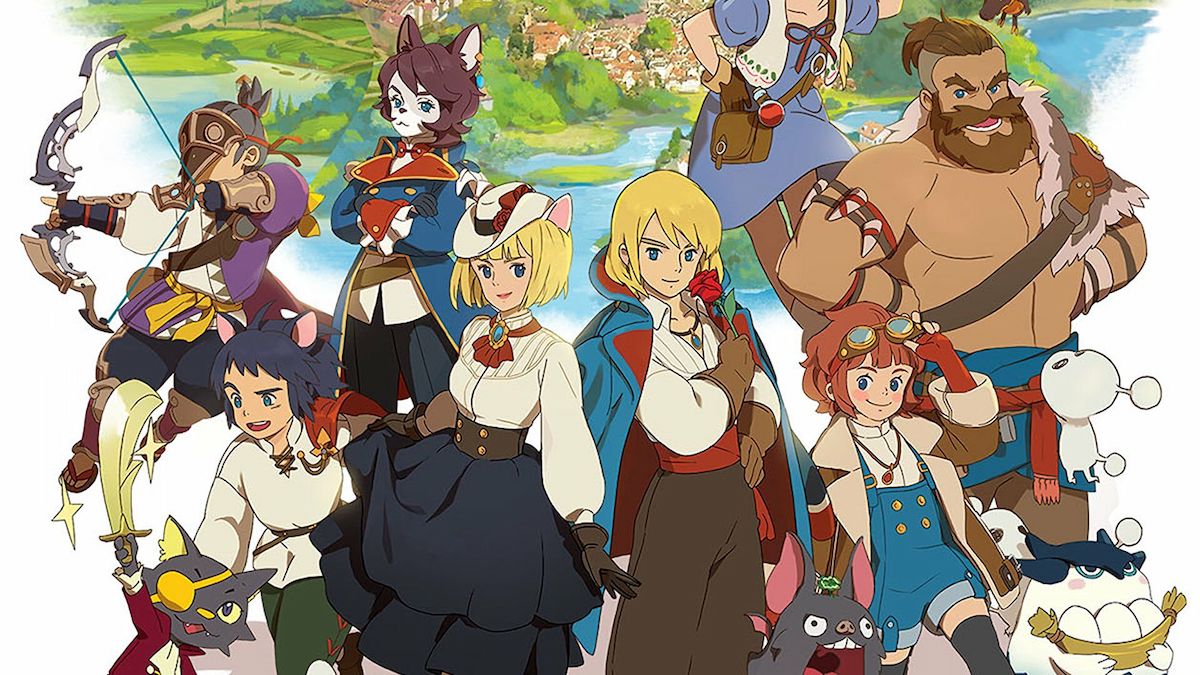 The third installment in the franchise deviates from the single-player experience of Ni No Kuni games and offers a huge MMORPG while still having its roots planted in its predecessors.
The world of Ni No Kuni: Cross Worlds is based on Ni No Kuni: Wrath of the White Witch. It follows the story of a beta tester for a virtual reality game called soul driver. And as you would've guessed, the virtual reality game transports him into the world of Ni No Kuni.
For this game, Developer Level 5 and Netmarble decided to bring Studio Ghibli back to put their animation expertise on the table. Naturally, Studio Ghibli animated all of Ni No Kuni Cross Worlds' cutscenes.
Furthermore, Joe Hisaishi (Totoro, Howl's Moving Castle, Kikujiro) reprised his role as the lead composer of Ni No Kuni: Cross Worlds.
Mobile Games
Following the success of the mainline series, mobile spinoffs for Ni No Kuni were also released in 2010 and 2012, respectively. Studio Ghibli's filmography served as a significant inspiration for them as well.
Character Art Inspiration from Ghibli In Ni No Kuni Cross Worlds
Ni No Kuni Cross Worlds features five classes of characters having their own distinct abilities. Naturally, Ghibli's influence on the series is visible here as well. Let's dive into how studio Ghibli's filmography and art style inspired the design of these characters.
Swordsman
"Swordsman" is what you can call an All-Rounder in Ni No Kuni: Cross Worlds. He is a young, dashing blonde with superhuman abilities. If you are a Ghibli movies fan, you would guess it already, and his design is heavily inspired by Howl from Ghibli's 2004 masterpiece Howl's Moving Castle.
Howl Jenkins Pendragon is a powerful wizard living in the land of Ingary. Originally Howell Jenkins of Wales, he was part of a loose fraternity of wizards on Earth.
He made his way through a magical portal to Ingary, where he became known and respected as one of the most powerful wizards there was. Howl has shoulder-length straight flaxen blonde hair, light blue eyes, and a pale complexion. He is tall and slender.
Rouge
Rogue is an Archer/Marksman in Ni No Kuni: Cross Worlds who has expertise in medium to long-ranged attacks. Both Ghibli movies and Ni No Kuni: Cross World's predecessors serve as inspiration to Rouge. Rouge's character design seems heavily borrowed from Evan Pettiwhisker, who was the protagonist in Ni No Kuni II.
As we have mentioned above, Ni No Kuni II Ghibli's former character artist also worked on Ni No Kuni II, making this an indirect Ghibli influence as well.
Another inspiration for rouge is Ashitaka from Studio Ghibli's Princess Mononoke. Rouge is an incredible archer with fast movement speed, making his abilities reminiscent of Ashitaka, who is an incredible marksman and combatant as well.
Destroyer
Destroyer is the classic Barbarian-type class in Ni No Kuni: Cross Worlds. The character Batu from Ni No Kuni II serves as a baseline for Destroyer, not only for character design but also for his abilities in Ni No Kuni: Cross Worlds.
Batu is a burly and down-to-earth sort that never backs down from a fight. He wields an enormous hammer in combat and concerns himself with the security of Evermore.
Engineer
Engineer is a healer/supporter character in the Ni No Kuni: Cross Worlds. He is yet again another character in Ni No Kuni: Cross Worlds that takes inspiration from characters in Studio Ghibli's movies.
The character Engineer seems to have a little resemblance in terms of overall clothing and color palette is Donald Curtis from Studio Ghibli's Porco Rosso.
In contrast to Engineer, Donald is cocky and claims to be the fastest fighter pilot in the Adriatic. He is arrogant and looks down on the air pirates who recruited him.
Witch
Witch is a short to medium ranged DPS character in Ni No Kuni: Cross Worlds that specializes in dealing a ton of damage.
Like Rogue, Witch's character design and abilities take inspiration from a Ghibli movie, as well as Ni No Kuni II. Her design and personality are a mix of Howl Jenkins and Evan Pettiwhisker with some femininity.
This wraps up our guide on the influence of Studio Ghibli on Ni No Kuni: Cross worlds. Let us know what other Studio Ghibli Easter eggs and references you caught in Ni No Kuni: Cross Worlds in our comment section below.
Next: Ni No Kuni Cross Worlds Reroll
Was this article helpful?
Thanks! Do share your feedback with us. ⚡
How could we improve this post? Please Help us. ✍