Pogofruit is one of those many fruits the players will acquire in Slime Rancher 2. Make sure to find them and use them to your benefit. Getting these Pogofruit will allow players to lure in different types of Slimes into their Ranch.
Key Takeaways
Pogofruit

is a

fruit

that players can

acquire

in

Slime Rancher 2

.

Players need to

gather fruits

,

including Pogofruit

, to

attract slimes

and

capture them

.

Pogofruit

is

easily found

in the

Rainbow Fields

,

Ember Valley

, and

other locations on Rainbow Island

.

Players can

plant their own Pogofruit trees

in the

Conservatory

by

purchasing a garden

and

shooting Pogofruit into the machine

.

Pogofruit

can be

harvested in large quantities

, t

o

maximize your success in the game

, make sure to

gather as many Pogofruits as possible

.
Why Do Players Need To Gather Fruits In Slime Rancher 2?
To make the slimes your prisoners, players need to make sure to grab their attention. It can be done by feeding them certain food that the slimes fancy and then trapping them in your gun.
In Slime Rancher 2, there are several fruits and even vegetables available for the slimes to eat on the land of Rainbow Island. However, one of the fruits that are available almost on every corner of that island is pomegranate.
In Slime Rancher, the fruit is named Pogofruit. We will be shedding light on the fruit in the game, and on what exact locations can the players find it,
Pogofruit
As you begin the game, you will lay your eyes on Pogofruit along with Hens and Carrots on the fields. Moreover, the fruits taste a lot like peach and are recognized for their spots of trademark above and inside their skin. Also, players can use these fruits to feed slimes like Phosphor and Honey.
Location
Players will be able to locate Pogofruit as soon as they get out of their Conservatory. Next up, what you need to do is move towards the area named Rainbow Fields and have your eyes on the trees placed below on the floor.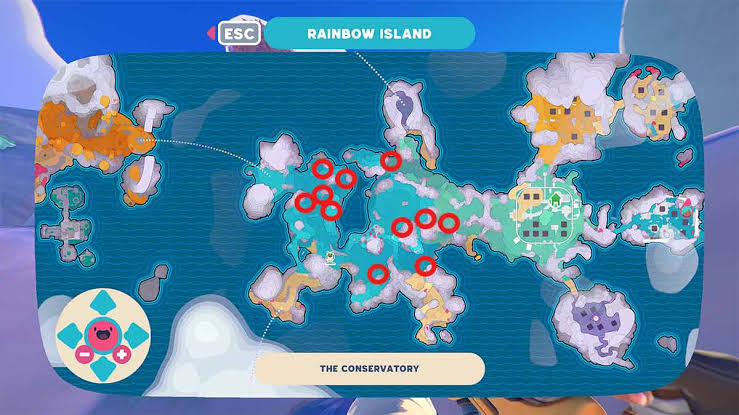 Moreover, make sure to look at the huge rocks in that area as well. Once you see the trees, move towards them and get the Pogofruit with the use of a vac. There will be some fruits laying on the ground as well make sure not to miss them.
Other than that, an area named Ember Valley region also has a lot of Pogofruits so make sure to visit it. Furthermore, players can encounter these in the Overgrowth, The Dry Reef, The Most Blanket, and The Indigo Quarry. Also, The Ancient Ruins, The Glass Desert, Ogden's Retreat, and The Wilds.
Tree Of Pogofruit
What makes hunting for fruits like Pogofruit in the game even more interesting is the fact that you can plant your tree of it. Yes, you read that right! We are aware that the fruit is already available for eating in the game.
However, it is never a bad idea to have something of your own. This way you will never have the fear of running out of certain fruits in Slime Rancher 2. To plant a tree, what players need to do is get a plot in the Conservatory that is all empty.
Once it is done, purchase a garden for two hundred and fifty coins and start shooting Pogofruit in the machine. The machine will help the players grow a plant of Pogofruit in the game.
Harvesting
However, none of the slimes choose Pogofruit so it is not compulsory for you to cultivate the fruit as it can never make a lot of Plorts. Other than that, the yield for harvesting Pogofruits is very high. And so they can be used as fruits that the Fire Slimes can burn.
Furthermore, players can also have access to the Pogofruit after they have The Overgrowth opened. The fruit is supplied in huge quantities there and there are around three trees that have Pogofruits growing on them.
Players can harvest around twenty Pogofruits and if they have the upgrade of Deluxe, the number can turn up to thirty. However, you need to be aware of the fact that Pogofruit can decay in thirty-six hours. But if the soil has been upgraded with the mix of miracles, Pogofruit would not decay till forty-eight hours.
Summary
Make sure to get as many Pogofruits in Slime Rancher 2 so that you can collect the slimes and beat them in the battle.
In the game, you will be given a gun for vacuuming to get the slimes sucked up. Moreover, if you manage to find the correct food for the slimes and catch them, they will even reward you with gems. As well as that, do not forget to check our guide on the locations and how to use Fabricator in Slime Rancher 2.
Those gems can be further used to buy more coins or to upgrade certain equipment needed for your gear. Furthermore, as a player of Slime Rancher 2. locate the food for your slimes from the cliff's top. You can also check our guide on how to get a jetpack.
Was this article helpful?
Thanks! Do share your feedback with us. ⚡
How could we improve this post? Please Help us. ✍