Tiny Tina's Wonderlands has many important stats that make your gaming experience fairly better. Like many stats, Loot Luck is one of the valuable stats in the game. Loot luck is very important if you want to farm the best legendary weapons and other gear available in Tiny Tina's Wonderlands.
Key Highlights
Loot Luck

is a

beneficial stat

for farming various

weapons

in the game. You can

increase Loot luck

by different methods.

Collecting a lot of

Lucky Dice

is one of the best methods of

increasing loot luck

. You can find all

260 dice

shattered in different areas, including

caves

,

behind walls

, in

high places, and on the edge of precipices

.

You can also

level up

your game in different ways, including

Completing OverWorld Quests

,

Repeating a boss fight

,

unlocking Dungeon challenges,

or

completing Shrine of Grindanna

. This will help you farm more

legendary weapons

.

Undying Sacrificial Skeep of Passion

and

Infused Universal Soldier of obsession Amulets

can also make a good boost to our

Loot Luck

.

Different

Enchantment Loot

, especially

Always Active Enchantment,

gives a good 25 percent increase to your

loot luck

and grants you some melee weapons.

After completing the

main story challenges

, you'll be introduced to

Chaos Level challenges

which also increase your

loot luck

.

Aaron G Shrine and Myth Rank

are other ways to boost

Loot luck

in your game.
The loot luck will determine how often you will get rarity items from your loot in Tiny Tina's Wonderlands. At the beginning of the game, loot luck will simply mean getting more greens and blues than purples. However, as you move ahead in the game, loot luck will determine how many legendary grade items you will be able to farm by taking down powerful enemies and even the raid bosses.
So the more loot luck you will have, the more there will be the chances of getting a rarity drop. It will also increase your chances to find loot that has excellent stats and abilities depending on your starting class, class combination, or if you're rocking some of the best builds in the game.
Increasing Loot Luck In Tiny Tina's Wonderlands
You can increase your loot luck through several methods. From leveling up to collecting lucky dice, the methods below will definitely boost your loot luck stat.
Lucky Dice
This is the best and the most important way to get Loot Luck in Tiny Tina's Wonderlands. The 20 sided golden dice also called d20s are scattered throughout the world. These hundreds of floating dice are known as lucky dice. These lucky dice can be found in both individual zones and the OverWorld.
When you interact with any of the 260 lucky dice, whether you do so by interact input or melee them, these dice will spin and release a lot of gold and loot. It will also increase your loot luck depending upon the number of the lucky dice landed on. In OverWorld, these dice will directly send some gold into your stash. Depending upon your loot luck stat, you'll be able to farm more legendaries per boss.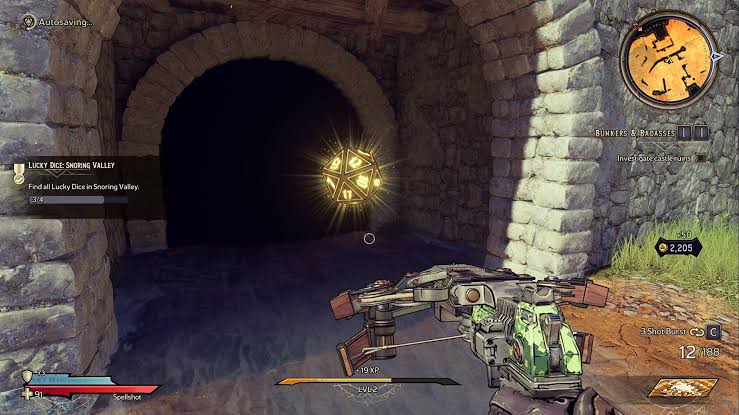 These dice are not easy to find. They are hidden in caves, high places, behind breakable walls, and sometimes even on the edge of precipices. If you want to get the 20 percent permanent loot luck. Bonus, you will have to find all the 260 dice in Tiny Tina's Wonderlands.
Leveling Up
By leveling up, your loot luck will increase and so will the chances of you scoring legendary items in your loot. Here is how you can level up faster to increase your Loot Luck in Tiny Tina's Wonderlands.
OverWorld Quests
The OverWorld quests or side quests will help you gain rewards and money and also increase your XP. This is very important as certain quests would require a specific level to complete. So by getting XP you will level up faster.
The sidequests are a good option if you're looking for farming XP in a short time. In many sidequests, you will just have to visit some dungeons or smash some things. So you can farm XP in a short time without fighting enemies.
Repeat a boss fight
Repeating a boss fight is one of the best ways to farm XP to level up quicker. Fight any main story boss that you find easy to defeat and drop the loot from the boss. Do this several times and you'll farm a lot of XP.
Banshee, who is located in Weep Wild Dankness, or Zomboss in Shattergrave Barrow are good options to farm XP as they are fairly easy to defeat. On level 15 you can farm around 5000 XP per kill and on level 20, you can get around 6000 XP.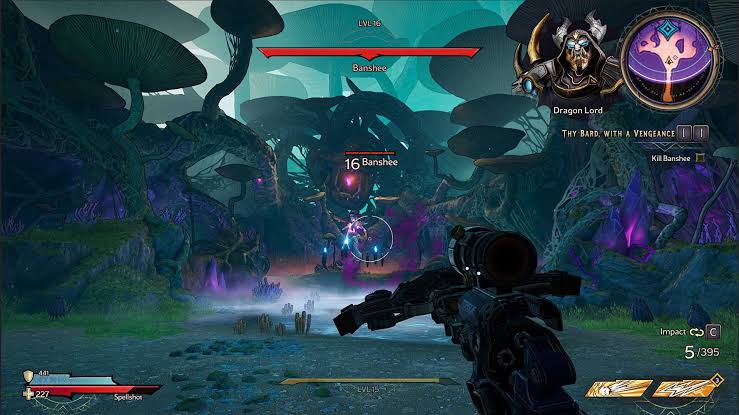 Dungeon Challenges
After you have completed the main story, you will unlock the Chaos Chamber. This Chamber has many dungeon challenges for you to unlock. They will give you a great amount of XP. Don't be greedy though, as these dungeons have limited lives and if you die in the process, you will lose all your loot.
Shrine
Your XP boost will increase permanently by 10 percent when you complete the Shrine of Grindanna. You will find this Shrine in OverWorld after you have opened your secondary class. As it permanently boosts your XP, you can farm 10 times more XP from enemy encounters.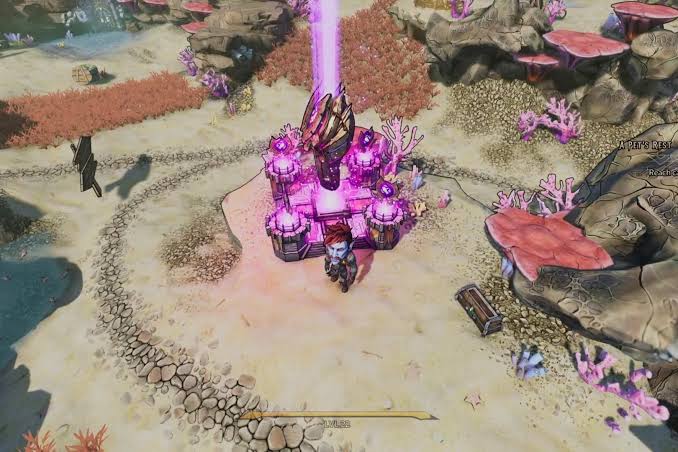 Amulets
In Tiny Tina's Wonderlands, equipping amulets will grant you additional benefits like increased damage, increased critical chance, increased fire rate, increased spell power/radius, and even increased loot luck. Like any other item in the game, the amulets are also generated randomly.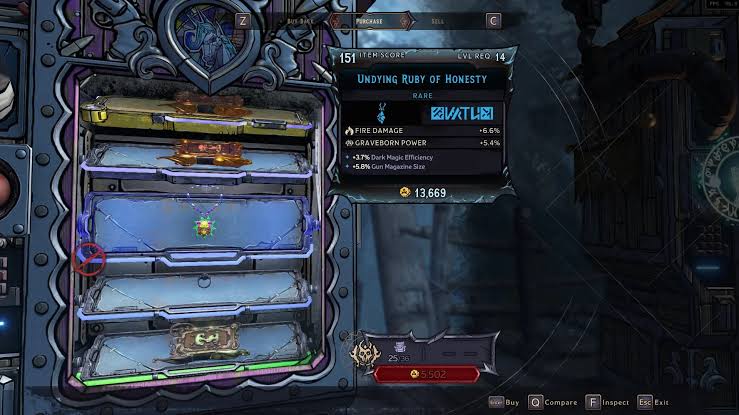 All the amulets including Undying Sacrificial Skeep of Passion and Infused Universal Soldier of obsession can passively increase your loot luck. You will be able to equip the amulets after completing the "Emotion of the Ocean" quest. While you're at it, consider reading best Tiny Tina's Wonderlands mods.
Enchantment
Enchantments are just like anoints from Borderlands 3. Enchanted loot is very powerful and holds magical attributes and effects. You will find enchantments in your gear and weapon after level 15. You will spot them by the additional sparkles in the loot beam.
There is one enchantment called the Always Active Enchantment. This will help you gain 25 percent loot luck along with 30 percent melee damage against bosses and enemies above 70 percent total HP. These enchantments weapons can be farmed no matter what build your character is. There is a re-roll machine in the Armory or Chaos Chamber. You can use this machine to reroll an item and boost your luck.
Chaos Level
After you have completed the main story campaign and the epilogue, the Chaos Chamber will unlock. This end-game mode can be played as much as you like. Doing Chaos Trail in the Chaos Chamber will unlock new levels. By completing these trails and moving up the chaos levels, you will increase your loot luck as well.
While the increases might not seem much, it is great for when a future DLC for Wonderlands drops.
Aaron G Shrine
You will come across multiple shrines in Tiny Tina's Wonderlands. One such shrine that will help you increase your loot luck is the Aaron G Shrine. If you manage to find all four correlating Shrine pieces either located in different regions of the OverWorld or as rewards from completing Dungeons, you can build the Shrine again and get loot luck as a passive buff. You can find the Aaron G Shrine in the Osssu Gol Necropolis, which also happens to be the final area of the game. You know you've reached the location when you start seeing large red sand dunes.
Two Shrine pieces can be found in the Dungeons located on either side of the Shrine. The other shrine piece can be found in the far left of the area behind a spirit wall. To get this Shrine piece you will have to hit the Crystal next to it to unlock the spirit wall. The final piece of the Shrine can be obtained as a reward after completing a short sidequest from an NPC.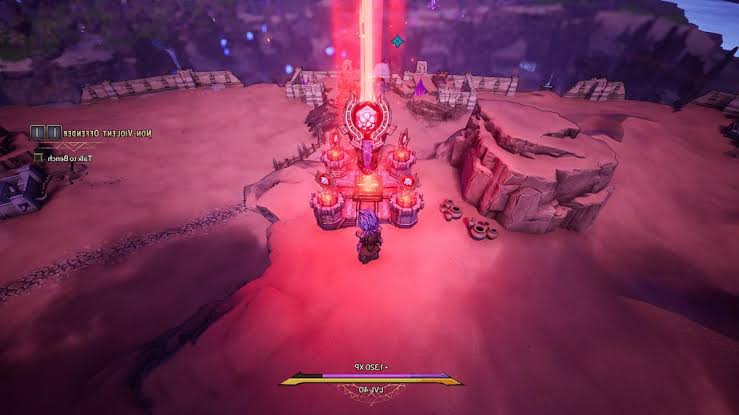 Related: Tiny Tina Wonderlands Raiders of Lost Shark Rewards
You can find this NPC on the back wall of the desert area and completing this quest will give you access to a high ledge in the dungeon. When you have completed the Shrine by getting all four of the pieces, your loot luck will immediately boost by 25%.
Myth Rank
This is an end-game leveling progression that will help you upgrade your Fatemaker's powers. Myth Rank will unlock when you reach level 40 in Tiny Tina's Wonderlands. This is the maximum level you can reach in the game. Even after this level, you can continue to farm XP level but you will level up your Myth Rank by doing so. Filling up the progression bar each time will reward you with a point you can spend on the Myth Rank.
Myth Rank is divided into four constellations. Each of these constellations represents a mastery. Every time you level up your Myth Rank, you will move to the next constellation. So you will distribute your points in a clockwise motion among all four constellations. There are seven masteries and the one in focus here is the Druid Mastery.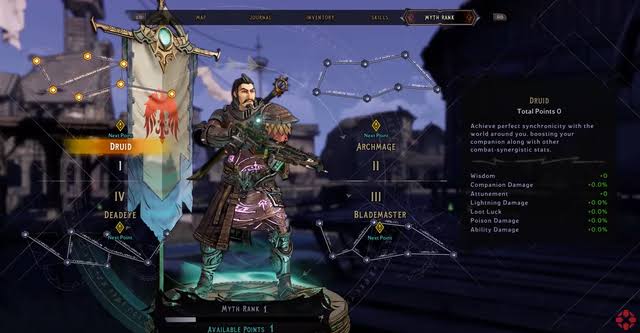 Druid mastery gives you 20x more loot luck along with many other benefits like increased wisdom, increased companion damage, increased Attunement, increased lightning damage, increased poison damage, and increased ability damage as well.
Online Status
As ridiculous as it might sound, a player has recently discovered that your loot luck varies depending upon your online status.
In a Wonderlands subreddit, a user shared two images showing loot luck comparing their online and offline status. When the player was online, the loot luck was about 49784. And when the player was offline, the loot luck dropped to 38952.
Even the Lucky Dice Completion loot luck multiplier read as 1.35x online and for offline it was 1.20x. The same goes for Shrine loot luck multiplier that read as 1.25x online and 1.10x offline.
This was our detailed guide on how to increase Loot Luck in Tiny Tina's Wonderlands through different methods. Let us know more of your thoughts in the comments section below.
Next: Tiny Tina's Wonderlands Cosmetics
Was this article helpful?
Thanks! Do share your feedback with us. ⚡
How could we improve this post? Please Help us. ✍