Tiny Tina's Wonderlands Legendary SpellTiny Tina's Wonderlands Tidebreaker Spell is one of the best spells that DLC has ever offered. If you like using the Sunder spell, then this is the best option for you, as it works similarly to the Sunder spell. It is a spell of the Legendary, and spells come in different rarities in the game, so the Tidebreaker spell belongs to the Orange Rarity. The spell is a part of Coiled Captors, which is the first DLC expansion of Tiny Tina's Wonderlands. This is MIRACULUM, the spell that activates at a shorter distance and destroys everything in the distance.
Key Highlights
Blank Slate

is a

legendary item

that has the power to turn you into a

killing machine

that can help your gameplay.

You can farm

Blank Slate

in

Tiny Tina's Wonderlands

by different methods.

You can get the

Blank Slate

by

Grinding the Chamber of Chaos,

and also obtain a

bonus

at the end of every run.

Replaying the Bosses

is an effective plan for farming

Blank Slate

. Choose a boss, defeat him, and reload the game. Repeat the process until you get the

Blank Slate

.

You can also obtain it by simply

playing the Game

until you get the

Slate

.

It also provides you with different

buffs,

including

XP Buff

,

Ambivalence,

and

buff with increased spell damage

.

Each Blank Slate has an item description written in white. There are three expected points in the description, including Krangled, which Requires at least 1500 clicks or any random points.

What Is Special About
Tidebreaker Spell
The special thing about Tiny Tina's Wonderlands Tidebreaker Spell is that it comes with a "soaked" effect. The soaked effect has the ability to debuff all the enemies, which causes extra damage to everything. The enemies that are hit by a soaked effect will take 150% damage from Lightning and Frost. When they are soaked, they take less damage from the fire, so you have to keep that in mind.
150% damage does not mean that the soaked effect causes a 150% increase in the damage; it means that the total damage is 150%, which is a 50% increase in the total damage. The 50% increment in damage is still massive, so the soaked effect that Tiny Tina's Wonderlands Tidebreaker Spell offers is amazing. This is an amazing spell for bossing, and it sends out a tidal wave to cause damage.
Tiny Tina's Wonderlands Tidebreaker Spell Stats
This guide will also cover the stats of a Level 40 Tidebreaker discussed below.
| | | | | |
| --- | --- | --- | --- | --- |
| Spell | Manufacturer | Damage | Critical Damage | Cooldown |
| Tidebreaker | MIRACULUM | 1347 | 5% | 15.1s |
Manufacturer
This spell is a MIRACULUM, as discussed earlier in the guide. Tiny Tina's Wonderlands Tidebreaker Spell activates at close range and has explosive elements that destroy the nearby structures and also destroy the circles of protection.
Damage
The damage range for a Level 40 Tidebreaker is 1347, which is a massive damage range to destroy the enemies and leave them soaked.
Critical Chance
A critical Chance causes double damage by default, and the critical chance for Tiny Tina's Wonderlands Tidebreaker Spell is 5%.
Cooldown
Every spell in Tiny Tina's Wonderlands has a specific 10 to 20 seconds cooldown time. Similarly, the Tidebreaker spell also has a cooldown time of 15.1 seconds.
Spell damage
Tiny Tina's Wonderlands Tidebreaker Spell creates tidal waves and destroys the nearby things causing extreme damage.
Red Text
The spells in the game have specific red text associated with them. Once the spell or weapon is used, the red text appears. Tiny Tina's Wonderlands Tidebreaker Spell has a red text saying "Drenched and Droused".
Unique Features of
Tidebreaker Spell In
Tiny Tina's Wonderlands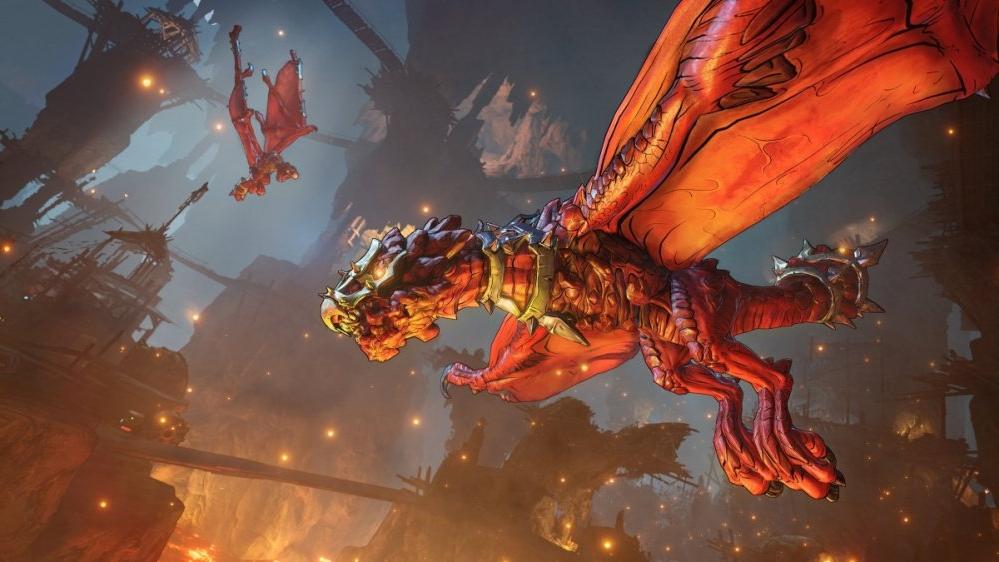 The following list mentions some of the important features that make Tidebreaker spells unique.
In case you are dealing with lightning and frost damage, you will have to build a focus. Building a focus on either or both of the elements will have a massive boost from the effect.

The tidal wave created by the spell will damage anything it hits.

This spell has very long-distance coverage and is easy to use.

You can apply a soaked effect using different items.

Using spell shot build and dual wield and casting them both together will increase the damage.
Tiny Tina's Wonderlands Tidebreaker Spell has an extreme damage range among the other best spells in the game, but it will not help if you test it on dummies. If you test the soaked effect damage on dummies, it will not work like it actually does. You need to test the soaked effect damage on real enemies.
If you have a line of enemies coming toward you, this is the best spell you can use. You can destroy them all in soaked damage. Additionally, if you are someone who is using ice spike builds paired with a soaked effect, this is going to dissipate things. Using this soaked effect on enemies will quickly take out the enemies' health, and you will soon see a red bar for their health. This shows that Tiny Tina's Wonderlands Tidebreaker Spell can cause quick and massive damage.
How to Get Tiny Tina's Wonderlands Tidebreaker Spell
Finding spells is not easy, and you need a guide to find the exact locations to farm these spells or know the best methods for farming. Similarly, Tiny Tina's Wonderlands Tidebreaker Spell also needs a guide to be followed to find its location. Following is a walkthrough that will help you find the Tidebreaker spell.
Starting the Coiled Captors Run
Starting the Coiled Captors run, you can claim Tidebreaker spells from DreamVeil Overlook. Chum is the final boss of the Coiled Captors DLC, and he drops the spell. This is not a free DLC, so you either need a season pass or DLC itself to claim it.
Not Doing Entire Coiled Captors Run
You can also save time by not doing the entire Coiled Captors Run because there is another way to farm Chum after you eliminate Chum yourself. You can do this by using any explosive weapons. In such cases, your companions closer to you revive you. Do not let your companion revive you by crawling away from it.
Once you eliminate yourself, you will respawn right outside the boss area. Now, you can eliminate Chum, and you can also repeat this until you get Chum. This is the only way you can eliminate Chum without wasting more time on it.
Beating Chum
The main step in getting Tidebreaker is to beat Chum, which is extremely easy. There is no armor or shield on the boss, so beating Chum gets easier. You can use Rogue Imp for this job which will help you beat the boss in 5 seconds every time.
Another way to farm for the Tidebreaker is by doing Chaos Chamber Runs. You must do extended Chaos Runs and dump crystals on the "Spell Bunny." Although this is a good trick, it takes a lot of time, depending on whether you want to do Chaos Chamber Runs.
Getting Items at the End of the Chamber
Once you complete the Chaos Chamber, you will get items from the rabbits at the end of the Chamber. The best way to go about farming is to spend your money on the spell rabbit at the end. Spending the currency at the wheel will also get you new items.
Conclusion
The spells are the best thing about Tiny Tina's Wonderlands, but they require you to put in some effort and find their exact location. This guide has covered all the points you need to know to find Tiny Tina's Wonderlands Tidebreaker spell.
Tiny Tina's Wonderlands has Legendary Weapons and some best builds like any other Borderlands game. One thing that makes Tiny Tina's Wonderlands unique and different from other games in the series is its spells. Tiny Tina's Wonderlands spells are like any other weapon that you use to fight your enemies. This guide will discuss Tiny Tina's Wonderlands Tidebreaker Spell and where you can farm for it. While you're at it, why not read our Class Combinations guide.
Spells are not easy to farm, and if you do not know the exact locations to look for these spells or weapons, you will waste a lot of time looking for them. These spells also give you a chance to experiment with the effects of fighting with your enemy that cannot be found in other weapons. If you want to make your gaming experience fun, this guide will help you find one of the best spells in Tiny Tina's Wonderlands. On the subject of farming, consider reading our Buffmeister Spell and learn how to farm it faster in the game.
Was this article helpful?
Thanks! Do share your feedback with us. ⚡
How could we improve this post? Please Help us. ✍