Tower of Fantasy is the all-new open-world MMORPG. It was developed by Hotta studio and published by Level Infinite. It is one of the most anticipated mobile games that got released—gaining 3 million pre-registrations just a few days before launch. In this guide, we'll talk about Tower of Fantasy's Black Nucleus.
Key Highlights
There are

three types

of Nuclei:

Gold, Red, and Black

.

Black Nucleus

is an

in-game currency

to get

weapons

. You can use it on

relic items

and

weapons banners

.

There are

four ways

to get

Black Nucleus

:

Exploration

,

Bounties

,

Puzzles

, and

Supply pods

.

You can find

Black Nucleus

by exploring

Lava Pits

,

Tar Pits

and

Kerosene

,

Dandelion Plants

,

Supply Pods

,

Glow Shrooms

,

Singularity Rocks

,

Chowchilla Plants

, and

Earthphyte Plants

.

Daily Bounties

are another way to get

Black Nucleus

, everyday you'll get

four different bounties

to complete.

Events

and

Quest

are also ways to get

Black Nucleus

. Right now, there is only

one event

, while

multiple quests

give different amounts of Black Nucleus.

Pre-Registered Players can get a large number of Black Nucleus as a reward. Complete the tutorial quest and check your mail if you're one.
How And Where To Get Black Nucleus From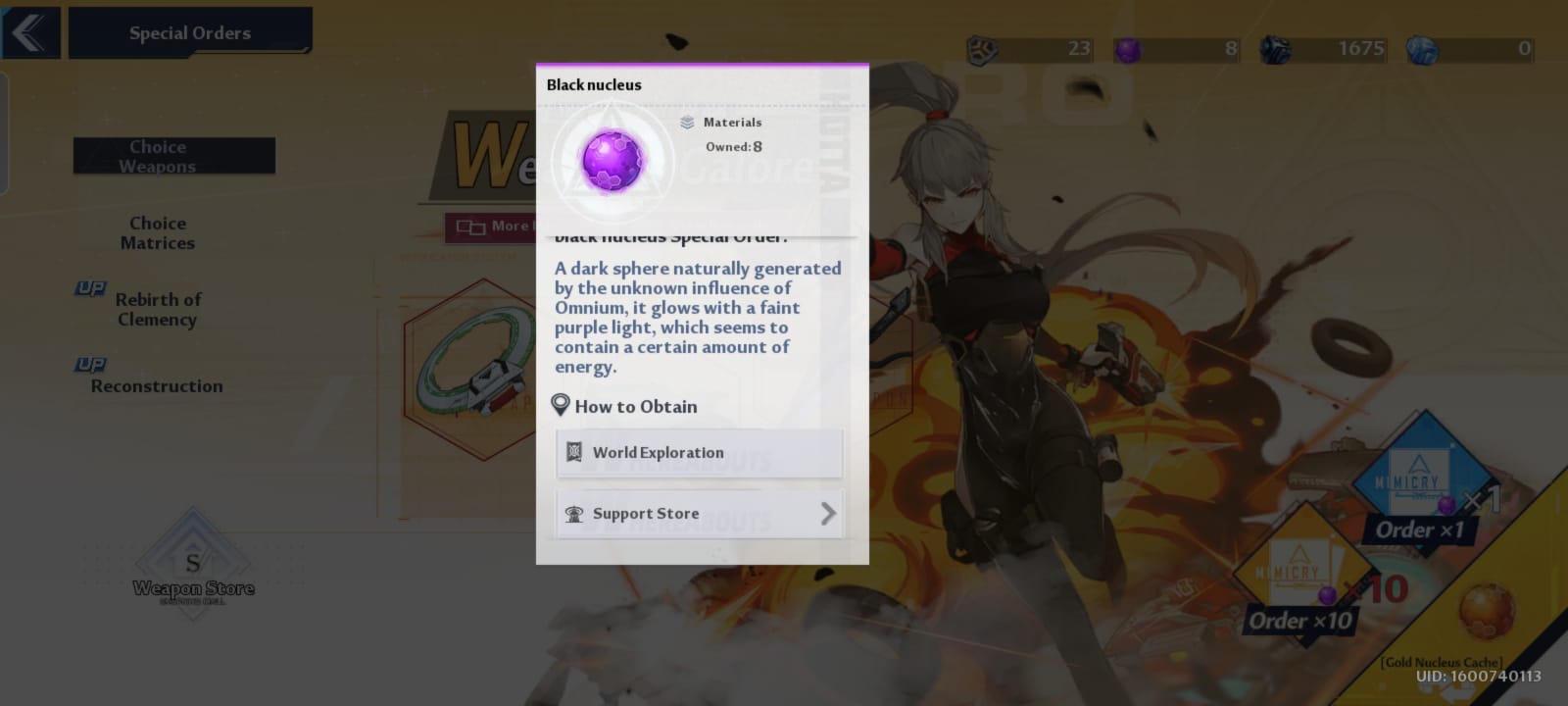 You can get Black Nucleus in Tower of Fantasy in 4 different ways. Each way is different and unique in its own fun. You can go and explore the world while finding the Black nucleus hiding here and there. Or you can complete quests to get these black nuclei. Check out our other guides like Tower of Fantasy Tips.
Exploration
Tower of Fantasy really puts the focus on exploration. You can find a black nucleus as you are roaming through the open world. Furthermore, you can get some through puzzles. Black Nucleus can be found by following the diamond icon appearing on your mini-map. Additionally, you can find them in supply pods too. Following are the ways you can find Black Nucleus during exploration.
Lava Pits: Lava pits contain Black Nucleus. Clean them using an ice-element weapon. Then you can claim the nucleus.
Tar pits and Kerosenia Plants: Tar pits and Kerosenia Plants are fairly simple. You just need to attack them with a fire weapon to reveal the Black Nucleus.
Dandelion Plants: During exploration, you can find the big Dandelion plants. They can be broken by simply attacking them with any weapon you have. After a few hits, you reveal the Black Nucleus.
Supply Pods: You can get Black Nucleus from the supply pods by simply opening them.
Glow Shrooms: During your exploration, you can find Big glowing mushrooms. If you jump on them in the order of smallest to largest, you can get a Black Nucleus.
Singularity Rocks: You can find these human-shaped rocks with a sphere on their back while exploring. When you use the Cube relic, it will blow away the sphere which contains the nucleus.
ChowChow Plants: These plants are blue plants that will give you a Nucleus when you throw a water core inside it.
Earthphyte Plants: These plants are green plants that eat the earth's core to give a nucleus.
Omnium Puzzles: These require you to use relics so you can summon omnium pillars on certain platforms. Once that's done, you will get a Black Nucleus from them.
Daily Bounties
Like most gacha games, Tower of Fantasy has daily quests. They are called Bounties here. Every day when the server resets, you have four different bounties. Each Bounty has its own unique rewards. You can get many things from these Bounties. One of them is the Black Nucleus. Once you know which one you want to complete. You just do it.
Events And Quests
Gacha games always conduct different events which give you a lot of items. Tower of Fantasy only had one, but there will be more in the future. You can get Black Nucleus by completing said events. Not only that, but you can also get Black Nucleus from completing quests. Different quests will give you different amounts of Black Nuclei.
Pre-Registration Rewards
If you were one of the pre-registered players, then you can get a lot of Black Nuclei from the game. You can get almost 30 pulls from these rewards. To claim them, you need to finish the tutorial quest and head to the mailbox. In there, you will receive pre-registration gifts as well as a few other goodies. So don't forget about that.
Use Of Black Nucleus In Tower Of Fantasy
As mentioned earlier, Tower of Fantasy is a Gacha game. You use in-game currency to get weapons that allow you to progress in the story. Black Nucleus is one such currency. The place where one uses this currency is called a banner. These banners are where you spend your in-game currency and, depending on your luck, get weapons. The Black Nucleus banner contains relic items and weapons only. Simulacra are only limited to a few.
The term gacha primarily means toy vending machine. You use your money to give your luck a chance. Gacha games work as such. You use in-game currency to pull from such banners. Whatever you get solely depends on how lucky you are. Sometimes you can get very lucky and get an SR weapon, but other times, you might not even get that.
The Black Nucleus banner uses Black Nucleus and lets you pull for weapons. Then it's up to the game and your luck whether you get your desired item or not. You can either pull using 1 Black nucleus or use 10 to do a 10x pull. It is advised that you save your Black Nuclei and roll only in 10s. This way, you have better chances of getting a good weapon or item.
Differences Between Gold, Red, And Black Nuclei
Just like we explained earlier, there are three different Nuclei; namely Gold, Red, and Black. All these Nuclei are used for different banners and have their own functions. They also vary in rarity as well. Following are the major differences in the Nuclei.
Rarity: Black Nuclei are the least rare among the 3. They are found in exploration and quests only. Gold nuclei are 2nd in terms of rarity. They can be found in exploration and quests but not as easily as Black. Red ones are the rarest and can rarely be found. They are not found during exploration.
Top-up: Gold and Red Nuclei can be top-up, but Black Nuclei can't.
Pity System: The Black Nucleus Banner has no pity system. At the same time, the Red and Gold do have pity systems. Both these banners give you an SR on ten pulls and an SSR on 80 pulls.
Dark Crystals: You can get Gold or Red Nuclei from the shop using 150 Dark Crystals. But you cannot do that for Black Nuclei, and they are not obtainable in the shop.
Pull Rates: Black Nucleus Banner has a 3% SR and 0.3% SSR drop rate. But Gold and Red, on the other hand, have 12% SR and 2% SSR drop rates.
That concludes our guide for Tower of Fantasy Black Nucleus. It explains how you can acquire and use Black Nuclei and even tells you the main difference between the other 2 Nuclei. Let us know in the comments what you guys think of this guide and what you think of the game.
Was this article helpful?
Thanks! Do share your feedback with us. ⚡
How could we improve this post? Please Help us. ✍