Tower of Fantasy allows you to interact with other people in the same world without having to request to join their world or something. So for a lot of traditional MMO players, you are going to be familiar with this kind of gameplay, whereas a lot of other games nowadays shy away from the competitive aspect. As you start up and play the game the very first time, you will be able to personalize your own character, and our Tower of Fantasy character Customization details everything you need to know about it.
Key Highlights
The first option in

Character Customization

is to select from various

presets

uploaded by other players or even use

Character IDs for specific presets

.

In the presets, you can find

Hu Tao from Genshin Impact, Raiden Mei from Honkai Impact 3rd, 2B from Nier: Automata, and even Naruto Uzumaki

or characters from

Tokyo Ghoul

.

To create

Yuri from Alchemy Stars

, you'll need to

start with a dress preset

and change it to

white colored

.

For

accessories and hairstyles

, use

light-toned skin

,

small head

,

slender neck

,

mediocre bust and height

,

long white hair

with no headgear, and use the

last bottom row option for front hair

.

You'll need bright red eyes with white flecks and dark circles for facial features to give her a slightly depressed disposition.
Tower of Fantasy leans really into it, which can be a good thing for most players and not for others. Because, for the most part, most games seem to be too scared to have players go against each other.
Character Customization
When you enter the customization screen, you will have a multitude of options and choices to choose in order to personalize your character, and it is easy to spend hours or so on this.
When you dive deep into customizing your character, you find out that almost everything in the character creation is in-depth and has intricate detailing. It has detailing like gloss, colors, and gear. Tower of Fantasy is an MMORPG game.
It is really grand that the creators have incorporated letting you personalize your character so much because multitudes of players will love to have their own individual recognition in the anime world.
Character creation in this game is uniquely awesome. Before we entail how the character creation works, we will mention many characters already created by other people here. Below are the most popular characters like Hinata Hyuga and Itachi; others included are from the Tokyo Ghoul, Naruto, and more.
Character Presets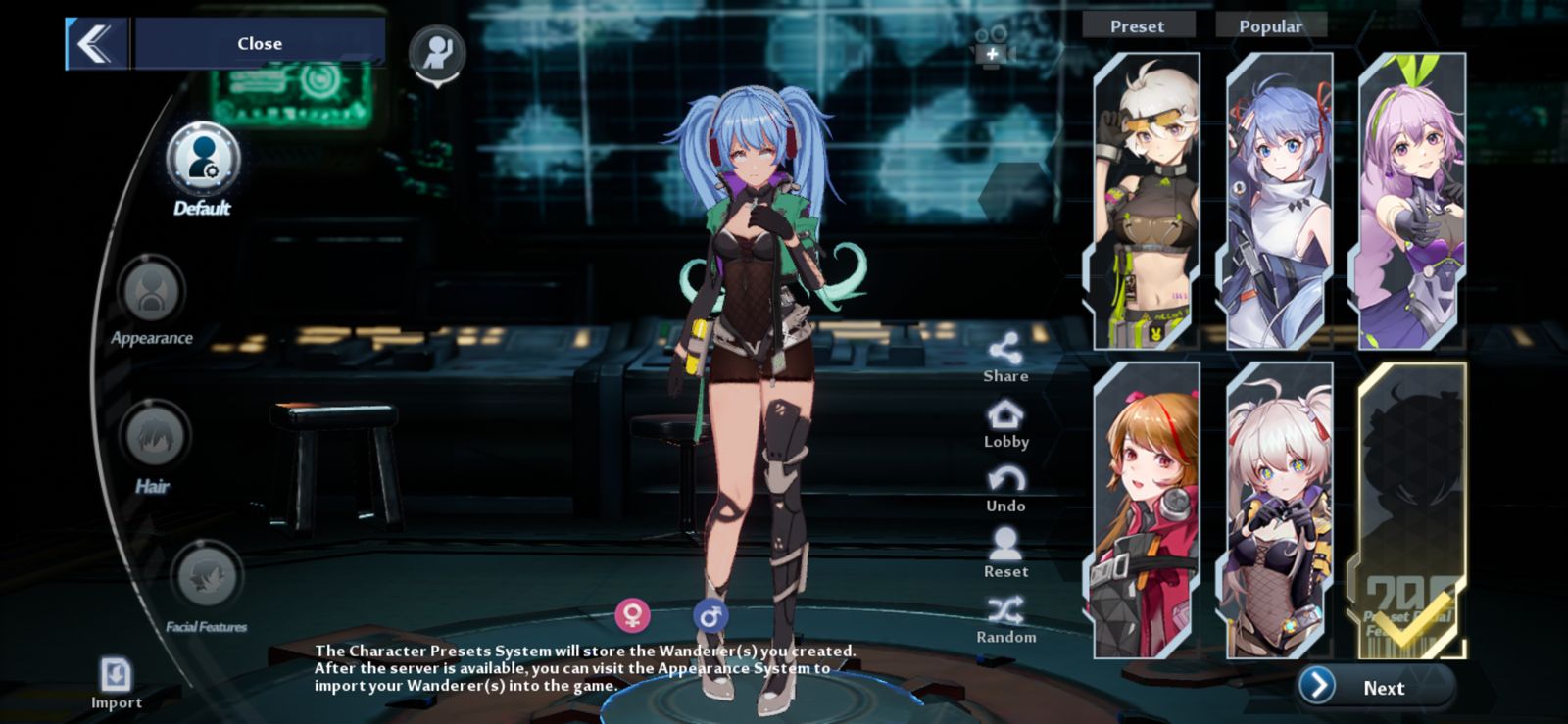 A Similar Read: Tower Of Fantasy Best DPS Characters
In this latest gacha game, The Tower of Fantasy, the developers have allowed players to take character customization to a whole new level. The character personalization to great lengths allows gamers to personalize their main character.
Not only that, but using the incredible customization tools, players can even mimic characters from other games like Genshin Impact or anime like Naruto, Tokyo Ghoul, etc.
The Tower of Fantasy character Customization allows you to alter the color, size, and preferably the shape of your main character's countenance. You can also alter their costumes and pick and choose a variety of hair colors, haircuts, and whatnot.
In order to apply the character presets that we have also listed below, you will need to follow a simple process.
Once you've clicked on Presets, you'll see that you have four choices to choose from on the left, and your characters will be on the right. Here, you'll have the ability to modify your character's overall look, including their hair and facial characteristics.
Through the Lobby area, which may be located immediately next to the player's character, users will be given the opportunity to access presets that have been created by other players.
After selecting the Lobby tab, you'll have the option to arrange user-generated content according to the date it was published or the number of votes it has received. If you find that one of the presets meets your needs, all you have to do is right-click on it and choose the Copy Character ID option.
After you have made your selection and clicked OK, the preset you choose will be used on the figure for which it was built.
You Might Find This Interesting: Tower Of Fantasy Best Classes
Creating Yuri From Alchemy Stars
Related: Tower Of Fantasy Best SSR Characters
Tower of Fantasy character Customization also allows you to upload your character presets not only; another great thing is that it allows you to sync other players' already made characters or presets.
In this guide, we will mention how to create the character from Alchemy stars' Yuri. Her design is really simple yet sophisticated. Her main features are white hair, red eyes, and a depressed disposition.
Choose a preset of a girl who already has a dress, then go to the appearance bar and choose a suit. Now you go to the appearance tab; here, we have the standard main character outfit, the lazy jacket and cyberpunk jacket, and many more.
Now you customize the dress, and we are going to go with the white color, so you set the saturation to zero and the intensity to 100, and you basically should have a darkish white dress.
Now onto accessories like skin color, choose something pale because she doesn't see any sun at all, so she is light-toned. For the head, make it small and for the neck, make it somewhat slender. Now comes the bust bit; you have two degrees of options for this, i.e., Bust I and Bust II. Whatever fantasies you make that as your bust size, we have made it to be of mediocre size. The same goes for the height bit.
Hairdo
Moving on to the hair bit, for hair, choose the long hairstyle since Yuri has long white hair. Since she has no headgear, so chooses none from that. The same goes for her middle hair since Yuri has no hairstyle of the semblance.
For the front hair, choose the second last one in the bottom row because that bears more likeness to her mien. Moving on to facial features, now this is the bit where you can spend hours alone. Click the facial features tab and choose the preset that more appropriately matches Yuri cause it has a depressed disposition.
We think the preset IV is more like her, so choose that. Now you can mix, match, and alter features like cheekbones, cheeks, chins, etc.
Facial Features
Now onto altering the facial features, the first thing you are going to do is zoom in to the face, so you get the intricate details of it. Now choose the lightest eyebrows, and the eye shape of the preset already is perfect; you don't need to change that.
Moving on to the eyes, choose a bright red color with flecks of white to show the glistening in the character's eyes. And then just make more dark circles by adding a tint of black in the accessories of the facial feature bar. Yuri should somewhat look like this.
Because players get to determine the appearance of the character who serves as the game's focal point, they are able to more fully engage themselves in the experience of playing Tower of Fantasy. The beautifully rendered avatar customization system allows gamers to create the game's main character.
Famous Anime Characters' Presets In Tower Of Fantasy
Tower of Fantasy character Customization has received a lot of attention in large part owing to the robust character-creation mechanisms that it offers, in contrast to other games of a similar genre in which players are often given a character.
A great number of gamers have opted to make use of the extensive system in order to replicate characters from well-known works of entertainment such as video games, films, television series, and other similar types of media.
If you're searching for a template of your favorite person to run through Tower of Fantasy with, if you're thinking of beginning a fresh start with some other protagonist on a new server, or if you're merely curious about how imaginative the players can be, you'll want to check out the character presets.
Hu Tao from Genshin Impact
The formidable Pyro Polearm protagonist from miHoYo's game Genshin Impact appears to become a popular favorite everywhere she goes; the reconstruction of her that can be found in Tower of Fantasy now holds the top rank among character creation presets.
It shouldn't come as much of a surprise that gamers choose her to be their protagonist in Tower of Fantasy since her appearance transfers fairly well to the game. To get Hu Tao, you need to enter the 799 Character ID.
Raiden Mei from Honkai Impact 3rd
The preceding configuration of Raiden Mei from Honkai Impact 3rd is something that players of miHoYo's previous game, which is called Honkai Impact 3rd, would love.
Raiden Mei is a playable character in the game and also has the potential to serve as the player's heroine in Tower of Fantasy if that particular config is selected. She is one of the game's central characters. To get Raiden Mei, you will need to enter 1106452 Character ID.
2B from NieR: Automata
Utilizing the following preset, you may adventure around the world of Aida, assuming the role of one of the heroes from NieR: Automata. The human and android hybrid aesthetic that is characteristic of the famous figure has been faithfully recreated in an astonishing manner in the Tower of Fantasy game's version of the character 2B.
Due to the attention to detail and general quality of the reconstruction, the 2B setting in Tower of Fantasy has become one of the game's most popular options. Look for 63865 Character ID to get this protagonist preset.
Naruto Uzumaki from Naruto
The main character of the Naruto series, who goes by his given name, is a popular pick for the Tower of Fantasy game. The person who made the Naruto avatar design did an excellent job of replicating certain essential characteristics, such as the creases on his cheekbones, the overall color palette, and the style of his clothes.
Other prominent characteristics are his disheveled hair, blond locks, and the markings on his cheeks. To get Naruto, you need to enter 145774 Character ID.
Summary
The capacity to live a life that isn't one's own is, for many players, a significant part of what makes video games so entertaining to them. It's very cool to be able to ride a monster or block access to an orc stronghold. Still, those experiences become much more thrilling whenever the player gets to do those things with a persona they've built from the ground up to their exact specifications.
Players have the ability to create their own unique characters, use characters that have been produced by other members of the community, or perhaps even modify protagonists that have been created by members of the community to suit their preferences better.
This is all made possible by the solid Tower of Fantasy character Customization system. The tremendous variety of choices that are made available to players by this system is impressive, but it is not difficult to feel overwhelmed by all of it.
When it comes to open-world anime MMORPG, Tower of fantasy is an absolutely amazing game that surpasses its contemporaries. It involves a single-player story with MMORPG gacha experience, fast-paced live-action combat, and a surplus of multiplayer content.
It is now released on Android, PC, and iOS. Tower of Fantasy is perceived as a direct contender to Genshin Impact because Tower of Fantasy also adapts a gacha-built unique software program to crack special fighting abilities.
Next: Tower of Fantasy BEST Relics
Was this article helpful?
Thanks! Do share your feedback with us. ⚡
How could we improve this post? Please Help us. ✍