It's no surprise that Tower of Fantasy has got most of us hooked. The newest Gacha Game in the MMORPG genre proves to be a nice change from Genshin Impact. Tower of Fantasy is an immersive game and its Gacha System has to be one of the best right now, thanks to its Pity System. However, in games like these, it's important to get good pulls at the beginning of the game, therefore, we present you our Tower of Fantasy Reroll Guide.
What Is A Reroll In The Tower Of Fantasy?
In Gacha Games the term 'Reroll' is used quite often. The reroll refers to a process in which the players continue making pulls until they are satisfied with the rewards. This method is usually utilized early in the game when a player repeatedly makes pulls and does not continue the story until they are adamant about what they've got.
Since Tower of Fantasy is a Gacha Game, players can make use of the rerolling process in order to get the Simulacra that they want. Even though the rerolling process can be a bit tedious, hardcore Gacha fans are still highly motivated by the potential prizes.
In Tower of Fantasy, the player can start their game and play through the tutorial until they unlock the Gacha System. Here they can make relevant pulls using their Gold Nucleus'. In case they are not satisfied with the summons, they can restart the game with a new account.
The process will keep on repeating until they finally get a good SR or SSR Weapon Simulacra. With that said, let's now move on to our guide about rerolls in Tower of Fantasy.
Reroll Preparation In Tower Of Fantasy
The Reroll process in Tower of Fantasy requires some preparation steps. These can be done as you go through the process as well, but it's more efficient and time-saving if you prepare beforehand. This way the whole process, no matter how many repetitions, will not take that long.
These steps are fairly easy to go by. If you decide to do them along the way the process could become monotonous and bore you out. So, here are the two steps that you need to complete before your rerolling process in Tower of Fantasy.
Creating Dummy Accounts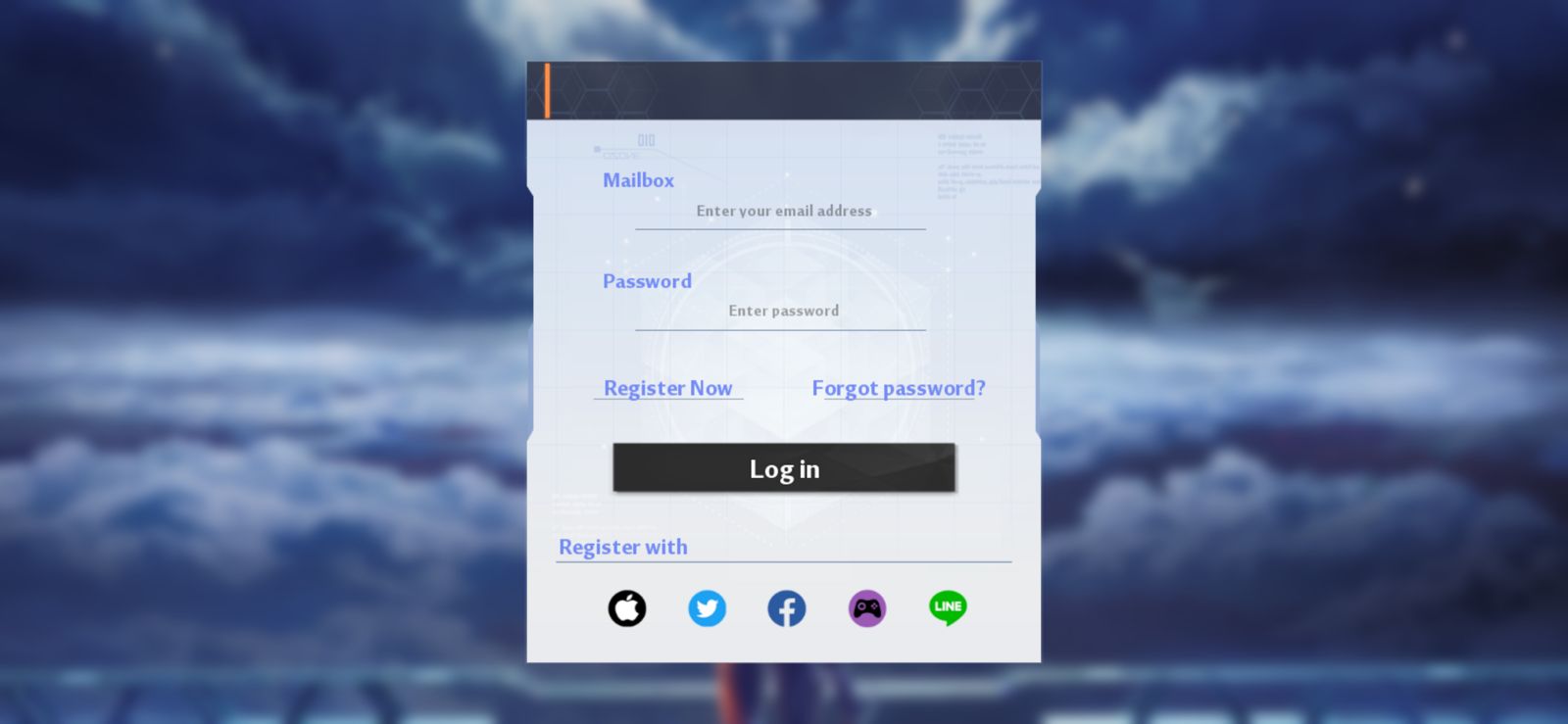 First things first, you need to create a handful of dummy accounts. In the beginning, you would signup using your main account, however, having dummy accounts at the ready would just make the process flow smoother. Let's suppose you play through the game and make Gacha Pulls once the system is unlocked, and do not get the desired summons.
All you need to do now is log out of the current account and use the first of many dummy accounts that you already made. You can easily make new Email IDs on Gmail, and choose any username such as "TOFDummyacc1" or "TOFDummyacc2". Keep the usernames simple, so that you don't run into any problems later on.
Making an account after every unsatisfactory pull on Tower of Fantasy banners will only make the procedure longer and more annoying.
Customizing Your Character Preset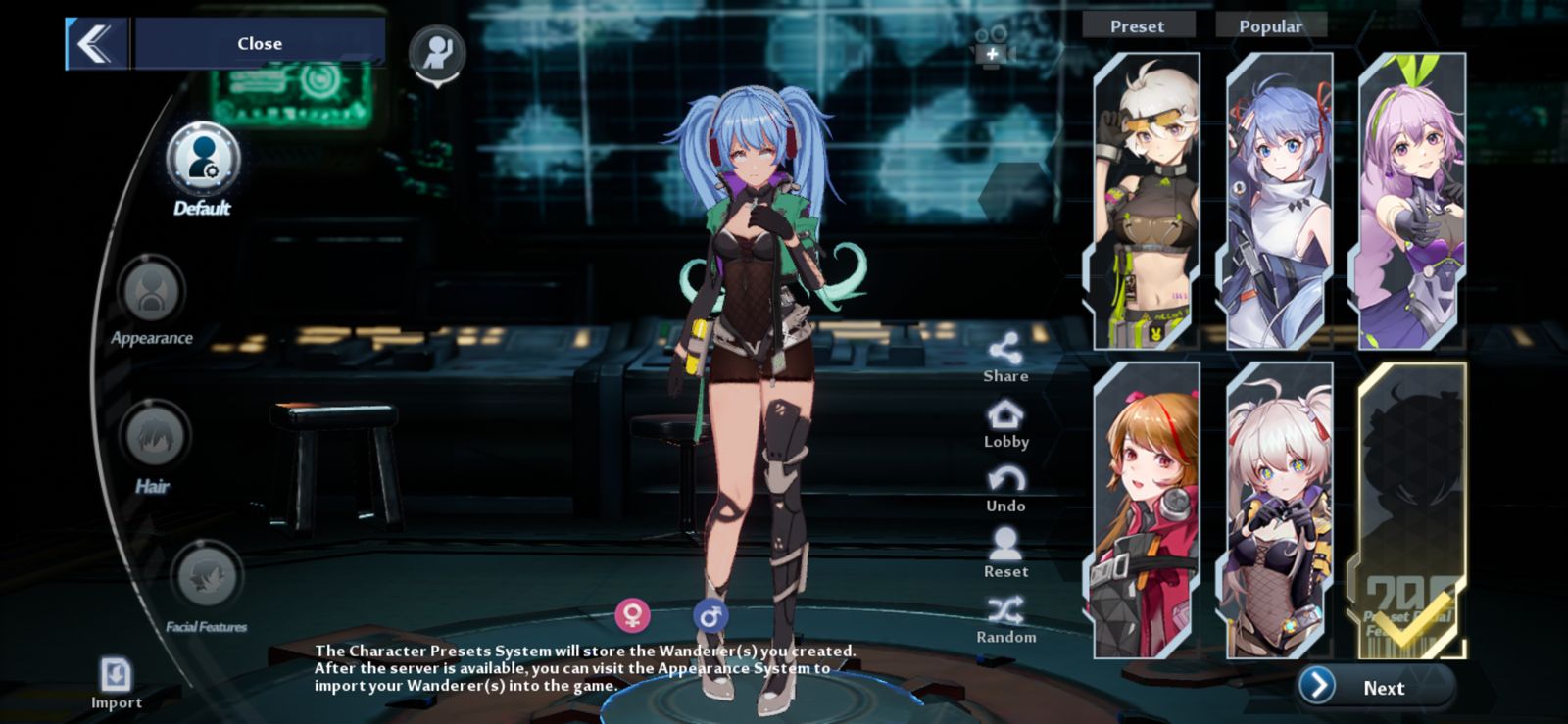 Next up is character customization. Most of the players will spend the biggest chunk of their time customizing their character through each play-through. If somehow you don't get your desired pull and start the game again with a new account. You will have to customize the character from scratch again.
Luckily, there's a way to work around it which makes things a lot simpler. When you load up the Tower Of Fantasy on your device and get to the main menu. You will notice an icon with 'Preset' written underneath it. This will take you to the character customization screen.
Here you can create the character of your choice. Take your time, there's no need to rush here. Once you're done and you save your character, just press the "Lobby" icon. Now you will be able to see your character with its UID mentioned.
Note down or copy the UID and with that, we're all done with the preparation phase of Tower of Fantasy Reroll.
The Tower Of Fantasy Reroll Process
After following our previous steps, by now, you would be all set to carry out the reroll process in Tower of Fantasy. Since the game just launched, the game's developer 'Perfect World' is offering Pre-registration bonuses for the first 180 days.
Thanks to the Pre-registration bonus, you will be able to make more pulls early in the game. Which makes the chances of summoning an SSR Weapon Simulacra much higher. Therefore, the rerolling procedure is best suited if done during the first 180 days of the game. After that, the Tower of Fantasy rerolling will only get tougher to do.
Right now the game awards you with Gold Nucleus as the Pre-registration award. Add that to the ones you will collect during the tutorial phase and you'll be able to make 30 pulls using your Gold Nucleus in Tower of Fantasy.
Here is our step-by-step guide on How To Reroll in the Tower of Fantasy.
Step 1: Launching The Game (Sign Up)
First and foremost, you will launch Tower of Fantasy on your device (Android, iOS, or PC). Once the game loads up, it will ask you to sign up using a new Email ID. Sign up with your account. Any account would do since this will be your first run at the Tower of Fantasy.
Once you're down signing up, you can load up the game. You will be bombarded with a bunch of cutscenes after which you will get to choose either a male or a female protagonist. After that just follow the tutorial the game presents.
If it's your first playthrough, we advise you not to skip the cutscenes. When you'll play through the game again to reroll, then you can easily skip all the cutscenes to make the process faster.
After the first sequence is over, you will end up in a place called Astra Shelter. Here you will meet Shirli, which brings us to our second step of the Tower of Fantasy Reroll Guide.
Step 2: Getting Gold Nucleus
Shirli, a nurse trainee, and Zeke will welcome you to the Astra Shelter. Yet again there will be loads of cutscenes as well as dialogues here. Shirli will then begin to show you around the place and familiarize you with the game mechanics. Once again, if it is your first run do not skip the cutscenes and take your time to inhale the beauty of this game.
Nonetheless, while Shirli is showing you around you will need to keep a keen eye on Gold Nucleus along the path. Luckily, the map will show you icons that you can go and interact with to get various items. But to make it simpler for you, we will tell you where the early game Gold Nucleuses are.
Collecting Orbs
Shirli will first take you to Celine, who's present inside a huge ship. However, right before you enter the ship make a left turn and climb the exterior of the ship. Go all the way to its top, here you will find an orb that will yield you some Gold Nucleus.
After that head back down and talk to Celine to customize your character. Hold up! you don't need to do that. Just import the preset you already made and you're all good to proceed.
After meeting a few more characters, there will come a point where Shirli will challenge you to a race across the river. However, once the race begins do not follow Shirli. Skew slightly to the right and you'll notice another orb floating in the middle of the river. Jump and dodge to reach it and claim another Gold Nucleus.
The third and final Gold Nucleus you will get during the story is when you meet Scrapper. After meeting him you will jump off the vantage point to use your jetpack. As you glide down, ignore the marked location where you're supposed to go. Instead, you will notice giant pieces of bones sticking out of the ground, aim towards it and you'll notice an orb in mid-air. Just simply fly through this one to claim it.
Claiming Rewards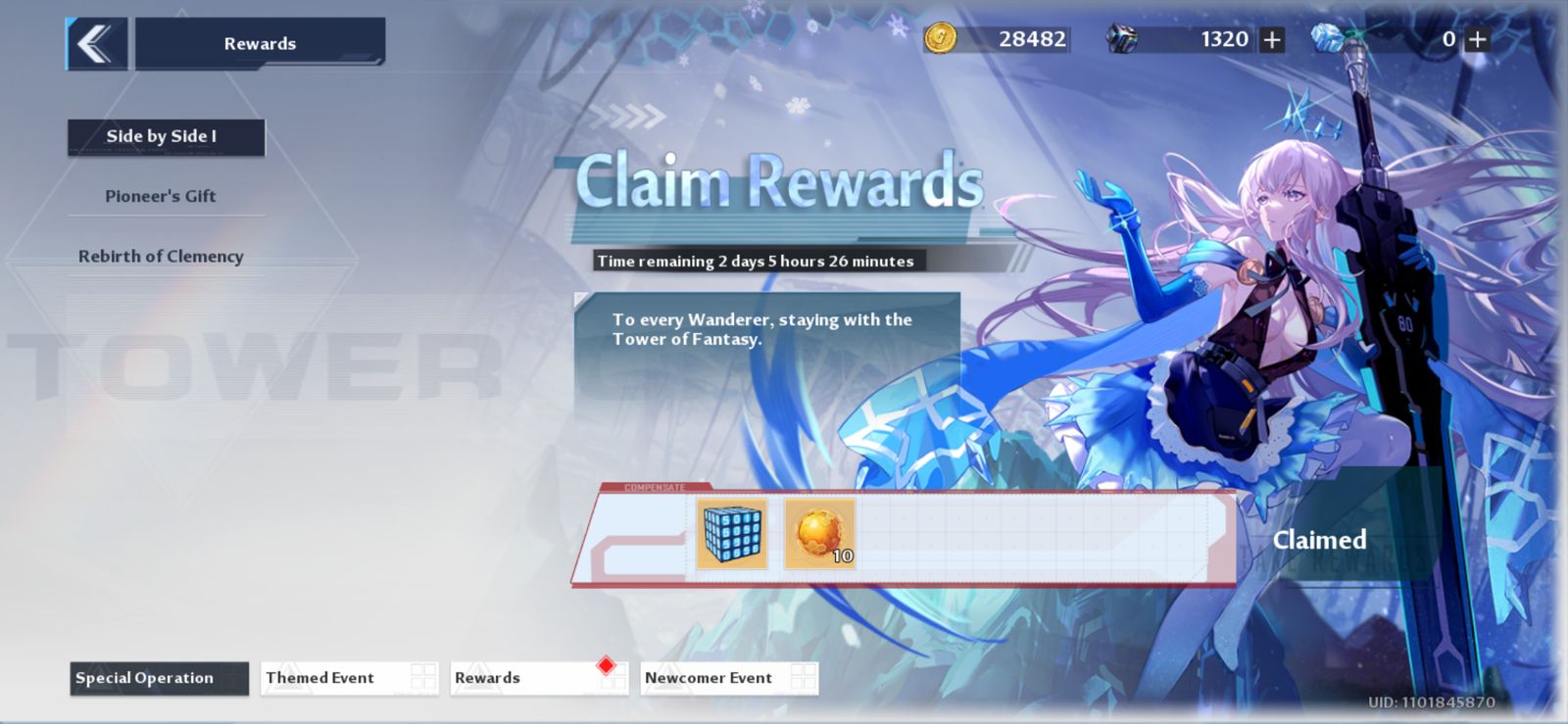 After following Scrapper you will end up in a fight with a few enemies. Once you defeat them you will finally unlock the Gacha System in the game. However, you still need to claim your Gold Nucleus to be able to make at least 30 Gacha Pulls.
You will notice a new icon on the top right corner of your screen. Next to the 'Shop' icon, press this and it will open up the 'Rewards' section. From here on, claim everything you can from each tab. The 'Special Operations' tab will yield you up to 20 Gold Nucleus if you're part of the Pre-registration event (for the players that register within the first 180 days).
Now that you have the required Gold Nucleus, it's time to do the Gacha Pulls and hope for the best!
Step 3: Gacha Pulls
By now, according to our method, you should have at least 30 Gold nuclei. This means you will be able to do three x10 pulls, along with a few solo ones depending on if you got any more Gold Nucleus from the rewards section.
While you do three x10 Gacha Pulls, you will aim for SSR Simulacra in order to give you a good headstart at the game. Also keep an eye if you get your hands on the 'Fire Bow', because you can then use it to get some more Gold Nucleus scattered across the map. However, it's easier to stick to three x10 pulls and then reroll if you don't get any good pulls.
In case you do summon an SSR Simulacra of your choice, then you're all done at this point and you wouldn't need any rerolls. You can just carry on playing the game, however, most of the players won't get what they desire right away.
In case you get nothing special during your Gacha Pulls, you can then begin the rerolling process in Tower of Fantasy.
Step 4: Reroll
Let's suppose you pulled nothing extraordinary from the Tower of Fantasy's Gacha System. All you can do now is rinse and repeat the whole process and hope that you pull something better.
Firstly, log out of the game and close it. Now restart the game and sign up with one of the dummy email IDs you made earlier. You can straightaway load up a new game since your character preset would already be saved. Now you need to repeat everything we mentioned in Steps 1 & 2. However, this time around, skip all the cutscenes to save time.
Recollect all the Gold Nuclei and claim the ones from the rewards section. Now you'll be back at the Gacha Pulls section. Now you can do the pulls again and hope for the best.
You'll keep repeating the process until you've pulled something rare using your Gold Nucleus. Once you do, you can then link the Email account with your social media to make it easier to access in the future.
The rerolling process could take many tries but for some, it may only take a few. Therefore, only the ones who are committed will pull out this technique to get the best summons before continuing Tower of Fantasy.
That concludes our Tower of Fantasy Reroll Guide.
What Are The Best Early Game Pulls In Tower Of Fantasy?
So, what should you be aiming for when you're doing Gacha Pulls in the Tower of Fantasy? Well, for starters you should aim for SSR weapon characters. One of the best Simulacra for early players is Samir. Since she is the most user-friendly and offers a balanced play style.
Other than that, Shiro, Tsubasa, and King are also great pulls for starters. If you somehow don't get these 4 in any of your rerolls, then sticking with Meryl, Cocoritter, and Zero isn't that bad either. Rerolling has the advantage that you can always return to a certain gamer profile if you think the pulls were better there.
You can use our Reroll Guide about Tower of Fantasy to get the best possible start to the game by bagging SSR Simulacra's. We hope you enjoyed reading through the detailed step-by-step process of rerolls in Tower of Fantasy. We assure you that our guide will help you in getting the best experience in the world of Aida!
Was this article helpful?
Thanks! Do share your feedback with us. ⚡
How could we improve this post? Please Help us. ✍