Vampire: The Masquerade – Bloodhunt Devs Are Working On Two Unannounced AAA Projects
Both the unannounced projects will feature multiplayer and social elements.
Story Highlights
Vampire: The Masquerade – Bloodhunt developers are working on two new AAA unannounced projects behind the scenes, alongside handling their first free-to-play experience.
Sharkmob's new IPs are highly ambitious large-scale online multiplayer experiences like its first game, in development in the Unreal Engine 5.
The in-development entries will release on PC, Xbox, and PlayStation platforms, as officially confirmed by the developers.
The specifics of the projects are currently unknown, and the developers have adopted a silent stance from the public eye for now. We may hear more in the future.
Sharkmob is a reasonably new firm that started its journey in 2017 but is already planning long-term. The stellar studio is reportedly brewing two unannounced AAA projects behind the curtains, alongside actively satiating Vampire: The Masquerade – Bloodhunt fans on the side.
The new company consists of two studios, one located in London and the other in Malmö, and they both are hiring new talent to work on two large-scale entries. One of these unannounced projects has been known to be in development since last year through job listings that referenced that unnamed game. Regardless, the studio is working on another unannounced entry, as recently spotted on the official site and in newer job listings.
We are in it for the long game so in addition to Bloodhunt we are also working on two other projects.

These are highly ambitious, AAA projects powered by the Unreal 5 Engine. One is developed with Malmö as lead studio and the other by London. It is no secret that we love action-packed, online, social experiences – so it is safe to say that these games contain such elements.

Wanting to push technology to its limits, we of course develop for PC and next-gen consoles," reads the official site.
Hence, both of these projects appear to be quite similar in scope. These sentiments have also been corroborated in a multitude of job listings that are open on the official site. For instance, the job opening seeking to fill the role of a Producer claims that the "project is an open world, online action packed experience." Due to a lack of details, it is difficult knowing whether both unannounced projects are open-world or only one of them.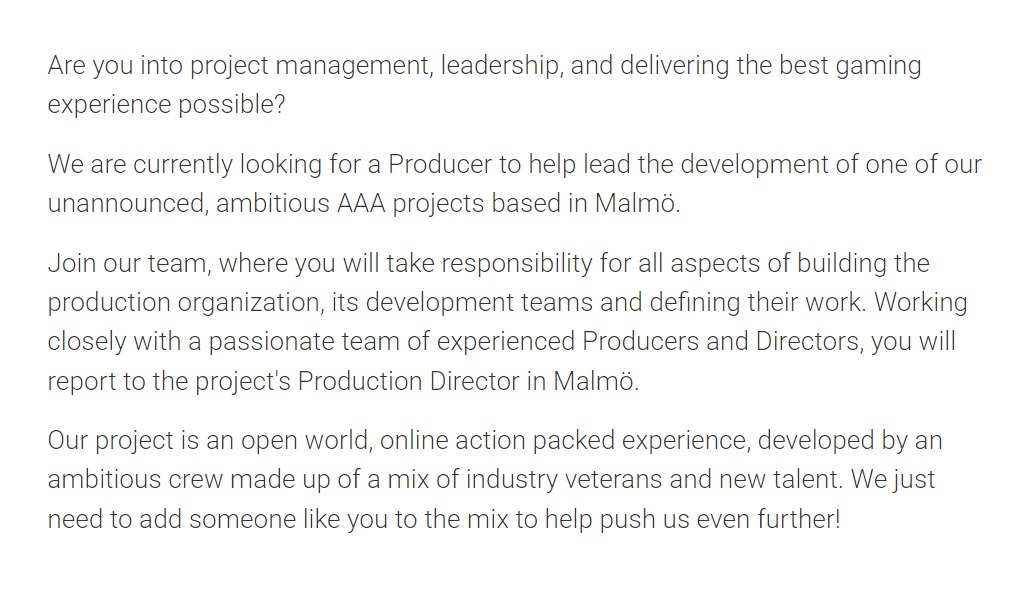 Regardless, the Bloodhunt devs are hiring for very prominent roles, implying the new unannounced IPs are in the skeletal stages of development. As noted above, both projects are being brewed in Unreal Engine 5. It is further affirmed in another ad by the team. "We are working with UE5, but while it is a feature-rich and established engine, our games require something more," states the description for the Tech/Engine Coder opening.
Both the games will arrive on PC, Xbox, and PlayStation consoles, as said in the general description. This was also further included in the job listings, verifying the multi-platform prospect once and for all. The job listing above also seeks a bonus experience for "PlayStation 5 and Xbox Series X development." Moreover, a "deep understanding of concurrency and how to optimize it, both on the CPU and GPU" is also stated.
In the past, Sharkmob was crafting three entries at the same time, which is an excellent feat for a young game studio. The entry, Vampire: The Masquerade – Bloodhunt, was eventually released and gained favor among the fans for its unique battle royale take on the alluring franchise. The success of the first title has made gamers alert of the new studio, and the prospect of two new unannounced AAA projects by it is surely a glad tiding.
Released a little more than a year ago, Vampire: The Masquerade – Bloodhunt is a free-to-play PvP battle royale that pits you against other players in a mid-scale vampiric battle. The game traces its early access release back to September 7, 2021, until seeing itself going full-blown on April 27, 2022, receiving a port for the PlayStation 5 as well.
Similar Reads: A New Diablo 4 Xbox Series X Edition Could Be Announced Soon, Suggests Rumor.
Was this article helpful?
Thanks! Do share your feedback with us. ⚡
How could we improve this post? Please Help us. ✍