Hack and slash series such as Bayonetta and Devil May Cry have left their mark on the industry, not solely because of their brilliantly designed combat mechanics, but also due to the fact that each game carries unique traits. These traits help define their legacy amongst other titles of the same genre.
Similarly, Hi-Fi Rush is an Action hack and slash title with an awesome twist, in that it blends musical rhythm into its gameplay formula. So we have prepared a review in which we will discuss everything you need about it from the storytelling to its ultra-satisfying combat.
Story And Setting
The setting of Hi-Fi Rush takes place in a dystopian future where technology has ushered in robots, androids, and other automated machinery. But in this same world, we are introduced to the protagonist of the story, Chai, a quick-witted adolescent boy who one day decides to rebuild his arm using Project Armstrong, owned by technological powerhouse manufacturers; Vandelay Technologies.
However, things take a turn for the worse here, as we not only learn that the CEO of the company, Kale Vandelay, has ulterior motives for his scheme but even more so that our young hero ends up in a tricky situation during his surgical operation. Chai's MP3 player lands on his chest right as the surgery begins, fixating it onto his body, thus granting him extraordinary new powers, and sending him on a cat-and-mouse chase with the factory's guards and security hot on his tail to get rid of him.
Thankfully, not all hope is lost as we are soon introduced to a robotic feline, 808, who guides us across the first section of the game as we escape the confines of the Armstrong facility. We meet up with the owner of the cat in a remote location, Peppermint, who enrolls us in her rebel gang to fight against Vandelay's organization.
Together with his newfound musical powers and allies, you will soon find yourself on a rollercoaster adventure where the symphony of music will empower Chai to fight against evildoers and other monstrosities.
Overall, the storytelling almost gave me vibes of Studio Trigger anime such as Edgerunners and Kill la Kill, where a complex narrative was of the least concern and the writing was instead comically fun and full of thrills. The humorous banter of Chai with the rest of the characters in Hi-Fi Rush is easily a highlight for me during my time reviewing the game, as each of them is brimming with personality and enigma.
Moreover, anyone who's looking for chaotic yet fast-paced storytelling will more than likely enjoy this game right from the early going. The writing of the game may be colorful, but it's time we discussed the real meat of the piece here: the gameplay and combat.
Gameplay
When it comes to delivering awe-inspiring gameplay, Hi-Fi Rush excels in that with high regard as the combat revolves around beating enemies to the sound of the musical score. To put it plainly, it takes the basic combat components of both Bayonetta and DMC, but spices it up with a unique sense of design that it honestly feels like some of the most fun you will early 2023.
Hi-Fi Rush's Rhythmic combat is an innovation, in that it even makes recent AAA titles fall in comparison with the creativity as you pound and slash away at enemies with every beat of the soundtrack. The little details matter so much with this game, as the environment is completely in sync with the currently playing track, giving the player every bit of indication of when to perform attacks and dashes to achieve the perfect rating.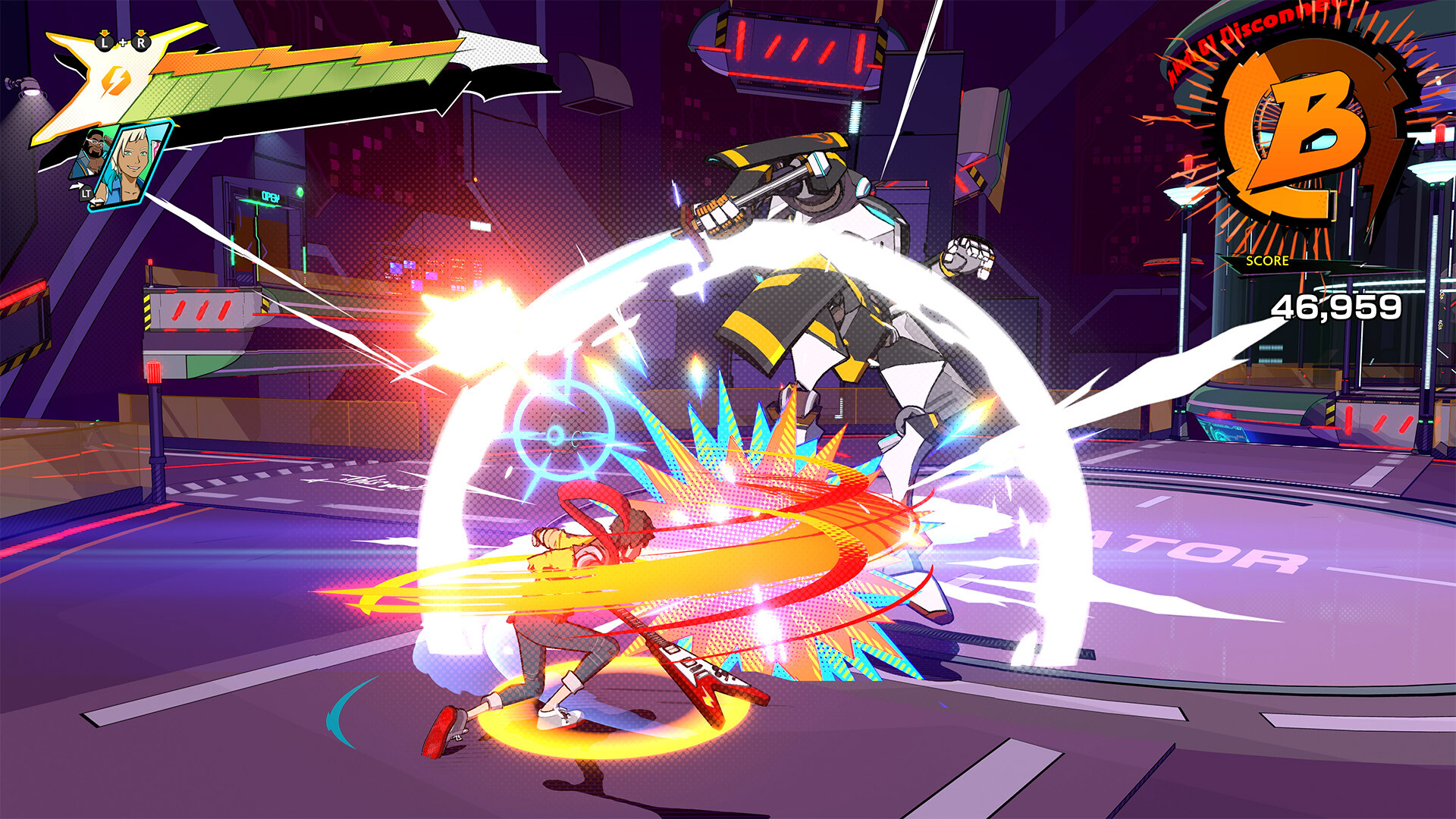 Speaking of which, the game also has a familiar rating system where your combat encounters are judged according to your performance. Basically, the more variation and style that you play with, the higher your rank goes.
The enigmatic combat is further bolstered with individuality as the game will encourage you to perform Beat-hits, which are essentially finishers, while still keeping them closely rhythmic so you can deal better damage using them.
The unique mechanisms here are so well put together that it's honestly jarring that the game perfectly balances itself so that it doesn't feel too hard to manage or too forgettable later on. The pacing of the encounters themselves can be rather slow at times, but honestly, each fight will largely feel different than the earlier ones just because of the change in tone of the music.
Rather than completely depending on the player to learn the beats, the game provides enough accessibility here to make the entire system easy to learn and understand. One such example is the on-screen BPM meter, which will make performing synchronized combos easier. Whether it's dashing to the sound of each beat, or even parrying enemies in a full groove, you will need to carefully time all your moves to make sure that your final rank stays high enough.
Aside from that, the game is pretty linear in design as you will mostly be undertaking missions with your crew while participating in the moment-to-moment fighting sections. Taking a breather from the chaos at the hideout will allow you to interact with the other friendly NPCs, or you can choose to invest your gathered resources from missions to unlock a new set of combos for Chai or enhance his Reverb Gauge with the latest special attacks.
All in all, the game hardly fails to exceed expectations at first glance, since its gameplay is filled with a high dose of adrenaline and charisma. And as a fan of both the Rhythm & Action games genre, this experience turned out to be one of my favorite first-party Xbox titles, one that even makes me think of what Shinji Mikami and his team at Tango Gameworks create next.
Visuals And Performance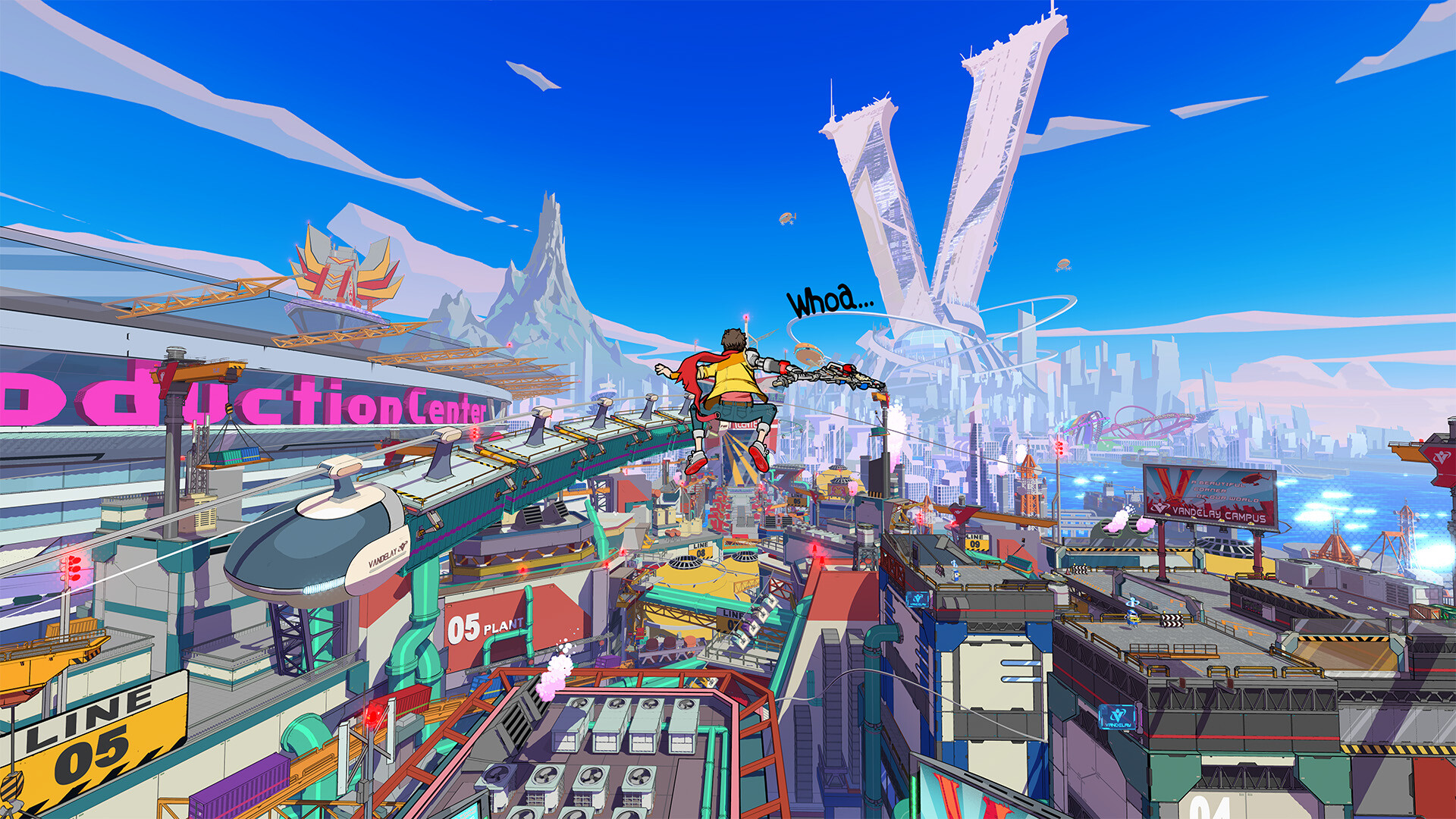 The art style of Hi-Fi Rush is definitely another trendsetter, as the game is oozing with style with its cell-shaded animation mixed with 2D cartoonish visuals. The colors of the city are gorgeous, with each one striking a different sort of note. Even in underground areas and corridors, you will find yourself admiring the artistry that went into the level design so that not a single minute of the game feels dull.
Furthermore, there are numerous occasions where the game will switch between its graphical art styles, going as far as to make you jaw-drop on some of the intense or climactic setpieces of the game such as its boss fights.
It certainly felt awe-inspiring to put down the controller and admire the sheer creativity that went into the game with its visual decor, almost reminding me of titles with similar yet equally superb art direction moments such as Jet Set Radio and Sunset Overdrive.
Now, onto the performance side of things. I am pleased to report that Hi-Fi Rush will run smoothly even on average systems as the game isn't certainly demanding which we know already by its unique visuals. But I will say, that playing the game on 1440p resolution along with a locked 120 framerate on the RTX 3060Ti can be a treat to the eyes but you should face hardly any problems with running the game as it is excellently optimized.
Verdict
Hi-Fi Rush is a title that not only manages to make its mark in the genre but also showcases the fact that it is a video game that offers nothing but pure high-octane fun from beginning to end. Taking the traditional hack-and-slash formula and combining it with its own musical twist, makes for an outstanding experience in every single way, even for someone who's not used to rhythm-based games.
The eccentric writing from both the protagonist as well as the world's inhabitants is sure to give you a chuckle and sometimes, even amaze you during the intense moments. Along with a straightforward progression pattern and multi-layered level design, the game checklists every box to make it a must-play for anyone looking to just kick back and have a joyful experience beating up robotic cronies to a head-banging tune.
This has been our Hi-Fi Rush Review. While you're here, consider checking out some of our other articles.
Was this article helpful?
Thanks! Do share your feedback with us. ⚡
How could we improve this post? Please Help us. ✍
Hi-Fi Rush Review
Story And Setting

Gameplay

Visuals And Performance
Verdict
Hi-Fi Rush is a title that not only manages to make its mark in the genre but also showcases the fact that it is a video game that offers nothing but pure high-octane fun from beginning to end.
Pros
Delightful Cast Of Characters
Exceptional Rhythm-Action Combat
Gorgeous Artstyle And Visuals
The Captivating Soundtrack
Superb Graphics Optimization
Cons
Lack Of Enemy Variety
Shortage Of Side Content