The competitive element of Battle Royale games is why many pro players play them. It gives them a platform to display their skills uniquely. Many players like to follow pros on game settings and setups. Now when er talk about pro players who can be better than the Aim-god Shroud himself. That is why in this guide, we shall give you Shrouds Warzone Settings and Gaming Setup.
Related: Warzone Best PS4 Settings
The battle royale genre has become extremely popular in the past few years. After the popularity of games like Fortnite and Player Unknown Battle Grounds (PUBG), battle royale games have become the most played games of all time. The Call of Duty franchise has also entered the industry with Call of Duty: Warzone. Today Call of Duty Warzone is one of the most popular battle royale games.
Shrouds Warzone Settings
More From Exputer: Symfuhnys Warzone Settings
Shroud is a former Pro CS: GO player who is now a professional streamer and Youtuber. He is mostly known for playing first-person shooter games and battle royale games. As of December 2021, Shroud's twitch channel hit over 9.9 million followers, making him the fifth biggest channel on the platform.
His playing style heavily incorporates precision and aim-based play. So, if you think you have a similar playing style, then copying his settings is probably a good idea. The details are given below.
A similar read: Shroud Apex Legends Settings
Shrouds General Settings
Shroud's general settings for Call of Duty: Warzone is given below.
| | |
| --- | --- |
| Name Of Setting | Shroud's General Setting |
| Field of View | 100.00 |
| ADS Field of View | Independent |
| Brightness | 50.00 |
| H. / V. HUD Bounds | 100.00 |
| Color Blind Type | Disabled |
| Colorblind | – |
| Mini Map Shape | Square |
| Mini Map Rotation | Enabled |
Shrouds Mouse Settings
Every good player knows the importance of mouse settings in FPS games. Especially in a game that is as competitive as Warzone. Each player has a unique mouse profile well-adjusted to their playing style, hand movement, and sensitivity preferences. It helps with managing recoils during sprays and improves aim accuracy. Shroud's mouse settings for Warzone are given below. If you think your playing style and sensitivity preferences match Shroud's, try them out for yourself and see if they improve your gameplay. Feel free to make a few changes if you think some changes might be better for you.
| | |
| --- | --- |
| Name Of Setting | Shroud's Mouse Setting |
| DPI | 450 |
| Hz | 1000 |
| Sensitivity | 7.50 |
| Vertical Sens Multiplier | 1.00 |
| ADS Sensitivity | Relative |
| ADS Sens (Low Zoom) | 1.00 |
| ADS Sens (High Zoom) | 1.00 |
| ADS Sens. T. Timing | Gradual |
| Monitor Distance Coefficient | 1.33 |
| Mouse Acceleration | 0.00 |
| Mouse Filtering | 0.00 |
| Mouse Smoothing | Disabled |
Shroud Warzone Key binds
There is not something too special about Shroud's Warzone key binds. From its looks, they are quite natural, and most of the settings are on to default. However, there are some changes like the weapon mount and Melee controls. The detailed settings are given below.
| | |
| --- | --- |
| Name Of Setting | Shroud's Key Binds |
| Use | F |
| Jump/ Stand/ Mantle | Space |
| Crouch/ Slide | Left Ctrl |
| Prone | Z |
| Change Stance/ Slide | C |
| Sprint/ Tactical Sprint/ Steady Aim | Left Shift |
| Weapon Mount | E / Mouse 5 |
| Reload | R |
| Alternate Fire | B |
| Melee/ Finishing Move | Caps Lock |
| Lethal Equipment | X / Mouse 4 |
| Tactical Equipment | Q |
Shroud Warzone Behavior Settings
A crucial part of Shrouds Warzone Settings is the behavior controls. Behavior controls are very important in ensuring a smooth Warzone experience. Most of them are closely related to your natural reflexes. You wouldn't want your ADS behavior to be on Toggle when you are accustomed to setting it on Hold. So, below we have listed Shrouds Behavior settings for COD: Warzone. Please have a look and compare them to your setup.
| | |
| --- | --- |
| Name Of Setting | Shroud's Behavior Setting |
| Slide Behavior | Tap |
| Crouch Behavior | Hold |
| Prone Behavior | Toggle |
| Automatic Airborne Behavior | Disabled |
| Sprint/ Tactical Sprint Behavior | Toggle |
| Automatic Sprint | Automatic Tactical Sprint |
| Depleted Weapon Ammo Switch | Enabled |
| Switch Weapon Minimum Delay | 0.00 |
| Weapon Switch Wrap-Around | Enabled |
| Weapon Mount Activation | Toggle Weapon Mount Key bind |
| Weapon Mount Movement Exit | Enabled |
| Weapon Mount Exit Delay | 100.0 |
| Aim Down Sight Behavior | Hold |
| Change Zoom/ Toggle Hybrid Behavior | Sprint/ Tactical Sprint/ Steady Aim Key bind |
| Equipment Behavior | Hold |
| Vehicle Camera Center | Disabled |
You might also like: Shroud Rainbow Six Siege Settings
Video Settings
Opposite to what many people think about video settings, professional players mainly focus on maximizing frame rate rather than quality. A high framerate with relatively lower graphics is preferred over lower FPS and better graphics. By doing this, players ensure that their game runs smoothly and seamlessly. If your gaming setup is similar to Shroud's, we will encourage you to try and see if the added FPS makes a difference in your performance.
Display
Name Of Setting
Shroud's Display Setting
Display Mode
Full Screen
Refresh Rate
240
Display Resolution
2560 x 1440
Render Resolution
100
Aspect Ratio
Automatic
V-Sync
Disabled
Custom Frame Rate
Unlimited
Display Gamma
2.2 (sRGB)
Details and Textures
Name Of Setting
Shroud's Detail and Texture Setting
Texture Resolution
High
Texture Filter Anisotropic
Highs
Particle Quality
High
Bullet Impact and Spray
Enabled
Tessellation
Near
Shadow and Lighting
Name Of Setting
Shroud's Shadow and Lighting Setting
Shadow Map Resolution
Normal
Cache Spot Shadows
Disabled
Cache Sun Shadows
Disabled
Particle Lighting
High
DirectX Raytracing
Disabled
Ambient Occlusion
Disabled
Screen Space Reflection
High
Post Processing Effects
Name Of Setting
Shroud's Post Processing Setting
Anti-Aliasing
SMAA T2X
Depth of Field
Disabled
Filmic Strength
1.00
World Motion Blur
Disabled
Weapon Motion Blur
Enabled
Film Grain
0.00
Now that was all you needed to know about Shroud's Warzone Settings. Let's look at his gaming setup.
An interesting read: Warzone Best Audio Settings
Shrouds Gaming Setup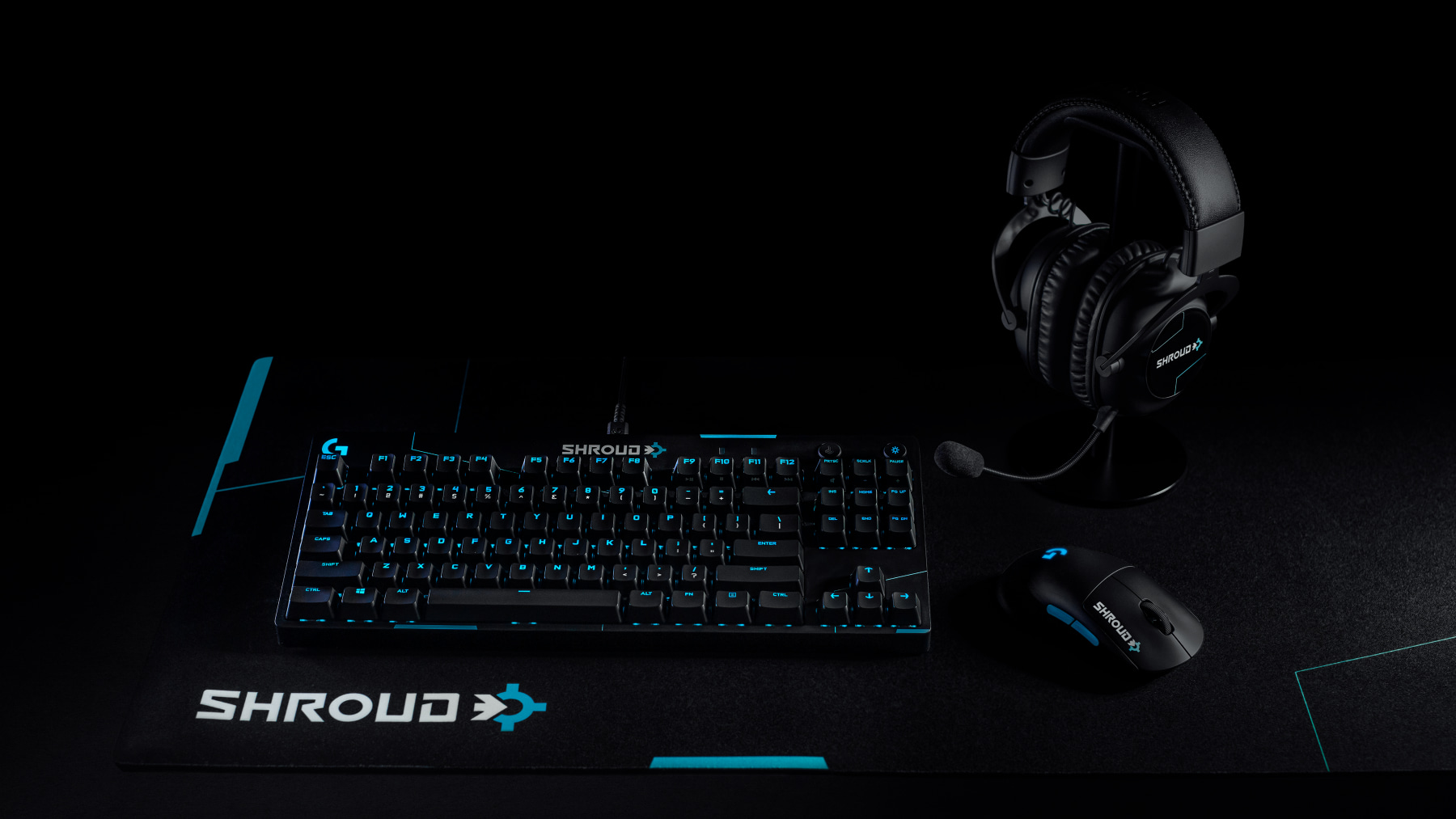 Before discussing Shroud's gaming setup, let's clarify a few things. Hardware explicitly made for gaming is not the same as regular PC parts. All the professionals use expensive gaming hardware to boost their performance in games. Since we are talking about someone as famous as Shroud, we expect to use top-of-the-line gaming hardware.
Speaking of dedicated gaming equipment, we must point out that it doesn't come cheap. However, we have given a detailed review of Shroud's gaming setup along with their latest market prices. Have a look and decide if you can make any improvements to your setup.
Shroud's Gaming Monitor (Alienware 2721D)
A monitor is a crucial part of any gaming setup. It is the main attraction source in your gaming rig, giving it an aesthetic sense. Your monitor's refresh rate and quality make all the difference in your gaming experience. We would advise you to get a good gaming monitor that is the best price to value offer for your money.
As far as Shroud's gaming monitor is concerned, he uses the Alienware 2721D. Now, of course, the Alienware 2721D is not a cheap monitor. However, it is worth every penny for its price range.
It has three variants, two of which are 27 inches. The first one has an FHD screen, while the second has a QHD screen. The third variant has a screen size of 37 inches variant, and it is WQHD. The refresh rate on the monitor is 244 Hz, and it also has NVIDIA G-Sync. Now coming to the price of the three variants.
The FHD variant costs around 330$ while the QHD version is 700$. The WQHD variant is the most expensive of the three, and it costs around 1460$ (Dell's official website).
Shroud's Gaming Mouse (Logitech G-303 Shroud Edition)
Every player has their preferences when it comes to selecting a gaming mouse. Many players pick a mouse well suited to their hand size, arm movement, and weight preferences. That is why we would advise you to get a mouse that feels right to you.
Shroud did a recent collaboration with Logitech where they modified their classic G-303 mouse for Shroud. This new mouse was called the G-303 Shroud edition. The mouse has five mouse buttons, and it is super lightweight (75 grams). This makes it perfect for low-sensitivity DPI, which allows you to aim faster and with greater precision.
The G-303 Shroud Edition is temporarily sold out on Logitech's official website. It costs about 110$.
Shroud's Gaming Keyboard (Logitech G Pro X Keyboard SE)
Unless you are into muted and dark colors, you will have some RGB in your gaming setups. The keyboard is the most common RGB peripheral in gaming setups. On top of RGB, all gamers prefer mechanical keyboards over any other keyboard. Shroud also has an RGB mechanical keyboard.
Shroud's keyboard is also a product of his collaboration with Logitech. This is the Logitech G Pro X keyboard ( shroud edition). It is a tenkeyless design with user-swappable mechanical switches.
The Shroud Edition of the G Pro X keyboard has a fixed linear style, but there are the other two styles (clicky and tactile). This means that you can still buy a similar keyboard to Shroud even if you don't want the one with his design. The Shroud edition of the G-pro X keyboard costs around 150$ from Logitech's official website.
Shroud's Gaming Headset (Logitech G Pro X Wireless Headset SE)
Quality headsets are very important when you are playing competitively. You should always make sure that your headsets feel comfortable and have great audio quality. As for Shroud, he uses the Shroud edition of the Logitech G Pro X wireless headset. These are highly durable since they have an aluminum and steel-enforced headband.
The memory foam on the headphones makes them extra comfy and excellent for noise cancellation. The comfort provided by these headphones allows you to play for hours without getting tired. They cost around 230$ from Logitech's official website.
So that concludes our guide on Shroud's Warzone Settings and Setup. What changes will you make to your setup? Do let us know in the comments below.
Next: Shroud Valorant Settings
Was this article helpful?
Thanks! Do share your feedback with us. ⚡
How could we improve this post? Please Help us. ✍