In the gaming space, nothing gets more competitive than battle royale games. Games that put you against almost a hundred players in a single match are surely nerve-racking. Apex Legends became an enormous success when the battle royale genre took off. Naturally, winning such a competitive game is not an easy task. Many players look up to professionals, such as ACEU's gameplay, for tips and settings to improve their play style. Shroud is another prominent professional Apex Legends player whom many fps players follow religiously. That is why we have curated Shroud's Apex Legends settings in this guide.
Key Takeaways
Shroud

uses a

high Field of View

(FOV) setting of

90

, which allows him to

see more

of the game world around him.

He also uses a

low mouse sensitivity setting

, which helps him to make

precise aim adjustments

.

Shroud's

key binds

are

designed

to be

efficient and easy to use

, with certain actions mapped to specific keys.

He uses a

high-quality gaming mouse

and

keyboard

, as well as a

high-refresh-rate monitor

, to ensure that he has the best possible input response.
Shroud's Apex Legends Settings
Shroud is a former CS: GO player known for playing FPS and battle royale games like Escape from Tarkov, PUBG, Apex Legends, and Valorant. He has the fifth most followed channel on twitch with around 9.9 million followers, and he has got the best aim we have ever seen. Of course, there are other professional players such as Genburten who are equally on par with him. However, many players still prefer to follow Shroud's game settings and replicate his setup to perform well in their games. That is why we shall share his Apex Legends Settings in this guide.
Shroud's Apex Legends Keybinds
For games like Apex Legends, which have a lot more than just shooting and moving around, it is important to carefully set your keybinds to something that feels the most comfortable. Of course, Shroud has also set his controls to custom key binds for his ease. Shroud's key binds are given below. Compare them with your key binds and see if you can improve your setup.
| | |
| --- | --- |
| Name of Setting | Shroud's Keybind |
| Sprint | Left Shift |
| Ultimate Ability | Z |
| Crouch (Toggle) | C |
| Jump | Mouse wheel down |
| Tactical Ability | Q |
| Crouch (Hold) | Left Ctrl |
| Interact / Pickup | F |
| Inventory | Tab |
| Fire mode | B |
| Melee | Mouse 4 |
| Reload | R |
| Aim (Hold) | Right Click |
| Use Selected Health Item | 5 |
| Use Syringe | H |
| Use Med Kit | 4 |
| Use Sheild Cell | 3 |
| Use Shield Battery | Mouse 5 |
| Use Phoenix Kit | X |
| Equip Grenade | G |
| Ping | Mouse wheel |
| Push to talk (Hold) | x |
Shroud's Apex Legends Mouse Settings
Every gamer that plays First Person Shooter games realizes the importance of their mouse settings. Although it may sound insignificant, your settings are crucial in improving your playstyle. A player's mouse settings are dependent on their muscle memory, hand movement, and playing style. That is why you should set your mouse settings to something comfortable. So, if you think that your playing style is like Shourd's, look at the settings below and try them out for yourself.
| | |
| --- | --- |
| Name of setting | Shroud's Mouse Setting |
| DPI (Dots Per Inch) | 450 |
| Mouse Sensitivity | 3 |
| ADS Multiplier | 1 |
| Hz | 1000 |
| Mouse acceleration | OFF |
| Mouse Invert | OFF |
Try these settings and see if you can play comfortably on them. If something does not feel right, try changing them a little and see if that works.
Shroud's Apex Legends Video Settings
Video settings have a leading role in the setup of a professional player. Opposite to widely held belief, many players like to keep their video settings low, even on their expensive gaming rigs. Low video setting boosts their FPS (Frames per second) and allows them to have a smooth gaming experience.
Naturally, Shroud's video settings are also set to make the game a smooth experience for his eyes. Shroud's video settings for Apex Legends are given below. Compare them to your video settings and make the changes to see if the added FPS makes any difference.
| | |
| --- | --- |
| Name of Setting | Shroud's Video Setting |
| Display Mode | Full Screen |
| Aspect Ratio | 16:9 |
| Resolution | 2560 x 1440 |
| Field of View | 103 |
| Color blind Mode | OFF |
| V-Sync | Disabled |
| Adaptive Resolution FPS | 0 |
| Anti-Aliasing | TSAA |
| Texture streaming Budget | 8GB VRAM |
| Texture Filtering | 16X |
| Ambient Occlusion Quality | High |
| Sun Shadow Coverage | Low |
| Sun Shadow Detail | Low |
| Spot Shadow Detail | High |
| Volumetric Lighting | Disabled |
| Dynamic Spot Shadows | Disabled |
| Model Detail | High |
| Effects Detail | High |
| Impact Marks | High |
| Ragdolls | High |
Now that was all you needed to know about Shroud's Apex Legends Settings. Moving on, we shall now discuss his gaming setup and gear.
Shroud's Gaming Setup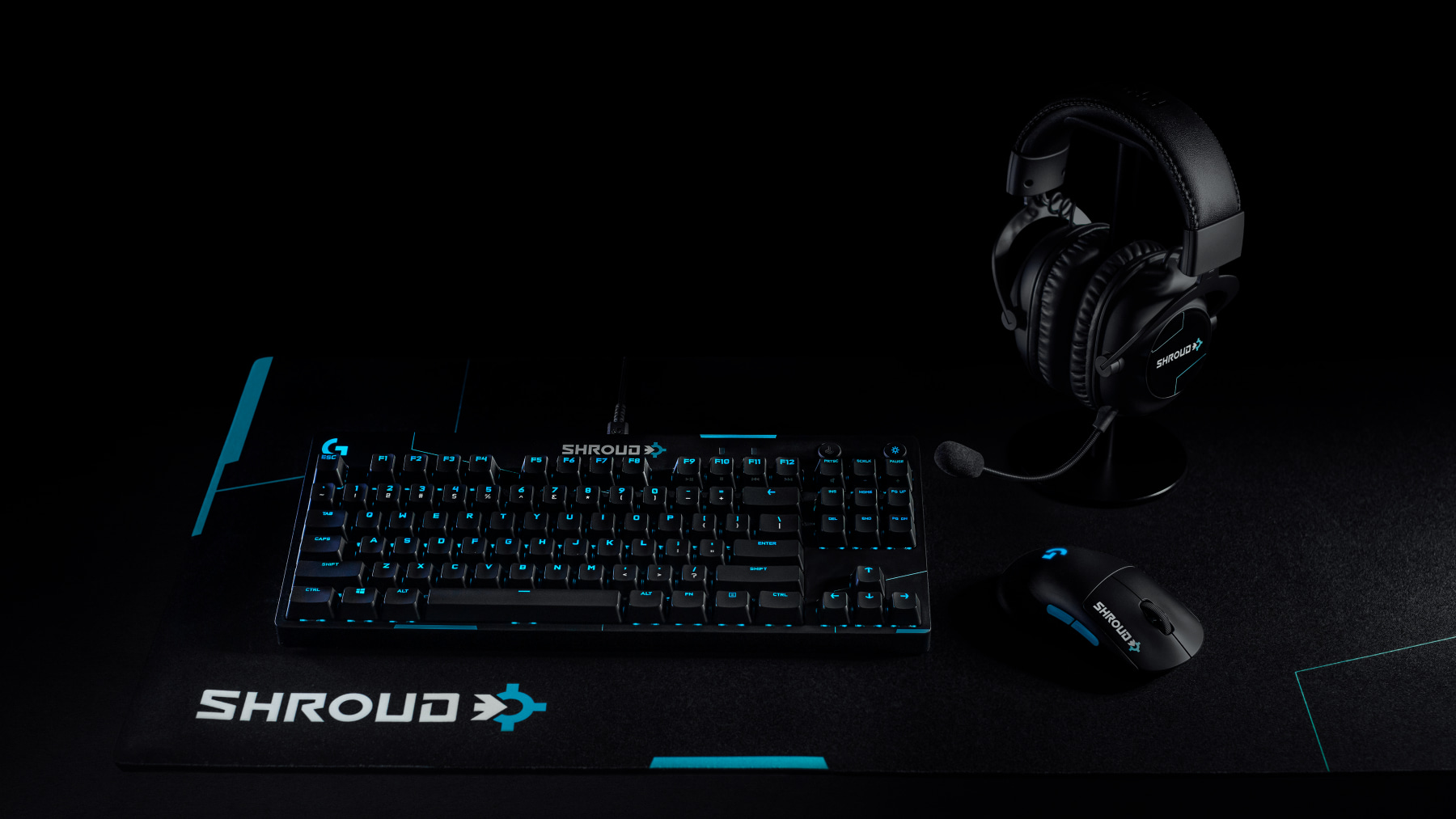 Before we move on to Shroud's gaming setup, we must clarify a few things. Though it might be obvious, gaming gear is different from regular hardware. All famous professional players use top-of-the-line gaming equipment to boost their performance in games. Especially when we talk about players like the aim god Shroud himself, we would expect him to use the best gaming gear available.
However, such gaming equipment does not come in cheap. Regardless of that, Shroud's Apex Legends Setup details are given below. See if there you can make any considerable improvements to your setup.
Shroud's Gaming Monitor
Your monitor is one the most important part of your setup apart from being the main source of attraction in your gaming rig. The refresh rate and display quality of your monitor make all the difference in your gaming. So, it is a good practice to invest in a good gaming monitor or improve your gaming experience.
Shroud's main gaming monitor is the Alienware 2721D. Although it isn't cheap, the Alienware 2721D is worth the money. It comes in three variants two 27 inches (FHD and QHD) and one 37-inches (WQHD) variant. This monitor is ideal for gaming with a lightning-fast 244-hertz refresh rate and NVIDIA G-Sync. However, they do cost a bit more than what your average gamer can afford; the FHD variant of 27 inches is 330$ while the other two are 700$ and 1460$ respectively (Dell's official website).
Shroud's Gaming Mouse
When it comes to mouse choice, every gamer has preferences and biases, which may vary depending on their hand size, mouse weight and shape preferences, and grip style. Naturally, it would be best if you also got a mouse that feels right for you.
Recently Shroud got into a collaboration with Logitech to design a mouse made explicitly for his liking. Modifying their classic G-303, Logitech has made a mouse created for Shroud's hands, the G-303 Shroud edition. It has five mouse buttons, and it weighs about 75 grams which is the perfect weight for low-sensitivity DPI, making your aim faster and improving your gameplay.
The G-303 Shroud Edition is temporarily sold out on Logitech's official website. It costs about 110$.
Shroud's Gaming Keyboard
Of course, you can't spell gamer without an RGB keyboard. Almost all gamers use mechanical keyboards for gaming; indeed, so does Shroud. Like the shroud gaming mouse, Shroud also uses his edition of the standard Logitech G Pro X keyboard. It is a lightweight mechanical keyboard with a tenkeyless design and user-swappable mechanical switches.
The Shroud Edition only comes in linear style, but the standard one has linear, clicky, and tactile style. So, if you don't like the design for the shroud edition, you can always go for the standard one. The Shroud Edition of the Logitech G Pro X costs around 150$ from Logitech's official website.
Shroud's Gaming Headset
Quality headsets are a game-changer in competitive first-person shooter games. That is why many gamers tend to buy comfortable headsets with excellent audio quality. As far as Shroud is concerned, he uses the Shroud edition of Logitech G Pro X wireless headset, a pair of durable headphones with aluminum and steel enforced headband.
The ultra-comfortable memory foam on the ear pads and headband supplies excellent noise cancellation, which is why the G Pro X Wireless also makes them a good choice for long gaming sessions. These headphones cost around 230$ from Logitech's official website.
So that concludes our guide on Shroud's Apex Legends Settings and Setup. What changes will you make to your setup? Do let us know in the comments below.
Was this article helpful?
Thanks! Do share your feedback with us. ⚡
How could we improve this post? Please Help us. ✍