Portal With RTX Free DLC Announced; Equipped With Full Ray Tracing
It will stress test your GPU like no other, requiring hefty specs to run flawlessly.
Portal is among the best puzzle solvers and mind-benders that utilize simple mechanics for enticing gameplay. Its simplicity, replayability through mods, and massive community only supplemented its popularity in the gaming industry over the years. However, the title could soon see a resurgence of new and nostalgic players visiting it.
We can soon re-experience the sentimental memories with Portal through Nvidia's RTX-coated "Portal with RTX," reimagined with ray tracing and DLSS to enrich graphics to a whole new level.
Portal with RTX is an upcoming free extension pack for Portal owners that is slated to launch next week. It will wholly reshape the way we view Portal by making it a mesmerizing next-gen experience. The high-resolution textures crafted in 4K will leave players lost in awe instead of the puzzles' difficulty starting from December 8th.
---
Major Takeaway
Portal is getting a new free DLC for the original critically-acclaimed title riddled with jolly memories.
Nvidia's refurbished "Portal with RTX" is slated for a release next week, landing on December 8th.
It is being developed by none other than Lightspeed Studios and enhances the game's visual allure.
It will integrate modern graphic and FPS-enhancing technologies like full ray tracing and Nvidia DLSS 3.
The game will require some high-end setups for full enjoyment, testing current GPUs to their limits.
---
Portal with RTX is drenched with stellar visuals, delivering a full ray-traced experience. Every frame of the puzzle-solving adventure will reflect modern-day graphics. Portal with RTX will require a high-end gaming rig to run smoothly, challenging your GPU to extremes and serving as a perfect stress test for your GPUs.
However, the free downloadable DLC on Steam will bring technologies like DLSS 2 and DLSS 3 to Portal, smoothening the frame rate to aid your struggling GPU. DLSS implementation will help upscale the resolution and allow players to experience easing the tension on GPUs and making the game look visually appetizing.
"Every frame of gameplay is upgraded with stunning full ray tracing, new, hand-crafted hi-res physically based textures, and new, enhanced high-poly models evocative of the originals, all in stunning 4K," notes the Steam page.
As recently announced by Nvidia, not all graphic cards will be able to utilize the DLSS and ray tracing features. The blog also reveals a comparison video to give a decent idea of how extreme the game contrasts with and without DLSS 3.
For the maximum experience at 1080p and 60fps, an Nvidia GeForce RTX 3080 with DLSS 2, 16GB memory, and an Intel i7-9700K or AMD Ryzen 5 3600 CPU will suffice. However, the new 4000 series cards will snag the most out of the new Portal DLC.
An Nvidia GeForce RTX 4080 with DLSS 3, 32GB memory, and an Intel i7-12700K or AMD Ryzen 9 5900 is required to achieve the "ultra" performance at 2160p and 60fps specs. Note that DLSS 3 only works with the 4000 series graphic cards. The game also includes Nvidia Reflex to shave away as much latency as possible.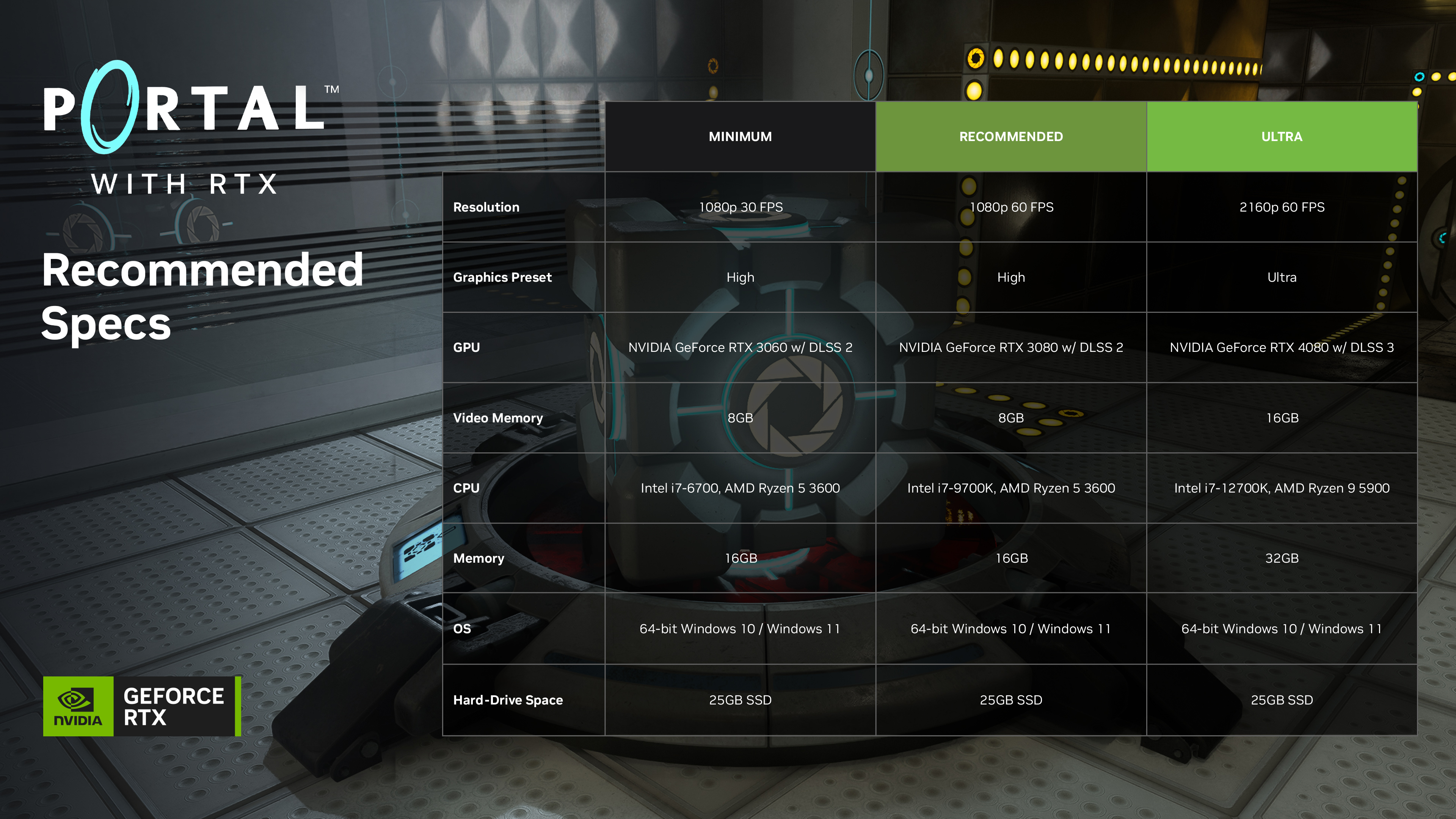 Portal is among the games that give feelings of melancholy and nostalgia and remains one of the most well-renowned games in recent decennia. The first-person puzzle game is reminisced for making players grind their gears and solve challenging yet entertaining dilemmas using simple mechanics.
Portal was first released in 2007 and became a global hit among stoic kids and adults. The free DLC is quite a tribute to the gaming community; it makes a perfect chance to revisit the alluring title without paying a single dime.
Moreover, Lightspeed Studios' DLC appears to already attract newer gamers who craved modern next-gen visuals to play the game.
What are your thoughts about Nvidia's visually alluring and resource-demanding take on the nostalgic Portal experience? Do you think Portal looks better with Ray Tracing and DLSS 3 than you initially anticipated? Do let us know your opinions in the comments below.
Similar Reads: Call of Duty: Warzone 2 Player Discovers Max Money Hack In DMZ Mode.
Was this article helpful?
Thanks! Do share your feedback with us. ⚡
How could we improve this post? Please Help us. ✍