2022 has been fantastic year for gamers so far, as many amazing games were released during the past few months. From Dying Light 2 which puts players in a world filled with zombies to Elden Ring which features a massive open-world environment filled with chaos. And now, we have another game to enjoy, Ghostwire: Tokyo.
Ghostwire: Tokyo is developed by Tango Gameworks. Most of you know them as the studio behind The Evil Within series. As for Ghostwire: Tokyo, it's the developer's attempt to let players experience a world that is taken over by ghosts and spirits. You get to explore the beautiful city of Tokyo, which is now crawling with different enemies.
Gameplay and Story
The story of Ghostwire: Tokyo revolves around an incident that took place in Tokyo which made 200,000 civilians disappear overnight. You take control of Akito, who just before the incident took place, got into a car accident. Soon after this, he gets possessed by KK, who happens to be a spirit detective. It is now up to you to use whatever you can to fight the new threat that has arrived in the city, named the Visitors. These enemies come in different shapes and sizes, and you must be careful around them.
Now, both of them have their own goals to achieve, but KK will be using Akito's body to achieve his objectives. In return, Akito gets the luxury to use paranormal powers, which we'll talk about later. While KK's primary goal is to save the world from Hannya, the game's main villain, Atiko just wants to get his sister back. They both can't function without each other, as KK can not operate without a body, and Akito would be dead within seconds without the powers. Their relationship somewhat reminds me of Venom, as the two are constantly complaining about being stuck with each other. However, as you progress through the game, you'll see a great shift in their relationship as they'll become supportive friends instead of enemies.
You get the luxury to meet different characters as you progress through the story. While you're trying to hunt down Hannya, you'll also need to save the spirits of regular people that can be found all over Tokyo. As there are 200,000 sports to collect, it can take a while to save all of them. But Akito can collect around 100 spirits at once, which surely helps speed up the process.
The open world of Ghostwire: Tokyo is filled with side quests and puzzles that you can complete. The side quests aren't that interesting and some of them might feel boring, but they're still a great way to learn more about the game's world. The side quests will have you helping out different spirits that are trapped around the city. You can also find different consumable items and collectibles throughout the map. Consumable items play a great role in keeping you alive, as using them can restore your HP and grant you some buffs as well, such as increasing your attack power.
The rooftops are the most fun to explore and you can find a lot of loot on them. But it's fun only when you have the Glider and Grapple unlocked. Both help you with moving around easily and quickly. The best part is that you'll acquire both the Glider and the Grapple during the early chapters, so you won't have to wait for long before you can start using them. Furthermore, you can also upgrade them through the Skill Tree.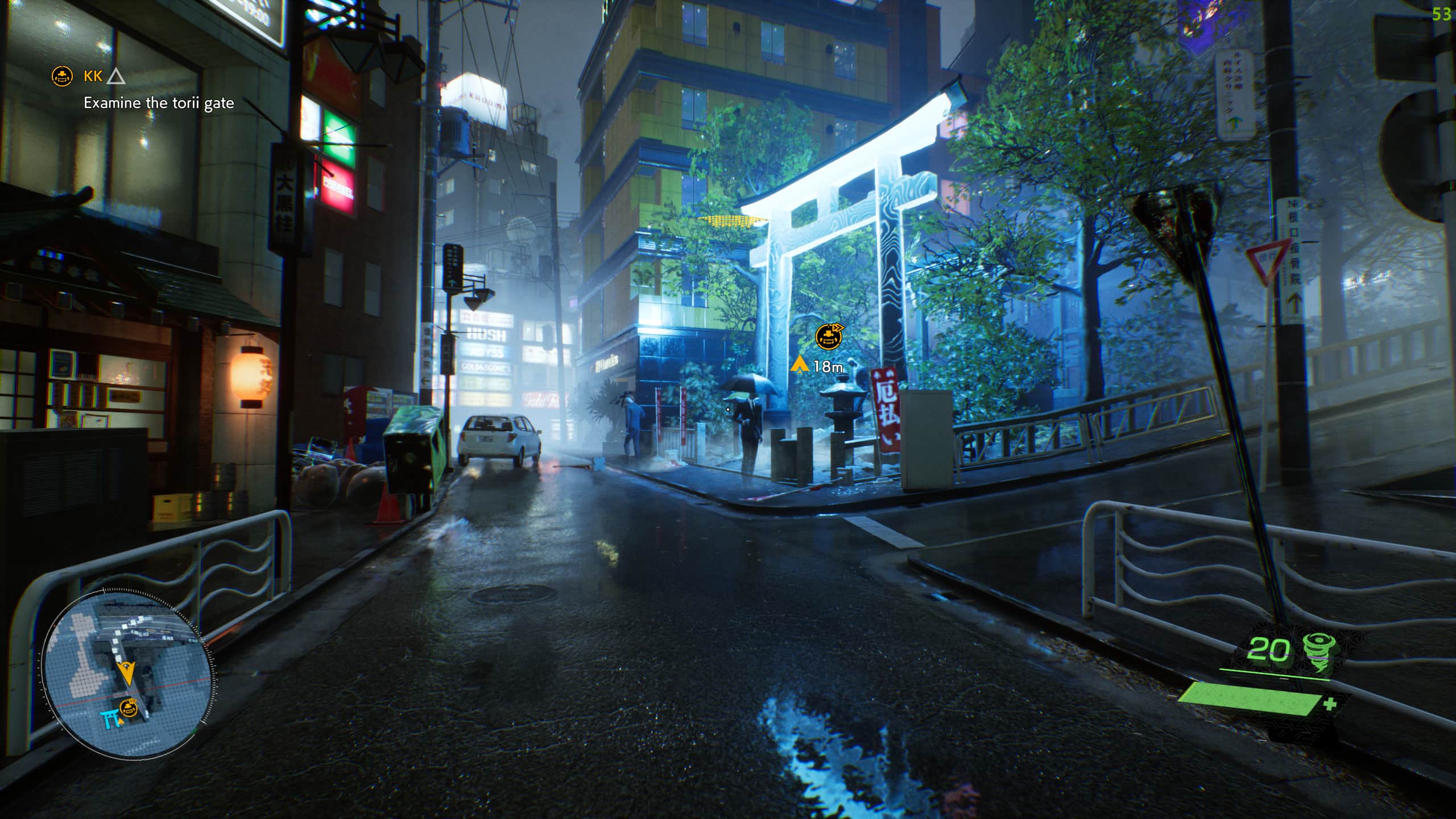 The thing which annoyed me a little was the fact that you don't get to learn a lot about the main story until the later parts of the game. Most of the time, you're only focusing on chasing Hannya and saving Akito's sister, but that's just it. Only during the final chapters of the game, you'll get to learn more about the connections these characters have with each other. Other than that, you will be just wandering around without knowing what's actually happening.
Another important thing to take into consideration is that Ghostwire: Tokyo isn't a horror game. I was expecting the game to feature plenty of horror elements, given the reputation of the developers and their past work, but this isn't the case. Sure, there are a couple of moments that can be called "jump scares," but other than them, there aren't many points where you'll feel scared or as if you're playing a true horror game. I was expecting it to be a bit scary considering the enemies you face are literally ghosts and spirits. You will see some weird stuff happening around, but it isn't something that is going to scare you to the core.
Combat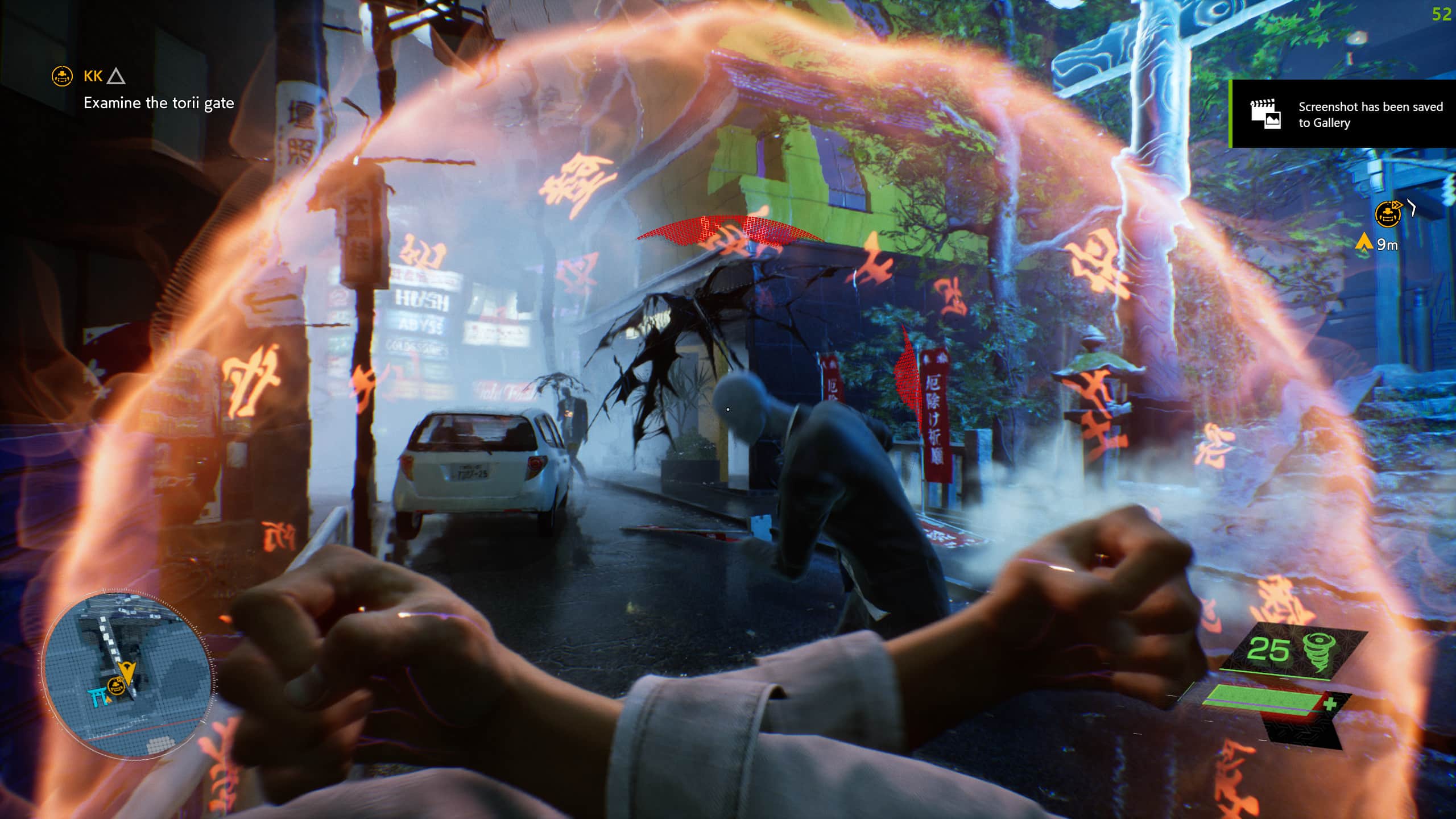 The combat in Ghostwire: Tokyo is great. You get to use elemental powers, all thanks to KK of course. Akito uses Kuji-in to execute these attacks. For those who don't know, Kuji-in is a practice that involves using hand movements to perform attacks. Thanks to these hand movements, the combat itself is pretty stylish and you won't get bored with the attack visuals.
As the combat is purely based on these elemental powers, you can use attacks of water, fire, and wind type. All three of them are unique and have their own purposes. For instance, if you want to target a group of enemies, then it will be wise to use fire attacks as they are capable of creating explosions. On the other hand, wind attacks are good for long-range while water attacks can prove useful in close-range scenarios.
While your main focus will be to attack enemies to bring them down, you won't be able to properly eliminate them without extracting their cores. This can be done after you deal a good amount of damage to them. Stealth is also pretty important in Ghostwire: Tokyo as there are times when you need to follow a target without getting noticed by the surrounding enemies. Akito can also sneak behind his enemies to perform a silent takedown, something that lets him immediately extract their cores. You'll also get access to the Bow during the game's early stages, which you can use to perform silent ranged attacks.
Other than this, there isn't any major method of taking enemies down. You can only rely on the three types of elemental attacks. You do get the luxury to block enemy attacks, which also reward you if you manage to execute a perfect block. There also exists a skill that will reward you with Ether if you block an attack perfectly.
While the combat is great and all, there is a major flaw attached to it. As mentioned above, you can only use elemental powers to attack your enemies. But the disappointing thing about these powers is that there are only two attacks for each type. In addition to this, you get access to all of them during the first few chapters. Because of this, the combat can feel repetitive at some point as you're stuck with these abilities for the rest of the game. You can upgrade them through the Skill Tree section, which we'll talk about shortly, but it won't make them feel new.
Skill Tree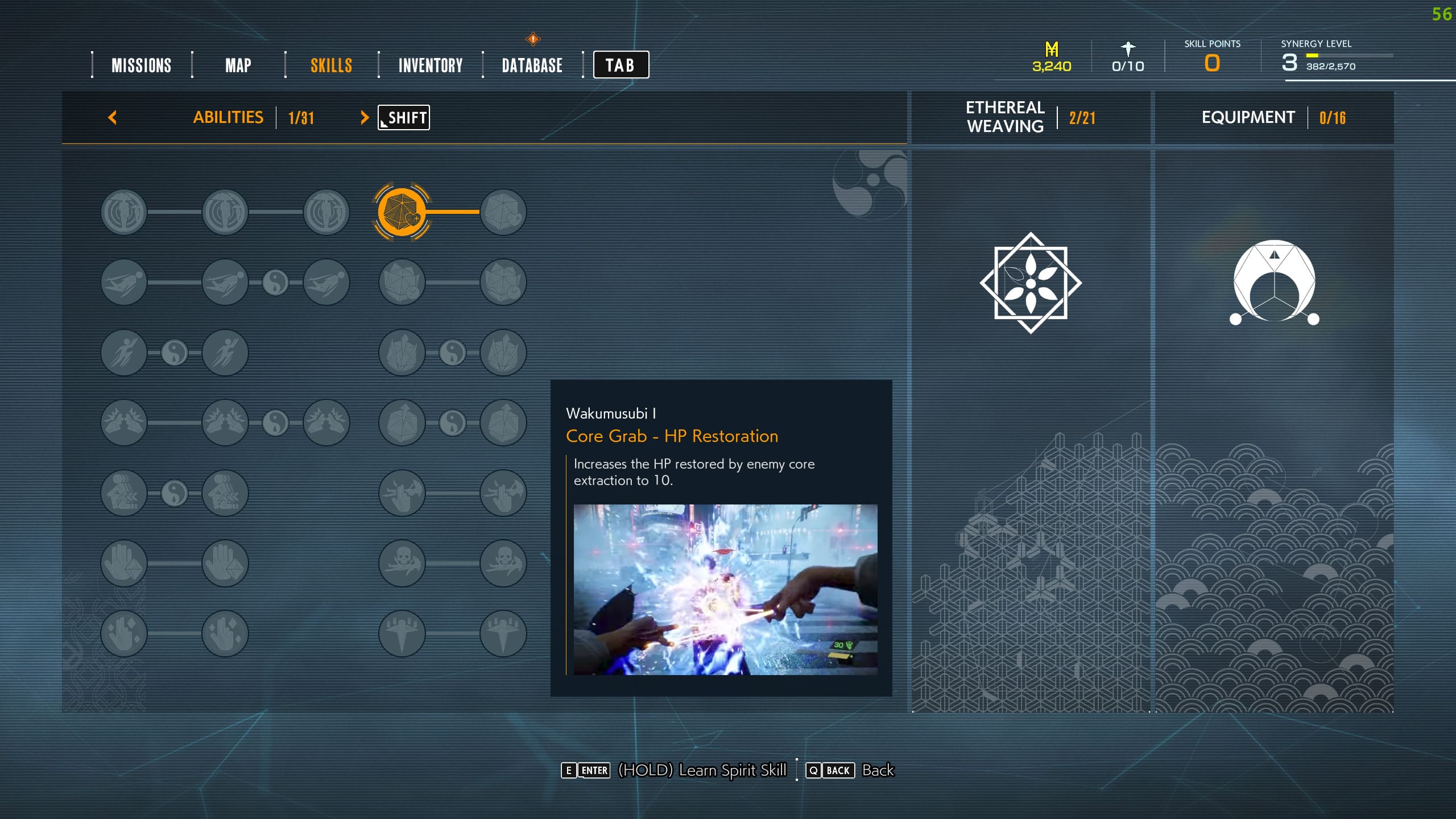 There is a Skill Tree that lets you unlock different skills. The Skill Tree has three different sections; Abilities, Ethereal Weaving, and Equipment. While you can unlock different skills, you also get the luxury to upgrade them. This can be done by using Skill Points, and players can get some of the best skills in the game.
However, upgrades are different for each skill. Some can be upgraded to level II, while others can be taken all the way to level III. For instance, there exists a skill that can help you spot enemies through walls. As you upgrade it, its range increases to 40m at level II and 50m at level III. As for Skill Points, these can be earned as you gain experience points and level up your character.
Performance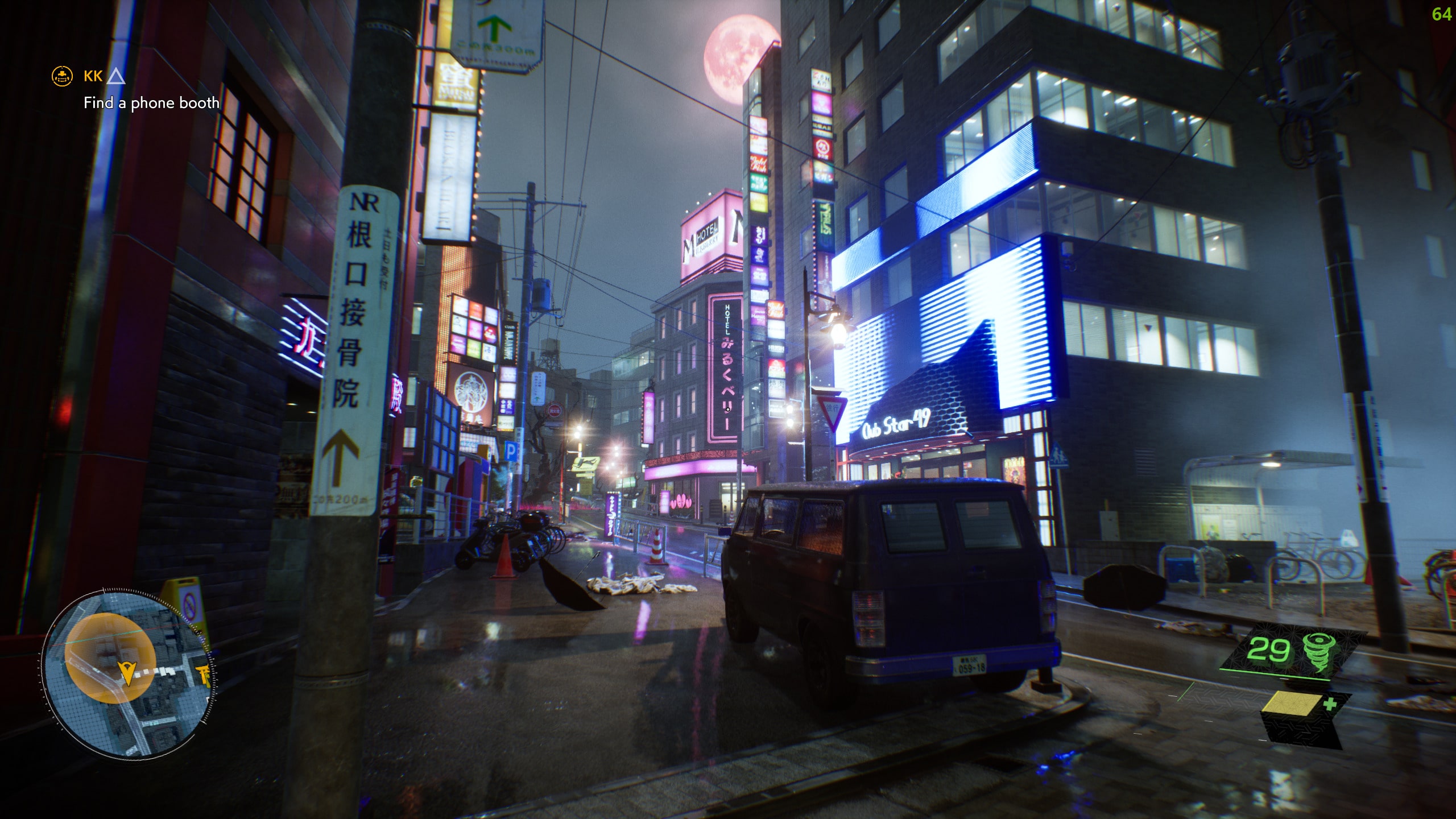 Ghostwire: Tokyo is, without any doubt, a visually stunning game. The developers have done a remarkable job of creating a gorgeous world that is filled with massive buildings. Just by taking a look at the surroundings, you'll be able to see the love for Tokyo the developers have, as every building has been carefully designed to meet realistic standards. As you're wandering around the city, you won't get bored of exploring the streets.
I tested the game on the Asus Zephyrus G15 2021, which has the following specs:
Processor: AMD Ryzen 9 5900HS
GPU: Nvidia GeForce RTX 3070 8GB
Ram: 16 GB
SSD: 1 TB
Display: 165hz 1440p
Most of the time, I was able to get 60+ FPS with everything set to ultra. There were times when I faced a couple of performance issues, such as FPS drops. But this is something that was expected as it's rare to see a game these days that is free from bugs and glitches at launch.
Verdict
Overall, Ghostwire: Tokyo is an amazing game that lets you explore a beautiful world filled with tough enemies. However, there will be times when the combat will feel repetitive. Furthermore, not being able to know much about the story until the very end is something annoying, at least for me. But if that's not a problem for you, then you'll definitely enjoy wandering around in the streets of Tokyo.
The Good
Unique enemies.
Elemental powers.
Fantastic upgrade system.
Beautiful open world.
Lots of spirits to collect.
Good upgrade system.
The Bad
Combat options are limited.
The story is not that interesting.
Side quests are somewhat boring.
Review Score: 3.5/5
Was this article helpful?
Thanks! Do share your feedback with us. ⚡
How could we improve this post? Please Help us. ✍