Story Highlights
Apple unveiled its AR headset, the Vision Pro.
The headset costs a whopping $3500, much higher than the $1500 Meta Quest Pro, which is its closest competitor.
The Meta Quest, PSVR 2, and others are suitable for gaming. As an AR device with a closed ecosystem, the Vision Pro is disadvantaged in this field.
Apple's new Vision Pro headset was revealed at WWDC23 in recent times, commanding a shocking price tag. The $3499 AR headset could be the most advanced in its category. Note, there are very few AR headsets available, unlike VR, which has matured for a decade and is the most common type of virtual headset.
VR headsets are most commonly used for gaming, meanwhile, AR headsets like Microsoft's similarly priced Hololens are often used for commercial purposes. Because games for VR have been developed for years, and the industry has had time to mature, can Apple's headset compete with the gaming capabilities and infrastructure of VR, and can they elevate AR gaming to the next level?
AR Vs. VR
There is a difference between AR and VR. VR headsets are what most people think of when they think of a gaming headset, a device that completely immerses you in an enclosed headset that you cannot see out of. An AR device is one that augments what you see and adds visuals on top of it. This is what the Vision Pro does and what Microsoft's Hololens and Google Glass do.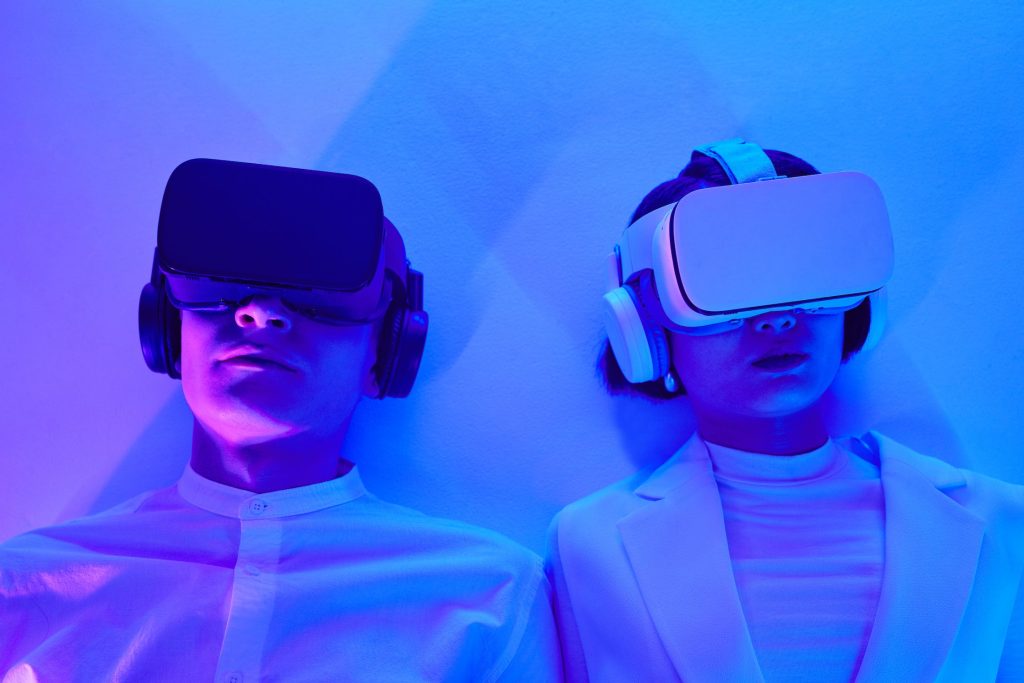 While VR gaming is popular, there aren't too many AR devices for sale. The Hololens cost about as much as the Vision Pro but that is more of a device made for commercial customers rather than consumers. I think too many people try and compare the Vision Pro to VR headsets like the Metaquest and PSVR2, as these are completely different devices.
VR headsets offer a fully immersive experience by encapsulating your eyes in the device, making it seem like you are in the picture. There is no way to look out of these devices, and for some lower-end headsets, the screen is actually the phone that you put in a slot. An AR headset is transparent and allows you to look through the device, and this will make the gaming experience completely different from VR.
AR gaming isn't exactly new, technically games such as Pokemon Go are AR since they augment the physical reality. However, AR gaming on a headset is something we have yet to see available commercially for the mass market. Back in 2015, Microsoft demonstrated Minecraft running on Microsoft Hololens,
Gaming on Vision Pro
While Apple showcased the capabilities of its new headsets, gaming was notably absent, save for a split-second clip of someone playing 2k with a PS5 controller. However, there were no specifications on how the device was playing a game like 2k. Cloud streaming? The Vision Pro has very powerful chips onboard, but there was no note on how much storage the device has.
Other than this clip, we do not know much about the gaming capabilities of the headset.
Apple has never had an ecosystem that is preferred by gamers. MacOS cannot play the newest AAA games, solely due to hardware limitations (although you can spend $6999 on a Mac Pro configuration with the chips to be able to play Death Stranding). The ecosystem has never been friendly to other gaming studios and cloud streaming services that try to offer their services on IOS.
Apple's Closed Ecosystem
Apple is notorious for locking down its ecosystem and app stores. All apps must be downloaded from the App Store, in which Apple takes it 30% cut. This didn't bode well with the microtransaction systems of games like Fortnite, which tried to get around to paying the 30% cut, only for Fortnite to be deleted from the Appstore, resulting in a massive legal fight.
Apple's rules have made it hard for cloud streaming services like Xbox Cloud Streaming to operate on the platform since purchasing in-game items inside a game streaming on the cloud exists outside of Apple's monetary control. Most of these services have to be played from the browser of a mobile device, which isn't exactly the greatest experience.
This could be an issue for gaming on the Vision Pro if its app ecosystem will be locked down. European regulators have demanded that Apple allow sideloading of apps to bypass the Appstore on IOS, and we do not know if this will eventually extend to Vision Pro.
In the meantime, this could mean that gaming on the Vision Pro could be limited. Of course, Apple Arcade will be available, but no one is paying $3499 for a headset just to play mobile games on their face. Now it's not impossible to play cloud-streamed games on IOS devices, and it likely won't on Vision Pro, but cloud-streamed games from say, Amazon Luna or Xbox Cloud Streaming would have to be optimized for the headset.
Apple announced in the showcase that they would partner with Unity, allowing devs to port their Unity apps and games to Apple Vision. This tech was showcased at WWDC outside of the main conference.
Unity is a popular engine for mobile games, which are the type of games that could be natively capable with the hardware of the Vision Pro. Likely AAA and other console/PC games would have to be streamed with a 3rd party system.
Final Thoughts
Apple's Vision Pro is expensive and impressive. Those who got to use the device say it is the most advanced headset ever made, however, many note that it isn't really a headset for the VR gaming enthusiast. The $3499 price tag will lock out almost all but the most enthusiast VR gamers. If you really want to play games on a headset, the Metaquest or PSVR2 are probably better bets.
The Apple Vision Pro released in early 2024, though we don't how "early" early is. Until it releases and we get our hands on it, we won't know for sure if AR gaming on the Vision Pro will be as great an experience as VR gaming on any other headset. But 10 years down the line when cheaper versions come out, and other companies come out with AR headsets, who knows?
Apple has some winning tech here, it will take some time for it to drip down to the mass market consumer. We think that AR gaming has its place, but it will never replace consoles or PCs.
Was this article helpful?
Thanks! Do share your feedback with us. ⚡
How could we improve this post? Please Help us. ✍