Here is the part everyone came here for; you're probably aware that Dead by Daylight Bloodpoint codes hit the stratosphere every so often. In this guide, we will be helping you redeem codes for this game.
Key Takeaways
There are a plethora of codes available for

Dead By Daylight BloodPoint

that players can redeem while also the

newer codes

occasionally get added.

You can redeem these codes and get a bunch of rewards such as

charms, blood points, cosmetics, rift fragments, etc.

In order to redeem the code follow these steps:

Launch the game => Store Menu => Redeem code on the

Top Right

=> Enter the text => Redeem and enjoy your rewards.

If your face the problem of not working codes it may be due to

2 reasons

which are either

incorrect spelling or expired code.

You can follow the game's official

Twitter or Subreddit

in order to stay up to date with the promo code or you can bookmark our page as we keep you guys up to date.
List Of Active Dead By Daylight Codes
The biggest issue with this game's codes is that you never know which ones are currently active. Since the creators release new codes now and then, a lot of them aren't active when you go to use them. We will be helping you overcome this issue and only adding codes that are working right now.
Last Checked on September 8th, 2023.
GFLAGF –

Redeem this code and get your hands on a genderfluid pride flag charm

ISFLAG –

Redeem this code and get your hands on an intersex pride flag charm

PANSEXUAL –

Redeem this code and get your hands on a Pansexual Pride Flag Charm

NBFLAG –

Redeem this code and get your hands on a Nonbinary Pride Flag Charm

GFLAGQ –

Redeem this code and get your hands on a Genderqueer Pride Flag Charm

AFLAGS –

Redeem this code and get your hands on an Asexual Pride Flag Charm

FLAGB –

Redeem this code and get your hands on a Bisexual Pride Flag Charm

FLAGT –

Redeem this code and get your hands on a Trans Pride Flag Charm

AFLAGG –

Redeem this code and get your hands on an Agender Pride Flag Charm

LETSROLL

– Hand-Painted Dwight

PRIDE2022 – valid for

Rainbow Flag charm.

CAWCAW – valid for

Feathers of Pride charm.

WARRIORPUPPERS – valid for

Warrior Puppers Charm.
Where To Redeem Dead By Daylight Codes?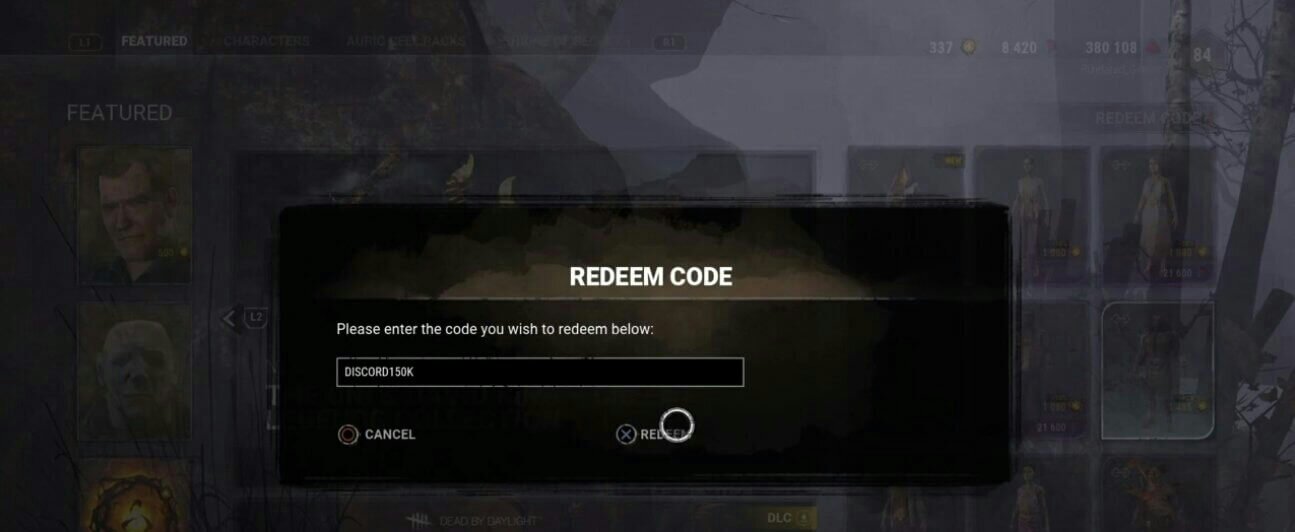 Now that you have the current working codes for Dead by Daylight, it comes time actually to redeem them. Check out these steps to redeem your Bloodpoint codes.
Launch Dead by Daylight and navigate to the Store Menu.
Press the Redeem Codes option in the top-right of the Menu.
Enter your code in the textbox exactly as written above.
Press Redeem.
If the code is active at that point, you should then receive your award.
Why Is My Dead By Daylight Bloodpoint Code Not Working?
All of the Bloodpoint codes only work a specific amount of times, so it's best to redeem the codes as soon as they come out. Other than this, codes automatically become inactive if they are redeemed a set number of times in a short time span.
We recommend double and maybe even triple checking that the spellings and capitalization are the same as written above. This, along with a list of other issues mentioned in our definitive game codes guide, are major reasons why codes do not work despite being active.
If you're playing on an Xbox Series X, some users have reported issues with being unable to redeem active codes. A temporary fix for this is to capitalize the first letter and make all others lowercase. So instead of using "NICE," you would be writing "Nice."
However, once a code is truly inactive, there is nothing you can do but wait for a new code to pop up and try your luck with that one. Worry not; new codes are frequently released so you will find new active codes in no time.
Where To Find Dead By Daylight Bloodpoint Codes
If you're still looking for more codes, your best bet is to visit the Twitter or Subreddit of the game. From time to time, you will see people post active codes on the subreddit, but you've got to be quick. The Twitter account frequently sees new codes whenever they are released, so that's an account to leave your post notifications on for.
What Are Bloodpoints?
Bloodpoints are a form of currency within Dead by Daylight, and it is used by players to acquire Perks and Abilities. You can also use Bloodpoints to purchase items on the Blood Web to help strengthen your own gameplay by unlocking your character's true potential.
Where To Get Bloodpoints?
Other than the free Bloodpoints you can get from using codes, the main way of getting them is by just playing the game. The better you play the game, the more Bloodpoints you will be awarded at the end of each round.
What Is Dead By Daylight?
Considering you're here looking for Codes, we're just going to assume you already know what the game entails, but if not, here is a quick rundown of what this masterpiece is all about. Dead by Daylight is an unpredictable and masterful game of hide and seek; not knowing what is going to happen next helps aid in the suspense of the game and keeps you captivated at all times. It is an intricate game that requires a combination of stealth and teamwork.
To describe the game in one short sentence, it is a 4v1 multiplayer horror game that promotes teamwork between the survivors by, in a sense, forcing it onto them to make it out alive. The game really brings the phrase, "Teamwork makes the Dreamwork," to life.
Final Thoughts
Keeping a lookout at some trustworthy places for new codes to come about is always a good idea, especially when they are an abundance of help towards your gameplay. We hope this was helpful in your use of the Dead by Daylight Bloodpoint Codes; let us know if you would like more guides like this.
Next:
Was this article helpful?
Thanks! Do share your feedback with us. ⚡
How could we improve this post? Please Help us. ✍