Victoria 3 quinine research helps players to prevent malaria and its negative effects, which in return helps players to colonize different states. Due to some bugs and issues, players are unable to colonize some states even after completing the quinine research. In this guide, we will discuss why players are facing this issue and what steps players can take to help them solve this issue.
Key Takeaways
The quinine research bug is a known issue in Victoria 3.
The bug can be fixed by updating your game to version 1.0.3.
If updating your game does not fix the bug, you can try saving the game and then reloading it.
If saving and reloading the game does not fix the bug, you can try disabling the Historical Flavor Pack DLC.
Victoria 3 Quinine Research Bug Explained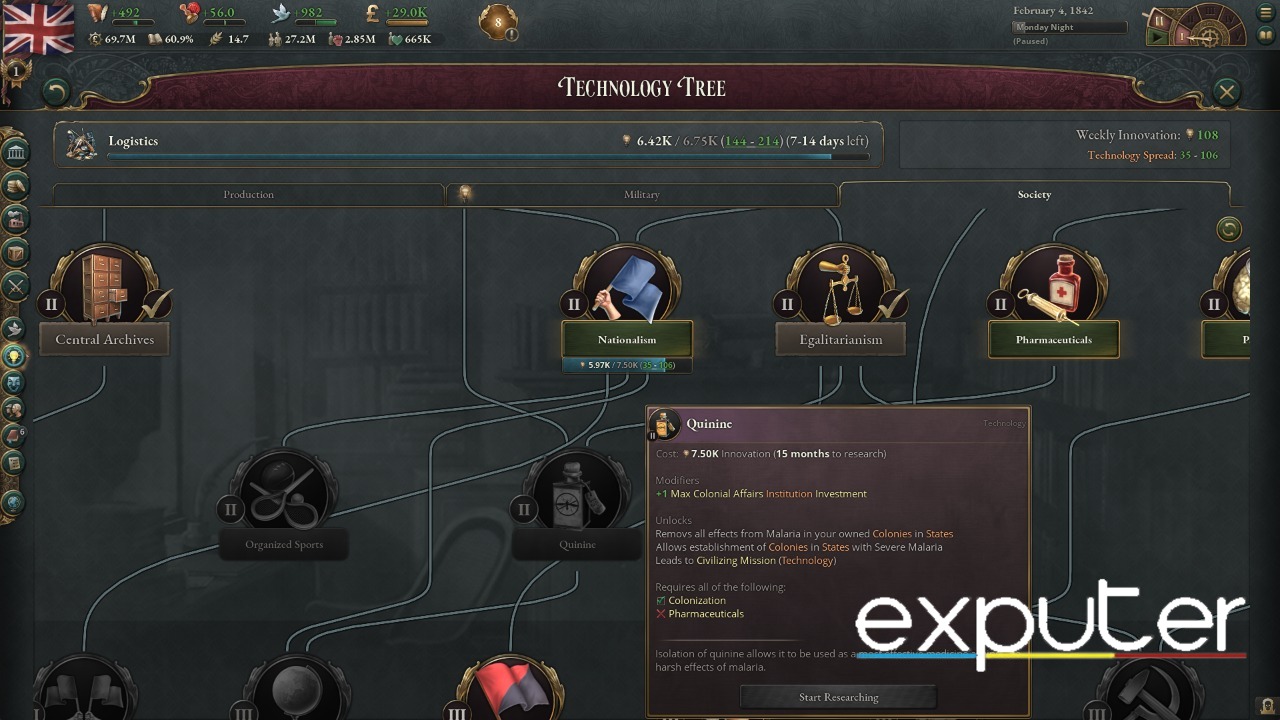 When colonizing in Victoria 3, players need different technologies such as
Colonization
, Quinine, Civilizing Mission, and Malaria Prevention. The game is new, so there are some bugs. Players have reported a bug related to Quinine research in Victoria 3. Here we will explain what this bug is and also tell you how you can get rid of this problem.
How To Solve Quinine Bug?
As for now, this bug is not consistent, so there is no official solution for the problem. Some players face this issue, and some players have not faced this issue at all. Also, for some players, this bug causes problems for one colonial state, and for other states, there is no issue. So, players have found some tricks to help solve the bug on their own. Here are the two workarounds that you can use to get rid of the issue.
1. Save The Game And Reload
This trick has worked for a lot of players who were facing quinine research bugs. If you face this issue, you can save the game and then reload the game. Players have reported that when loading the game from the main menu, quinine starts affecting the Malarial states, and the bug seems to fix. You can try this trick, but if it does not work for you, we have another workaround for you.
2. Starting Construction
Starting construction is an even faster workaround for removing this issue. Players can start construction in the construction sector of the colonized state. Players do not need to make any progress in the construction sector. Construction forces modifier recalculation, which removes the growth speed penalty. It is most likely that after performing this step, your quinine research bug will be solved.
What Is Quinine Research Bug?
Players have to complete quinine research in order to overcome Malaria in the game. But there have been several issues when players apply quinine to their colonized states. Quinine provides resistance against Malaria new colonized states, whereas there is no effect of quinine on states that have already been colonized. For some players, quinine is not removing malaria at all but only removing colonizing speed debuff.
What Could Be The Possible Reasons For The Issues?
There can be several reasons that could be causing this issue. Here are some of the main reasons that can be causing these issues:
1. Game Version
Firstly, you might be facing this issue because your game is not updated. We have already seen that early versions of the game have bugs and issues. If your game is not updated, you might be facing a quinine research bug. To solve this issue, you would have to update your game. Make sure your game version is 1.0.3, which is the latest release of the game.
2. Mods
Installing mods to games also causes a lot of issues. If you have installed mods to your game, there is a great chance that there are some mod files that are causing this quinine research bug. In such a case, try removing the mod files and see if the problem continues.
If the bug is fixed, this means that the mod files you have installed were the problem. In such cases look for a better source to install mods if you want. If the problem continues even after removing mods, then there might be other issues.
3. Game Files
If some of the game files are corrupt or missing, this might also be a problem for different bugs. Some missing game files or corrupt game files might also be causing quinine research bugs in your game. There can be some files responsible for quinine effectiveness that might be affecting your gameplay. To remove this issue, try verifying your game files.
You can verify your game files from the steam launcher. Right-click on the game in the launcher, and from properties, select local files. You can click verify the integrity of the game. Steam will run a diagnostic and tell you if the integrity of any file is compromised. If you find any file missing or corrupt, you can download that file separately and paste it into the games directory. This might help you solve your issues.
Wrapping Up!
Victoria 3 is a strategy-based game where players make decisions based on politics, military, law, and different other aspects in order to run a country. As the game is newly released, there are some bugs in the game, such as a quinine research bug. This bug makes quinine ineffective against malarial states. In this guide, we have discussed all these bugs and some tricks on how players can solve this bug.
---
Up Next:
Was this article helpful?
Thanks! Do share your feedback with us. ⚡
How could we improve this post? Please Help us. ✍