Fire Emblem Warriors is a recent release a hack-and-slash action role-playing game for the Nintendo Switch set in the same realm as Three Houses. Featuring fresh faces and Shez, a mercenary protagonist! Gamers will experience the Garreg Monastery's military academy, where they must select one of the Three Houses to follow, each of which might result in a distinct plot route and encounters with other individuals.
There is a lot to accomplish in the game, from prepping your soldiers for war to switching between different characters in an epic fight on the battlefield. We will cover guides on everything, including characters, bosses, different builds, gardening, recipes, tier lists, and more.
Developer: Omega Force, Intelligent Systems
Release Date: June 24, 2022
Available On: Nintendo Switch
Genre: RPG, Hack-And-Slash
Game Length: 12-13 Hours
Advice Box And Responses
Chapter 3 marks the introduction of the Advice box. The player must accept the quest "Words of Wisdom" to unlock it. Mercedes issues this quest. You can respond to the student notes when you open the Advice Box. You will be shown all of the notes that must be answered by the Cathedral Counselor.
Advanced Seals
Advanced seals are items that let the characters on your squad swap (unlock) between various classes. When a character is recruited, their class is set by default. Yet compared to other characters, certain characters are better at a particular class, depending on the current meta and even your playstyle. As a result, after changing a character's class, you can give them additional skills like magic and fighting skills.
Best Unit Builders [Top 3]
All the data you have on your hero can be entered into a unit builder, which will provide you with the knowledge you need to fully understand your hero. On the website Fromshadow, you can find several Unit Builders and Generators, as well as Tier Lists and a custom map.
You can create your Player Card with the Custom Unit Builder, customizing every single aspect of the abilities and skills to your liking. You can learn all about the unit builder in this Fire Emblem Warriors Walkthrough.
Heroes Tier List
Over 500 playable characters are available in the game. Each hero has a distinct color scheme and a special movement style that indicates its level of power. We'll go into detail about all of these characters and rank them in our Fire Emblem Warriors Walkthrough, so you have a better understanding and know which character will suit your desired playstyle.
Best Classes [Top 6]
A character's playstyle is determined by their class. There are 36 classes that you can pick from. There are twelve character-specific classes, which might make it difficult for players to decide which are the finest. Moreover, Shez's default class when you start the game with them is Fluegel.
All Cooking Recipes
You must be at the camp and find the kitchen master NPC. After you find him, he will instruct you on how to cook and which culinary recipes to employ. Several benefits will come from the meals you prepare. Be sure the recipes you use to prepare your food will provide you with advantages.
Similarly, each meal will call for particular ingredients, without which you cannot prepare a dinner. So, be certain you have all of them. You can make delicious food easily with the assistance of this Fire Emblem Warriors Walkthrough.
Epimenides Ending
The Characters alongside you and the game's conclusion are impacted by the decisions you make. Chapter 2 presents one of the game's most significant choices. The game's conclusion is impacted by which side you choose.
The majority of players believe that these are the only possible endings. Nevertheless, they are unaware that there is a hidden ending that features a being known as Epimenides. You can achieve this ending by following the steps in this Fire Emblem Warriors Walkthrough.
Aelfric: Stats, History & Main Story
Working for the Church of Seiros, Aelfric is responsible for looking after Abyss. He was first worried by the Abyss' terrible state, which was characterized by starvation and awful atrocities being committed. Yet when he took command, he was able to make the land prosper.
Aelfric is also composed and modest; even though he dislikes the Church, the residents of Abyss still have faith in him. He also came up with the idea for the Ashen Wolves.
Genealogy Of The Holy War Characters
The first-generation version of Genealogy of Holy War features 24 playable characters for players to discover. They each have their classes, starting stats, and rates of progression. We'll cover all of the characters to clear up any confusion that you might have in this Fire Emblem Warriors Walkthrough.
Nifl: Skills, Stats, Pros & Cons
Nifi is the rarest character that you can find and has incredible power due to her being the God of Ice. She frequently uses debuffs to weaken foes by applying them to them. Nifl can benefit your squad with some of the finest abilities in the game. Include Frostbite Breath, Resistance, and Flash.
Nifl can hit back if necessary while facing tougher or weaker adversaries because of her strong damage negation. She is nonetheless susceptible to dragon-based weaponry.
Flayn: Attributes, Skill & More
Seteth's younger sister, Flayn relocated to the Garreg Mach monastery where Sateth is the sole member of her family. She was taken hostage and later discovered in a hidden corridor inside the Knights' quarters. Byleth's choice to side with Edelgard and abandon Black eagles startled Flayn.
But, Edelgard and Hubert were expecting this. She talks to others politely and is a sweet and attractive girl. The end of chapter 6 describes how Flayn will be sought out at a home where Byleth teaches. She is best suited for the Dark Flier class. She can Transmute, and it helps all of her skills.
Thorr: Best Builds, Skills & Weapons
Fire Emblem's Thorr is a worthy character because of her immense potential and talents. She is a versatile character that can play a supportive role as well as deal damage because of her excellent attack and defensive ratings, speed, and resilience.
Worldbreaker, her passive ability, provides a quicker cooldown and helps foes take more damage. Another of her passive abilities is Flow Guard, which is used for effortless attacks and lowers the opponent's countdown. She also has a skill called Bonfire that raises the power of her attacks. Our Fire Emblem Warriors Walkthrough will explain Thorr in full detail and list everything about her.
Class Tier List
There are more than thirty distinct classes available in the game, catering to every playstyle ever. The tier list in our Fire Emblem Warriors Walkthrough will rank all of the classes according to how viable they are and how they perform in the game.
Merc Whistle
Merc Whistle is a special item that you can gift to one of your group members; however, you can only make this decision once each playthrough. Having the whistle will enable the unique ability of any character you give it to. Our Fire Emblem Warriors Three Hopes Wiki will dive deep into all the things about the whistle so you can have a good experience in the game.
Recruitment Guide
The greatest characters need to be recruited to have a good time playing the game. In the game's second chapter, you'll be able to select one of three houses. Each house features a unique cast of individuals with unique skills and character classes. We'll help you recruit the best characters available in Our Fire Emblem Warrior Walkthrough.
Recruiting Byleth
Byleth is the child of a well-known mercenary commander, and He would be recognizable to anyone who has played the earlier games. Byleth was the primary playable protagonist of the game; thus, many fans were shocked to see him reappear. What's even more unexpected is that Byleth plays a significant role in the story's antagonist role this time around.
Monica
Monica is a brand-new character and a Black Eagle. It is revealed that Kronya, a member of an evil organization, has taken her place, and the real Monica is dead. It is uncommon for Macuil to share the Crest with humans, therefore, her possession of it makes her a viable character.
You can get a better look at Monica and understand everything about her in this Fire Emblem Warriors Walkthrough.
Cindered Shadows DLC
Cindered Shadows isn't just a collection of add-ons and cosmetics, in contrast to previous rounds of DLC. It has a stand-alone storyline that gives the game a new perspective.
Yet the narrative exists entirely apart from the core gameplay. It shows our group of primary protagonists venturing into the "Abyss," where they come upon some mysterious monsters. Cindered Shadows is easily reachable by entering the game's Side Tasks section.
Expedition Guide
There are many things you can accomplish besides the main quests. One of the many side quests is Expedition, which enables you to increase the loyalty and enthusiasm of your teammates. You will receive a greater prize from the adventure if you have a better conversation. You can learn all about expeditions and their benefits in this Fire Emblem Warriors.
What Is Weapon Triangle & Why Was It Removed
The efficacy of several weapon kinds against one another in combat was established by the Weapon Triangle, a gameplay element. It was dropped in favor of a stronger emphasis on character growth and interpersonal interactions.
Different weapons made up the Weapon Triangle, with each kind being effective against a certain type. We'll dive deep into this topic further in this Wiki.
All Four Endings Explained
Many gamers are unaware that the game has several possible endings. We'll dive deep into all of them and help you learn all about these endings, and you can achieve all of these endings with the assistance of this Fire Emblem Warriors Walkthrough.
Linhardt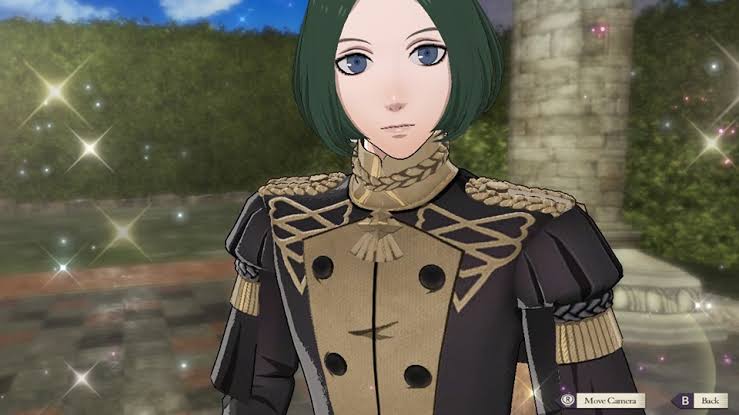 Count Nevring's successor is Linhardt Von Hevring. He avoids confrontation and strife since he is a member of the imperial nobility. Linhardt is one of the most intelligent characters. He enjoys studying Crestology, but it doesn't seem like he wants to put his knowledge to good use in the world.
Relics [Top 12]
Relics are referred to as Heroes' Relics. These are significant weapons sets. Several characters in the game think they were presents from their goddess. You can learn all about these Relics and get them with the help of this Fire Emblem Warriors Walkthrough.
All Romance Options
Supporters allow players to get knowledge of the personalities, motives, and histories of many people. Certain characters don't have romantic choices, but Flayn and Sothis, for example, have special S-Support skills and sequences. Every character has their personality, and Byleth could find some of them more or less desirable as romantic companions.
Lost Items: Complete List
As you explore the Garreg Mach Monastery, you will discover a ton of lost items scattered over the place. You can determine who the owner of an item is if you locate one of them and read its description.
The clues often center on how the individual is described or the facts you learn about them via interaction. Usually, these goods are tucked away in unexpected places or concealed from view.
Resplendent Heroes
Fire Emblem Heroes has just added new characters, voice lines, and animations called resplendent heroes. In addition to providing a +2 stat boost, they also come with resplendent clothes that offer characters unique speech lines and animations.
Only the $9.49/month Feh Pass, which provides players with two resplendent characters each month, can be used to acquire resplendent heroes. For an extra $4.99 per character, earlier heroes can also be acquired through the Feh Pass.
Tea Types & Conversations
The Garreg Mach Monastery's characters can be best connected to by drinking tea. Together with enjoying a wonderful cup of tea with wonderful company, it also assists the player in obtaining some additional advantages. It's not as easy as you would think; the player also needs to engage their visitors in meaningful conversation that caters to their interests and make them the ideal cup of tea.
All Conversations
When on an expedition in Fire Emblem, players must make specific decisions that will naturally bring their conversations with the characters to a great end if they wish to reach the "perfect ending" in those conversations.
What is Gardening?
To begin gardening, you must first locate the gardening location. G gardening offers free Professor EXP. It takes a Day for seeds to sprout and one week to harvest them. Your professor's rank affects both the amount of plants you can sow and the kind of culture you can choose from.
Various seeds and methods of growing to produce various benefits. The level of a seed is denoted by a star, and higher levels offer better benefits. You can boost your chances of getting high-tier rewards by cultivating your harvests. Professor EXP, goods, and special awards that raise your professor level are all perks from gardening.
How To Farm XP Faster
Experience points are needed to level up characters, open up new classes, and keep up with the game's escalating complexity. W inning fights and all associated objectives will grant you the most experience points. Several strategies exist in the game for farming XP more quickly. In addition to boosting character attributes, leveling up also grants access to new game skills.
How To Get Gifts
In Fire Emblem, you can find collectibles called Gifts that you can offer to NPCs to strengthen your relationship with them. Some characters prefer certain presents, while others despise them. Gifts are divided into four grades, with each grade becoming more valuable and uncommon than the previous one.
You can learn all about the gifts and their value in this Fire Emblem Warriors Walkthrough so you have a better understanding of which gifts to give to different characters.
Limited vs Standard Edition
Nintendo Switch users can purchase a physical copy of the game Fire Emblem Warriors or download it digitally. There are normal and limited versions of the physical copies. The $59.99 basic edition comes with a game card. The $89.99 limited version, which is exclusively available in Europe, comes with the merchandise.
Ferdinand
Ferdinand can function as the main cavalry troop for his side, making him a highly adaptable unit. Players can quickly adapt to his playstyle thanks to his understandable skills. He is an assured and competitive character. He starts as a soldier, which excels in dealing with melee damage.
The cavalier class is the greatest since it offers more mobility and the "Cavalry Charge" talent. It is recommended to team them with powerful support characters and utilize them as the primary cavalry force in battle.
He can be acquired by accomplishing specific objectives throughout the game. Also, he possesses talents and combos that can be acquired and improved during gameplay. Ferdinand is very mobile and offensively powerful but does little magic damage.
Bernadetta
Bernadetta is difficult to approach since she only feels at home in her house and her dorm room. She will be especially beneficial in archer class. As a result, you must be familiar with the game's Archers and how to employ combinations to efficiently destroy adversaries. We will explain all about her in this Fire Emblem Warriors Walkthrough.
Hubert
Hubert is a hero renowned for his great magic damage output as well as his strong Dexterity and Speed attributes. He requires additional attention in battle due to his mediocre HP and weak defense. Hubert has an authoritative and practical demeanor, yet he may be more forthcoming with people he trusts.
He begins the game as a Monk, a class who specializes in healing and uses a Tome weapon. Hubert can overcome adversaries with bows and is impervious to magic assaults, but he is susceptible to those who deliver physical harm. He can launch long-range attacks with his staff and bow, and as he advances in the game, he will also be able to use black magic.
Lecture Questions & Answers
The main goal of the game is to train your pupils to the highest level of combat skill and battlefield dominance while earning as much EXP as you can in return. Weekly lessons are available in the game, and you can focus on your pupils' skill sets at the beginning of each week.
Their development and success in that skill will depend on the instructions and responses you provide. You can either teach your students personally to have a better time, or you can just automate the task by leaving the game to do it.
Cleobulus
Cleobulus is the primary antagonist of the game. He is part of the organization known as Those Who Slither in the Dark, which is made up of survivors from the long-gone Agartha civilization. Cleobulus previously killed Rufus, blamed Dmitri for killing him, then swore allegiance to the Empire.
He also has a history with the Empire. According to Three Houses, he impersonated the imperial scholar Cornelia Armin and took over her body sometime between 1165 and 1167.
Cleobulus continues to pose as Cornelia in Three Hopes, where he tricks Rufus into starting a new conflict. As Cornelia, he wields the Asclepius staff, one of the game's most powerful weapons that, when equipped, provides +3 defense.
Best Weapons
Fire Emblem Warriors is well renowned for its fighting. The player has a lot of flexibility given the character and weapon types that can be combined. We'll help you pick the best weapons in this Fire Emblem Engage Walkthrough so you can have a fun time slashing your way through the game.
All Voice Actors
In addition to having English voice actors, the game also has a Japanese cast. You are free to use any voice you choose when playing. In Fire Emblem, there is a sizable cast of characters. Similarly to that, there are several Voice Actors implemented here. Our Fire Emblem Warriors Walkthrough has guides that will easily help you learn about different voice actors.
Tips And Tricks
Players have the option to support any of three house lords, Edelgard, Dimitri, or Claude, in Fire Emblem Warriors, which is set within the same realm as Three Houses. It might take some getting accustomed to, but the gameplay is entertaining. You can make your gameplay experience more fun by knowing the basic tips and tricks of the game.
Co-Op Multiplayer
In contrast to other games, Fire Emblem Warriors doesn't let you play multiplayer co-op right away. Although there are significantly worse ones, this might very well be the mode's first disadvantage. The game's Co-Op mode is only accessible through local co-op.
Was this article helpful?
Thanks! Do share your feedback with us. ⚡
How could we improve this post? Please Help us. ✍