Twitch Streamer's Wholesome Broadcast With Mom Makes Them Go Viral
Twitch streamer goes viral after sharing a wholesome moment with his mother.
NateBosa, also known as Nate, is a reasonably small streamer, averaging ten live viewers per stream. Recently, Nate's mother gave him a surprise visit on stream, and the streamer was visibly ecstatic to see her. The streamer asked his mother to join in and "say hi" to the nine viewers watching his stream.
The whole interaction was so wholesome that it blew up on multiple social media platforms, including TikTok, and scored millions of views across the internet. Hundreds of people rushed to Nate's live stream, making his peak viewership over a thousand.
---
Major Takeaways
A small Twitch streamer, NateBosa, shared a wholesome moment with his mother live on stream.
Many social media platforms shared this interaction, making it viral across the internet.
The streamer blew up in viewership and scored over a thousand viewers in his most recent stream.
---
NateBosa is one of the 'smaller' Twitch streamers, averaging around ten viewers per stream. The streamer mostly plays video games such as Minecraft, Apex Legends, and Among Us, along with some 'Just Chatting' streams.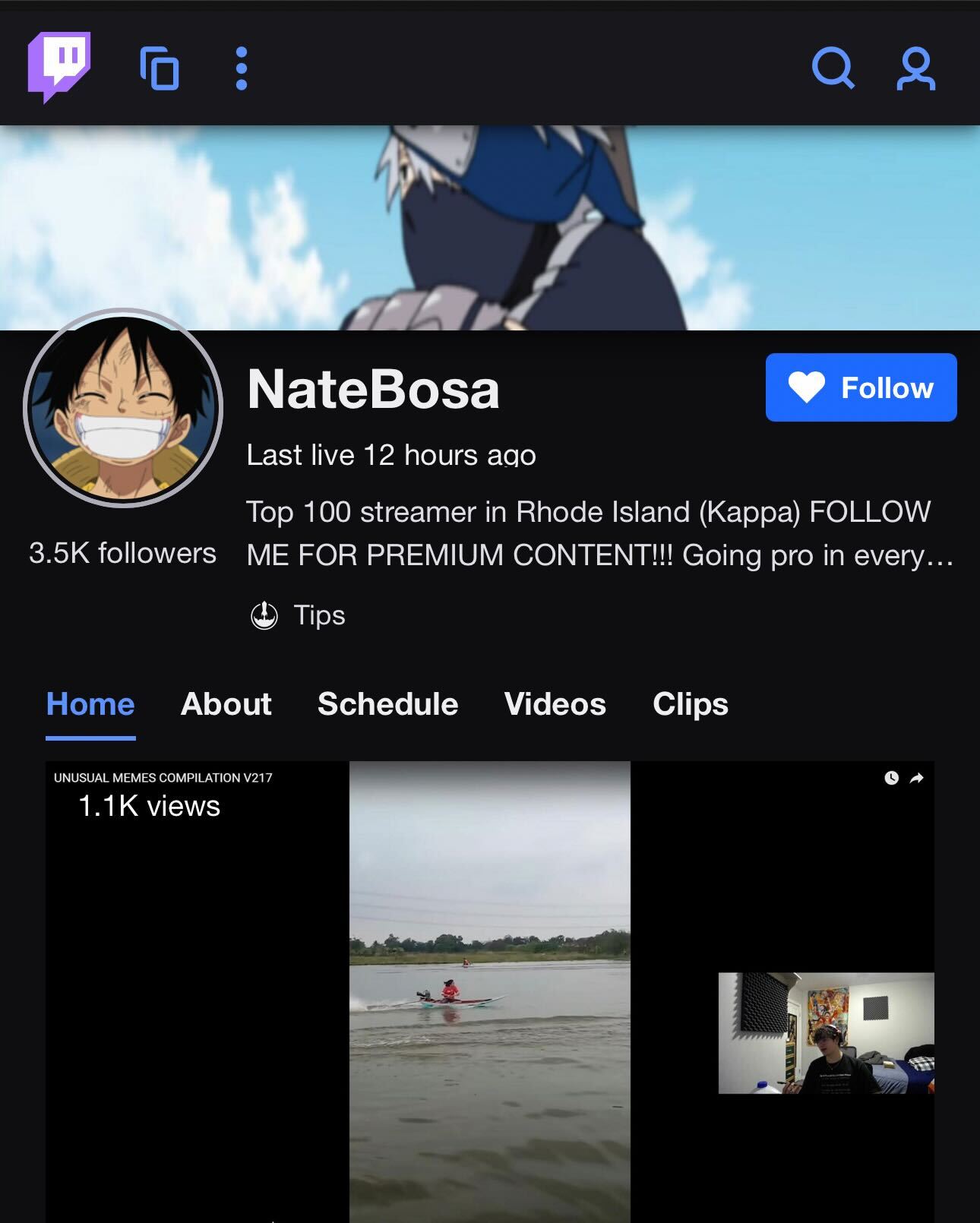 Recently while streaming, the streamer was elated when he heard his mother's voice in the background. He ecstatically asked her to join in and say hi to the chat.
Shortly after introducing herself, NateBosa and his mother celebrated with the nine viewers watching his stream. He said,
I have nine people waching right now. Nine real human beings, can you believe that? Imagine if there was nine people in this room. That'd be mad people."
His mother was visibly happy upon hearing that. She jokingly added,
Look, its like you're hanging out with nine people, and you don't even have to leave your house."
The clip of this wholesome interaction was shared by a Twitter user Dexerto, making it go viral. The tweet currently has seven million views and nearly one hundred fifty thousand likes.
Wholesome Twitch Mom moment pic.twitter.com/QJprFlNcZJ

— Dexerto (@Dexerto) December 28, 2022
After the clip got viral, people rushed to Nate's stream, and he peaked his viewership, scoring over one thousand viewers in his recent stream.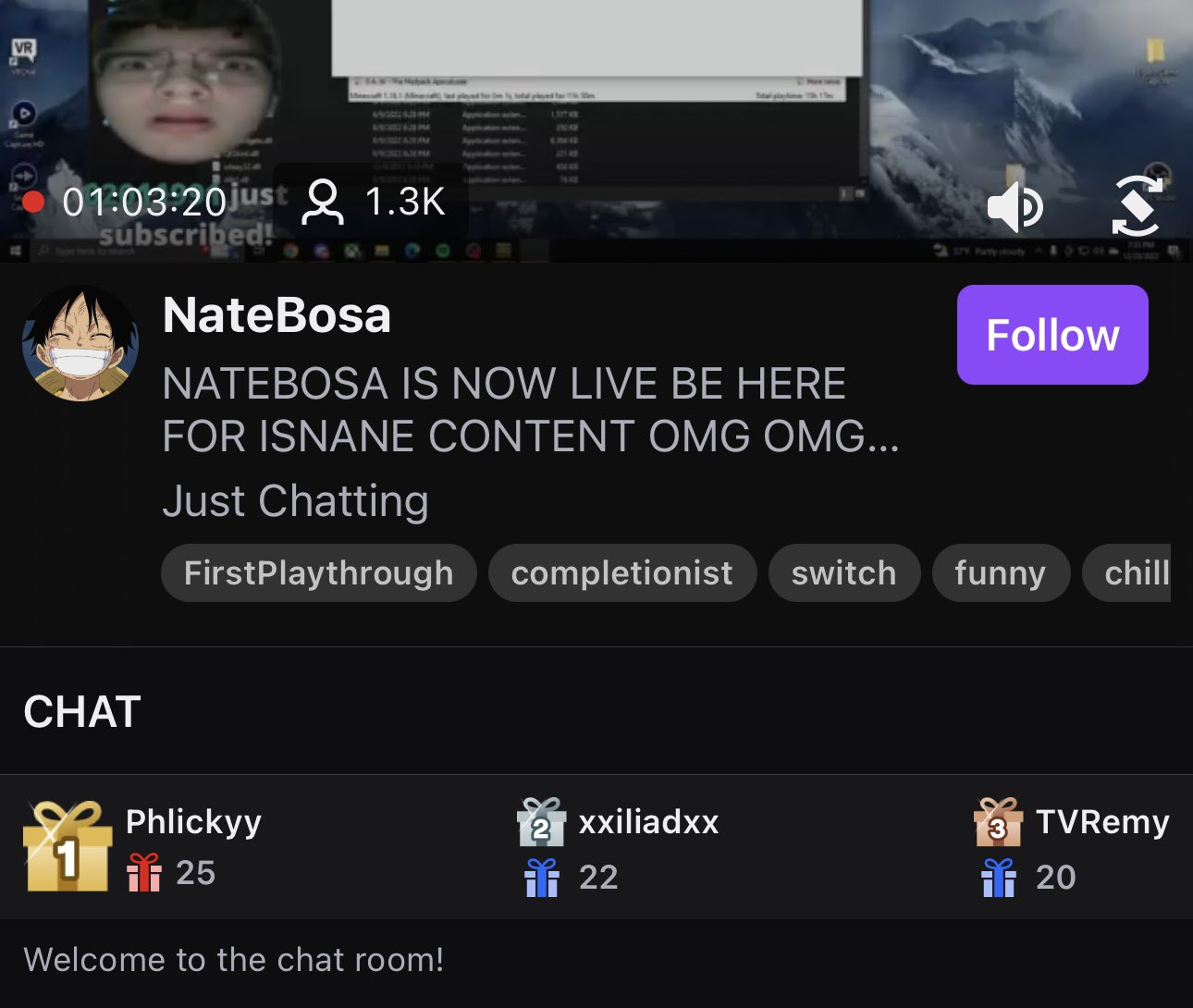 The streamer now has nearly twenty thousand followers and averages a thousand viewers per stream.
The following stream was just as wholesome as the previous one, and Nate's priceless reaction to having a large viewership was enough to spark joy for hundreds of people. The streamer called his mother on stream and shared the news with her, who, in turn, was ecstatic about her son's success. This interaction can be viewed on Nate's Twitch channel as well.
Twitter had a majorly positive reaction to NateBosa going viral, and it was, all in all, a joyful experience for many. A famous streamer Jake Lucky also stepped in to give a shoutout to Nate. He tweeted,
1 viral Tik Tok, 1 supportive mother, 5x followers gained

9 viewers -> 1,000+

Power of the internet pic.twitter.com/srKnsLoUBS

— Jake Lucky (@JakeSucky) December 29, 2022
What are your thoughts about this? Let us know in the comments below.
Was this article helpful?
Thanks! Do share your feedback with us. ⚡
How could we improve this post? Please Help us. ✍