Mojang Officially Rejects NFTs For Minecraft
Mojang will not allow the blockchain in its game, citing a clash of values.
Minecraft is the most popular game in the world with over 200 million units sold. The game, developed by Mojang is a cultural phenomenon that no other games can match. Today the Microsoft-owned studio released a statement clarifying its position on NFTs and their use of them in Minecraft.
Here's an early look at our upcoming guidelines regarding Minecraft and NFTs.

If you're a player or creator actively involved in the buying, selling, or trading of NFTs that make use of Minecraft, please read the information in the article below.https://t.co/3S4uYmiSvf pic.twitter.com/Gl0EkoKQqs

— Minecraft (@Minecraft) July 20, 2022
Mojang writes that NFTs are based on 'scarcity' and 'exclusion', two traits that are the antithesis of what Minecraft says it is about. To Mojang, Minecraft is about 'creating inclusion' and 'playing together' with friends.
"To ensure that Minecraft players have a safe and inclusive experience, blockchain technologies are not permitted to be integrated inside our Minecraft client and server applications nor may they be utilized to create NFTs associated with any in-game content…" the company writes in a tweet.
The company will also ban any blockchain technologies within its client servers, which will lock out any blockchain-based mods or other user-created in-game content. Mojang also writes that they have no plans to implement the blockchain in Minecraft.
Minecraft-themed NFTs have become popular over the last couple of months. With some collections selling for thousands of dollars.
What are NFTs and how do they relate to the gaming industry?
NFTs are unique digital assets that exist on the blockchain. They cannot be copied or edited, and ownership can be verified through the blockchain. These traits are what give NFTs their 'intrinsic' value. Some have proposed that NFTs could be a replacement for traditional microtransactions and in-game cosmetics, replacing them with cosmetics and other items that you could actually 'own', creating a secondary economy within a game.
Interest in video game NFTs and blockchain-based games have surged over the last couple of years. Dozens of companies backed by top venture capitalists are promising to 'revolutionize' gaming by developing games designed with NFTs and the blockchain as a core feature. In recent months, however, large publishers have become cautious about implementing NFTs in their games. EA silently scaled back its NFT plans, once having called them the 'future of gaming.
Some studios building games on the blockchain tout a model called "play-to-earn", where playing the game and doing in-game challenges will earn you real-world money in the form of crypto and NFTs. Ubisoft has a play-to-earn system called Ubisoft Quartz, where players can earn cosmetics by playing the game for a fixed number of hours.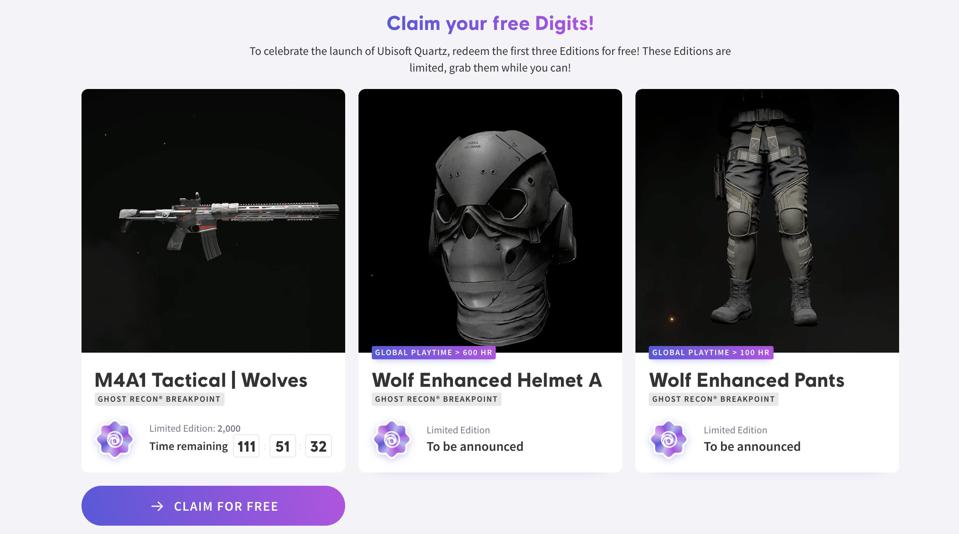 Mojang specifically states the play-to-earn model as a reason for its NFT ban.
Some companies have recently launched NFT implementations that are associated with Minecraft world files and skin packs. Other examples of how NFTs and blockchain could be utilized with Minecraft include creating Minecraft collectible NFTs, allowing players to earn NFTs through activities performed on a server, or earning Minecraft NFT rewards for activities outside the game.

Each of these uses of NFTs and other blockchain technologies creates digital ownership based on scarcity and exclusion, which does not align with Minecraft values of creative inclusion and playing together. NFTs are not inclusive of all our community and create a scenario of the haves and the have-nots. The speculative pricing and investment mentality around NFTs takes the focus away from playing the game and encourages profiteering, which we think is inconsistent with the long-term joy and success of our players. – Mojang
While some are calling NFTs and the blockchain the future of gaming, there is a wide disconnect between proponents of the technology and people who actually play games. Ubisoft only sold 15 Ghost Recon NFTs for a total of 400 dollars. GSC Gameworld, developers of S.T.A.L.K.E.R 2 canceled its NFT plans after fan backlash. There are only two possibilities here: consumers do not want blockchain games, or they are not ready for them. It is unlikely to be the latter.
While blockchain and crypto are promising technologies, the world of Web 3.0 is rife with scammers, and Mojang is worried about this. Back in January, a Minecraft-based NFT project called Blockverse ran off with 1.2 million dollars in users' money. The project shut down its websites and social media and went radio silent. These types of scams or 'rug pulls' are also addressed by Mojang:
We are also concerned that some third-party NFTs may not be reliable and may end up costing players who buy them. Some third-party NFT implementations are also entirely dependent on blockchain technology and may require an asset manager who might disappear without notice. There have also been instances where NFTs were sold at artificially or fraudulently inflated prices. We recognize that creation inside our game has intrinsic value, and we strive to provide a marketplace where those values can be recognized.
Mojang is right to be wary right now of blockchain gaming. If the proponents of blockchain gaming want the masses to adopt the technology, they must prove that it has utility, and the potential to benefit everyone.
Mojang has stated that it will pay close attention to how blockchain technology evolves, and will later determine if it has the potential for practical and inclusive applications for gaming in the future.
Was this article helpful?
Thanks! Do share your feedback with us. ⚡
How could we improve this post? Please Help us. ✍