Google And Amazon Cannot Compete In Gaming, Says Microsoft
In an internal email, Microsoft discusses competition in gaming from other tech giants.
Story Highlights
Big tech companies like Amazon, Google, and Netflix have released gaming offerings in recent years.
In an internal Microsoft email, company executives discuss gaming competition from tech giants.
Microsoft sees companies like Amazon and Google as being at a disadvantage.
Amazon Games has a history of mismanagement and lack of direction, with Google facing similar problems.
Following the FTC's decision to block Microsoft to acquire gaming giant Activision-Blizzard, internal emails from Microsoft were shown at today's Microsoft/FTC trial. The emails discussed Microsoft's plans to outspend Sony to the point where they would go out of business. Also discussed, were competitive efforts in gaming by some of the biggest tech giants, including Amazon and Google.
Both Amazon and Google seek to enter gaming, with Amazon launching its own internal game studios and a streaming service called Amazon Luna. Google has also attempted its own product offering in gaming but has failed to capitalize on the vast market. The company has so far shut down its Stadia streaming service and its own internal game studios. Microsoft noted issues with these companies back in a 2019 email.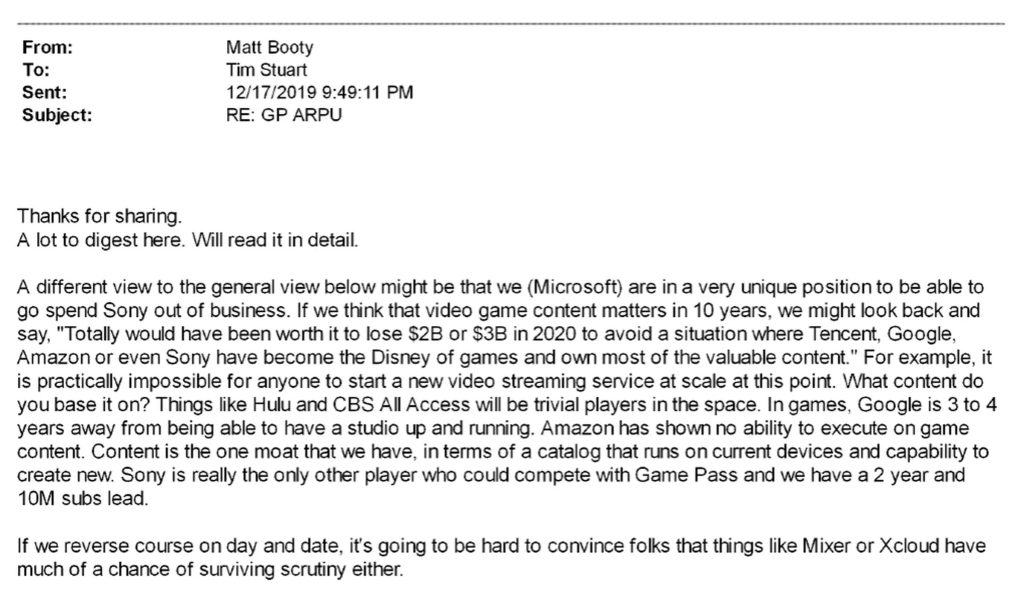 In games, Google is 3 to 4 years away from being able to have a studio up and running. Amazon has shown no ability to execute on game content. Content is the one moat that we have, in terms of a catalog that runs on current devices and capability to create new. Sony is really the only other player who could compete with Game Pass and we have a 2 year and 10 million subs lead."
Back in 2019, companies like Google and Amazon became serious about entering the gaming market, the largest vertical in entertainment. However cultural and technical issues prevented these companies from moving forward with their plans. Microsoft said Amazon has shown no ability to execute game content, which proved to be true.
Amazon Games was rife with mismanagement, with a crew of senior leaders who had little experience developing games, as well as a lack of direction at the company. These issues were extensively covered by Bloomberg. In total, Amazon has canceled more games than they have released, and games that Amazon has released, such as New World, performed poorly in the long term with audiences.
Google has faced similar issues with its gaming division. Stadia tried to be a streaming alternative to consoles, but as Microsoft has noted in its legal documents, Streaming is more of a novelty than a true console replacement. Google's own internal game studios were also rife with mismanagement issues, as executives at both companies tried to run their gaming divisions like tech companies instead of gaming ones.
Gaming is a hard business and new entrants industry have a truly hard time adjusting to the demands of the game development cycle. Companies like Netflix are developing their own AAA game studios, and even major media companies like Comcast have expressed interest in entering gaming. Last year, Comcast even considered acquiring a major publisher like EA.
It's safe to say that major gaming companies and publishers like Xbox, Sony, EA, Take-Two, Ubisoft, etc. will face little competition in gaming from emergent tech giants, and they will be unlikely to spend their way to the top. It is more likely that a company like EA or Take-Two could be poached by a large tech company to compensate for underperformance.
Was this article helpful?
Thanks! Do share your feedback with us. ⚡
How could we improve this post? Please Help us. ✍