Ark: Survival Evolved is an action-adventure survival game developed and published by Studio Wildcard. This game consists of many amazing maps. You have to face a survival test against ancient dinosaurs and mythical creatures. Genesis Part 2 is the latest and final DLC expansion from Wildcard for Ark Survival Evolved.
Key Highlights
Genesis Part 2 is Ark Survival Evolved's final DLC, featuring three new zones: Corrupted Gardens, Eden, and Void.
The DLC introduces various items like Resources, Consumables, Tributes, Trophies, Weapons, Armor, Tools, Structures, and Cosmetics.
Set on a massive ship, the world of Genesis Part 2 is divided into easier (Right Side) and tougher (Left Side) regions.
New entities include Maewing, Noggin, Astrodelphis, Tek Stryder, Shadowmane, Voidwyrms, Summoner, and R-Creatures, each dropping unique items when defeated.
The DLC adds missions such as Hunting, Gauntlet, Race, and Maze Dungeons, with harder missions offering greater rewards.
Genesis Part 2 includes Genesis Ship missions, Ship Simulation Missions, and new Boss Battles for players to engage with.
Items In

Ark Survival Evolved Genesis

2
Following are all the items that you will find when venturing through Ark Survival Evolved Genesis Part 2. it is important to collect all of them as they will help you when you reach the late game.
Resources
Following are the resources you will find in Ark Survival Evolved Genesis Part 2
Consumables
Below are all the consumables you can collect during your venture.
Superior Maewing Egg
Basic Maewing Egg
Voidwyrm Egg
Extraordinary Maewing Egg
Plant Species R Seed
Tek Canteen
Regular Maewing Egg
Exceptional Maewing Egg
Maze Key
Simple Maewing Egg
Tributes and Trophies
When you defeat certain bosses in Ark Survival Evolved Genesis Part 2, you will receive the following trophies and tributes.
Rockwell Final Form Trophy
Rockwell Final Form Flag
Weapons, Armor, and Tools
Following are all the weapons, tools and armors that you can equip in the game.
Jar of Pitch
Net Projectile
Unassembled Exo-Mek
Tek Phase Pistol
Minigun
Tek Bow
Structures
Following structures have been introduced in the game.
Ammo Box
Tek Surveillance Console
Saddles
Maewing Saddle
Tek Hoversail
Loadout Mannequin
Egg Incubator
Tek Crop Plot
Canoe
Astrodelphis Starwing Saddle
Tek Remote Camera
Cosmetics
Below are all the cosmetics including skins and masks that can be used on your character.
Federation Exo-leggings Skin
Chibi-Noglin
Poglin Mask Skin
Federation Exo-Gloves Skin
Modern Canoe Costume
Federation Exo-Chestpiece Skin
Viking Canoe Costume
Federation Exo Helmet Skin
Chibi-Shadowmane
Tek Canoe Costume
Mutated Survivor Costume Skin
Federation Exo Boots Skin
Map of Genesis Part 2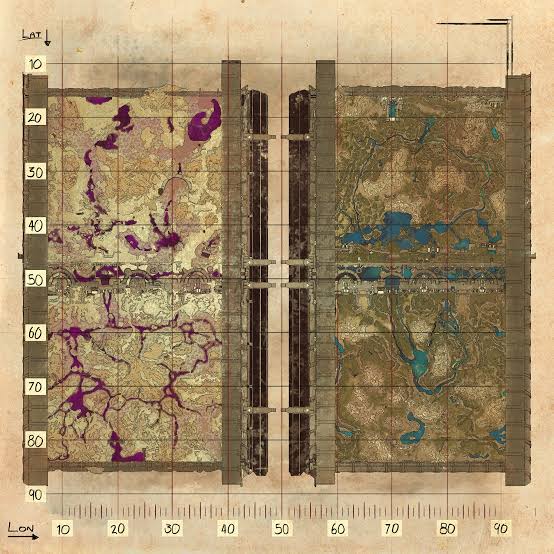 Genesis Part 2 features a vast world set on a colossal ship comprised of two rings distinctly separated on the map.
The Right Side, depicted in green, offers an easier region with standard creatures.
Conversely, the Left Side, characterized by purple as the Corrupted Ring, presents a more challenging area with formidable foes, making survival tougher.
New Events on the Genesis Part 2 Map
The following two events can only be observed in the map of Genesis Part 2, the latest Ark Survival Evolved DLC;
The asteroids that you can observe between the two rings can change over time. That change occurs due to an event known as 'Hyper-Space'. Hyperspace can only happen during the night, and it creates a purple tint in space. An abundant amount of stars will pass by the ship, causing the asteroids to change.
Genesis Part 2 also features some of the best Ark Survival Evolved missions. We will discuss these missions in detail later in the guide.
New Entities on the Genesis Part 2 Map
Like every other DLC expansion, Genesis Part 2 also brings a new set of enemies and creatures to Ark Survival Evolved.
Following creatures can be found on the map of Genesis Part 2:
Maewing
Noglin
Astrodelphis
Tek Stryder
Shadowmane
Voidwyrms
Summoner
R-Creatures
New Missions in Genesis Part 2
Genesis Part 2 DLC introduces a vast array of missions in Ark Survival Evolved, categorized for both solo and online play. Each mission offers three difficulty modes—Alpha, Beta, and Gamma—with higher difficulties yielding greater rewards. Some missions impose playstyle restrictions, including the use of tamed creatures.
Initiate missions through the Eden or Rockwell Garden Mission Terminal, allowing for versatile gameplay. You can replay missions as desired for farming purposes, which is good if you ask me.
Mission Types
The following types of missions are available in the Genesis Part 2 of Ark Survival Evolved;
Hunting Missions
Gauntlet Challenges
Race Missions
Maze Dungeons
Genesis Ship Missions
The following missions are available to attempt in the Genesis Ship;
Shadowmane Prowl
Ferox Cull
Velonasaur Stalk
Bulbdog Fetch
Maewing Poach
Paracer Roundup
New Boss Battle in Genesis Part 2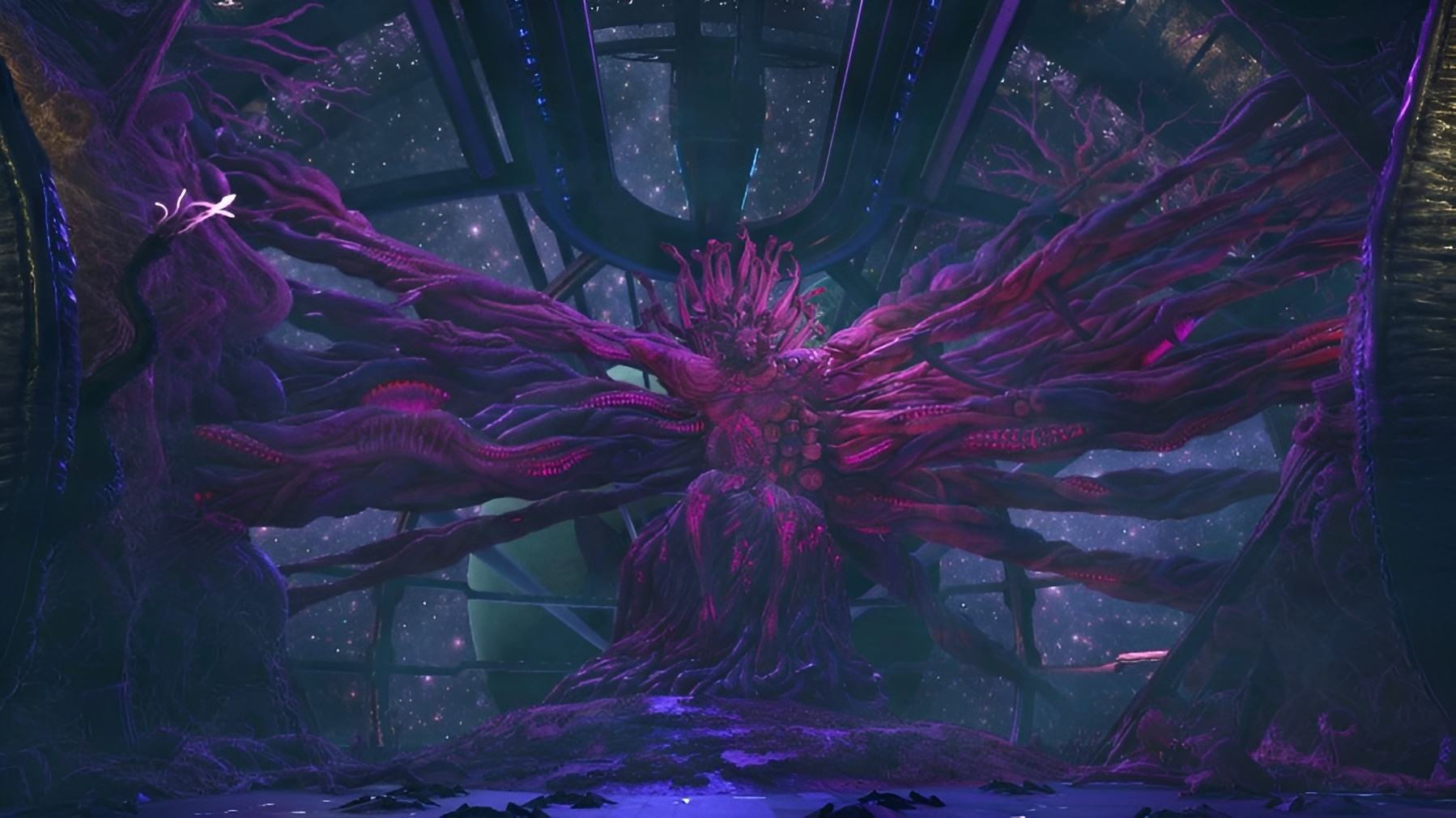 Rockwell Prime is the major and final boss battle in Genesis Part 2 of Ark Survival Evolved. You will face Rockwell throughout the story of Genesis DLC in your ship. However, these encounters are small and scripted. Your real battle starts with Rockwell in the final mission, and you will face his real form there. Now we will discuss the boss in detail below.
Rockwell Prime Boss Battle
Rockwell's final form is very distinct and different from his previous appearance. He is now smaller in size but has more muscle mass. He gets a messed-up face along with no abdomen parts. One of his eyes will appear purple-colored, while the other will be blue-colored. He also has two sets of spines with a large number of tentacles hanging from his body. Rockwell actually looks like a Nightmarish Final Boss.
Location of Rockwell Prime
Rockwell Prime can be fought by playing the final mission 'Terminus' from the mission terminal in Genesis Part 2, present inside the ship of Ark Survival Evolved. You can farm the boss fight over and over if u want. However, Completing the mission is necessary to fight him as hell be waiting at the very end.
How To Beat Rockwell Prime
Rockwell Prime, the final boss in Ark Survival Evolved, presents a formidable challenge. With well-equipped creatures and items, overcoming him becomes manageable.
Here's a concise strategy:
In Phase 1: prioritize taking down Rockwell nodes to weaken him. Watch out for AOE attacks and super tentacles. Stay at range and seize opportunities to destroy the nodes amidst the chaotic close-range battle.
In Phase 2: Rockwell Prime engages you directly after node elimination. With Summoners gone, the fight becomes more straightforward. Utilize your tamed creature to stay at a safe distance and defeat the boss, focusing solely on Rockwell's attacks.
Rewards For Beating Rockwell Prime
You get different rewards for the type of difficulty you defeat Rockwell Prime in. Following are the rewards that you get from beating Rockwell in Genesis Part 2 of the game;
Gamma Difficulty Rewards: Rockwell Final Form Flag and Rockwell Final Form Trophy
Beta Difficulty Rewards: Rockwell Final Form Flag and Rockwell Final Form Trophy
Alpha Difficulty Rewards: Mutated Survivor Costume Skin, Rockwell Final Form Flag, and Rockwell Final Form Trophy
Resources in Genesis Part 2
Like every other map in Ark Survival Evolved, Genesis Part 2 is also very rich in resources. Some of the resources available on Genesis are as follows;
This concludes our guide on the Genesis Part 2 DLC of Ark Survival Evolved. We tried to explain almost everything included in the DLC in complete detail. We hope that the guide helped you get through the entire DLC expansion with ease. Let us know what you think about Ark Survival Evolved in the comments below and what your thoughts are on the Ark 2 reveal as well.
Was this article helpful?
Thanks! Do share your feedback with us. ⚡
How could we improve this post? Please Help us. ✍