Diablo Immortal getting stuck when starting up at the login screen is seriously annoying to solve. Basically, as soon as you log into the game, you will be greeted with the loading screen in-game, which will essentially cross-check every vital file of your game directory. It makes sure everything is stable before you get to the main menu. But there will be a certain point towards the end of the loading instance where Diablo Immortal will malfunction and get stuck on the starting game screen.
Key Highlights
Games

such as

Diablo Immortal

which are

multiplayer

based can have

issues

here and there.

Players in

Diablo immortal sometimes

cannot start the game even if they have

good

wifi connection and

specs.

When players

log into the game

, the game will search for

vital files

in your game

directory

and during that process it can get

stuck

.

To

solve

this issue, If you're on

PC

, you can try to

upgrade

your video card

drivers

or try to

"scan and repair"

by going to

Battle.net

If you're on

Phone

, you can try to see if there are

updates

on the

Play store

or you can try to

reboot your phone.

One

method

that works on both

PC

and

Mobile

is by changing your In-game

server/lobby

and also

avoiding

using any V

PN connection.
The game doesn't give you a fair solution in order to fix its many plagued issues, such as one where it fails to connect to the servers entirely and notifies you to Please Check Your Internet Connection which is ridiculous. However, there is no need to worry as we have gone ahead and tested a few workarounds and methods that will help you overcome the Diablo Immortal Stuck On Starting Game issue, so let's discuss the error itself for now.
How To Fix The Stuck On Starting Game In Diablo Immortal
Thankfully the solution to the problem has a variety of fixes for both smartphone and PC users who are playing on the Battle.Net version specifically. We will go over and discuss methods that will work for both platforms so you can get back to farming peacefully in the game.
The developers of the game at Blizzard constantly strive to iron out most bugs and glitches ut fail to do so, and t add more fuel to the flame, they generally do not communicate back with any sort of guide to solving them.
So it is all thanks to the evergrowing and dedicated community of Diablo Immortal on both Reddit and Discord, who provided concrete feedback on how they fixed this issue on their end. As long as you follow each of these methods and workarounds accordingly, you should have no trouble fixing the error.
We recommend carefully trying all of these fixes and see which one may work out for you. So without further delay, here is how you fix the game so that it may start up properly without any sort of headache in the way.
Updating Graphics Card Drivers
First and foremost, this specific solution goes to the PC users of the game who are having trouble with starting the game on their PC via the Battle.net launcher. It is an unspoken fact that having your PC components and their systematic drivers up-to-date is highly essential to performing your day-to-day tasks smoothly.
Most importantly, these drivers comprise the building blocks for your PC, so without even thinking about anything else, make sure you go ahead and check if there is anything that needs updating, whether it's the audio drivers or the network drivers. They are all beneficial to your PC so that it can work without any major issues.
Most PC players of the game should check for new GPU updates once every few weeks or so because companies like Nvidia and AMD, the two main Graphics Card companies, will often release new firmware updates without even notifying their users. You can easily scan for new patches of the Graphics Card drivers from the main menu interfaces for both AMD and Nvidia's main interfaces, as shown in the image above.
From both of these menus, you will also be able to detect the status of their current versions and even the fact that if you want to opt into beta driver updates. However, we would refrain from doing that since they are most likely still under testing and may cause issues, just like Diablo Immortal getting stuck on the starting game phase.
So quickly update the video card drivers and give your system a restart to apply the changes; once you do, then head back into the game to clarify if it fixed the problem or not so we can move on to the next possible solution.
Scan & Repair Missing Or Corrupted Files
Contrary to popular belief, there are several ways where the core installation files of a game on a PC can haywire and cause major damages such as corrupted files and even the case of vital missing data. This is extremely crucial because these files and data are needed to run the game properly, so without them, you may as well continuously run into game-breaking errors, such as the game getting stuck on starting during Diablo Immortal.
First of all, make sure that the Diablo immortal Application isn't running on your desktop. You will want to have the game turn offed until the process is complete.
Launch the Battle.Net launcher by Blizzard Entertainment which should be pinned under your taskbar, or simply search for it using your Windows Search Bar.
Head to the Library section of the launcher, which should be available to browse from the home menu of the platform and locate the game from the list of titles.
Select the Gear Icon next to it, as displayed in the image above, to open up a sub-menu with a list of options to allow you to modify the game.
Click on the Scan And Repair setting to initiate the process of file verification on the game.
There will be a confirmation message displayed to begin the process, which should roughly take about 10-15 minutes to complete depending on the size of the game.
If there the launcher detects any missing files from the directory, it will immediately notify you of their installation, for which the time should revolve around what kind of size or importance the file has to the game.
Once it is complete, head back into the game and check if the game still gets stuck on the starting section of Diablo Immortal; if so, the last ray of hope for PC players should be to contact Blizzard Customer Support or email them using their detailed Contact Us page, which will help you in doing all of that.
Evaluate The Diablo Immortal Server Status
The next and upcoming methods on our list will apply to all Diablo Immortal players, whether PC or smartphones, to help them resolve the game getting stuck on the starting screen. This one is straightforward enough as it involves verifying the current status of the game's servers provided by Blizzard Entertainment.
The backend servers of Multiplayer games are often the backbone of their core functionality and daily subroutine accessibility. If they malfunction, you might as well not be able to play the game at all. It is one of the few reoccurring causes behind why games popular games like Apex Legends crash all the time, which is nothing to be too worked up or worried about at all.
However, most of the regional servers of the game act like lobbies to an extent; what it also means is that you have the option to pick between different regions to log into the game. But if there is a rare case of online maintenance, then you might have to wait for a prolonged period of time.
At certain times, most Multi-player only games like Diablo Immortal will be taken offline for a scheduled time period during which you will not be able to access or play the game. It is usually done in order for developers to provide helpful hotfixes to improve the overall ecosystem and stability of the title.
Most importantly, it is also worth keeping in mind that the developers will often follow up with updates to the game, which will help balance out any severe issues or bugs.
Preferably, it is more than advised that users follow the official Diablo Immortal Twitter Account, which will provide regular updates about any sort of ongoing maintenance procedures and future ones too, which will help you plan out your free time for the game. Furthermore, you can opt to change your server or lobby to a different region in case you have issues and vice versa, as shown in the image above.
Update The Game

Developers will often release new firmware versions of their applications which will contain general fixes across the board and even new features too. These updates are essential to playing the game in one piece, and you might even receive them unknowingly, which can cause confusion as to why it may get stuck on the loading screen sequence in Diablo Immortal.
PC players on the Battle.Net version will be able to receive or allow updates on their games automatically. However, in the case of android or IOS users, they will sometimes have to manually navigate to their respective app stores in order to activate any pending updates on their installed applications.
As long as you safely update the game files without any kind of interruptions to hinder the download or installation progress, then you are more than likely to safely play it without running into issues such as Diablo Immortal freezing and getting stuck on the starting game loading segment.
Reboot Your Mobile Or PC
Now, this is vividly considered to be one of the oldest tricks in the book, but you should definitely try rebooting your smartphone or PC in hopes of getting the game to work miraculously. Many gamers will often get stuck down a rabbit hole of where to start looking for fixes on a game that seems to be posing problems. But the solution might just be in front of them the entire time with a simple restart of their system.
Meanwhile, PC users can quickly reboot their system by clicking on the Windows icon at the bottom left of their screen, which should give them the option to restart their desktop. Furthermore, if you have an SSD storage device equipped on your system, then the reboot process of your PC should only take a few minutes at max.
Lastly, you can also consider "Power Cycling," your system, which many may not know about, can help refreshen the overall memory and system state of the PC or gaming consoles. It is done using the following short steps:
Completely shutdown your PC or Console
Unplug the power cable from the main switch output
Make sure to give it at least a couple of minutes or so and then plug everything back into place.
Now launch the game again and elaborate if the workaround helped you resolve the issue.
Disable The Background Applications
Believe it or not, there are some rare instances where applications or software that you use in your daily tasks may interfere with games and their compatibility. It is basically explained that applications such as Discord or even the tabs in Web Browsers running in the background may cause disruptions because of their high-demanding utilization of CPU and RAM.
These can tend to cause a surge or spike in your overall usage of these components, which can be harmful to the hardware as well as produce random errors in your video games. Most players should immediately close them, which can be easily done in the following way:
Boot up your Discord Application by either typing it in your Windows search bar or from the taskbar
Once opened, at the bottom of the menu, you should spot the Settings option next to your profile.
Click on it, and now you should be displayed with a wide selection of options to choose from; select the bottom-most one under the 'Activity Settings' titled called 'Game Overlay'
In the right-side menu, there will be the feature to disable or enable the overlay; simply click on it once to turn it off completely.
Furthermore, It is highly advised that you also turn off the Auto-startup feature on Discord.
It can be easily done by navigating to the Window Settings on the application settings; here, simply turn off the 'Start Minimized' option so it won't open automatically as your Windows OS boots up.
Lastly, you will want to turn off any Web Browser tabs you have running in the background, whether it's Google Chrome, Mozilla Firefox, or even Opera GX.
You can easily do it via the Task Manager, which can be simply opened by right-clicking on your taskbar located at the bottom of your main desktop screen.
Here, just click on Browser you have opened and select the End task command, which will undoubtedly free space on your RAM depending on how many tabs you have opened in it, as shown in the image.
Avoid Using A VPN Connection
The VPN essentially stands for a Virtual Protocol Network. It allows users to secure a concealed gateway to private and public networks with ease as well as bypasses any barriers of issues or problems when connecting to the backend servers of Multiplayer-only games.
One may even consider using this software to gain access to unpopulated and barren servers in Diablo Immortal so they can farm endlessly in solo play without having others interfere. However, we completely advise against doing that because using a VPN in a server-based game is one of the biggest violations you can commit in the game. It will ultimately lead you to be detected by the security system of the game and get your account banned.
The account ban severity will depend on how long or for what means you used the VPN in the game. It all comes down to the fact that you should not underestimate the security protocols at Blizzard Entertainment. The game works on the basis of region-wide servers which have different compact security embedded in them, which, when provoked, such as hacking or cheating, will immediately ban the player without any short notice.
It is fine to use VPNs for surfing the internet and using it to access region-locked games or even remotely inaccessible websites on your browser. But we strongly suggest taking a look at your background running applications on both smartphones and PC before you open the game.
You might not even be aware of a VPN running in the background, which will end up causing Diablo Immortal to get stuck on the starting game intro. So, generally speaking, do not even think of using services such as NordVPN or BetterNet on your phone device whilst playing the game that may cause more loss than one.
Switch To A Different Lobby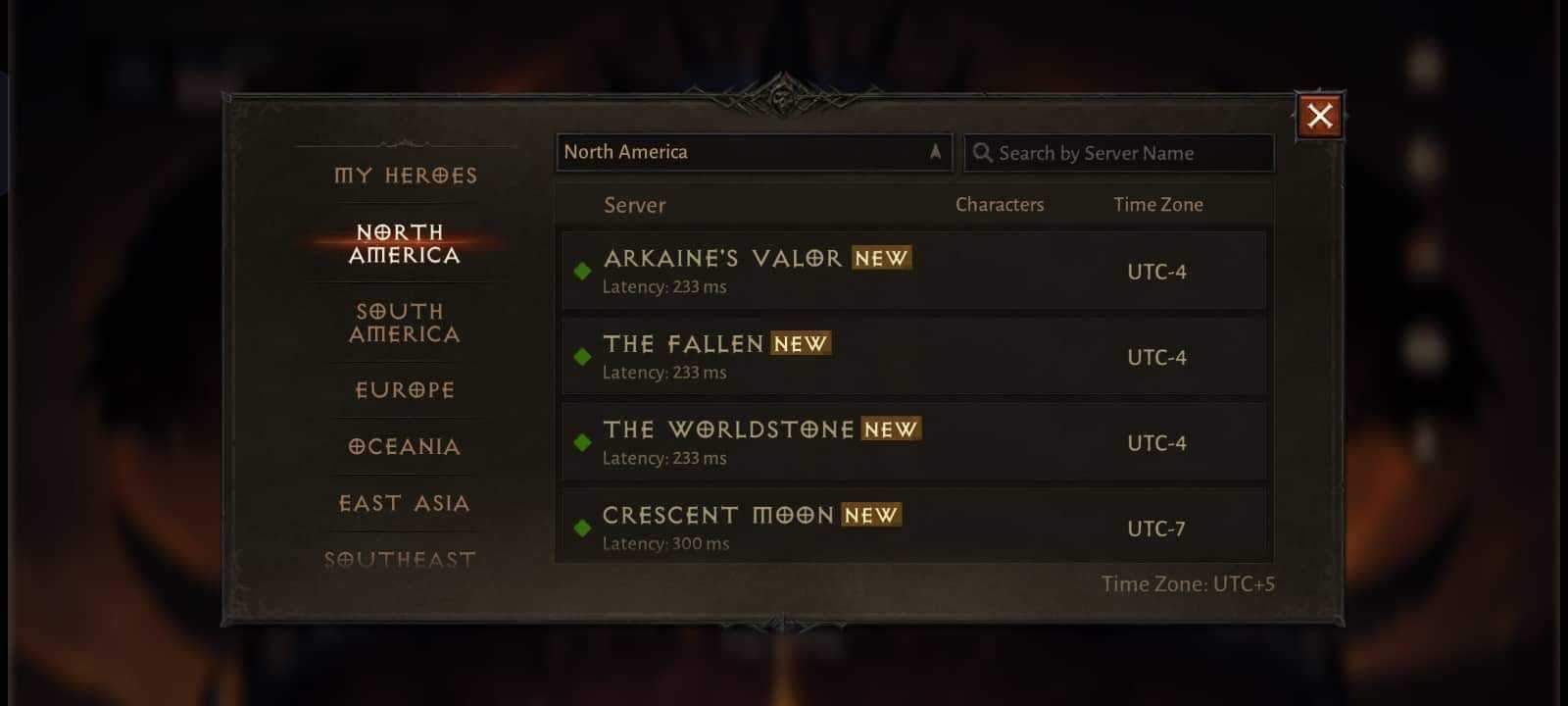 It may come as a bit of a surprise but swapping to a different lobby inside the game can also lead you to successfully log in and enter the game instance. It should be worth keeping in mind that the lobbies in the game are essentially regional servers that all have different Time Zones and Latency parameters.
Latency can easily be described as the time it takes for a small packet of data to transfer back and forth from your device to the internet or backend servers. It is mainly measured in milliseconds (ms), and the higher the figure, the more annoying lag and delay you will have to face inside a multiplayer game.
The default regional server should be the one with the lowest latency, corresponding with your current location in a country or continent. But just like we mentioned previously, if you are facing issues with starting the game whilst it is stuck on the loading screen, then we recommend swapping between these servers at the main menu.
Simply choose a lobby or server that is different from your current one that may have a short difference in the overall latency value. Luckily, Blizzard offers multiple lobbies or servers that players can choose from, which can easily let you check if it is a lobby in-game causing issues or not. So select a different one from the main menu and hop back into the game to check if it lets you bypass the loading screen or not.
Clear The Immortal App Cache
One of the definitive ways that a Reddit user pointed out was clearing the App cache on their smartphone did the trick for them, which is easier said than done. The memory cache is the non-existential data that are freely roaming around in your app directory, so removing that is highly beneficial no matter what app you are using. It will help the application or game on your smartphone to run faster and better in overall performance.
Both IOS and Android have relatively similar ways to remove the app cache data, which can be done in the following way:
Look for the Settings menu of your smartphone devices, or you can search it directly via your home screen search bar option.
Head into the 'Apps' section of the settings or something similar along the lines of most devices.
Here you can browse through the list of installed apps that you can manage and modify on your smartphone.
Select the Diablo Immortal app from the list and click on its Storage and Cache settings.
Now just select the Clear Cache option as shown in the image above to remove any excess data from the game, which should hopefully work in getting it to run; if not, we have one last fix to try too.
Reinstall The Game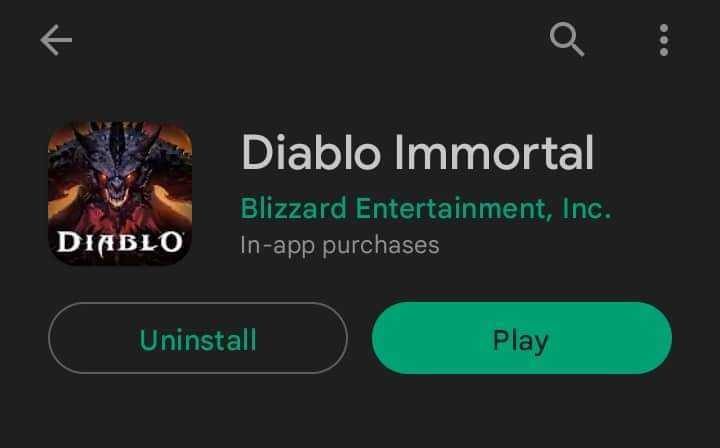 Now keep in mind that this should only be used as a last resort method. If by any chance, so far, none of these methods have worked, then the safest workaround would be to simply uninstall and reinstall the Diablo Immortal game from the Apple App Store or Playstore.
Uninstalling the game will allow it to completely remove any instances where it has corrupted or missing files or even existing ones which might be causing potential errors in the game. It is the last ray of hope for players if push comes to serve, but there is nothing to be worried about in doing it.
Wrap Up
Blizzard Entertainment had announced the 'Diablo on the go' experience as they promised back in the Blizzcon event of 2018 that shocked the world. Diablo Immortal is the unique free-to-play Dungeon-crawler experience that you can enjoy on your smartphone. However, the game has sparked massive controversies as of late, even more so the fact that it has a plethora of Bugs and Glitches.
However, there is no denying the fact that these sorts of launch issues in modern video games have become a norm that players will have to deal with, one way or another. Thankfully in the case of this game, we have covered every countermeasure that you can take to put the problem at rest. Let us know if these fixes helped you out in fixing the game getting stuck on the starting screen, and as always, eXputer wishes you luck!
Was this article helpful?
Thanks! Do share your feedback with us. ⚡
How could we improve this post? Please Help us. ✍