For the average Joe, drivers are like a bogeyman. But they are much more straightforward, at least in definition. Think of your drivers as translators. Now what do they do? They translate what a hardware component is saying to the operating system. So they act as the conversation mediators and should be updated periodically to avoid any unexpected system behaviour.
Key Takeaways
Updating your Drivers frequently saves you a lot of hassle when troubleshooting your system.
Windows provides multiple ways to update drivers:

The recommended way is through Windows Updates itself. They are stable and bug-free.
If, for some reason, Windows updates don't do the job, you can use Device Manager:

To search for a specific update automatically.
To manually install drivers. For this, you will need to download the driver package yourself.

MacOS users can simply install any available updates through the Updates app in Settings.
Linux users have three ways to update drivers:

The optimal way is through the distro's GUI.
If there is not one available, the Terminal can be used to the same effect.
Updating the Kernel also updates the drivers.

Graphics Driver can be updated by following one of these methods:

Nvidia and AMD users can simply do so through their control panels if they have it installed.
Use Auto-Detect and Install programs from your manufacturer to accomplish the same thing.
Lastly, you can manually search for your GPU on the manufacturer's website to download and install the latest driver package.
Benefits of Updating Drivers?
When a translator doesn't know what the other side is saying, it makes working together awkward. So when your system is on outdated drivers, the symptoms could range from the device simply refusing to function to BSODs (Blue Screen of Death). Updating them could save you a lot of time when troubleshooting your system. There are multiple benefits to going through the process.
Increases performance.
Fix bugs, security, and compatibility issues.
Maximizes system stability.
Adds new functionality to your existing hardware.
Precautions Before Updating Drivers
While you should periodically check in for any driver updates through the recommended methods, always take note of these points.
Follow the 'If it's not broken, don't fix it' rule when manually updating drivers for anything but Graphic Cards. There is no need to update if they are functioning as they should.
Stay clear of any Driver Updaters. They are generally straight adware or even malware in some cases. Aside from that, they pick up any unsigned or incompatible drivers and install them against your hardware. Best-case scenario? You would have to revert to a restore point or be left with a fully broken Windows install.
How to Update Drivers on Windows?
The best and recommended way to update your drivers is through Windows Updates itself. Thankfully, it has come a long way, and updating drivers is very straightforward now. Microsoft always signs and checks the drivers before they enter Windows Updates. This ensures you always have the best available versions guaranteed to be stable.
Using Windows Updates
Typically, Windows will automatically detect a new device and attempt to install the required drivers using its local driver library. However, sometimes it fails, making you update some controllers manually. This could happen due to Windows failing to recognize the device or some different underlying reason.
Regardless of the reason, using Windows Updates is relatively easy. Here's how you can do it:
Press Win, and search for Updates.

Opening Windows Updates (Image by eXputer)

Click on Search for Updates.

Searching for New Updates (Image by eXputer)

Afterward, click on Advanced Options.

Opening Advanced Options (Image by eXputer)

After that, click on Optional Updates.

Opening Optional Updates (Image by eXputer)

Once in, click on Driver Updates and select all the available options.

Click On Drivers You Want to Update & Install (Image by eXputer)

Click on Download & Install.
Now it's simply a wait for Windows to do its thing. And once done, restart your system to apply the new drivers.
Using Device Manager
Windows Updates would generally solve any issues that you might be having, but if it doesn't do the trick. Device Manager allows for a manual way to update your drivers.
Right-Click on your Start Button, and then click on Device Manager.

Opening Device Manager (Image by eXputer)

Double-click the Device Category with the component you want to update.

Opening Device Groups (Image by eXputer)

Right-Click the component you want to update, and click Update Drivers.

Opening the Driver Update Wizard (Image by eXputer)

Click on Search Automatically for Drivers, and wait for the installation to finish.

Searching for New Drivers Automatically (Image by eXputer)
Manually Updating Drivers
If Windows can't find an update for the device, then the only option is to visit the manufacturer's website for the updated drivers. In such a case, the general steps would be as follows:
From the same Device Manager window, note the name of the device.

Copy Down the Name of the Hardware Component (Image by eXputer)

Search for the title followed by the word Drivers.
Click on the first link that resembles the name of the manufacturer.

Getting to the Device Page (Image by eXputer)

Follow the on-screen instructions to download the driver package.

Downloading the Package (Image by eXputer)

Once downloaded, extract the file into an easily remembered location. To do this, you can use Windows Explorer itself.

Double-click the file to open it.

Open the Downloaded Driver (Image by eXputer)

Press Ctrl-A on your keyboard to select all the sub-files.
Right-Click and Click on Extract.

Extracting Files (Image by eXputer)

Navigate to an easy-to-remember location, and create a New Folder.
Select the folder and Click on Extract.

Extract to an Easy to Remember Folder (Image by eXputer)

Go back to your Device Manager window.
Right-Click the component, and click Update Driver.

Installing New Drivers Manually (Image by eXputer)

Click on Browse My Computer for Drivers.

Manual Driver Installation (Image by eXputer)

Click on Browse and navigate to the folder you extracted the drivers in.

Select the Source Folder (Image by eXputer)

Click on Next.
Now wait for the drivers to finish installing. Once done, you can restart your system to apply the new drivers.
How to Update Drivers on Mac
Updating MacOS drivers is similar to how Windows Updates work, except generally, you might have to update your OS. But unlike other operating systems where you need to wait for reviews to see if they are good, any MacOS updates already come almost bug-free and are generally really good for your device.
Click on the Apple Icon and select System Preferences.

Getting to the Settings.

Click on Software Updates.

Opening Software Updates.

Click on Update and select the updates you want to install. (Do not click on Upgrade Now)

Selecting Updates to be Installed.
How to Update Drivers on Linux
Updating drivers on Linux can be hard for someone new. While you can go through a wizard to install drivers for other operating systems, the fact that Linux is open-source makes it hard to find the correct driver set.
However, the drivers are generally pre-baked into whatever Linux kernel you are using. This means that updating that would not only introduce new patches for the system but update drivers as well. Generally, depending on your Linux Distro, there are two ways to do this.
Using GUI
Most Linux distros today already come with a GUI interface to help with a problem like this, and this is the easier and recommended way to update your drivers if it's available.
Ubuntu is used in this example, but the steps are generally similar for most newer distros.
Open the Start Menu/Dash and search for Drivers.
Open the GUI and go into additional drivers to check for newer versions.

Getting To the Drivers Tab in Updates

You can then select the drivers you want to install and click Apply Changes.

Updating Drivers In Ubuntu
Using The Terminal
Like everything else in Linux, drivers can also be installed using your terminal.
Open the Terminal by searching for it in the Dash.
Type 'sudo ubuntu-drivers autoinstall'.

Updating Drivers Through Terminal.

Press enter and type in your password to complete the process.
Updating Your Kernel
As previously mentioned, updating your entire kernel would also update your drivers. The steps are as follows.
Go to the terminal and type in 'sudo apt-get update.'
Once the update has been grabbed, type in 'sudo apt-get dist-upgrade.'
Once done, your terminal should look something like this.
Updating GPU Drivers
Unlike most devices that function fine even with slightly older drivers: Graphic Cards are an exception to this rule. You always want your GPU drivers to be the latest to enjoy the newest games to the fullest. Graphic Card manufacturers periodically put out new updates to fix minor bugs and stuttering issues, add support for new functionality or even support for more recent games.
While on the topic, why not check out our best Windows optimization guide on fine-tuning your PC's performance?
There are three ways to update your GPU drivers, depending on whether you want to do it via software or manually download the drivers.
Using Software Clients
Both major GPU manufacturers have their own Control Panel software to provide various kinds of features to their end users, and among all these features is a built-in driver updater. Generally, the driver-installers for GPUs include these control panels in them. But if you don't have one installed for your GPU, only Nvidia GeForce can be separately installed. If you are using AMD or Intel, and don't have the interfaces installed, move on to the next section.
However, if you do, it makes the process very simple. For Team Red and Green, at least.
Nvidia
Open GeForce Experience and click on the Drivers tab.

Updating Nvidia Drivers (Image by eXputer)

Once there, click on Check For Updates.

Nvidia Driver Update (Image by eXputer)

Now, click on Download from the Available section.
Once the download is finished, the wizard will take you through the installation process.
You can further optimize your GPU driver with the best Nvidia Control Panel settings guide.
AMD
Open AMD Adrenaline software and click on the Home tab.
Click on the Check for Updates button under the Drivers & Software tab.
If there is an Update available, click on Download.

Using AMD Adrenaline (Image by eXputer)

Once downed, click Install, and AMD Utility will take you through the installation wizard.
Maximize the performance of your AMD GPU with our best AMD settings guide.
Using Driver Updating Tools
All three GPU manufacturing companies offer Auto-Detect and Instal tools, even if you don't have their interfaces installed. These programs automatically detect the model number for your graphics card and install the latest available drivers.
Installing them is similar to any other executable. Just keep pressing Next, and it will automatically do everything for you, including the installation of drivers as well.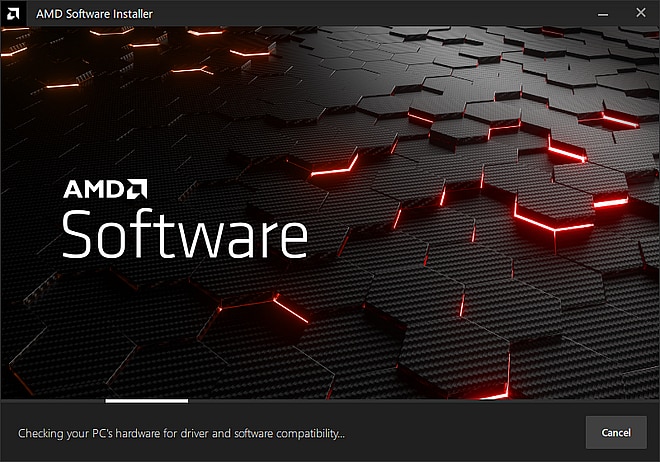 Updating Manually
You can update your drivers manually if you don't want the additional software installed. To do so, pick your manufacturer from the following links. This method works for all Operating Systems.
Once you are on the website, you will be given several options. You need to select your GPU's model name and number from here and choose your Operating System.

Nvidia Driver Selection as an Example (Image by eXputer)

Once selected, click on search and then download the recommended version.

Download the Latest Version (Image by eXputer)

Once downloaded, just double-click on the executable and follow the wizard to complete the installation.

Example For A Driver Wizard (Image by eXputer)
This concludes our ultimate guide on how to update your drivers through every aspect of all operating systems. While updating your drivers frequently is understandably a hassle, it ensures that your system keeps and remains stable. We hope that you were successful in doing so and were also able to find your preferred method of doing so as well.
FAQs
How do I update all my drivers?
You can update all your drivers using Windows Updates. Any other software or program that claims to do this is most likely a sham.
Is it OK to update all my drivers?
As previously mentioned, do not try to fix what is already working. However, it is okay to update all of them if it's through Windows itself.
How do I update my graphics driver?
You can follow one of the three methods in the guide to update your graphics driver.

Up Next:
Was this article helpful?
Thanks! Do share your feedback with us. ⚡
How could we improve this post? Please Help us. ✍