Genshin Impact is primarily a Gacha game, and as such, it has several different characters that you can unlock. To be a bit specific, there are currently 68 playable characters in the game, and many more will be added going forward. With so many options to choose from, it's worth knowing about how you can unlock Genshin Impact Free characters!
Key Takeaways
Genshin Impact is a free-to-play Gacha RPG game where players can unlock and play as 68 different characters as of the latest patch and update.

While all the characters in the game can be realistically obtained by wishing, some characters can also be obtained for free in Genshin Impact.

Players can unlock these characters by playing through the story or doing certain events and obtaining them for free.

The wishing system in Genshin Impact is highly incentivized as a pay-to-win, as wishing is done via an in-game currency called Primogems which is very scarce.


There are many ways to obtain Primogems in-game as well making the obtaining of characters free and not having to spend at all.




While it is easier to just spend real money and get your desired character, grinding in the game and earning your character through other means is much more satisfying.
Now seven of these characters are unlocked just by playing through the game since they are critical to the main narrative, but the rest of them can only be acquired by engaging with Genshin Impact's Gacha system, or 'Wishes' as they are more commonly known.
How To Get Some Free Wishes
There's an element of luck and chance involved when using Wishes, and more often than not players can expect to see a lot of weapons as opposed to new characters, forcing you to buy multiple wishes before you get your hands on what you want.
To buy these wishes, players need to spend a premium currency known as Primogem in Genshin Impact, and of course, it goes without saying that the best way to get these in a Gacha game is to spend actual money.
But if you're willing to grind it out, it is unquestionably possible to acquire some free Wishes and Primogems in the game. It'll just take a bit of time.
Use Redeemable Codes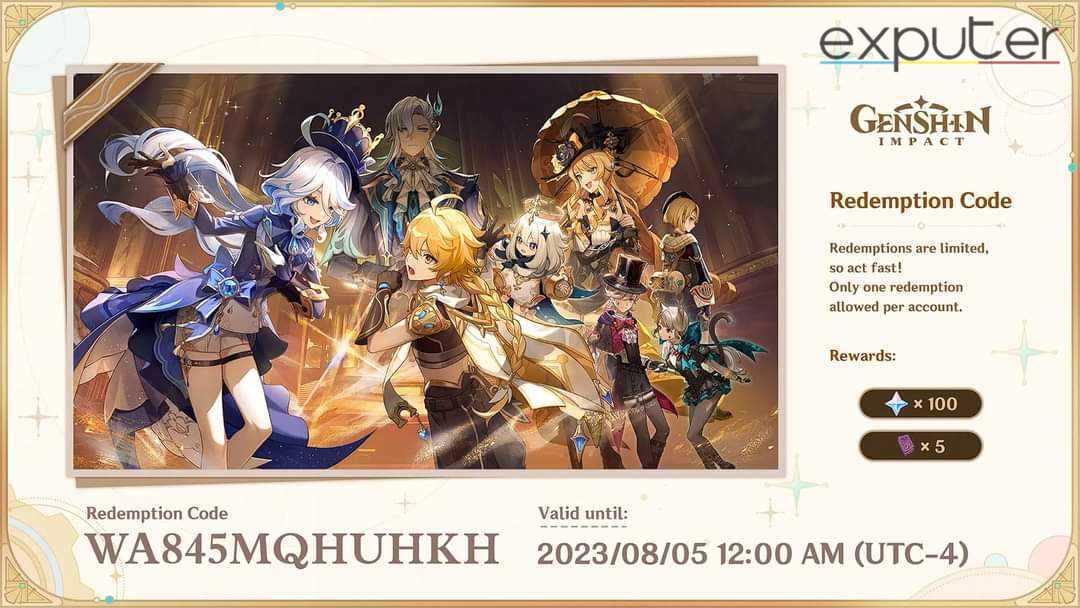 Before every upcoming patch of Genshin Impact, the developers hold a special program that is streamable across different platforms like Twitch, Youtube, and other platforms as well. In this special program, they give special time-gated redeemable codes which can be input in Genshin Impact to get Primogems or Wishes as rewards.
It should be noted that these codes expire within a day or two after they come up, hence the players must make haste to redeem them.

Every special program gives away 3 redeemable codes, if players do not stream these special programs when they are going live, the codes usually come up on social media websites like Twitter, Facebook, etc on Genshin Impact fan pages, and otherwise on gaming websites hence players should not worry about missing them if they follow enough Genshin related pages.
Free Event Rewards
In every patch of Genshin Impact, there are events that offer very generous Primogem rewards alongside other rewards for players, these events happen in-game and are time gated where parts of the event unlock as the days go by, offering players ample time to get a chance to get the maximum rewards which are obtainable from the event in question.
Sometimes in a few patches, they have events where the reward is a free copy of a specific character and therefore you can obtain Genshin Impact free characters by playing through these events and completing the milestones.
NOTE: Genshin Impact also has a history of rewarding players with a bulk of free wishes whenever they hit a milestone like an award in comparison to other games, their yearly anniversary, or hitting a specific milestone related to their player base.
Level Up Your Adventure Rank
Playing through the game and leveling up your adventure rank will reward you with some free wishes when you reach certain milestones. These aren't a lot, but they're something, and you can get these from the receptionist in the Adventurer's Guild.
The maximum adventure rank players can get is to AR 60 and players will not get any rewards afterwards as the EXP gets gated at this point.

There are certain characters that get offered to the players for free when they reach a certain adventure rank, like the upcoming copy of Lynette in patch 4.0. Players can receive a Genshin Impact Free character in the region of Fontaine by simply being AR 25 and claiming the reward.

Every adventure rank allows players to either get wishes or Primogems as rewards, these rewards are not very high but they are sufficient enough for any free-to-play player to get wishes and Primogems which they would otherwise not have the option of getting and therefore, increase your adventure rank is a good enough way to get small time rewards time to time.
How To Acquire Primogems
Once you've exhausted your supply of free Wishes, the next step is to acquire as many Primogens as you can. Once done, use them to buy even more wishes.
Thankfully, there are many different ways you can acquire Primogems which will ultimately help you unlock Genshin Impact Free Characters:
Adventure Rank: Level up your adventure rank in the game by collecting Adventure experience, and some ranks will reward you with several Primogems.
Login Bonus: At Adventure Rank 5, merely logging into Genshin Impact for seven days will net you around 250 Primogems. This does not have to be in a row; you can skip a day or two.
Attempt Quests: Attempt both main and side quests in the game to get your hands on Primogems. Thankfully this is not a game of chance, and you can usually see what rewards a quest will yield in the Journal.
Complete Daily Commissions: These are tasks that are given to you every day, and completing each of them will net you some Primogems. Complete the whole set, and you'll get some bonus ones on top of the base rewards.
Treasure Chests: On top of being an excellent source of weapons and EXP Materials, Treasure Chests found in the world have a chance also to yield Primogems. You might not always get lucky, but there are a large number of these chests on the map, and you're likely to get rewarded for opening them all.
Finishing Domains: Completing Domains, or dungeons, are usually an excellent way to gain Primogems as rewards. You can even find chests in them that can yield some as well.
Complete Achievements: A list of these can be found in the Achievements tab on the main menu, and completing these will reward you with Primogems.
Statues of the Seven: These are landmarks found scattered all around the world of Genshin Impact, and merely finding them will reward you with Primogems.
Unlocking Warp Points: While exploring the world, you'll come across multiple Warp Points that act as fast travel beacons. Activating these will give you Primogems.
Archon Quests:

Archon quests are essential quests if a player is playing Genshin Impact for the lore, as the archon quest directly ties to the story of the game, these are scarce as not all of the story has yet been done and archon quests usually come in the first 3-5 patches of every new region which is due to happen every year.

Exploration:

Exploring through caves or other areas will oftentimes bring players to new undiscovered areas, new quests, or new characters to interact with which will in turn give them Primogem rewards.

Exploration is one of the most beneficial ways to get Primogems as the open world of Genshin Impact.



Hidden quests:

There are some hidden quests that players can unlock or do by interacting with specific things in the open world, these hidden quests are of many types and are creatively hidden to feel more like easter eggs as they are mostly related to specific characters at times or will be related to an NPC.



Spiral Abyss:

Spiral Abyss has 12 floors in total and all floors offer Primogem rewards to players on completion within a certain time. Further, Floors 9 through 12 go through a reset twice a month hence players can get up to 600 Primogems with every reset of these floors if their characters are well-built enough.

Hoyolab login:

Hoyolab is an app that is also a sort of social media for a collective community of all Hoyoverse-related games including Genshin Impact. Hoyolab offers a lot of gadgets and widgets to help players in other ways as well and the community of players in Hoyolab offers all kinds of help to anyone that asks for it.

Players can log in to Hoyolab every day and get Primogems as rewards three times every month.



Web events:

Genshin Impact offers web events from time to time usually with the release of a new 5-star character, these web events are usually like a mini-game of sorts where players have to play through a small mini-game with instructions on their web browser and they can get a specific amount of Primogems as rewards of completing that web event.



Hoyolab events:

There are events on Hoyolab where players can compete in order to have a low percentage chance of obtaining a very high amount of Primogem rewards, the chances are very low but it's still fun to participate as a person never knows when they will get lucky.



Leveling up Statue of Seven:

Players can explore around a certain region in order to collect the oculi of that region e.g. Anemoculus, Geoculus, Dendroculus, etc. When a player gets enough of the oculi, they can offer these to any of that region's statues of seven to get a Primogem reward in exchange for their hard work.



Shrines of depth:

Shrines of depth are located in all the regions, they require keys in order to get unlocked. Players can play through specific quests to obtain keys that unlock shrines of depths in order to get the chest inside which offers a hefty Primogem reward.



Open-world puzzles:

There are several types of open-world puzzles scattered all across the regions, players must understand the mechanism behind them and whether it is related to a permanent item in their backpack or a specific element in order to solve the puzzle and get a chest which can either be a common chest, exquisite chest, precious chest or luxurious chest and get a Primogems as rewards of opening the chest.



Now once you start building up a nice pile of Primogems, remember that you need precisely 160 of them to make one Wish. And not all of them will yield Characters.
So It's generally a good idea to save up your Primogems and use ten wishes at a time since that guarantees at least one four-star reward.
With that, the Genshin Impact free characters guide comes to an end. Utilizing the methods mentioned above you can get your hands on a bunch of characters if you grind enough. Feel free to get in touch with eXputer by dropping a comment down below!
Was this article helpful?
Thanks! Do share your feedback with us. ⚡
How could we improve this post? Please Help us. ✍