The Hydro Tulpa in Genshin Impact is a newly added world boss that can be encountered in the Beryl Region of Fontaine and is used to drop character ascension materials.
The Hydro Tulpa boss is a pretty tough boss that fights, as it has a few specific moves that it can use against players. It has been described as a human-shaped monster formed from the agglomeration of drops of water.
It drops the ascension materials known as Water That Failed To Transcend and is a four-star rarity item drop and cannot be found other than from the boss. The boss is not located anywhere else and can only be unlocked once the corresponding Teleport Waypoint has been unlocked.
Important
: The Hydro Tulpa is immune to taking damage from Hydro
characters
and is weaker than Electro and Dendro.
Key Takeaways
The Hydro Tulpa boss is located in Fontaine's western end of the Chemin de L'Espoir region in Genshin Impact.
Players must head to the Chemin de L'Espoir waypoint, swim north, head into the cave entrance, swim down, and then cross onto land to encounter the Tulpa.
A waypoint needs to be unlocked if players are to locate and fight the boss again.
The Hydro Tulpa's rewards include Varunada Lazurite, Water That Failed To Transcend, and Berserker's or Gladiator's Finale artifacts in Genshin Impact.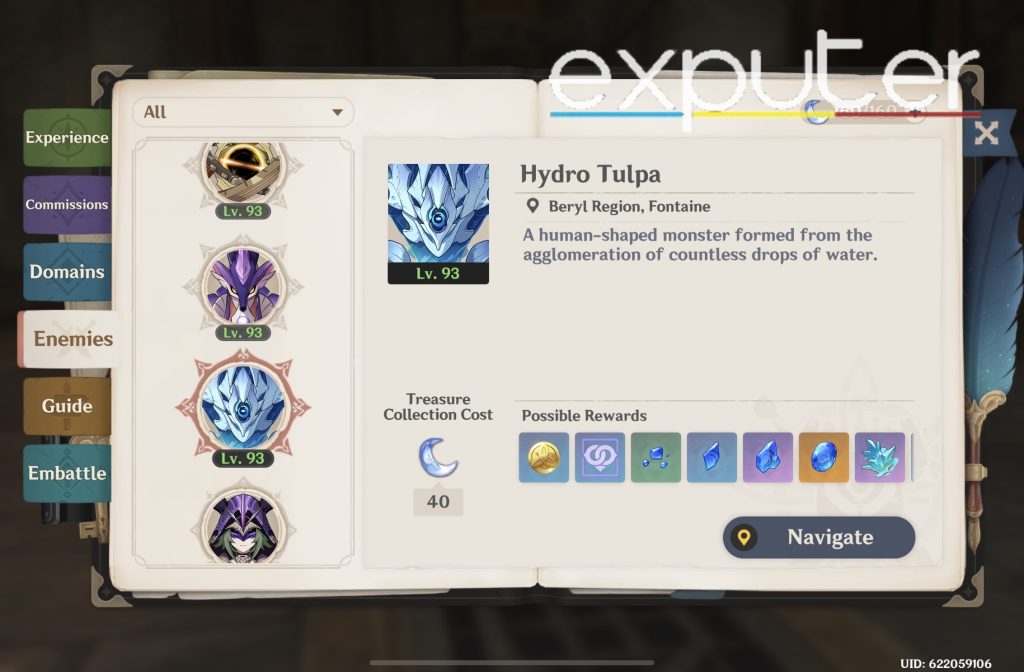 Hydro Tulpa Location
Now, when it comes to the location of the Hydro Tulpa in Genshin Impact, follow the pathway listed below to get to it quickly:
The Tulpa is located towards the Western side of the Chemin de L'Espoir and the far western end.

Chemin de L'Espoir (Image Screenshot By Me)

The Teleport Waypoint will be locked and, therefore, needs to be accessed through a cave entrance.
Head to the waypoint in the Chemin de L'Espoir region, as seen on the map screenshot.

Starting Out (Image Taken By Me)

From the waypoint, start swimming north and continue heading forth until you come across a broken archway.

Archway (Image Screenshot By Me)

From the archway, head a little right and interact with the seals that are present there.
Keep heading straight, and head to the reefs towards the far end.

Reef (Image Screenshot By Me)

A little bit to the left of the reef, enter a cave entrance to get to the Hydro Tulpa boss.

Cave Entrance (Image By Me)

After entering the cave, swim down until you reach the sea bed.
From here, swim straight until you come across a water border.


Water Border (Image Taken By Me)

The border allows you to rotate out of swimming and get back on land, after which you can find the waypoint and unlock it.

Teleport Waypoint (Image By Me)
A pool of water can be seen in the middle of the arena, and the boss is located right in the middle of the pool.
Strategy To Beat Hydro Tulpa
After locating the Tulpa in Genshin Impact, head to the middle of the pool, and as you head close, it immediately takes form and emerges from the ground by rotating and taking the boss form.
One of the main moves that it will carry out is to dive back into the water, and when it emerges, it brings out a smaller hydro mimic that continues to attack the player.
After that, it charges up a hydro spear that launches from its left side and then charges directly towards you.

Spear (Image By Me)

Players can strafe to the side to avoid being attacked, and if you head back, it will charge up another spear and then launch it towards you again.
Another attack that it will use is to lift its hands and cause water droplets to emerge from the ground you want to avoid being hit by.

Water Droplets (Image By Me)

These droplets will drop down as three spears marked by a circle on the ground and can be avoided by stepping out from them.
A point comes where the Tulpa will charge the same spear and cast it towards you three times, stopping before throwing the third one.

Gauntlet (Image By Me)
Eventually, it dives back down before emerging in front of you, creates a gauntlet using Hydro, and launches an attack against you by swiping and hitting you.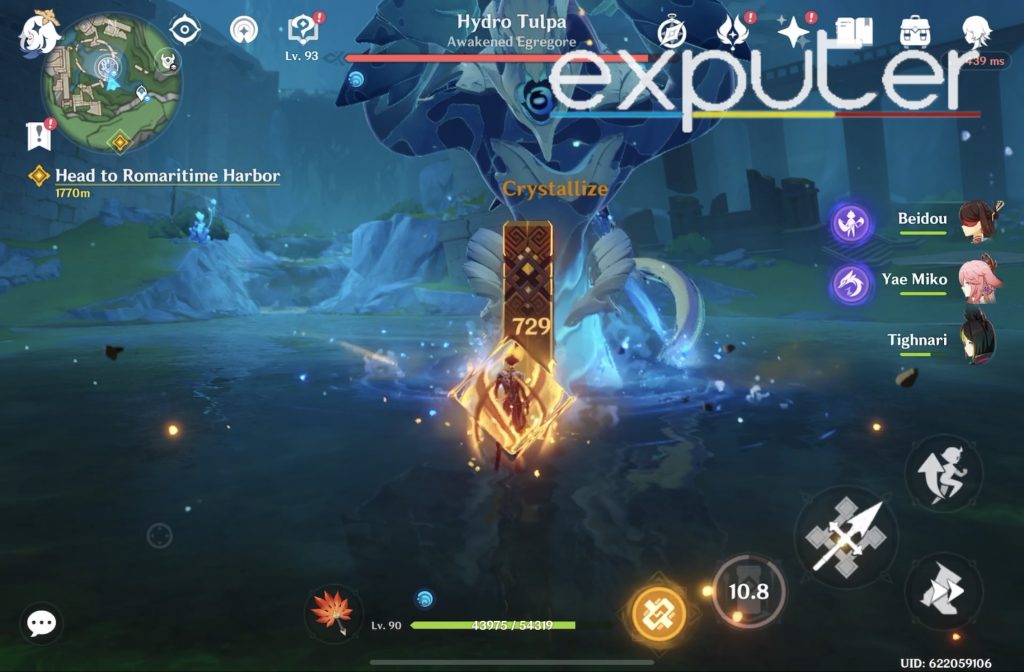 Raising Both Arms (Image By Me)
One of its final attacks is to become more prominent, raise both arms, carry out heavy attacks, and then swipe at you.
Best Characters And Strategies To Use
Moving on, there are a few key strategies that you can have up your sleeve that helped me take down the Hydro Tulpa as listed below:
Break Mimic Shield: The Hydro mimics will have deadlier HP with their shield on; therefore, breaking the shield is crucial to making them more vulnerable.
Use Electro And Dendro: Elements such as Electro or Dendro will work best with Hydro as they can create bloom and hyper-bloom elemental reactions.
Sprint Out: From attacks such as spear throws or water droplet attacks that are marked, you should be able to sprint out to safety.
Stay At a Distance: Apart from this, consider staying at a distance if you can, and use a ranged character.
When it comes to using the best characters to tackle the Hydro Tulpa's attacks in Genshin Impact, they are listed as follows:
| | | | |
| --- | --- | --- | --- |
| Characters | Element | Class | Why Choose Them? |
| Ayaka | Cryo | DPS | She can freeze the Hydro Mimics and make them useless. |
| Ganyu | Cryo | Ranged DPS | Excellent ranged charged attacks, can freeze mimics. |
| Hu Tao | Pyro | Polearm DPS | It can cause Vaporize reactions for higher damage. |
| Lyney | Pyro | DPS | Incredible damage output against Tulpa. |
| Nahida | Dendro | DPS/ Catalyst Sub-DPS | Can target mimics with her Elemental Skill, Bloom reaction can maximize damage. |
| Raiden | Electro | Polearm DPS | High burst damage against mimics and Tulpa. |
| Tighnari | Dendro | Ranged DPS | Elemental skill can confuse mimics with good ranged damage. |
| Wanderer | Anemo | Catalyst DPS | High single-target damage. |
| Yae Miko | Electro | Catalyst DPS | Totems can unleash great damage. |
| Yoimiya | Pyro | Ranged DPS | Vape reactions cause HP to be depleted quickly. |
Hydro Tulpa Rewards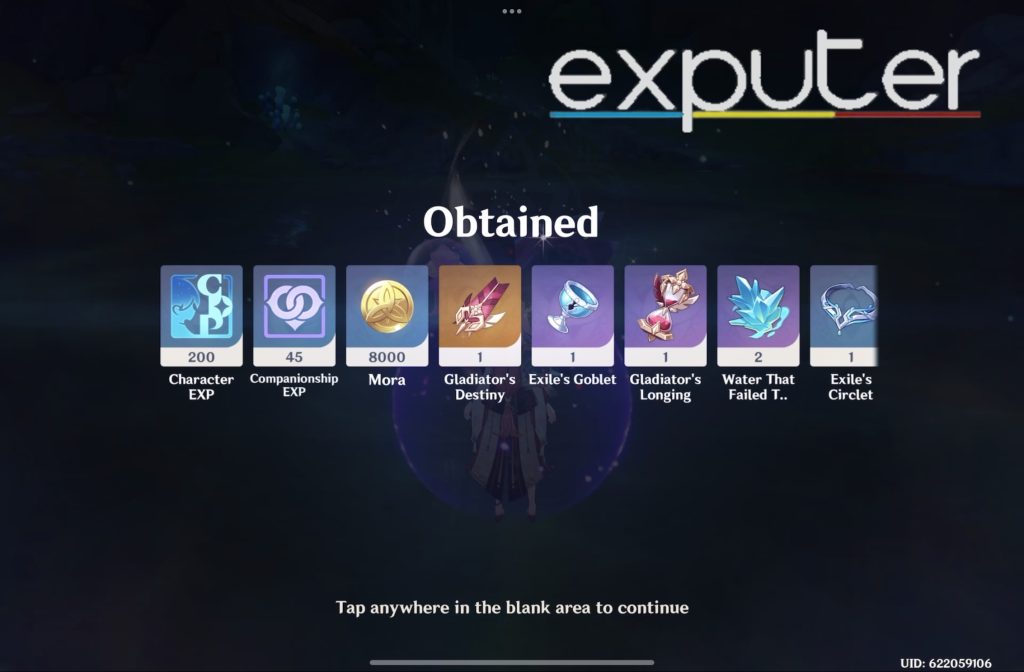 After the boss has been defeated, the rewards can be claimed, which are listed as follows:
Varunada Lazurite Sliver
Varunada Lazurite Fragment
Varunada Lazurite Chunk
Varunada Lazurite Gemstone
Adventurer Artifact
Berserker Artifact
The Exile Artifacts
Prayers For Destiny Artifacts
Wanderer's Troupe Artifacts
Gladiator's Finale Artifacts
Water That Failed To Transcend
And with that, let's wrap up the Hydro Tulpa's boss guide in Genshin Impact! For more tips on killing the boss, here's a YouTube video that recommends several effective strategies.
If you want to know more about Genshin Impact as a game, consider reading the in-depth Genshin Impact review written by Moiz Banoori on it! And while you're here, why not explore the PvP side by learning how to Unlock Co-Op in Genshin Impact guide?
Up Next:
Was this article helpful?
Thanks! Do share your feedback with us. ⚡
How could we improve this post? Please Help us. ✍