The developers of Honkai Star Rail have blessed us all and bestowed some Gift Codes. Using these codes, players will be able to get access to cool in-game rewards such as Stellar Jades, Credit, Traveler's Guides, and even Refined Aether! Sit back, and check out our guide on Honkai Star Rail Gift Codes; including all information on active codes and how to redeem them.
Key Takeaways
Honkai: Star Rail Gift Codes can be redeemed for Credit, Stellar Jades, and other cool in-game stuff.
Codes help enhance the gaming experience and it more enjoyable.
To redeem your codes, you can either
If you visit the redemption website, you will need to know the following:

All accurate Server Information.
A working UID.
Be logged in to your Hoyoverse account.

If ever in need of more codes, check out the Official Twitter and join the Honkai Star Rail Discord. Here, new codes are dropped by the developers and you will be the first to know.
Visit our Game Codes Ultimate Guide if you encounter any issues while redeeming codes. All fixes can be found here.
Bookmark this page, and make sure to check back later on for more active codes.
Important: Codes usually expire pretty quickly, make sure to use codes as soon as you find them.
List Of Active Honkai Star Rail Codes
Having to wade through a bunch of codes to get your hands on an active one is no different than finding a needle in a haystack, and no one wants to do either of these tasks. This is why, today we have helped you out, and separated all active codes from the inactive ones. This offer isn't just for today though, all codes will always be separated for ease of access. Check out the codes below!
Last Checked on June 5th, 2023.
| | |
| --- | --- |
| Honkai Star Rail Codes | Reward |
| STARRAILGIFT | Redeem to get 10,000 Credits, 5 Bottled Soda, 2 Traveler's Guides, and 50 Stellar Jade. |
| HSRVER10JYTGHC | Valid for 10,000 Credits and 50 Stellar Jade. |
How To Redeem Honkai Star Rail Codes
Before You Start: Codes are case-sensitive and require correct spellings. Make sure to double-check your spelling and any capitalization before you click to claim your code to avoid any issues.
To get our hands on the rewards that these codes hold, we need to first redeem these codes. Redeeming is a fairly easy process, and in just a few steps you can gain access. Check out the steps below and redeem your Honkai: Star Rail Gift Codes!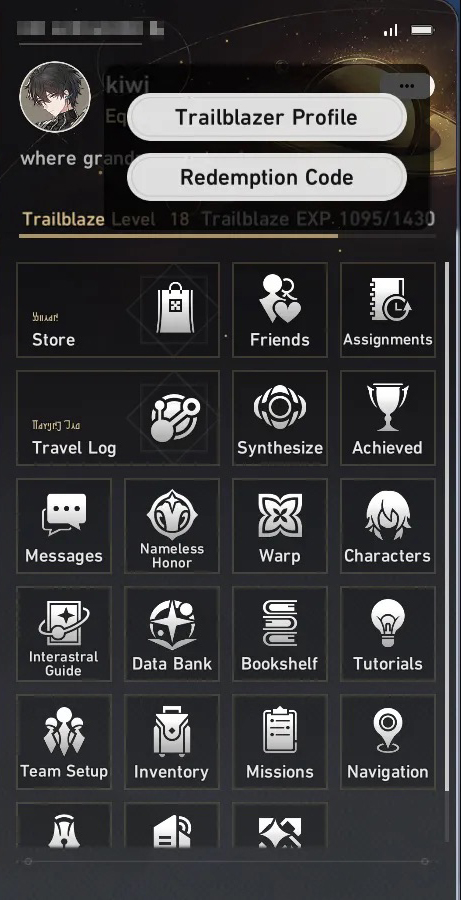 First of all, Launch Honkai: Star Rail.
Click on the ellipses present at the top-right corner of the screen.
Press the button labeled "Redemption Code."
Enter your code and submit it.
Enjoy your Rewards!
Apart from the in-game method of redeeming codes, there is another method to redeem codes for Honkai: Star Rail. For this, navigate to the Honkai: Star Rail Gift Code Redemption Website. You will have to be logged into your account, have the correct knowledge about your server, and have a working UID for you to be able to redeem it here. If you do not possess the details mentioned above, you will not be able to redeem your codes using this method.
It is the preferred method by users to opt for the basic in-game method to redeem codes.
Final Thoughts
This is all there is to know about Honkai: Star Rail Gift Codes for now, and we hope you were able to get some active codes for yourself. If you were not that lucky, check back later on as we do update this site on a regular basis and new codes can pop up every now and then. Bookmark this page for ease of access the next time you are in need of codes. Till then, check out our other guides on Cookie Run Kingdom Codes, and find another game you would love! Let us know in the comments below if you would like more guides like this one.
Similar Reads:
Was this article helpful?
Thanks! Do share your feedback with us. ⚡
How could we improve this post? Please Help us. ✍