You can't progress beyond a certain level in Minecraft unless you have the appropriate enchantments. Mending is one of these essential enchantments that is a must-have if you wish to advance with a steady progression in your game. We have curated how to get mending in Minecraft guide, entailing how to get mending books in Minecraft and every other information you need to know about this enchantment in the game.
Key Highlights
Mending is a late-game

armor and weapon-based enchantment

in Minecraft.

This enchantment, once applied, constantly

repairs your weapon or armor

as you collect

XP orbs.

The common ways to attain Mending is via

trading valuables with a librarian

or searching

temple jungles, ancient city chests, or strongholds.

Compared to other repairing methods like grindstones or an Anvil, this durability enchantment is much better since you heal your items on the spot!

However,

Mending is not compatible with Infinity,

so you can't use Mending on a bow that already has the Infinity enchantment on it.

If you have multiple armor or weapons with Mending in your inventory, collecting XP will heal your

most damaged

item.
What are Enchantments?
Enchantments are essentially magical spells that you can add to your Tools, Weapons, and Armor that can enhance their abilities. They can be obtained from the enchantment table or through loot and trade. But it does require XP to enchant your weapons. If you want to acquire XP faster, you may need to make an XP Farm in Minecraft.
What is Mending?
Mending is an enchantment that restores the health of the item it is applied to. Mending uses the XP that you gather by mining or through other means to repair your weapons, armor, and tools. Since most Enchantments in Minecraft can be easily created via the Enchantment Table, players can not get the Mending Enchantment from there.
That is because it is a rare treasure enchantment and in order to get it, players will need to buy mending books, loot this item from chests located in various areas or get it by fishing. Besides various methods to get Mending, we have also entailed in this guide how to get mending books in Minecraft.
As you collect experience orbs, one experience point is used per two durability points. All the remaining experience in the orb is added to the player's experience level. In the case of one durability point, no experience is deducted from the orb. Keep in mind that if you have two or more than two items in your inventory that have mending, then their durability is restored at random. There is no priority setting that prioritizes one item over another.
Also, note that only one item is repaired for each orb. If an item is repaired, the remaining experience points in the orb will go towards the player's EXP level and will not be used to repair other items.
How to get mending in Minecraft?
There are several ways to get mending in Minecraft. Here we list some methods and sources that you can use to get this enchantment.
Mending by Fishing
A better way to try your luck is to go fishing rather than using enchantment tables. To improve your chances, try to use a fishing rod with Fortune enchantment on it. Also, note that the catch rate increases during storms, so whether you are fishing AFK or manually, your best bet is to fish using a fishing rod with Fortune enchantment during storms.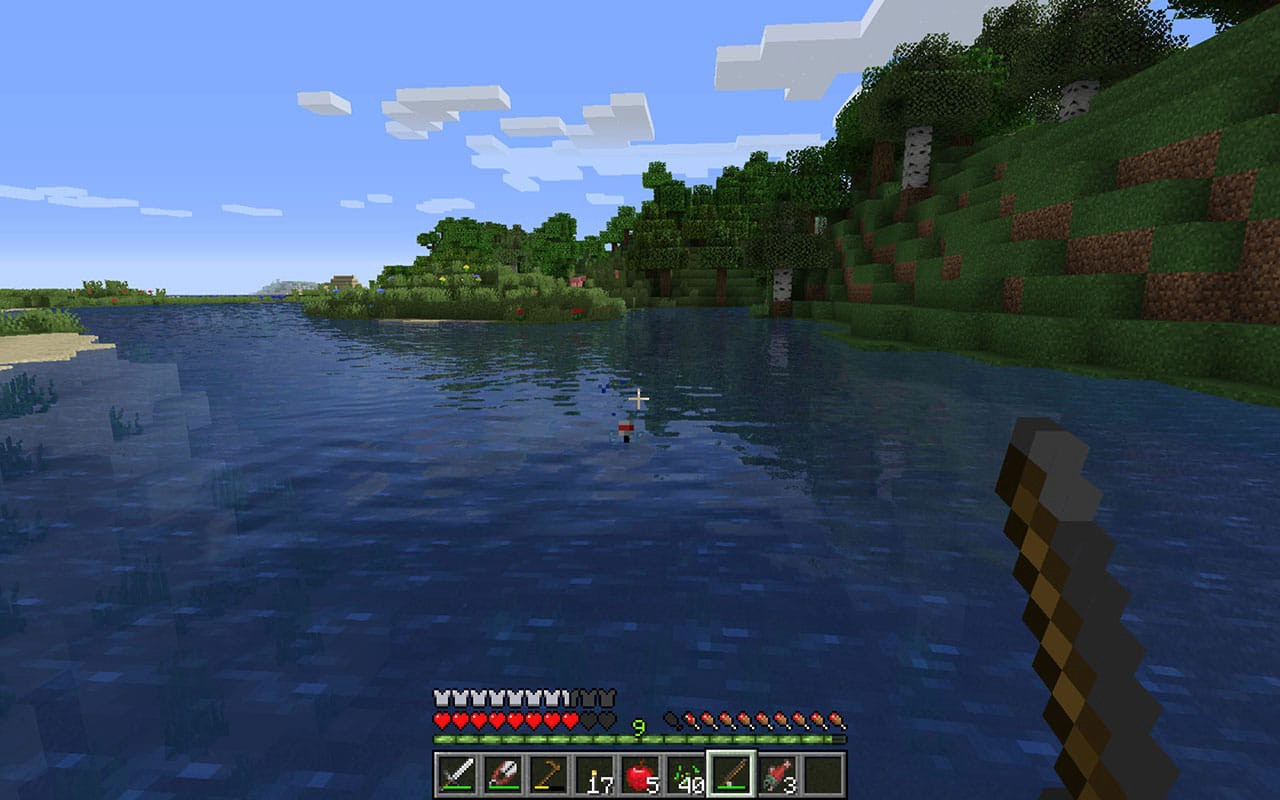 Searching the Woodland Mansion
If you are out exploring the Woodland mansion, then keep your eyes open for treasure chests lying around. Mending has a high spawn rate in the treasure chests at the Woodland Mansion. You can also go the other way around and try to find the Woodland Mansion if you are in dire need of the mending enchantment. Chances are very high that you'll end up finding the mending enchantment there. If exploration is a tiresome adventure for you, then you must get the Mending enchantment via books, for more on this see how to get mending books in Minecraft in the Trades from villagers section.
The End Dungeon
As you wander around the End Dungeon, keep in mind that there are one or two libraries around it. As the name suggests, there are a lot of treasure chests located in the library that have different enchantments on them. You might also find mending in these treasure chests.
Raid Drops
If you want to be certain that you get mending enchantment, then try doing raids. There is a very high chance to get mending in raid drops. However, raids can be tough to fight if you're just starting out. Make sure that you have the right equipment to fight in raids; otherwise, you might end up in a big mess where you keep dying all the time.
Trades From Villagers
If you are looking for how to get mending books in Minecraft, then Traders are an easy method to acquire them. If you have been playing Minecraft for some time, then you must realize that every Minecraft veteran has a bunch of villagers around their base that have the sole purpose of trading.
How you can set this up is a very long story, but if you have a village around with librarians, then go to them and max out your trades with the villager. Eventually, they will offer you either an excellent trade or a not-so-good trade for a mending book. Regardless of the villager's offer, you will eventually get a mending trade from a villager. Also while you are here, also check out Minecraft Building Ideas.
Now that you know all the methods that can get you Mending enchantment faster in the game or Mending books for that matter, you may have a couple of more questions. Here are a few frequently asked questions by Minecraft players on the internet related to Mending enchantment that may answer your questions as well.
Next Minecraft Guide: How To Repair A Bow In Minecraft
Was this article helpful?
Thanks! Do share your feedback with us. ⚡
How could we improve this post? Please Help us. ✍