Players in NFS Unbound are looking for a way to use cheats to glitch money and do other cool stuff. Fortunately for them, there is a way to use cheats in the game, and that is achieved through a cheat engine. And with NFS Unbound Cheats, you can do much more than you think is possible. The cheats are implemented into the game through an NFS Unbound Trainer. This will change your experience with the game so be ready to feel the adrenaline rush with around 22 cheat codes.
---
Key Takeaways
Trainers make use of backdoors to access the game files and manipulate them to make the game bend to your liking.
Trainers make the game much more enjoyable for a player that does not like playing by the rules.
Paid trainers are much safer than non-paid trainers, so always go for paid trainers.
The NFS Unbound trainer is only for PC, and there are a total of 22 cheats in it.
Make use of different cheats to guarantee a win in every race.
---
NFS Unbound Cheats & Trainer
Now, as we mentioned before, there are
22 cheats
, and all of them are made to help the players with different aspects of the game, such as
money
,
nitro
, and more. Below is a preview of the trainer in action in
NFS Unbound
.
Free Trainer Cheats
Well, now we will be proceeding to list the trainer cheats that are free to use in NFS Unbound. Furthermore, we would like to inform you that these 3 cheats are good to have for free as they do help you a bit in the game. However, the cheats available through the premium subscription are just too good not to have. The free cheats available in this trainer as the following:
Prepare
Probably the most important command in the trainer is the prepare command which is a must to make the other cheats work. First, activate the prepare cheat in order to use all the other NFS Unbound cheats. Also, to use the cheats, run the game from the trainer app.
Unlimited Nitro
One of the most fun cheats to use is the unlimited nitro cheat which does exactly what the name suggests. You are able to use the nitro on a car for as long as you like because of the cheat.
No Nitro
Another free cheat is the no nitro cheat, which basically does not allow you to use the nitro ability in NFS Unbound. Through it, you can disable your nitro at any given moment you want.
Premium Trainer Cheats
Now, just like before, we will be listing all the cheats that you can possibly have by purchasing the premium subscription. Let us tell you that these cheats are just too good to pass out. The premium cheats include all of the following cheats:
Add Saved Money (Green)
The green or saved money in NFS Unbound is the cash that is safe in your account and is shown in the corner with a green-colored amount. And through the use of this cheat, you can add a certain amount to your already existing green money. So basically, you can increase the amount of money that has been saved.
Sub Saved Money (Green)
Just like the previous cheat, you can use the sub-cheat to subtract a certain amount of money from your already saved/ green money. That is if you want to.
Add Gained Money (Red)
Furthermore, the red or gained money in NFS Unbound is the amount that is not yet been saved; thus you are carrying it on you. This means that if you are caught by a cop during a chase, the red amount of money will be reduced. And through the cheat mentioned above, you will be able to increase this red money by a certain amount.
Sub Gained Money (Red)
Also, just like the previous sub cheat, you will be able to subtract money. However, this time it will be deducted from the red amount of money which is signified by a number in red.
Vehicle Godmode
As the name of the cheats suggests, through it, your vehicle turns into a tank, which does not take any amount of damage. And in return can also smash other cars without doing damage to itself.
Vehicle Max 50 Health
We believe that the vehicle's max health maxes out your health cap at 50. However, we do not know for sure, so if you find out about it, then please do let us know through the comment section down below.
Player Max 1st, 2nd, 3rd, 4th Gear
The max 1st gear cheat helps you control your speed. As if you only are limited to 1st gear, then you are not able to go above a certain speed limit. So you can make use of 4 different gears to lock out your speed in the game.
AI Unlimited Nitro
Same as before, you can give the AI unlimited nitro to make the game that much more challenging and spicier.
AI No Nitro
You can also use the counter cheat, no nitro cheat, to restrict the AI form using nitro which will obviously give you an advantage in the game.
Easy Kill Vehicle
A powerful command or cheat that can help you instantly kill an AI's vehicle by simply using the cheat.
AI Vehicle Godmode
If you use the AI god mode cheat, then we have some serious bravery as it will allow the AI to take no damage whatsoever, which in turn means that they can endlessly damage other opponents.
AI No Gear (Freeze AI)
Next is a powerful cheat that can instantly freeze all the AI in their places as they will have no gears to shift through, which ultimately means that they can not move. A very powerful cheat indeed to use in your game, and it is highly useful.
AI Max 1st, 2nd, 3rd, 4th Gear
Another cheat that helps you control the speed of the Ai is very useful. You can use it to limit the AI to a certain gear, where you can eventually limit the AI to a speed that it won't be able to exceed because of the limited gears.
NFS Unbound Plitch Trainer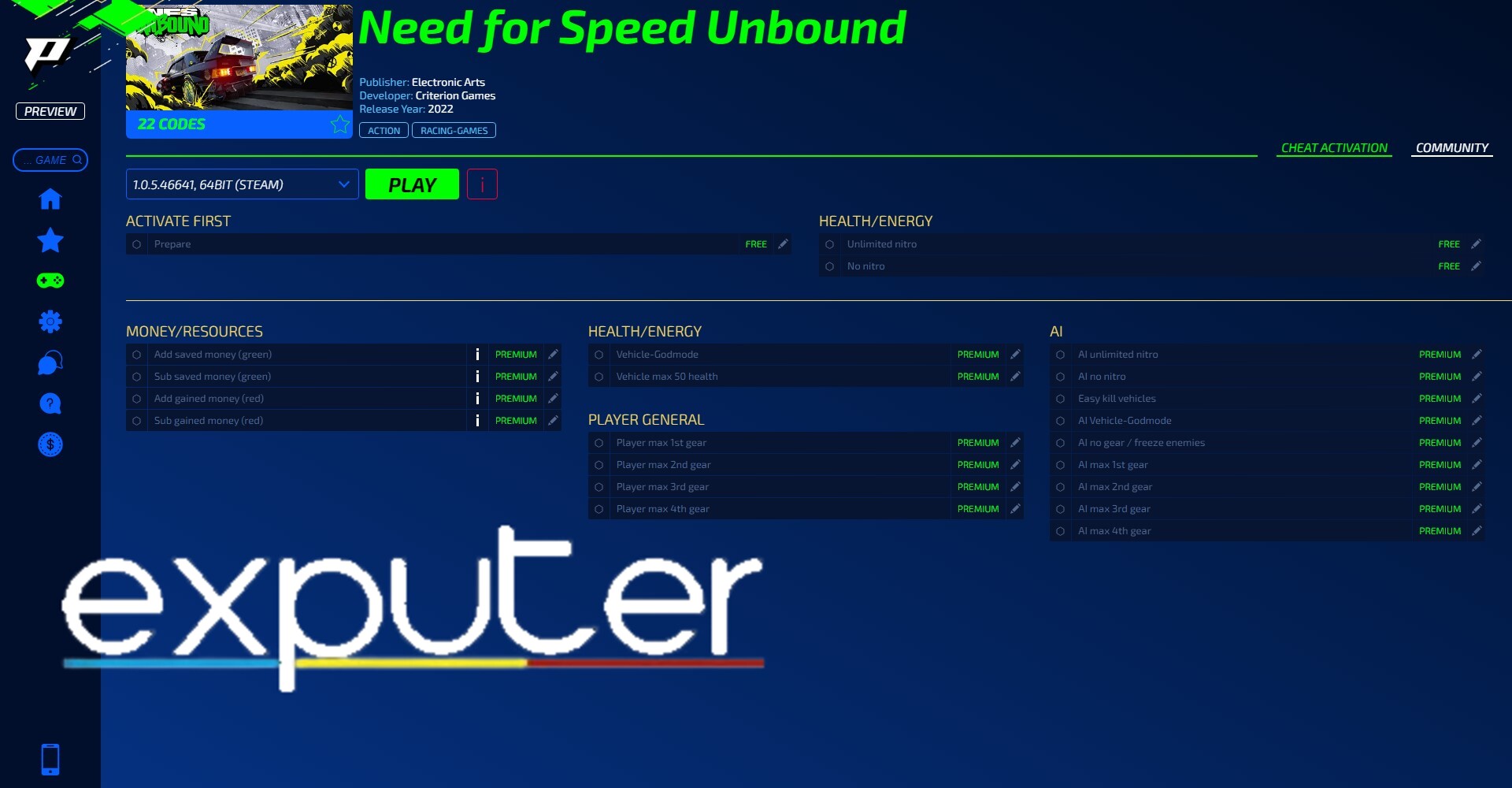 Now, a trainer is basically a
cheat engine
that makes use of backdoors and other various ways to tweak the game's settings to provide you with your desired results. Simply put, it can manipulate the game on your
PC
to provide you with cheats. And through this, you can later change certain aspects of the game.
Furthermore, the trainer that we have located is fairly easy to use and install. All you are required to do is download the ZIP file and install it on your PC.
[Note: The Plitch trainer listed above, unfortunately, only works on PCs]
The trainer that we have picked is from a trusted site and provides 22 cheat codes, among which only 3 are free of charge to use. Unfortunately, in order to use the other cheats, you will have to purchase their premium subscription. However, we believe that it is worth it as the site is trusted and does not harm your PC in any way. There are also free trainers available, but they are not guaranteed to be safe.
To check out the premium subscription rates, you can simply visit their site from here. Honestly, in our opinion, the pricing that they are offering is well worth it, as by purchasing the premium subscription, you will be able to use their premium cheats in every game. So we think that you should go for it. However, it is up to you which program you want to choose, either the yearly or monthly one.
Furthermore, if you are new to NFS Unbound, then we highly recommend that you quickly learn about How To Upgrade Cars, Best Starter Cars, and Best NFS Unbound Tips & Tricks.
And with this, we bring the NFS Unbound Cheats guide to an end where we thoroughly guide you onto a trusted NFS Unbound Trainer, which can help you cheat in the game. However, if you believe that we left something out, then please do let us know through the comment section down below.
Related Trainers:
Was this article helpful?
Thanks! Do share your feedback with us. ⚡
How could we improve this post? Please Help us. ✍