The beginning of a new game can always be a bit hard; not having all the perks you desire to prosper can make it a bit dull. Cash, Boosts, and Rewards will help you to climb up the ranks in the game. Cash and Boosts can also be used to purchase and level up your character. This guide features all information regarding Roblox Criminality Codes, where to get them, and how to redeem them.
Key Takeaways
In the game Criminality, players must battle other players and enemies for

survival

in a world where

crime

is rampant.

Roblox

Criminality Codes

are codes that can be redeemed for a variety of benefits in the game, including money, increased XP, and other perks.

The codes must be correctly spelled and are

case-sensitive

in order to be redeemed.

Launching the game, going to an ATM, selecting "Redeem Codes," inputting the code, and then selecting

"Redeem"

are the steps required to redeem codes.

If the codes don't work, there are a few

potential remedies

, including spelling correction, game restarts, and expired codes.

Follow the developer, RVVZ on Twitter, Criminality's own Twitter account, or keep an eye on this page for updates to find

new codes

.
List Of Active Roblox Criminality Codes
Last Checked on April 21st, 2023.
Having to separate the expired codes from the working ones is a tedious task, one which we all fear having to do. To ease your suffering, we took this task upon ourselves, so this list features only active codes for Roblox Criminality.
| | |
| --- | --- |
| Code | Reward |
| 175KL | This code is valid for free rewards |
List Of Expired Codes
The following codes are expired and cannot be redeemed for any rewards. These codes are just written here just for your knowledge, so you know which Roblox Criminality Codes to avoid.
| | |
| --- | --- |
| Code | Reward |
| CRIMONTOP | This code is valid for $10,000 in Cash |
| HALLOWS22 | This code is valid for Free Cash and Rewards |
| BACK2SCHOOL | This code is valid for an XP Boost |
| CROSSPLATFORM | This code is valid for an XP Boost |
| SUMMER22 | This code is valid for an XP Boost |
| WINTERISNOW | This code is valid for a Free Reward |
| WINTERSOON | This code is valid for a Free Reward |
| GAMEMODES | This code is valid for a Free Reward |
| Thecodeis47k | This code is valid for 2x Experience |
| INCOGNITO | This code is valid for $11,111 in Cash |
| NIGHTMARE | This code is valid for 2x Experience |
| HALLOWS2021 | This code is valid for $7,777 in Cash |
| WHATSTHECODE? | This code is valid for $10,000 in Cash and Double XP |
| CRIMV1.3 | This code is valid for 2x Experience |
How To Redeem Criminality Codes?
Now comes the part of redeeming the codes to get a hold of the rewards they come with. This process is fairly simple, and by following the steps below, you can easily redeem your codes.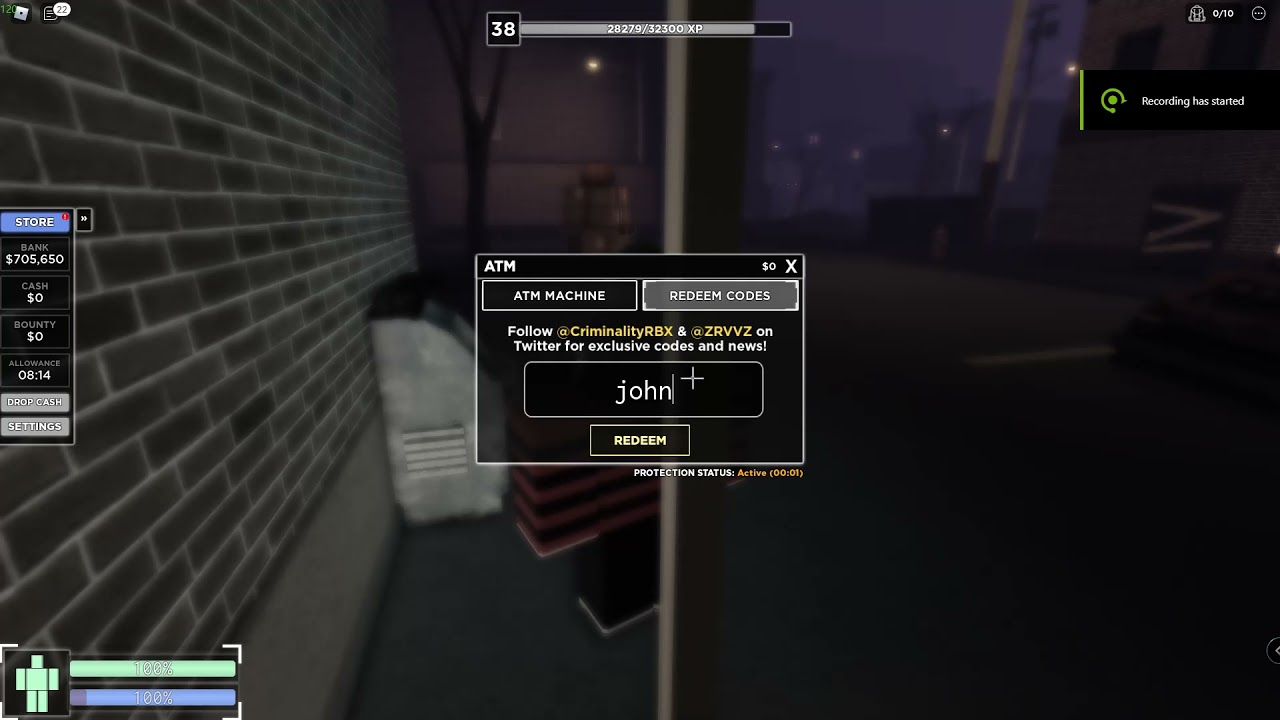 Start by launching Criminality on Roblox.
Walk around the map until you come across an ATM; these will be fixed in the wall ATMs.
Click on the ATM, or press E on your keyboard.
Click on the box labeled "Redeem Codes"
Enter the code into the text box.
Click on the button labeled "Redeem"
Enjoy your Rewards!
Why Are My Codes Not Working?
If your code does not redeem and gives the error "error occurred in your request", there could be an issue with your code if it is still active. We have listed a few fixes in our complete Game Codes guide that do not work.
First of all, make sure your codes are spelled correctly; the biggest reason why codes appear inactive is due to incorrect spelling. Also, make sure the capitalization of codes is correct, Roblox Codes are case-sensitive, and this could be a leading error. We highly recommend that you copy & paste the codes directly from above; this will eradicate the chance of any human error, hence a working code.
If the codes still do not work, try turning the game off and on again. This will launch you into a new and updated server where the codes should work.
Finally, if the codes still do not work, the codes are expired. Codes expire quickly, so when redeeming a code, it is best to hurry up. This is not a worrisome issue, though, new codes are released frequently, and you will get a working code sooner or later.
Where To Get More Codes?
To be one of the first to know when a code is released, there are a few accounts to follow. The best account to follow is the developer themselves, RVVZ on Twitter, and Criminality's own Twitter. On these accounts, you will find new codes as soon as they are released.
However, if you do not want to follow any external accounts, this page is updated regularly. You can bookmark this page for ease of access to see when new codes are added.
What Is Criminality?
In this game, you will be living in a world full of crime, fighting for your own life against other enemies and players. You will need some good defenses, so it is best to gather some friends as your security and also purchase some weapons to defend yourself.
Every 15 minutes, you are given some cash to be able to survive in this deadly world. If you do happen to die in the game, you will lose some of the cash on you, along with all of your weapons.
Killing other players can land a bounty on your head, and pulling the trigger for the actual kill will gain you a large sum. This is all there is to Criminality, an extremely fun game to play.
What Are Roblox Criminality Codes?
In order to survive in the game, you need a lot of Cash and Boosts, and sometimes the 15-minute allowance is not enough. You can use these Roblox Criminality Codes and redeem some Cash to help you survive in troubling times.
Final Thoughts
This is all we have for Roblox Criminality Codes today, and we hope this helped. Make sure to check back for any new codes that are released. Let us know in the comments below if you would like more guides like this.
Related:
Was this article helpful?
Thanks! Do share your feedback with us. ⚡
How could we improve this post? Please Help us. ✍