We all have heard of Dream by now. The Minecraft YouTuber managed to skyrocket from a few hundred thousand to 14 million subscribers in just one year alone. Considering the massive growth period he's going through. It's safe to say that many more people want to know what he's exactly doing when it comes down to his playstyle.
He's one of the best Minecraft players to date that's taken the world by storm with his quick and fluid movements. He's performed some gnarly clutches in Manhunts throughout his Youtube and Minecraft career. Of course, People have been wondering what the hell he's doing in terms of Dream's Minecraft settings, his setup, and his play style.
Dream's Minecraft Settings Highlights
As for his

control settings

, Dream uses

R for Sprint

,

F instead of F5 to look behind

, and

C for swapping items

.

For better zoom, Dream uses

OptiFine mod

.

Dream's

FOV is around 90

, while

mouse sensitivity

could be approximately

80 percent

.

Dream's Minecraft skin is a vibrant green with a smiley face at the front. The skin can be downloaded for free easily from the internet.

Dream uses a

Razor Death Adder Elite mouse

with a

16000 DPI optical sensor

and

seven reprogrammable buttons

.

For his display, Dream uses a

27-inch Acer Nitro VG271U

. His video resolution is about

2560×1440

, or just

1440p

for short.

He also uses an

RTX 2080

and up to

8 GBs of DDR6 RAM

.

He also has

32 GBs of DDR4 Crucial Ballistix LT memory

and

1TB of Samsung 860 EVO

.

For the Keyboard, Dream either uses a

G815

,

G915

,

G910

, or a

G513

mechanical keyboard, but we'd say it's probably the

G815

.
Before moving forward, let's quickly check out the Keybinds Dream uses for Minecraft:
| Option | Keybind |
| --- | --- |
| Sneak | Shift |
| Sprint | R |
| Sneak | Left Shift |
| Change Perspective | F |
| Attack/Destroy | Left Button |
| Pick Block | Middle Button |
| Use Item/Place Block | Right Button |
| Swap Item with Offhand | C |
| Drop Item | Q |
Dream Minecraft Settings
Now let's move on to the settings that Dream often uses. They are a bit unconventional compared to the standard and default settings of the game, and that's pretty much expected of a speedrunner and Minecraft Youtuber such as Dream.
What's surprising is that Dream uses r for sprint and f for F5. It's not confirmed what his FOV exactly is, but judging from the manhunt videos, it's safe to say that his FOV is around 90. When it comes down to his mouse sensitivity, it's unknown exactly what it is. Still, it's been estimated to be approximately 80 percent.
Mouse Settings
Dream uses the conventional and widely loved Razer Death adder Elite as his go-to mouse used by many other popular content creators and streamers. Elite's Death adder features a 16000 genuine DPI Optical Sensor for blazing-fast on-screen response times.
It also features seven reprogrammable buttons and an ergonomic design for those who tend to have cramping in their palms and have a tendency to build up a sweat. The Death adder Elite offers excellent grip and is great for people who have either small or big hands.
Display
For video editing and gaming, DreamDream uses an Acer Nitro VG271U, which is a 27-inch monitor that has a refresh rate of 144hz and can output a video resolution of 1440p. That means Dream has an fps of around 144fps for Minecraft, which is ideal when it comes down to making split-second decisions. Dream uses a video resolution of 2560x1440p for gaming in Minecraft, and that's something we're sure about.
PC Hardware
PC hardware matters a lot, and it seems like Dream isn't skimping on that bit. When it comes down to his PC hardware, what matters most is the GPU, the ram, and the type of storage used. Dream uses an RTX 2080 GPU with up to 8 gigs of DDR6 ram for blazing-fast response times.
This enables Dream to play games without any lag or stutters due to the high bandwidth of the GPU memory. Dream also has around 32 gigs of DDR4 Crucial Ballistix LT memory to run Minecraft efficiently without any stuttering issues. This also helps him in the video editing aspect of things. For those speedy and fluid load times, he uses a Samsung 860 EVO 1Tb for fast write and read speeds.
Keyboard Settings

As for the keyboard dream uses, it's pretty hard to figure out, but we came down to a list of keyboards that he might use. In one of Tubbo's MCC practice streams, the plan mentioned using a Logitech keyboard. When you focus on the sound of the keyboard during the stream, you can hear that it has a very distinct clicky GX Blue sound.
So Dream may use either a G815, G915, G910, or a G513 mechanical keyboard. But our best bet would be the G815. The G815 has an actuation force of around 45g with an actuation distance of approximately 1.5mm. The total travel distance is about 3.0 mm.
Keyboard Settings
Now let's take a closer look at Dream's Minecraft Settings. When it comes to swapping items to his offhand, he uses C, and for strafing, he uses the regular WASD for moving left, right, forwards, and backward as is the norm. Switching to F instead of F5 is pretty brilliant if you think about it because it enables him to change his perspective in the blink of an eye in his manhunt videos to see if the hunters are still close on his tail.
Dream also zooms in a lot during his gameplay to locate and track down far-away but critical structures such as nether fortresses, and it's been presumed that he uses OptiFine for this purpose. Dream's Minecraft Settings were something of a mystery before he finally released them on Twitter.
Advanced Minecraft Settings
He attacks the left button, picks blocks with the middle button, and places items or blocks with the right button. Dream also has captions enabled for sound from the accessibility menu. He has them on to figure out which audio comes from which direction.
Now, how is that beneficial? Well, this has enabled him to survive pockets of lava multiple times that are hidden behind walls of stone in caves and whenever he's digging deep underground. A simple message saying lava pops up on his screen, whether he's heard it himself or not. That's pretty much all we could find out about Dream's Minecraft Settings.
Subtitles were added in the accessibility options of the game for those that have a hard time hearing properly due to handicap issues, which can be a significant disadvantage, so the developers of Minecraft kindly added settings to make the game more enjoyable for those that suffer from such handicaps. This also adds the advantage of being notified of essential elements such as hostile mobs.
Minecraft Seeds Dream Uses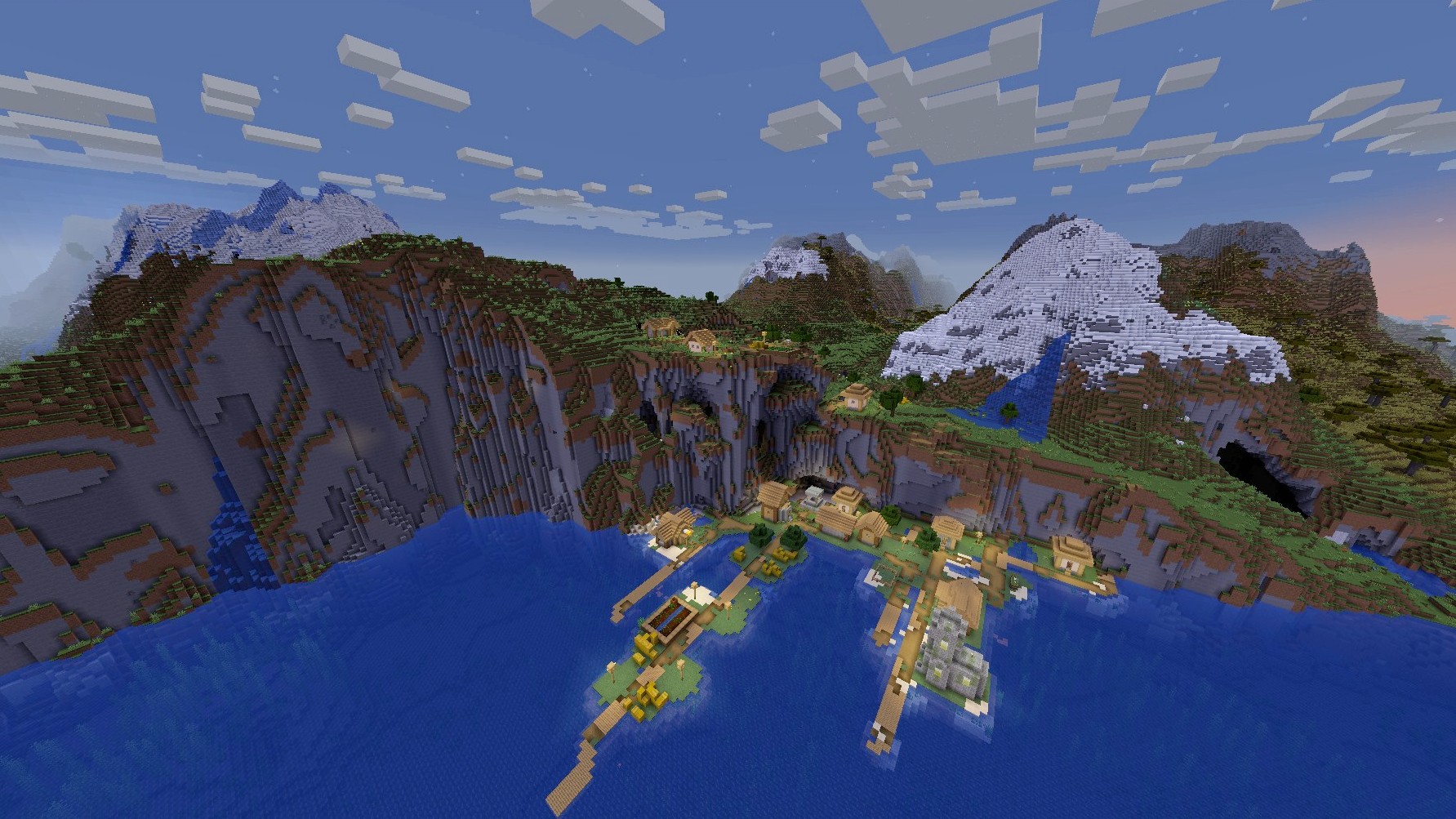 When it comes down to which seed he frequents, he's most notorious for using the Speed Run seed and the DreamSMP seed on the 1.14 build of Minecraft.
Dream SMP Seed
Let's talk a bit about the DreamSMP seed. It's a survival multiplayer world server run by Dream and his friends to play on. It's up and running even today as many Minecraft YouTubers stream themselves to play on the server and from time to time. As for the exact seed that's used in the DreamSMP server. It's 5826025064014972987.
Dream Speed Run Seed
Dream frequently uses the other seed for his 1.14-speed run is the 1.14-speed run leaderboard seed. He scored a 32-minute long run with this seed, enabling him to become an official speedrunner.
Dream frequently live-streamed himself speed-running on Twitch with the same seed. Still, due to the recent scandal surrounding him where the leaderboard members accused him of cheating, he's decided it's best not to submit any more speed run attempts to the leaderboard as the situation may get uglier as time passes. You might be wondering which seed was used for his 1.14.4 leaderboard run.
Does Dream Have A Public Server?

You might be wondering if Dream has a public server for many of his fans to play on. Unfortunately, the answer is no, he does not, but there's still a possibility that he has one in the works. For now, we don't know. We did mention the DreamSMP server, which is frequented by many Youtubers and content creators like Tommy, Tubbo, Technoblade, Schlatt, Quackity, and many more.
About Dream
Dream currently has around 28.2 million subscribers on his main account, with a total of 39.9 million subscribers, including his miscellaneous reports as well. He started gaining traction back at the beginning of 2020 and has continued to rise as one of the best Minecraft players ever since.
It all started back with his Speedrunner vs. Hunter videos. He showcased his traversal skills in the various biomes and seeds of the Minecraft world. His best video is Speedrunner vs. three hunters, with around 55.5 million views.
In addition to being an excellent Youtuber, he's also maintained his position on the Minecraft speed-running leaderboards for quite a while. It was not until recently that he faced a scandal where the leaderboard moderators got particularly fishy about his runs and suspected that he was a bit too lucky when it comes down to these runs.
They've supposed that there's a possibility that he's cheating. Despite the allegations, Dream has maintained a leaderboard position for his run on 1.14, with a score of around 32 minutes.
That's about it for this guide and all we could find about Dream's Minecraft Settings. Tune in for more of our guides and articles on Exputer, and if you've got any questions, don't be shy and leave a comment down below. Like Minecraft a lot? You can look at some fun Minecraft Cake Ideas over here. If you're a big fan of building cool and intricate Minecraft houses, then you can check out some cool Minecraft house ideas over here.
Was this article helpful?
Thanks! Do share your feedback with us. ⚡
How could we improve this post? Please Help us. ✍