NBA 2K23 is definitely not the most graphically demanding game on the market, but there is certainly a fan following for it. People who regularly play games won't have any problem running this game, but the casual fans of the franchise might face some trouble with the visuals or framerate who don't own PCs with the latest specs. Whether you are a casual fan or someone who wants to run the game for a fun co-op time, worry not, because, in today's guide, we will walk you through the best graphics settings for NBA 2k23.
System Requirements
Before we go into the depth of all graphical settings available in NBA 2K23, it is important to make sure that your PC at least meets the minimum requirements; otherwise, playing around with the options is useless. Below, we have listed both the minimum and recommended system requirements of NBA 2K23.
Recommended Requirements
Requires a 64-bit processor and operating system
OS: Windows 7 64-bit, Windows 8.1 64-bit, or Windows 10 64-bit
Processor: Intel® Core™ i5-4430 @ 3 GHz/ AMD FX-8370 @ 3.4 GHz or better
Memory: 8 GB RAM
Graphics: NVIDIA® GeForce® GTX 770 2GB/ ATI® Radeon™ R9 270 2GB or better
DirectX: Version 11
Network: Broadband Internet connection
Storage: 110 GB of available space
Sound Card: Directx 9.0c
Additional Notes: In addition to system requirements, the developers of the NBA 2K23 have mentioned the following key points, including details about running the game:
The game can be played using a keyboard, but a dual-analog gamepad is recommended.
A one-time internet connection is required for steam authentication and for the installation of software such as Direct X and Visual C++ Redistributable.
A processor supporting SSE 4.2 and AVX instructions is mandatory for running the game
Minimum Requirements
Requires a 64-bit processor and operating system
OS: Windows 7 64-bit, Windows 8.1 64-bit, or Windows 10 64-bit
Processor: Intel® Core™ i3-2100 @ 3.10 GHz/ AMD FX-4100 @ 3.60 GHz or better
Memory: 4 GB RAM
Graphics: NVIDIA® GeForce® GT 450 1GB/ ATI® Radeon™ HD 7770 1 GB or better
DirectX: Version 11
Network: Broadband Internet connection
Storage: 110 GB of available space
Sound Card: Directx 9.0x
Additional Notes: Same as the ones mentioned in Recommended Requirements.
Best Graphics Setting For NBA 2K23
Now that you are aware of the recommended and minimum requirements, let's discuss the best graphics settings for the game that will help you strike the right balance between performance and visuals. You can find the Video Settings in the Feature tab. Once there, you will find the following options:
Display Resolution: The settings that we will be discussing below are in accordance with the 1080p resolution. If your monitor supports the higher resolution, go for it, but be sure further to decrease other settings as well.
Window Mode: You can squeeze more performance out of your components if you set the Window Mode to Full Screen. Also, consider reading our guide on All Jordan Challenges in NBA 2k23 and learn how to complete them.
Anti Aliasing: If you have severe performance issues, set it to 4; otherwise, setting anti-aliasing to 8 gives a much crispier image.
Refresh Rate: Set it to whatever refresh rate your monitor supports, which is 60 or 144hz mostly. Also, consider going through our guide on best shooting badges in NBA 2k23 as well.
Vertical Sync: Only turn it on if you are facing severe screen tearing issues; otherwise, turn it off.
After you are done with these settings, click on the Advance Settings tab to get to the actual graphics settings.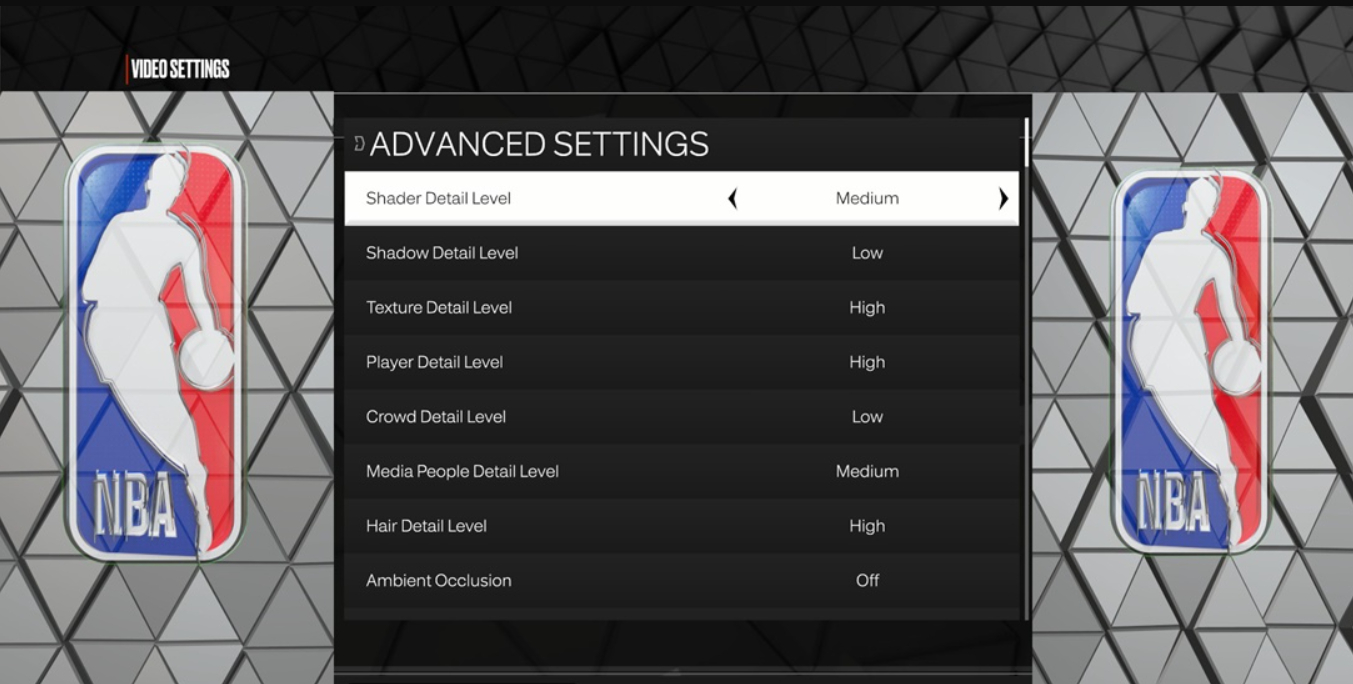 Overall Quality: Now, you wouldn't be here if you were ok with the default presets. Set it to Custom in order to change the rest of the graphics settings.
Shader Detail Level: This one is a demanding setting, so set it to Low if you have a low-end GPU.
Texture Detail Level: This one is dependent on your GPU's VRAM and should be set accordingly. Our recommendation would be to go with Medium settings. You can also check out our guide on best teams to learn all about the best teams in NBA 2k23.
Player Level Detail: No considerable changes in performance were noticed, so max this one out.
Crowd Detail Low: Another setting that can have a noticeable effect on performance. Set it low if you want a performance boost, but keep in mind that it will affect the density of the crowd.
Media People Detail Level: Set this one to medium because the camera flashes look great overall and the difference in performance isn't that huge.
Related: NBA 2k23 BEST Finishing Badges
Hair Detail Level: No effect was noticed by changing this setting, so max this one out too.
Ambient Occlusion: Turn it off to squeeze out some extra fps.
Volumetric Lightning: No FPS were gained by turning it off, so keep it on.
Temporal Anti-Aliasing: Turning it on made the game look blurry. Turn this setting off for better image quality.
Depth of Field: This one is a personal preference. I don't like Depth of Field personally, but turn it off if you like the look it gives.
Motion Blur: Another setting I don't like, because of the blurry look it gives. Keep it off for clearer, sharper and crispier image quality. Also, you might find our guide on the best jumpshot useful as well.
Bloom: Bloom not only gives a boost to visuals but also doesn't affect the performance as well. So turn it on, without worrying about the frame rate.
Floor Reflection: The shiny court of NBA 2K23 is what gives it, its visual identity and without it, the game looks extremely bland. Make sure you have this setting on.
Mirror Reflection: You'll only be able to notice them when you are outside the court, so turn it off, since you won't have enough time to appreciate them anyway.
Buffer Count: 3
Max Anisotropy: 16
Allow Compute Shaders: Turn it on if you don't want any annoying stutters during the gameplay.
Shader Preload: Also, turn this one on, too, if you want to avoid stutters.
This concludes our best graphics settings guide. We hope this guide helped you in boosting your framerate, and as always, feedback is appreciated in the comments below.
NBA 2K23 is currently available for Xbox Series X and Series S, PlayStation 4, Xbox One, Nintendo Switch, PlayStation 5, and Microsoft Windows.
Next: BEST NBA 2K23 Dribble Moves
Was this article helpful?
Thanks! Do share your feedback with us. ⚡
How could we improve this post? Please Help us. ✍