State of Decay 2 is bound to have a lot of new players who might feel lost when starting. One problem that new players face is choosing the base leader. We did our homework so you didn't have to! Here is State of Decay 2: Best Leader to fit your style.
Key Takeaways
In State of Decay 2, a capable leader

is necessary to meet the demands of the community.

In the game, there are

four different types of leaders:

Builders.
Sheriffs.
Traders.
Warlords.

There is no one-size-fits-all leadership style; it depends on the

personality

of the player.

The

Builder

takes a more protective stance in the game, but this can also be very advantageous during a playthrough that is focused on defense.

The best option for maintaining law and order in the town would be a

sheriff

.

Traders

have a significant impact on societies and have the power to unite them.

Warlords

reject the idea of the weak in their society because they think that only the strongest will survive thus giving birth to a strong community.
You might also like: The Best Traits in State of Decay 2
State of Decay 2 Best Leader
Most of the experience in State of Decay 2 revolves around the community that you build. You will have to take care of your community and fulfill its needs. While food, shelter, ammunition, and other resources are of prime importance, a community also needs a herculean leader.
After you've set up your base, more and more survivors will join your community. The view button will bring up a map and from there you can view your community page. Here you can examine the traits and skillset of the survivors in your community.
Who Should You Choose?
Choosing the survivor that deems fit for leadership and working on their standing in the community is crucial. Now, this is very important because one, the standing of a survivor in a community represents their importance in your community, and two, for a survivor to be appointed as a leader, they must reach hero rank. Now be aware that the story will proceed based on the type of leader you choose.
There are four types of leaders. You might be confused about who to pick as a leader with these many choices. Don't worry, as below are the types of leaders and the perks they get and also our opinion on who to choose as a leader.
Builder
Sometimes, defense is more cardinal than combat. If you are a player who thinks the same, then the Builder might be a good fit for you. Using the builder, you can strategize and strengthen your base to make sure the pesky undead don't bother you. The Builder has a more defensive approach to matters in-game but that can also prove to be very beneficial on a defense-centric playthrough.
Leader projects and boons:
The leader project you'll have to complete with the builder as a leader is sniper tower. Appointing builder as a leader will unlock Luxury Barracks 2(large facility), comprising 5 beds and a boost in morale, and Generator 3 (small facility) with no noise and ½ fuel with respect to the difficulty to you play. As a leader, a builder's legacy would be amenities. You'll receive a base-wide water supply free of cost.
Sheriff
In order to maintain law and order among the community, a sheriff would be your best choice. Sometimes, disputes among the recruits can lead to the destruction of the community as a whole. The sheriff would ensure unity among community members for their survival. This can be essential if you have some rough and rowdy recruits seeking shelter with you.
Leader project and boons:
A sheriff's leader project is a field hospital very beneficial to heal all the infections/injuries. The large facility you'll get would be Lounge 3 that'll boost all your XP figures. The small facility is Shooting Range 2 perfect to practice your shooting skills. As sheriff, your legacy brings you a huge loot from your friends once a day
Traders
Survivors with trading skills can prove to be resourceful for the community by finding other communities of survivors to trade with when they are appointed as a Leader. Traders influence communities a lot and can bring communities together. Not to mention, your odds of survival will be much better as you gain better resources and form alliances.
Leader project and boons:
Your leader project will be a trade depot where you can call upon good traders to exchange goods and valuable items. You'll get a Farm as a large facility that'll increase your food rate per day up to 3 times and Still 2 as a small facility that'll produce luxury items for you to trade. Your legacy will summon a trader who'll give 4000 influence once you have set up your base
Warlords
Appointing a warlord as a Leader is like a skillful move in chess. It does reduce morale among the community but it's a good choice for people who don't mind sacrificing a few lives to save many. Warlords believe in the survival of the fittest thus they see no place for the weak in their community. You will be left with tough and able people in your society, and your base will be nothing short of ironclad!
Leader project and boons
Your leader project after appointing a community member with a warlord skillset will be Armory that'll enable you to make any kind of ammo you need. The large facility includes Spartan Barracks with 8 beds. The small facility includes a gym to help elevate your community's and leader's cardio and fighting skills. After settling your base you'll receive a bulk of firearms, ammo, and grenades as your leader legacy
Best leader
While every leader has its leader boons and perks and leads the story in its unique way, some leaders might be a better choice than the others
For instance, If you were to choose a survivor with a trading skillset, and appoint them as a leader you start with 4k influence as a friendly trader visits you when you first set up your base filling your storage and locker with anything they have a stock of. You get favors as a trader boon. A trade leader will also unlock the facility of the trade depot which you can construct on a large base.1 crate of materials will generate 200 influence points.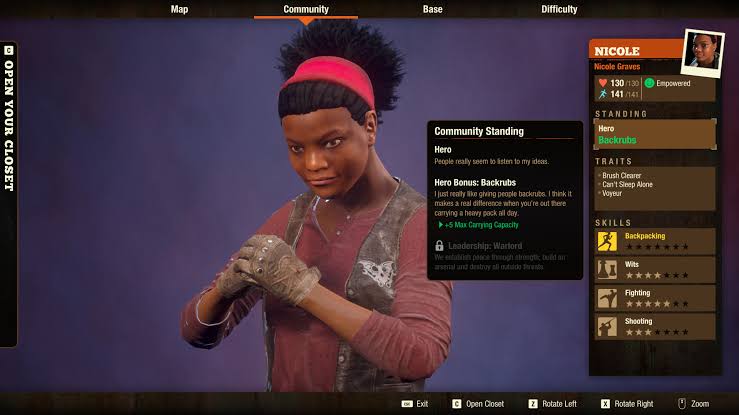 Our second choice would be a warlord because what zombie game is fun without a little killing? These merciless leaders are firm believers that only the strong live on. On recruiting a warlord as a leader you receive a huge pile of guns, ammo, and other ammunition when you first settle your base.
The Spartan Barracks and Armory and a fighting gym can be accessed with a warlord leader and are of formidable importance. Build an army of survivors and strengthen it with all the perks that come along with warlord leadership. Although it does lead to a decrease in morale, the warlord is chosen by many because of its weapon perks.
We hope by now you'll be sure about who to appoint as the leader of your community. But you'll have to play all four of them on Legacy to unlock all the leadership boons for your next playthroughs. This was eXputer's State of Decay 2 Best Leader. Good luck on your gaming ventures, weary traveler!
You're already here, so why not check out The Best Mods for State of Decay 2
Was this article helpful?
Thanks! Do share your feedback with us. ⚡
How could we improve this post? Please Help us. ✍