Enclave HD Has Been Rated By The ESRB
The remaster of the action RPG doesn't have a specified release date, but will have a Teen rating.
Story Highlights
Enclave HD has been rated T for Teen by the ESRB rating board.
Blood, violence, and suggestive themes are the key reasons for this rating
The remaster has no release date as of now, so this rating might indicate it will release soon.
PlayStation 5, PlayStation 4, Xbox One, and Nintendo Switch are getting this remaster.
Last year Ziggurat Interactive announced that it was remaking the 2003 action RPG Enclave. The game was a cult classic for Xbox and had significant success on Steam after it was re-released back in 2013. But, even though an August 2022 release date was apparent in the trailer, this remaster hasn't come out yet.
Now, the ESRB has rated Enclave HD, possibly indicating that the release isn't very far away. A T for Teen rating has been assigned to the role-playing game due to blood and violence. The rating also confirms that the game will come out on PlayStation for the first time ever.
In the current era of entertainment, remasters and remakes have become common things. Everybody has a different opinion regarding this aspect of media. But, one thing most people agree on is that when the right titles get the remake treatment, it's great fan service.
Ziggurat Interactive probably had the same idea and decided to remaster 2003's Enclave. Originally Starbreeze Studios developed the game for Xbox and Windows. After that, TopWare Interactive got the license for the third-person RPG and re-released it on several platforms.
Enclave's re-release on Steam in 2013 was a massive triumph, selling 1.5 million copies as of 2017. Overall, the game has sold over 25 million copies worldwide since it first came out 2 decades ago. When you consider how it is on Xbox, PC, and the Wii, this does make a lot of sense.
Hence, Ziggurat's decision to now release an Enclave remaster on current-gen platforms does make sense. The developer announced Enclave HD in February 2022, with an August 2022 release date in mind. But, it was not able to meet this release date for the Nintendo Switch, Xbox One, PlayStation 4, and PlayStation 5.
The ESRB has now rated Enclave HD for the aforementioned platforms, hinting that it might not be far away. According to the board, the remaster has a T for Teen rating. Violence, suggestive themes, and blood are the main reasons the RPG has got this rating.
We learn more about the Enclave remaster in the rating summary. It is playable from both first and third-person perspectives as per the ESRB. Players use crossbows, swords, and axes to kill enemies like demons, skeletons, and goblins.
Cries of pain and screen-shaking are common themes in melee combat. Blood-splatter effects are also apparent when you slash or kill an enemy. In addition, corpses are present on the screen and may have blood stains on them in some cases.
Enclave is a very old role-playing game and as a result, it features female characters with revealing outfits. All of these aspects combine to give the RPG a T rating from the ESRB. Hence, you will need to be a certain age to experience the remaster of this game.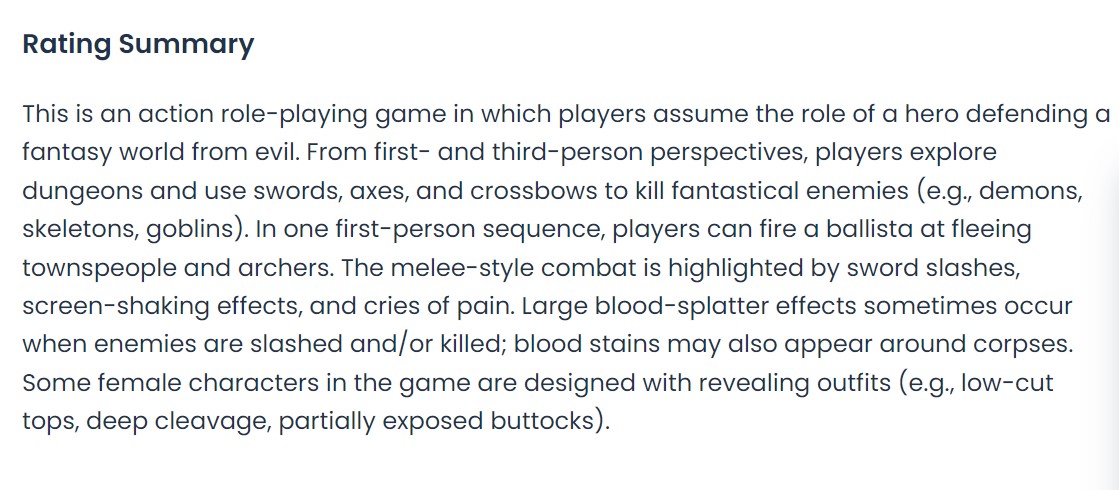 Nothing is really surprising about this rating and its biggest implication is probably suggesting that the release is nearby. Enclave HD has been a long time coming and we can only hope this rating means we get to play it soon. If you haven't played the original, you will be hyped about the remaster after learning how the RPG allows you to be evil or good.
You can choose any of the two sides of the conflict about to take place in the fantasy world of Celenheim. Players can either kill the king of demons, Vatar, or get rid of the queen of Celenheim. So, the outcome of this classic RPG depends on you and no one else.
Enclave HD is also the first time the game is launching on PlayStation. Before this, it only came out on the Xbox in 2002, PC in 2003 and 2013, and Nintendo Wii in 2012. Hopefully, it releases sooner rather than later so we can finally experience this RPG on current-gen platforms.
Similar Reads: Mario Kart 64 Is Now Available In HD Graphics
Was this article helpful?
Thanks! Do share your feedback with us. ⚡
How could we improve this post? Please Help us. ✍