Final Fantasy 16 Patch 1.10 Adds Settings For Adaptive Triggers Along With New Costumes
In addition to other quality-of-life improvements.
Story Highlights
Final Fantasy 16's latest update adds a setting for Adaptive Triggers in addition to new costumes and other quality-of-life features.
The latest patch aims to rectify some bugs in order to further optimize the experience.
Final Fantasy 16 has received its latest update, adding a new option in the Settings menu for Adaptive Triggers, allowing you to turn the wireless controller's trigger effects on or off. The patch notes elaborate on the addition of this functionality along with various other inclusions to the game. Update 1.10 aims to further optimize an experience that was relatively spotless at launch.
Other additions to the Settings menu include a Target Cycling feature that allows the player to choose one of the four different methods of switching targets while locked onto an enemy and tweaks to the Player Follow (Attack) option in the Camera Settings to rectify a problem with the camera position resetting after a few attacks despite having the option set to off.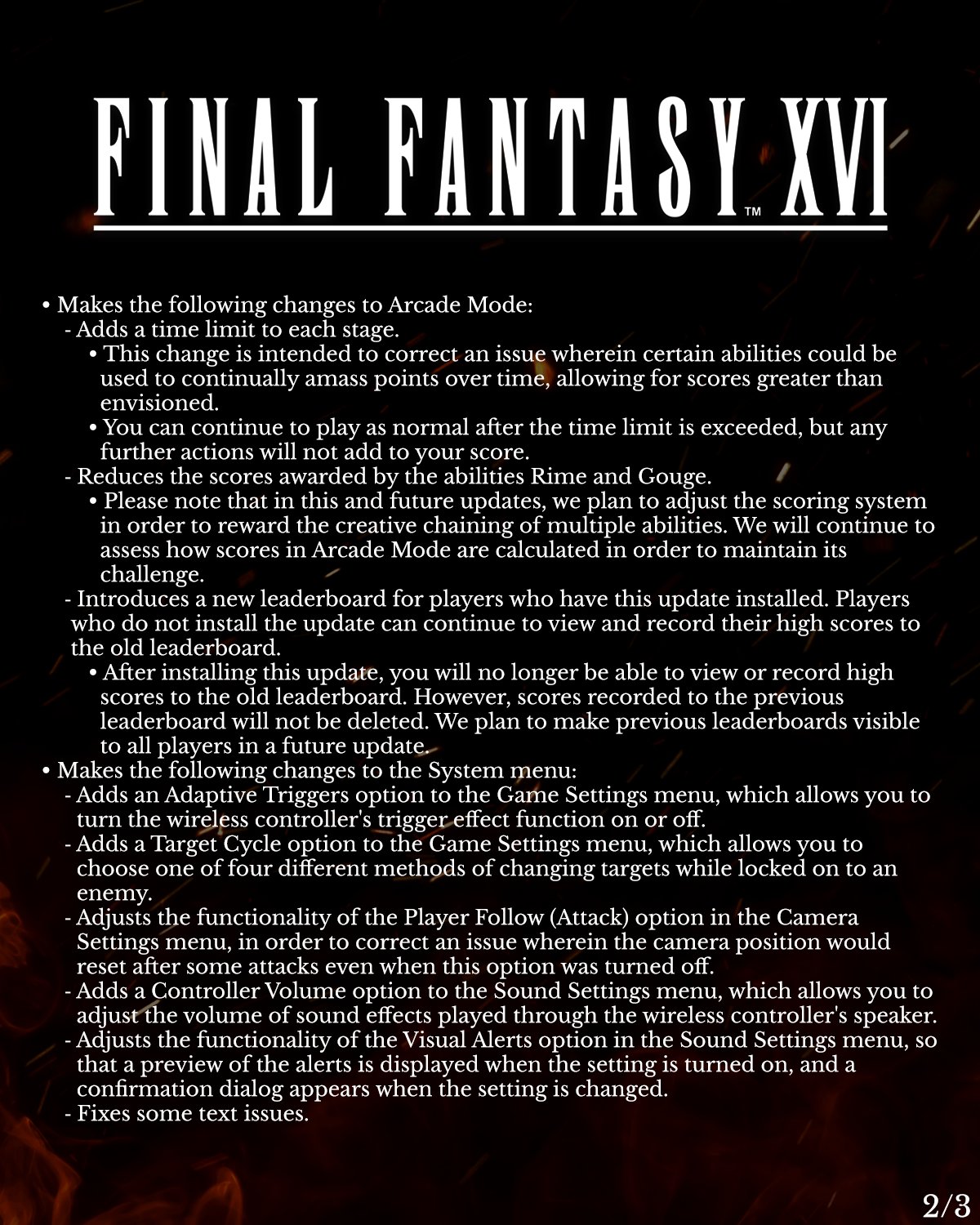 Furthermore, a Controller Volume setting was added to Final Fantasy 16 with patch 1.10 as well, allowing players to adjust the volume of sound effects played through the wireless controller's speaker. Additionally, the update changes the functionality of the Visual Alerts options found in the Sound Settings menu, allowing playback of a preview showcasing the option's benefits before changing it.
---
Related Content
---
Moreover, the update makes certain changes to the Arcade mode in Final Fantasy 16. A time limit has been added to each stage, aiming to correct an issue where certain abilities could be used to gain scores higher than those envisioned by the developers. In addition, you can continue to play as normal after exceeding the time limit but further actions will not add to your score.
Along with the aforementioned changes, the latest patch fixes a handful of bugs in Final Fantasy 16. Issues such as enemy actions inaccurately triggering in boss encounters, collision detection threshold discrepancies, inaccurate activation of character actions, spawning issues with notorious marks, and a multi-language error affecting the Search by Name function were resolved.
Final Fantasy 16 is available now on PlayStation 5. Read on to find out why we believe it to be the perfect entry in the franchise.
Was this article helpful?
Thanks! Do share your feedback with us. ⚡
How could we improve this post? Please Help us. ✍