Nioh Is Coming To Wo Long: Fallen Dynasty, Collaboration Announced For Fall
Lies of P collaboration set for September along with paid DLC 2.
Story Highlights
A new collaboration has been announced for Wo Long: Fallen Dynasty, this time with Nioh, Team Ninja's previous foray into the soulslike genre. It's set to arrive in November 2023.
While details regarding the event are scarce at the moment, fans of the games are speculating as to what this could potentially bring to the table.
Wo Long: Fallen Dynasty previously announced a joint collaboration with Lies of P. The update will go live in September, presumable around the launch of the Pinnochio-inspired title.
Wo Long: Fallen Dynasty has announced a collaboration with the Nioh series in its latest 2023 roadmap. The map, tweeted by the official account, provides detailed information on what each month, starting from August, entails for players. The collaboration with Team Ninja's other soulslike series is scheduled for November along with balance adjustments, quality-of-life improvements, and more.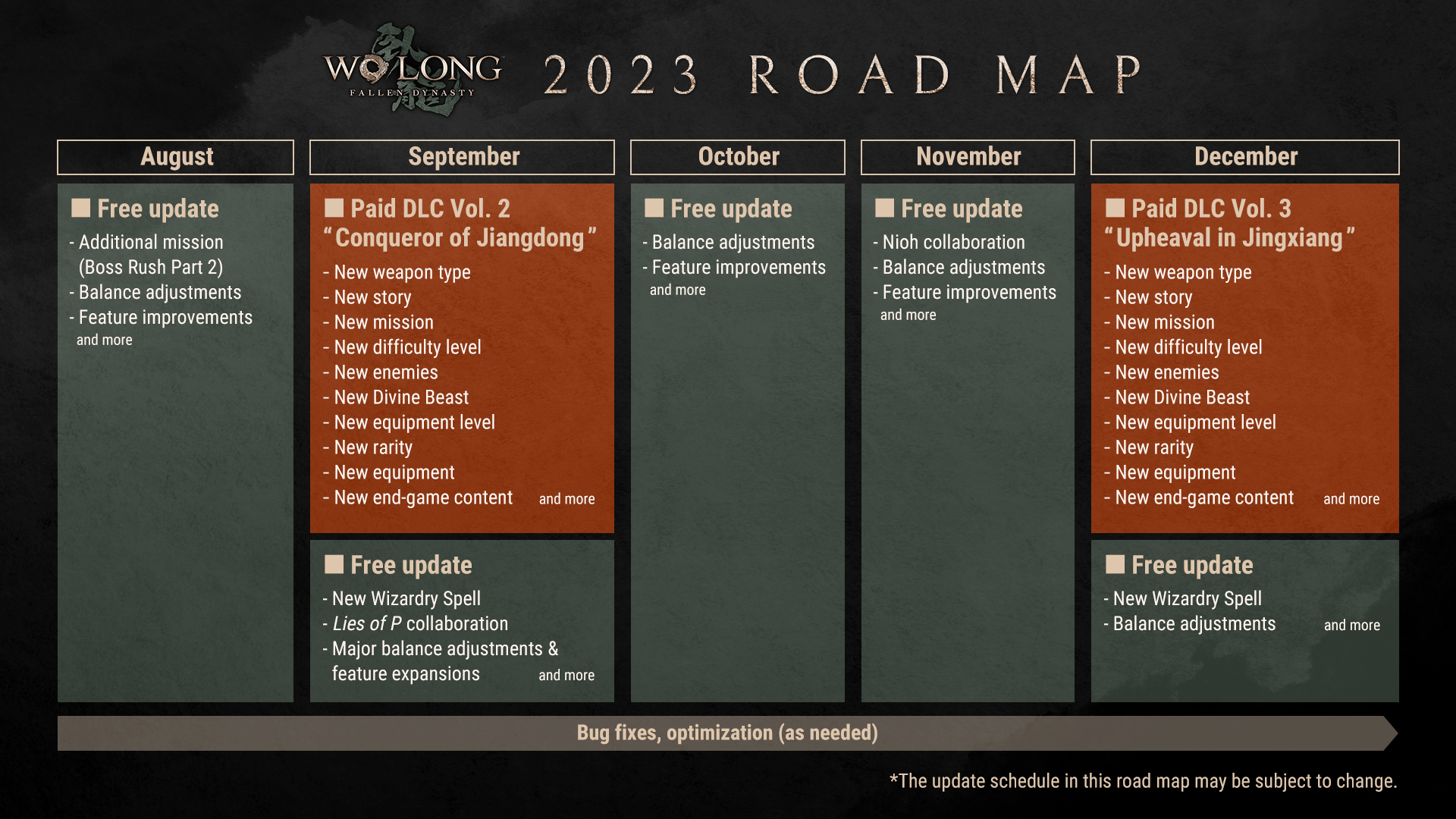 Nioh is a beloved franchise, developed by Team Ninja, that managed to find its audience after escaping from development hell in 2017. While many pointed out its lack of enemy variety, a barebones story, and re-used assets, this soulslike adventure in feudal Japan set itself apart by providing an unparalleled combat experience. A title which many believe to be held by it to this day.
This collaboration between Wo Long: Fallen Dynasty and Nioh can take many forms, but it is not yet clear what this update will offer. Given the lore of Nioh and the power of Sohayamaru, an encounter with William or Hide can possibly be on the table. Some players believe that it may just be a quest that would offer iconic Nioh items as rewards.
In addition to the team-up with Nioh, another impressive collaboration is set to launch in September. Wo Long: Fallen Dynasty and Lies of P previously announced the joint event. It's worth noting that the nature of this partnership might result in both games getting some form of related content. Lack of information plagues both of these high-profile updates at the moment but we are bound to get more details in the future.
Team Ninja's latest foray into the soulslike genre was met with positive reception at launch. While it failed to offer something unique in the same vein as Nioh, it stood on its own as a worthy experience, despite its various performance issues.
Wo Long: Fallen Dynasty is available on PlayStation 5, Xbox Series X, Xbox Series S, Xbox Game Pass, PC, and last-gen consoles. Read on to find out why it's an impressive, ancient Chinese adventure.
Was this article helpful?
Thanks! Do share your feedback with us. ⚡
How could we improve this post? Please Help us. ✍