Wo Long: Fallen Dynasty PC System Specs And Console Display Modes Revealed
The developers have shared a detailed FAQ alongside specifications for both PC and consoles.
Story Highlights
Wo Long: Fallen Dynasty will run on 720p at 30 FPS by using a GTX 1650 or Radeon RX 570 GPU, 8GB RAM, and 60 GB storage. It supports 1080p at 60 FPS by using a GeForce RTX 2060 or Radeon RX 5700 XT GPU and 16GB RAM.
A 4K 60 FPS was achieved on GeForce RTX 3080 GPU with the graphics set to standard. The PC is able to deliver a maximum of 120 frame rates, and the consoles are locked below it.
The console offers two display modes. The Resolution Mode proffers 40K resolution at 30 FPS, while the Performance Mode can achieve 1080p, 60 FPS experience.
The game is unsupported by Steam Deck and will receive the Nvidia DLSS, and Intel XeSS updates on PC after launch.
Wo Long: Fallen Dynasty is an upcoming endeavor by Nioh developers, Team Ninja, which is set in an ancient fantasy China. The team has come forward and recently revealed the game's awaited PC system requirements, detailing the technical specs for different hardware to run the game on varied frame rates and resolutions.
Team Ninja also sheds light on the diverse selection of performance modes present in consoles. Different modes will be available on the PlayStation 5 and Xbox Series X, last-generation consoles. Moreover, the developers have also published a meticulous FAQ, which clarifies most of the community's rampant queries.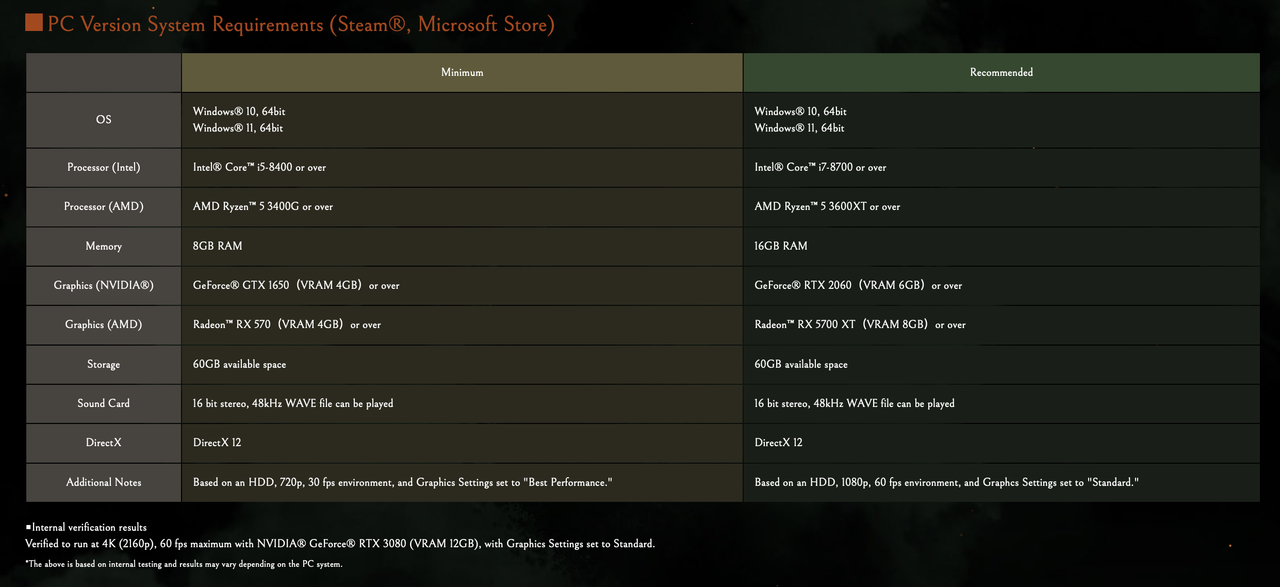 The game can run on the lowest 720p resolution and a steady 30 FPS by consuming an Intel Core i5-8400 or AMD Ryzen 5 3400G CPU, a GTX 1650 (VRAM 4GB), or Radeon RX 570 (VRAM 4GB) GPU, 8GB of memory, and 60 GB of HDD storage space are needed to acquire 720p and a steady 30 FPS.
To enjoy Wo: Long Fallen Dynasty at a 1080p resolution and a steady 60 FPS, a GeForce RTX 2060 (VRAM 6GB) or Radeon RX 5700 XT (VRAM 8GB) GPU and 16GB of memory are needed to fuel your system. Moreover, the Intel Core i7-8700 or AMD Ryzen 5 3600XT processor is required to power the PC for a smooth experience.
The PC system requirements are still not seemingly finalized, as the developers are internally testing the game. However, Wo Long: Fallen Dynasty was reported to run at 4K (2160p resolution) 60 FPS using a GeForce RTX 3080 GPU and with the graphics set to standard.
It is also worth noting that Wo Long: Fallen Dynasty is not supported for Steam Deck, as affirmed by the developers in the FAQ.
Coming towards the console display modes, the next-gen PlayStation 5 and the Xbox Series family will seemingly come with two Performance and Resolution Modes. The Resolution Mode will offer a smooth 4K high quality with the expense of offering only 30 FPS, while the Performance Mode aims to deliver a 1080p, 60 FPS experience.
The disparity in consoles will also affect Wo Long: Fallen Dynasty; the PlayStation 5 and the Xbox Series X can deliver 60 FPS at 4K quality, while the Series S opts for an impressive 1440p at 60 FPS.
Moreover, the generation will also make a difference, with the Xbox One X and PlayStation 4 Pro producing 4K resolution and the base Xbox One and PlayStation 4 models only providing 1080p resolution.
Additionally, the PC will be able to achieve the 120 frame rates per second maximum while the consoles are locked below that threshold. Furthermore, the FAQ also wrote that PC would receive the Intel XeSS and Nvidia DLSS support after the launch further to amplify Wo Long: Fallen Dynasty's performance.
Wo Long: Fallen Dynasty PC system specs will consume hefty resources to deliver higher resolution at 60 FPS, but it is still arguably lower than some of the recent AAA entries. On the other hand, the console modes are more explicit, either targeting higher performance or high visual quality, and are easy to adjust as per the user's needs.
Wo Long: Fallen Dynasty is slated to see a global release on PC, PlayStation 4, PlayStation 5, Xbox Series S, Xbox Series X, and Xbox One on March 3rd, 2023. The new entry will arrive on the Xbox Game Pass on day one for players using the subscription service. A new demo is also reportedly planned to dock later this month.
What are your thoughts about the new PC system specs and console display modes detailed for the awaited Wo Long: Fallen Dynasty? Do you think Team Ninja the PC requirements for the game are justified in contrast to some other recent titles? Do let us know your opinions in the comments below.
Similar Reads: Atomic Heart Detailed PC System Requirements Revealed.
Was this article helpful?
Thanks! Do share your feedback with us. ⚡
How could we improve this post? Please Help us. ✍